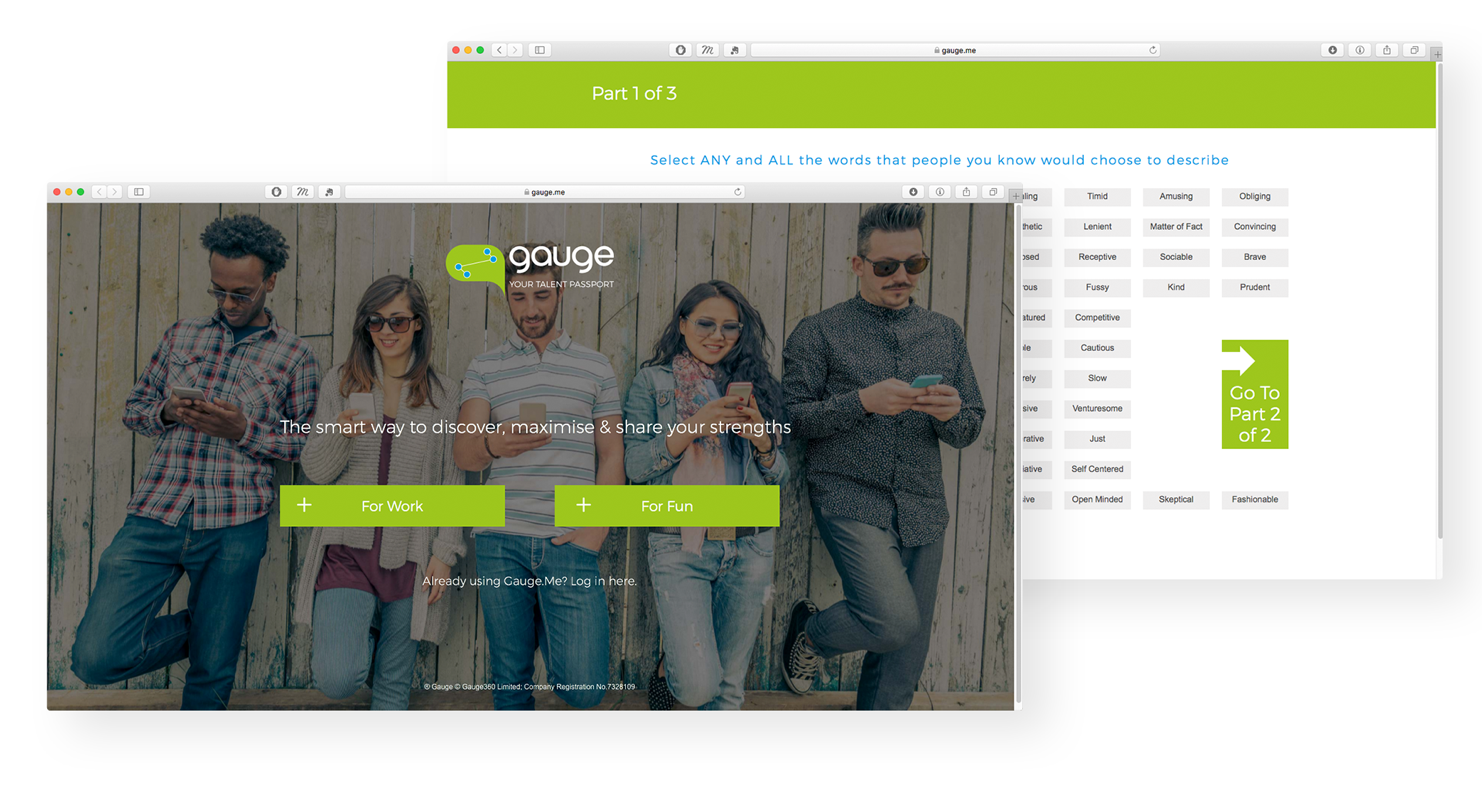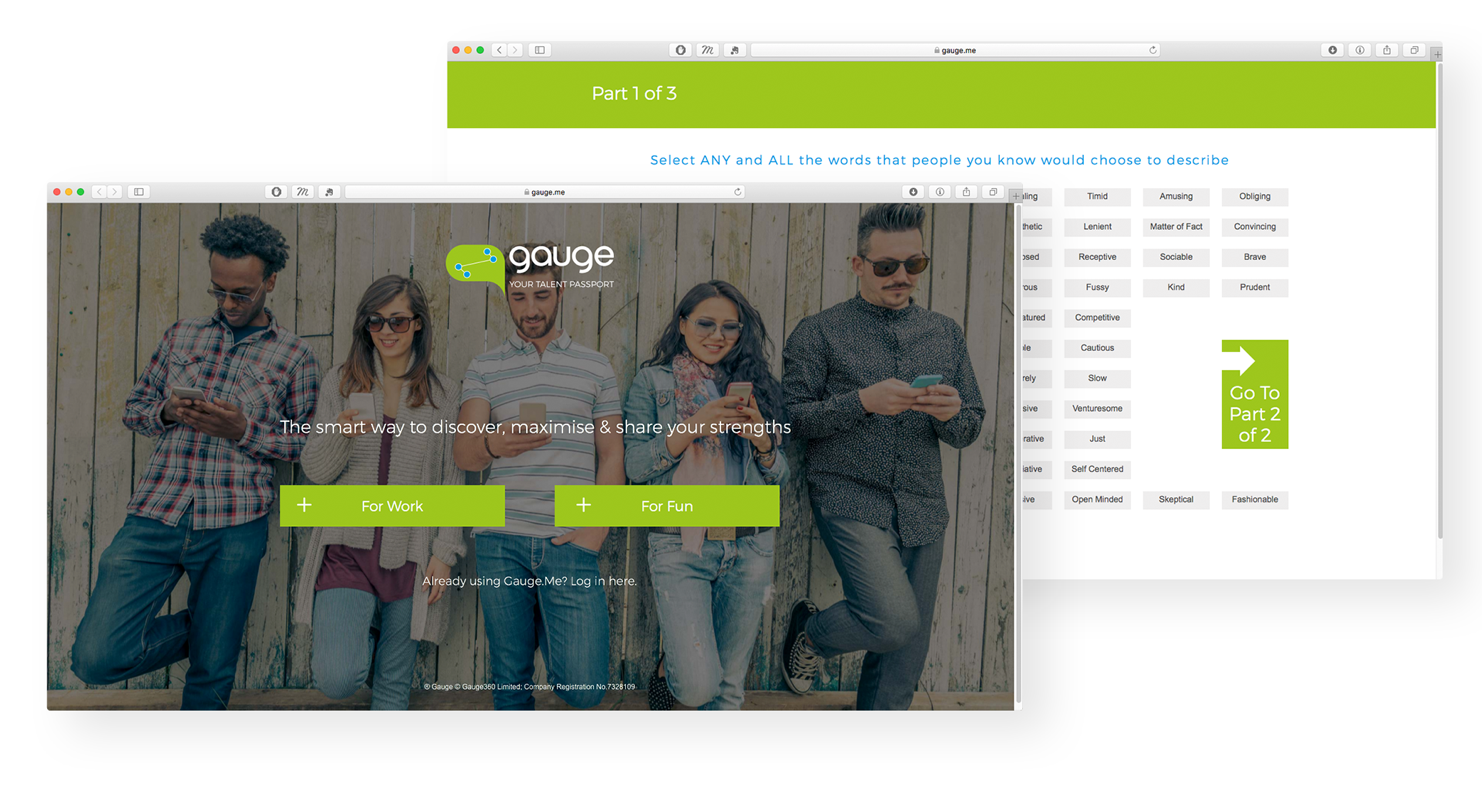 OUR CLIENT
Gauge offers innovative applications that enhance processes, engagement, strategy and cost effectiveness. Their solutions enable smart direct recruitment, real-time human capital insights, quick and accurate psychometric talent profiling and bespoke digital apps.
CLIENT'S NEED
When they first approached us, Gauge was a start-up with a business process in plan and needed a partner to implement the technical solution to make their plan possible. They wanted a user-friendly digital profiling tool that would enable professionals to better assess themselves and the way others perceive them. Their initial requirements concerned web design and the user interface, then the project's scope expanded, including the back-end aspects as well.
SOLUTION
Gauge is based on an innovative and accurate profile analysis system which enables people to create talent profiles and to compare them to peers' profiles. Gauge.Me derives from a self-analysis formula dating back to 1942, based on the theories of Professor Prescot Lecky of Columbia University, for analysing personality traits. Using vector analysis, Gauge.Me takes these theories to the next level, by measuring output based on word selections rather than requiring users to answer questions.
FEATURES
social media and smartphone friendly product which can be integrated across many sectors
accuracy ratings
possibility to incorporate recruiting agencies' brands in the application
individual talent profiling
candidates' ranking by multiple criteria
Facebook, LinkedIn, Twitter, Google + plugins for profile sharing option to access and use Gauge.Me web services API and plug it into user's existing in-house system
Gauge.Me can deliver branded standalone sites
users can receive feedback through different channels like Facebook or through colleagues
profile analysis and export to PDF
intuitive support system
unipolar psychometrics
We had a dedicated development team of three experts working on this project:
2 ASP.NET developers
a front-end developer
We tried several hosting providers, to identify the best option for the platform's performance requirements, and in the end we settled for Microsoft Azure.
The project took about a year, using Agile methodologies and adapting to tight deadlines, as our client was making their way on the market and needed specific features to present to their potential customers on a short notice. We were able to support them by working overtime when needed and responding promptly to changing requirements.
The success of our collaboration lead to a long-standing partnership: we've since become the technical extension to their company and together we've developed other innovative solutions, like Recruiter Genie and Insight Genie.
CLIENT'S BENEFITS
Diverse technical expertise within a small, agile team
Flexibility and fast responses
Best cost / performance ratio

Gauge has been working with Roweb since 2011. They are quick, cost effective and direct, every project has been delivered to meet its objectives. More than just a production house, Roweb also provides the skills and knowledge to help enhance your processes and functions prior to build and make them future proofed. Not only have we developed our own solutions with Roweb, we have developed 3rd parties projects and introduced clients direct.

Spencer Wright
CEO / Head of Development Gauge360