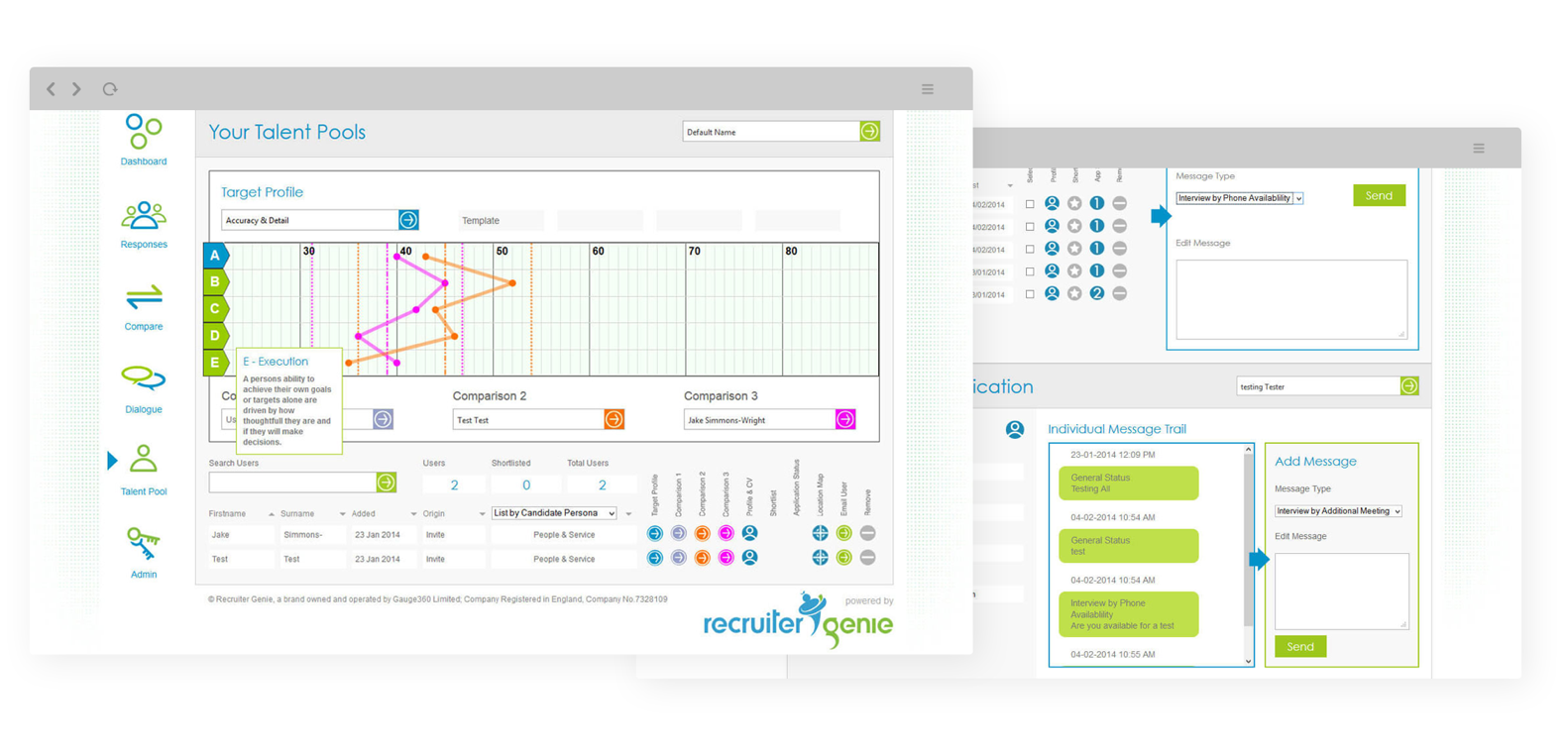 OUR CLIENT
Gauge offers innovative applications that enhance processes, engagement, strategy and cost effectiveness. Their solutions enable smart direct recruitment, real-time human capital insights, quick and accurate psychometric talent profiling and bespoke digital apps. We had previously developed gauge.me for them and they asked us to build a solution for clients' end-users.
CLIENT'S NEED
Recruiter Genie is a candidate assessment system (ATS), aiming to identify better suited candidates for job openings and at the same time support professionals in finding the right job for them.
This software was created to help recruit directly, reduce hiring time and costs and provide a complex, but easy to use solution for external recruiters.
SOLUTION
Recruiter Genie empowers line managers with shortlists of information like videos, CV's and talent profiles allowing them to easily compare candidates. For recruiters this solution comes in handy for engaging candidates on a deeper level and driving greater response rates.
FEATURES
Recruiter Genie enhances talent pools by segmenting users
Offers talent profiling, videos and location mapping
Skype and social media integration
Google Enterprise Search added to offer dynamic CV search and rank candidates disregarding the origin and type of the user information
Recruitment support for users to drive media awareness, create jobs directly and rank candidates for client shortlists
Cadidate Comparison
Multimedia Distribution
Stats and Facts section
Personality Profiling
Candidate application
Candidate Ranking
Multiple Admin/Recruiter Users
Mobile friendly online solution
Proprietary skills rating system
Location map and travel costs estimates
Candidates are able to access their two-way communication Recruiter Genie account
CLIENT'S BENEFITS
Working with a flexible team, that protected their budget by scaling up or down according to their needs
Access to a wide variety of technical skills, ranging from HTML and CSS, to C# and SQL
A reliable partnership that continues to meet their high quality standards

Gauge has been working with Roweb since 2011. They are quick, cost effective and direct, every project has been delivered to meet its objectives. More than just a production house, Roweb also provides the skills and knowledge to help enhance your processes and functions prior to build and make them future proofed. Not only have we developed our own solutions with Roweb, we have developed 3rd parties projects and introduced clients direct.

Spencer Wright
CEO / Head of Development Gauge360