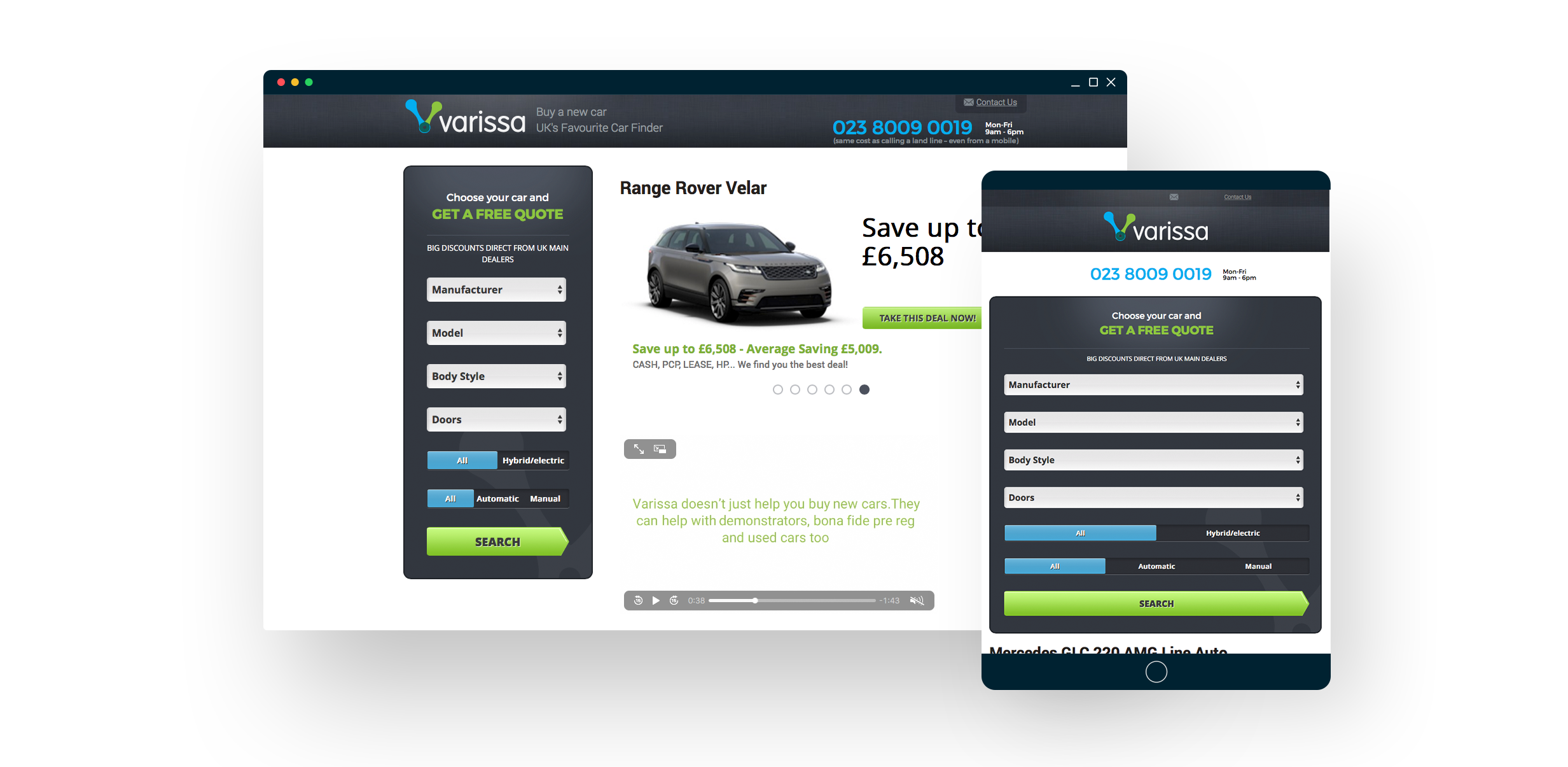 OUR CLIENT
Varissa helps car buyers in the UK get the best possible deal when purchasing the car they want, without the hassle of dealing with a dealership. They operate exclusively online and rely on recommendation for the majority of their business. Their customers use a configurator tool to "build" a car with the desired specifications, after which they get a price for that particular configuration, all in less than 2 minutes. Varissa intermediates the transaction, obtaining a considerable discount from the automotive manufacturer in favour of the end customer and they also arrange for the car to be delivered to their customer's home or workplace.
CLIENT'S NEED
Our client already had a functional website, but they wanted to improve it in order to provide the best online customer experience to the end users. They also wanted to change the supplier of the database with all the vehicles, options and prices available in the UK, and this change required implementing the new information as well as a new structure and data retrieving process. The new database that needed to be implemented was CAP Motor Research, which included datasets on new vehicles, current used values and future valuations.
We were recommended to them by another client and they contacted us with the initial request to upgrade the website's functionality and implement the new data base. After we started working on the project, we also covered additional requests, like changing the pages' routes to optimize their website for search engines and eventually re-designing the website to make it more visually appealing.
OUR SOLUTION:
The development phase took 6 months, during which we provided a dedicated development team: 1 developer + 1 designer. Working on dedicated team model helped Varissa get all the desired new features implemented quickly. At their request, we worked with the legacy technologies that their first web developer had used, Visual Basic and ADO.
The team had daily meetings with the client, to get feedback frequently and meet their tight deadlines with results they'd be 100% satisfied with.
Over the course of the project, our team successfully overcame challenges, by improving the client's outdated content management system and by developing a custom tool to optimize the data import from their new database.
After the development phase, we've continued to collaborate with Varissa by providing maintenance and support when they need it.
CLIENT'S BENEFITS FROM WORKING WITH US
Our experts' are available to respond to request and their availability to work over-time whenever necessary to meet tight deadlines helped Varissa transition quickly and smoothly to their new website
Thanks to our SEO improvements, optimized call-to-actions and more user-friendly design, our client witnessed a substantial increase in their lead volume, receiving 300% more price inquiries per month as before the upgrade (according to client's estimations)

We passed our project to Roweb through recommendation as we were failing to get the appropriate buy in and commitment from firms in the UK and certainly not at our budget. Initially I was sceptical. I was unsure we would be able to get our point and passion across properly without regular face to face meetings. This fear was soon allayed as through SKYPE we had direct and first hand contact with the developer whenever we wanted and several times a day if necessary. I believe this saved us both time and money with none of the idiosyncrasies of our requirements being lost translating our requirements through a project manager. Read more Roweb made themselves accountable for the timely and cost effective delivery of the project. It was clear that they were keen to take ownership of deadlines and to ensure they dealt with me, and my colleagues, in a positive and highly responsive manner. Throughout the process Roweb were quality driven and customer focussed. Throughout I had none of the usual feelings one has with major projects such as feeling out of control or wondering what the budget is being spent on as they took their fiducial responsibilities very seriously. As a consequence I very quickly became able to trust them as a business and their well-considered advise. I would have no hesitation in recommending Roweb to other businesses and would be very happy for selected individuals to contact me for a verbal reference as I cannot recommend their services highly enough.

Steve McInally
Varissa.com