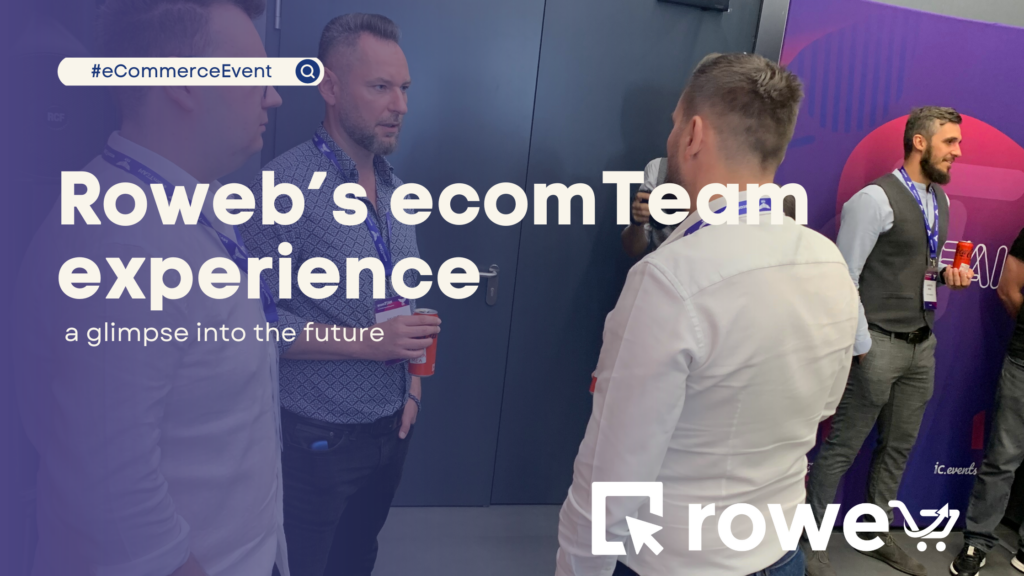 Immersive learning, networking with specialists from the eCommerce community, customer success stories, workshops and lots of new information – this is what participating in ecomTeam 2023 meant for our team.
The event was held at the Qosmo Hotel in Brasov, which provided an elegant yet cosy atmosphere, making us feel like we were part of a team-building experience rather than just attending an ordinary conference.
Thus, the discussions and meetings flowed naturally in a relaxed atmosphere, with the positive ecomTeam vibe felt by both participants and visitors.
And if you ask us, this particular feeling facilitated the formation of new partnerships and collaborations.
Strategizing for success: Roweb's eCommerce 360 vision
At ecomTeam, we met individuals whose vision aligns with ours – specifically, representatives of companies seeking customer-centric eCommerce solutions.
We also encountered people with a user-oriented vision who need intuitive functionalities and seek to automate a large part of their processes – not to replace employees but to help them be more efficient in carrying out tasks, focusing their attention on evolution and progress.
As highlighted in the ecomTeam conferences, Artificial Intelligence (AI) significantly impacts achieving these goals. Thus, we are announcing our plans to align ourselves with market trends and integrate AI functionalities into our software development services.
We are also planning to expand the eCommerce portfolio, and the ecomTeam is always an excellent opportunity to gain insight into the market's demands.
However, we aim to provide our clients with all-encompassing solutions incorporating both development and performance marketing.
Roweb's Team @ecomTeam 2023: key highlights
At this year's ecomTeam edition, our company was represented by:

Sorin Trifu
Hold Marketing Managing Partner
"At ecomTeam, we managed to reconnect with old friends from the industry to discuss growth ideas in eCommerce, both from the web development perspective and paid media.
Trends show that data is becoming increasingly important, and most brands are starting to be interested in data analytics and media mix modelling services. Also, topics such as increasing customer value and global scaling ideas of local eCommerce were debated."
---

Valentin Necsuleu
Sales Manager and & Co-founder Horeka by Roweb
"For me, ecomTeam was an event with a considerable networking impact, numerous Romanian and international eCommerce participants, and valuable speakers with ambitious visions on the domain market. The identified business potential is relevant, which will certainly bring a positive impact shortly."
---

Stefan Nicolae
Head of eCommerce Development
"I have attended the EcomTeam conference for several years, which usually marks the beginning of a series of autumn eCommerce events. One of the things I enjoy most about the conference is the chance to meet new and interesting people from the industry/ However, the schedule is designed to allow for ample networking opportunities.
And if, in most cases, when we attend the event as exhibitors, we don't get to participate in the sessions, the situation has changed this time. Being several colleagues, I could also participate in several panels, whose content I greatly appreciated."
What's next?
In the upcoming period, we'll be attending a new business and technology event – Gitex Global. This event will be held in Dubai, UAE, from October 16-20 and is one of the most essential tech events.
Following Gitex, we will focus on in-house events, such as completing the 2023 internship.