A few years ago, we could say (without making any mistake) that every eCommerce process started and ended in an online store. Meanwhile, things have changed.
The market has become more and more crowded – today, counting over 20 million eCommerce websites. (Such an impressive number, right?)
Long story short, in the eCommerce world, "challenge" and "competition" became a Chinese drop that grabs the attention of eCommerce business owners, forcing them to think and rethink their market strategies.
Even if you already run an eCommerce business or are about to start, from scratch, a new one – I bet you are aware that the profit won't come easy.
On the other hand, the number of online customers is also constantly growing.
So, after matching those things (the challenge with the opportunity), the conclusion sounds quite encouraging: you really have a chance to grow your business and increase the profit as long as you are willing to embrace some innovative changes.
And by innovative, I mean (first of all) seeing sales beyond a classic eCommerce website.
So, take a look at the following 6 alternative digital solutions that can replace or complete your existing one.
#1 Online Portals
Think of these solutions as they are private sale hubs that integrate specific functionalities, developed with multiple-users' needs and expectations in mind:
instant adjustment of the price (e.g., application of discounts when the ordering company meets certain conditions like reaches purchases quantity threshold);
multi-options access to the offers Download/print/save for later / share – these are the most popular options that users (e.g., sales managers) are interested in (usually for consulting with their colleagues or getting approvals for the purchases);
flexible add-to-cart system that allows companies to order a high quantity of products from different categories in a simplified and safe manner;
multiple-users access for one company in order to unify the activities done for the same organization;
limited access for unauthorized users to eliminate the risk of exposing your offers and catalogs to irrelevant users or to competition. Usually, access is done using unique IDs & Passwords;
third-party integration (CRM, ERP, etc.) to efficiently manage your online business;
recurrent orders' replication – your client can replicate existing orders for launching new purchases. This is a very important feature for clients who frequently buy from you and want to purchase a high quantity of various types of products.
#2 B2B Marketplace
This is a multi-vendor digital tool designed for B2B eCommerce that helps both vendors and clients get the perfect match between supply and demand.
The main features provided by a B2B Marketplace:
multi-vendors features so the vendors can use the platform as their own;
easy management of company's profile, offers, and transactions for each vendor;
each vendor has full control over the pricing configuration;
multi-vendor user management for protecting sensitive information;
dynamic filters based on specific criteria (brands, price range, availability, etc.);
smart search features (e.g., autocomplete, replace product) for shortening the buyers' journey and helping them find the products fast;
multiple options for ordering/purchasing/payments;
multiple call-to-action according to each buyer's journey stage (RFI – request for information, RFQ – request for quotation, RFP – request for proposal);
multi-sources order/split orders – customers can order from different vendors;
offer comparison – e.g., buyers can compare pricing across the multiple vendors;
marketplace performance insight – raw data turned into insightful statistics that help the marketplace manager have a quick overview of the platform's performance (vendors with the best results, top products, etc.).
#3 B2C Marketplace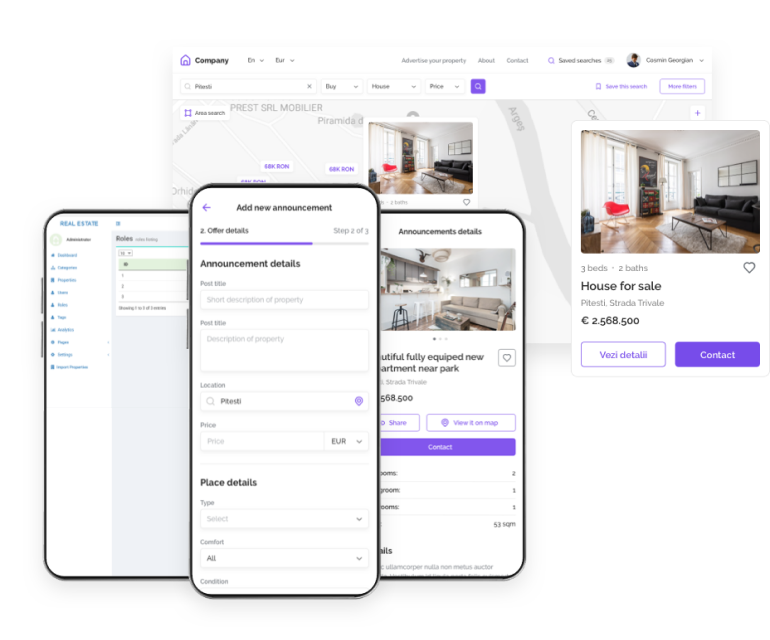 This type of platform brings entrepreneurs and customers on the same page and can offer access to a wide variety of commercial offers.
The main features provided by the B2C Marketplace:
easy login in page;
smart search filters integrated into design;
responsive design – created with both sellers and customers in mind;
smart matchings – synchronizing the client's requests (filtering criteria) with seller's offer;
POI Nearby – mapping client's interests with nearby searches (transport, restaurants, bars, schools, healthcare institutions, parks, grocery stores, etc.);
favorites & hidden options for selected offers;
direct contact tools – for shortening the transactional process;
push notifications – to help seller respond fast to new requests;
trends from analytics – for a fast overview to the platform's performance and market's trends;
dynamic product listings;
product reviews feature;
customer management.
INTERESTED IN DEVELOPING FAST A MARKETPLACE SOLUTION?
CHECK OUT THE FEATURES OF OUR LATEST DIGITAL PRODUCT
#4 C2C Marketplace
This platform is designed for person-to-person transactions where roles are very dynamic (a user can be today a client and tomorrow a seller).
The main features provided by the C2C Marketplace:
flexible login (using the social media account, e-mail account, etc.);
newsfeed panel – where users can see products that may interest them;
smart filters – users can customize their newsfeed by filtering the offers based on their interests;
push notifications for new offers;
search features based on location;
favorites & hidden options for selected offers;
dynamic product listings;
product reviews feature;
smart matchings based on filtering criteria;
etc
#5 CRM Software
Beyond the basic functionalities of a CRM solution, the one for eCommerce also integrates, in addition, a series of specific capabilities:
automated storing of customer history;
smart tracking on customer's preferences (products, shipping, payments, etc);
upsell/cross-sell tools (e.g., for suggesting related purchases);
track the customers' journey through the digital store in order.
#6 Mobile Apps
It's redundant to say what a mobile application is. We all use apps every day for different purposes. What may be important to highlight here is that in eCommerce, mobile apps are great lead generation hooks that can be placed in your business's core to sell the products.
Some ideas for eCommerce apps:
multichannel-sales app – that allows users to buy and recommend products through various platforms (WhatsApp, Facebook, Instagram, etc);
client's voice – for real-time feedback from clients, solution deliveries, push notifications, etc;
product-discovery app – that allows users to shop something they have discovered somewhere else;
one-touch experience app – an advanced features-based app that offers a complete experience with minimal steps (e.g, scan a barcode);
preferences-filter-based app – that memorizes users preferences and displays only the products that match their interests;
marketplace app – bringing vendors and customers on the same page (literally and figuratively).
Some takeaways before you leave this page:
choosing the right solution for your eCommerce business is usually very challenging. Get professional advice before starting to develop it;
launching an eCommerce platform can take months if you decide to build everything from scratch. On the other hand, if you need an early implementation, developing your solution based on a predefined architecture could be the right choice for you;
having access to free stuff is great. Including website builders. However, in the long run you expose your business to technical and non-technical risks that are hard to handle later. Take into account to develop and manage your eCommerce solution (website, portal, marketplace, etc.) with an experienced IT team.
ARE YOU READY TO DEVELOP A FRESH AND INTUITIVE ECOMMERCE SOLUTION?