Should your business build a mobile app in 2020?
3 insights to help you decide
Is it just a "Nice to have" thing or a boosting element for your strategy?
Let's clear the air quickly:
A mobile-first strategy is disruptive for a business where users login via mobile daily. If in doubt, check the revenue evolution of the mobile apps below:
By 2023, mobile apps are projected to generate over 9935 billion U.S. dollars through paid downloads and in-app advertising.
Worldwide mobile app revenues from 2014 to 2023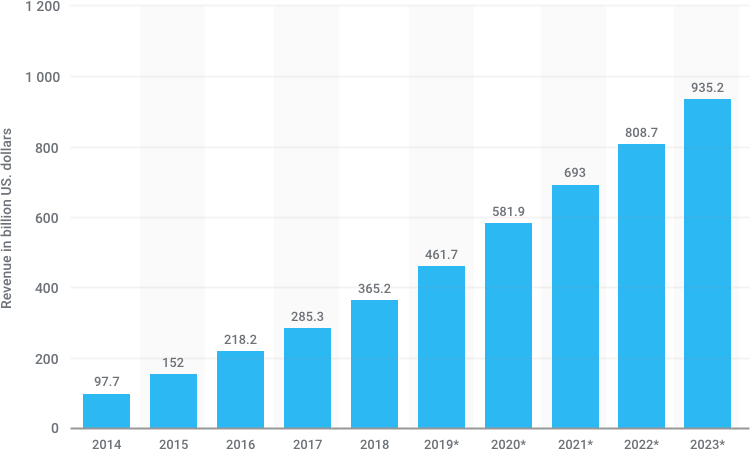 Here are some insights to think about and to help you make the right business decisions, according to your goals.
These are based on the broad experience of our mobile app development experts.
You can check some of our Case Studies here.
An additional Sales Channel
An app is the fashion tool that allows your company to engage with your public dynamically.
It also helps to retain existing customers and to facilitate their revisiting places or using services.
Let's figure out how it can be helpful for your clients. An app works as the fastest solution to a problem or a need; it saves time, it offers them benefits and information about the company.
You are closer to them and the engagement will grow. This is an essential differentiator when they choose you.
Stand Out from the Competition
Alongside the customer engagement approach that would make a difference, it's always a good idea to check your competitors. If they don't have an app already, you can take a big leap ahead of them;
And if they already have one then you definitely shouldn't miss the opportunity.
A detailed study of what's considered the top of the range mobile customer experience in your industry it's a must.
Build up a strong Presence
A brand that stands out in today's competitive market will bring several benefits. First, awareness and recognizability of a product, service are essential. This is where an app can make a difference, by offering strong visibility and care for your public; it positively impacts the perception of your overall business.
Remember, an app is an extension of your company's image.
An app will enhance the customer experience and it will save your business money in the long run. These are essential key factors that can and should be measured.
Companies need to invest the time and care to design and build a reliable user experience while developing a mobile app. Keep in mind that you should take into consideration a reliable customer engagement strategy, starting from mobile marketing to billing and customer service.
If you are having doubts about whether to get closer to your public and build an app, you can always get in touch with us to answer any questions you might have.
Also, you can check more info about our mobile app development services here.