Because we make possible things that seem impossible and create truly imaginative projects to produce great results under pressure again and again, everything accomplished as a team, we released the steam together with an epic party on this year's team building held in Bulgaria at Grand Hotel Varna resort.
Varna, a resort on the Black Sea selected to boost employee morale for a weekend filled with relaxing pool activities and cocktails during day, and clubbing or parties during night. We have dived into all sorts of events that allows cross communications to flourish while stimulating an atmosphere of involvement and fun.
And because we are the company that says " OK, we can make a difference " believing that today we are better than yesterday, we proposed ourselves to have an improved team building event as against the last year one.
Bulgaria greeted us with it's vast sunflower plains which led us think to our childhood story books read. But once arrived to Grand Hotel Varna resort we have unleashed the fun in the sun for a full weekend of relaxation . We have fully enjoyed the pool parties, music, team building games and just about everything that the summer had to offer for having a motivated team, create energy and inspire enthusiasm that should last for an entire year.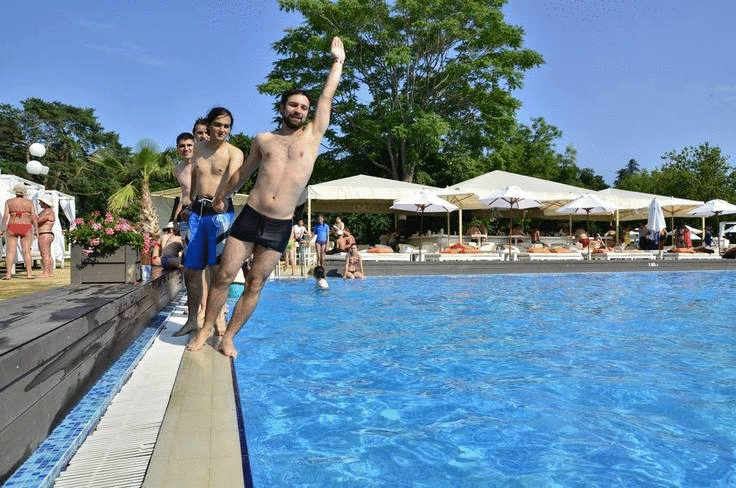 For those not in the mood to bounce all over the pool or the beach, they were able to stretch their brains with some puzzle books an entertaining alternative to staring out in the distance. But others were attached to the idea of calm, something as simple as a shell is reinvigorating a person's understanding and appreciation of the natural world. Combining everything with the rhythmic sound of the tides hitting shore we have received a sense of peace once thought impossible.
On the returning road our brains got invaded with our team building event memories, an weekend never to be forgotten. But before we get to swept up in it, let's check once more a small piece of Roweb fun and leisure. Thank you Varna, thank you Roweb!