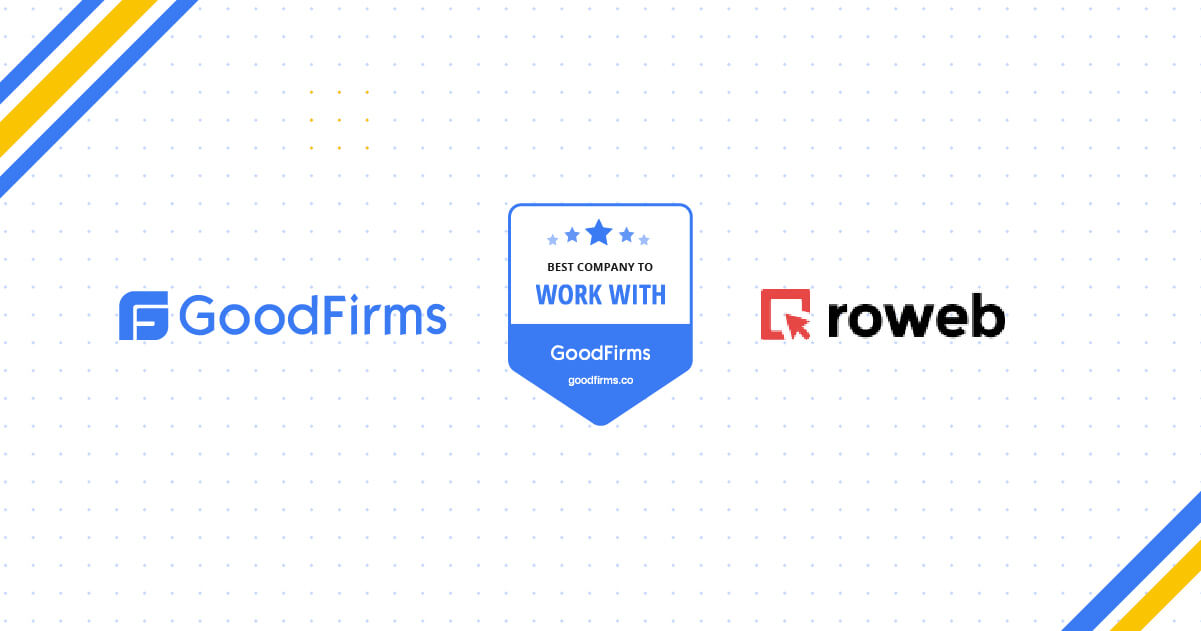 Author: Goodfirms (this article is written by Goodfirms to outline the criteria that were the basis of the Best Company to Work With badge allocation)
Off-the-shelf software solutions are market-ready tools that enable businesses to automate and digitally transform at minimal costs. However, with rising market competition, it is essential to innovate and offer much more than the competitors. Besides, every business has unique operational needs that commonly available tools may not fulfill. Businesses are thus looking for the top custom software development companies specializing in end-to-end, custom software development to build tailored software solutions that help them keep up with the dynamic market, attract more customers, and rise to new heights.
GoodFirms recently recognized Roweb for its vast experience and extraordinary skills that put the Company as one of the top market influencers through the Leaders Matrix program, and identified the company as the "Best Company to Work With." Based in Romania, Roweb is a leading software development company offering broad-range digital solutions and services to businesses worldwide. The company follows utmost diligence in whatever software development challenge it takes, converting the client's imagination into an innovative and profitable business model.
For the year 2023, GoodFirms named Roweb as the "Best Company to Work With."
If you are looking for the top custom software development companies, Roweb is the right development partner for all your business needs, recognized by GoodFirms Leaders Matrix. Since its inception in 2004, Roweb has completed 1000+ projects, served clients in 30+ countries, and earned an 80% customer retention rate. The company believes in growing with its clients. With such a winning attitude, Roweb has been creating value and success for businesses by developing high-quality web, desktop, and mobile applications, scalable websites focusing on the user experience, custom online portals, and Magento eCommerce solutions. Roweb team embraces every challenge as an opportunity in disguise and delivers exceptional services. GoodFirms recently recognized Roweb as the "Best Company to Work With" in 2023.
Roweb | Vision, Strength & Scope
As a reputed software development company, Roweb leaves no stone unturned to develop the best and most efficient custom software for businesses. The company facilitates end-to-end software development and IT services for businesses of all sizes, from start-ups to large companies across the globe, including the UK, Denmark, Belgium, USA, Switzerland, Germany, and Middle East. Over the years, Roweb has earned numerous loyal customers and exceptional reviews.
Roweb accomplished an e-commerce development project for a client. The client was very happy with Roweb's work on the project and rated them a full 5/5. They have been working with Roweb on multiple projects. The client highlighted that Roweb has an excellent knowledge of industry-related tools with a highly skilled team that exhibited exceptional knowledge, availability, and promptness in solving issues.
Among other notable projects by Roweb was an app UI/UX design project for another client. The client has worked with Roweb for over six years to develop their in-house technology and highly recommends them as a reliable, capable, and results-driven business partner. The client further elaborated that they have successfully designed and created multiple mobile apps with Roweb as their development partner. Roweb has helped them improve their development cycle, reduce dev and testing time, refine specification design, and create high-quality products.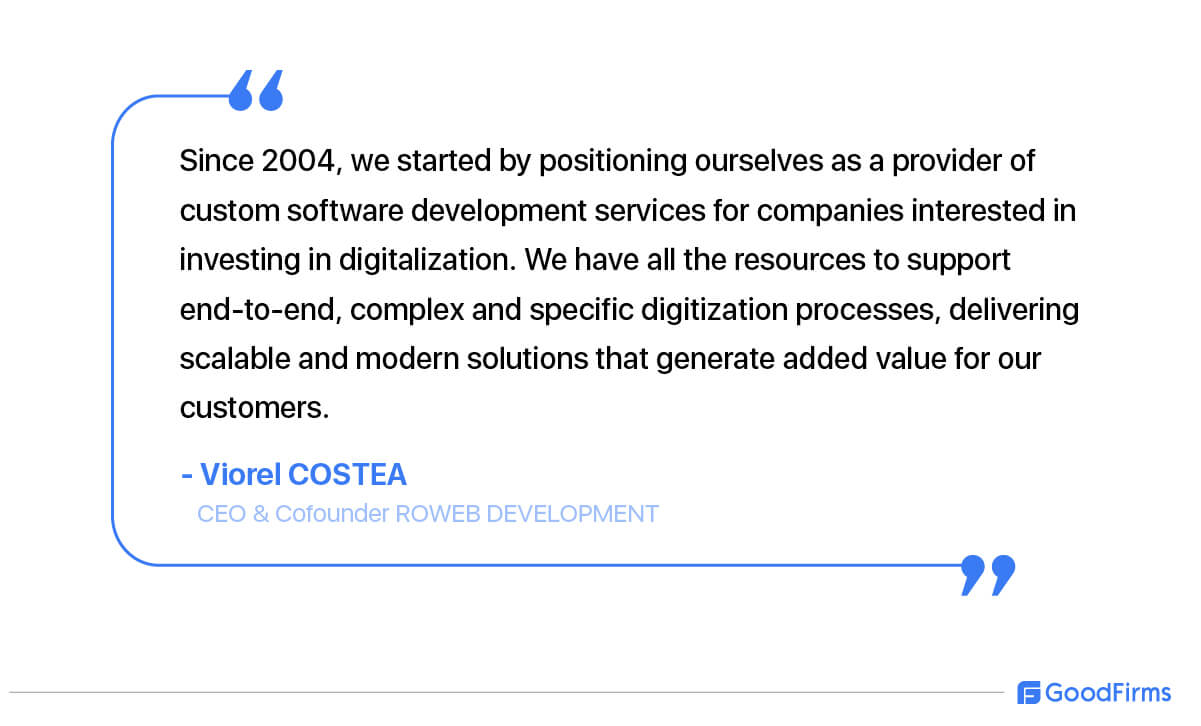 A few reviews of Roweb: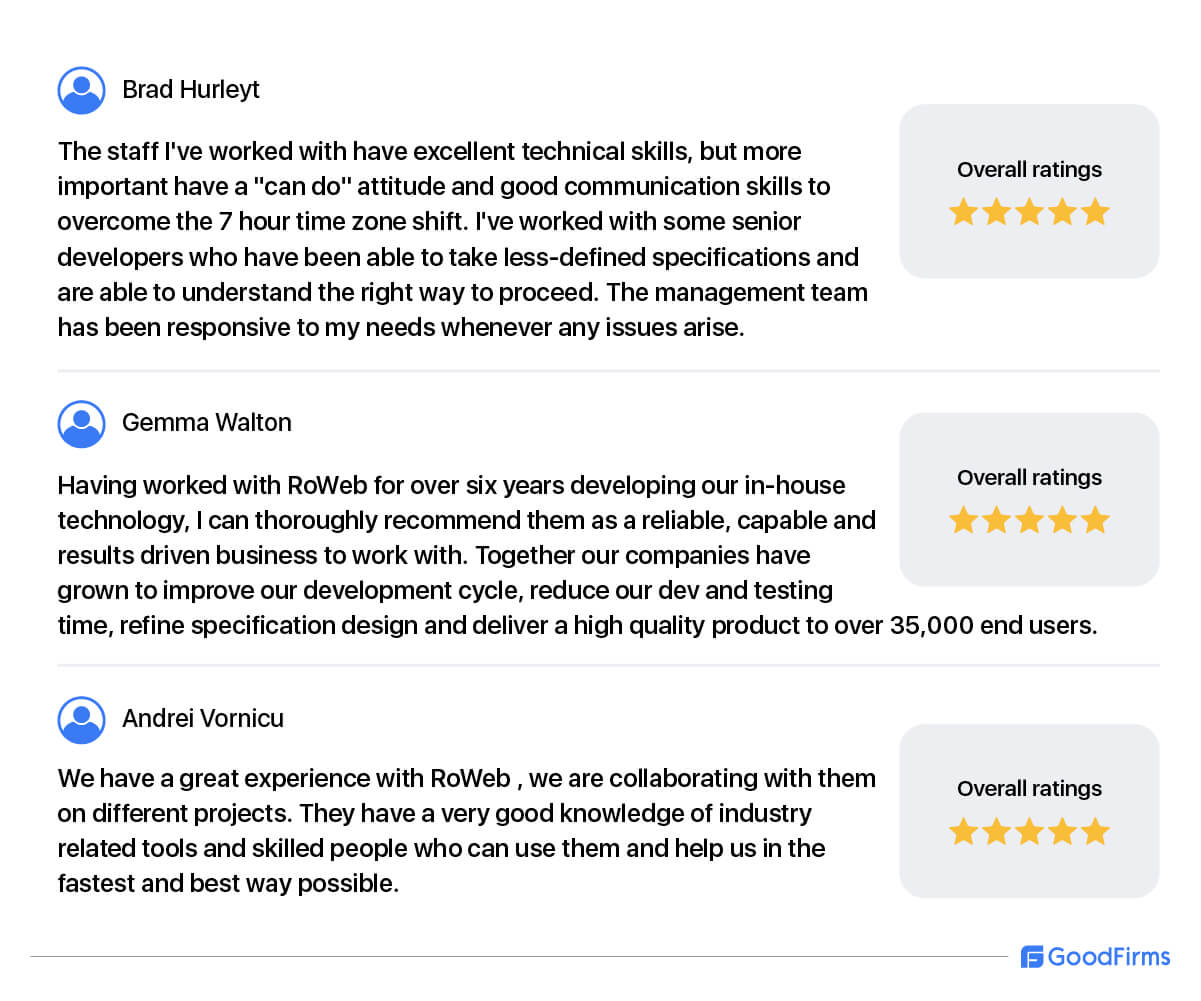 Why is Roweb the Best Company to Work With?
Talent, creativity, agility, experience, out-of-box thinking, a customer-centric approach, and global exposure constitute the pillars of success for any business. With a perfect blend of these traits, Roweb has established itself as one of the most reliable custom software development and IT services providers.
"We believe Roweb's positioning in GoodFirms' Leaders Matrix report reflects the company's exceptional ability to leverage its experience and expertise and create superior software applications that help its clients to reinvent their business, automate, digitally transform, operate seamlessly, shrink costs, and enhance profitability," said GoodFirms.
Roweb had to undergo a rigorous assessment under the GoodFirms Leaders Matrix program. The evaluation covered the service landscape, verified client reviews, experience in the domain, market, competitive positioning, and much more. Such analysis helped in bringing out strategic information about Roweb's capabilities, competitive differentiation, and market position.
About the "Best Company to Work With" Badge
"Best Company To Work With" is an exclusive program run by GoodFirms where the Leaders Matrix companies are recognized with a Badge, an exclusive article about the Company, and a supporting PR. Such recognition stands as a support to developing trust and authenticity within the B2B community. It also allows the participating companies to improve their ranking – rank higher in the Leaders Matrix categories, receive inbound backlinks from GoodFirms LeadersRoundtable podcast campaign, and get a certified Badge saying, "Best Company to Work With."
About GoodFirms
GoodFirms is a B2B research, review, and listing platform helping businesses accelerate their digital journey and to maximize the value of modern technology. The company connects service providers with service seekers through a comprehensive and thoroughly researched fact-based list of the best services and solutions. Recognized as the most reliable source for the B2B market, GoodFirms has world-class experience with partners across the globe.
Author: Goodfirms (this article is written by Goodfirms to outline the criteria that were the basis of the Best Company to Work With badge allocation)