Technology plays a vital role in helping businesses scale through automating tasks and improving productivity. At Roweb Development, we devote ourselves to crafting clever solutions to help our clients solve their unique challenges and needs. For more than 17 years, our team has gained experience working in different industries like finance, insurance, real estate, tourism, e-commerce, marketing, and more.
Our expertise in developing bespoke app development helps our clients achieve their goals. As we celebrate a new year ahead for us, we're going to take our time to pay homage to our memorable 2021 chapter on Clutch!
(Clutch is an independent B2B review and rating platform that showcases the work of the top service providers worldwide.)
100% NPS scores on Clutch
In order to be ranked on Clutch, solutions providers like us must earn stellar verified reviews that highlight our expertise and experience. Last year, we were hailed as one of Romania's leading software development companies thanks to the wonderful feedback of our partners.
Throughout the year, we received several high-quality reviews that feature perfect ratings across all metrics including the NPS score.
Word of mouth is far more powerful than any type of advertising and marketing. Having your clients speak about your work reflects the quality of your service. The NPS score measures how willing a client is to recommend the vendor to other potential clients.
It's a tremendous honor for us to have perfect 100% NPS scores on Clutch! Thank you to every one of our partners for graciously sparing time to leave us their honest feedback. Your support opens countless opportunities for the Roweb Development team. We are genuinely grateful for your trust.
Moving forward, we can't wait to discover more possibilities and grow further. If you want to learn more about why our clients give us five-star ratings, drop us a line and see for yourself. We'll walk you through our custom solutions and services.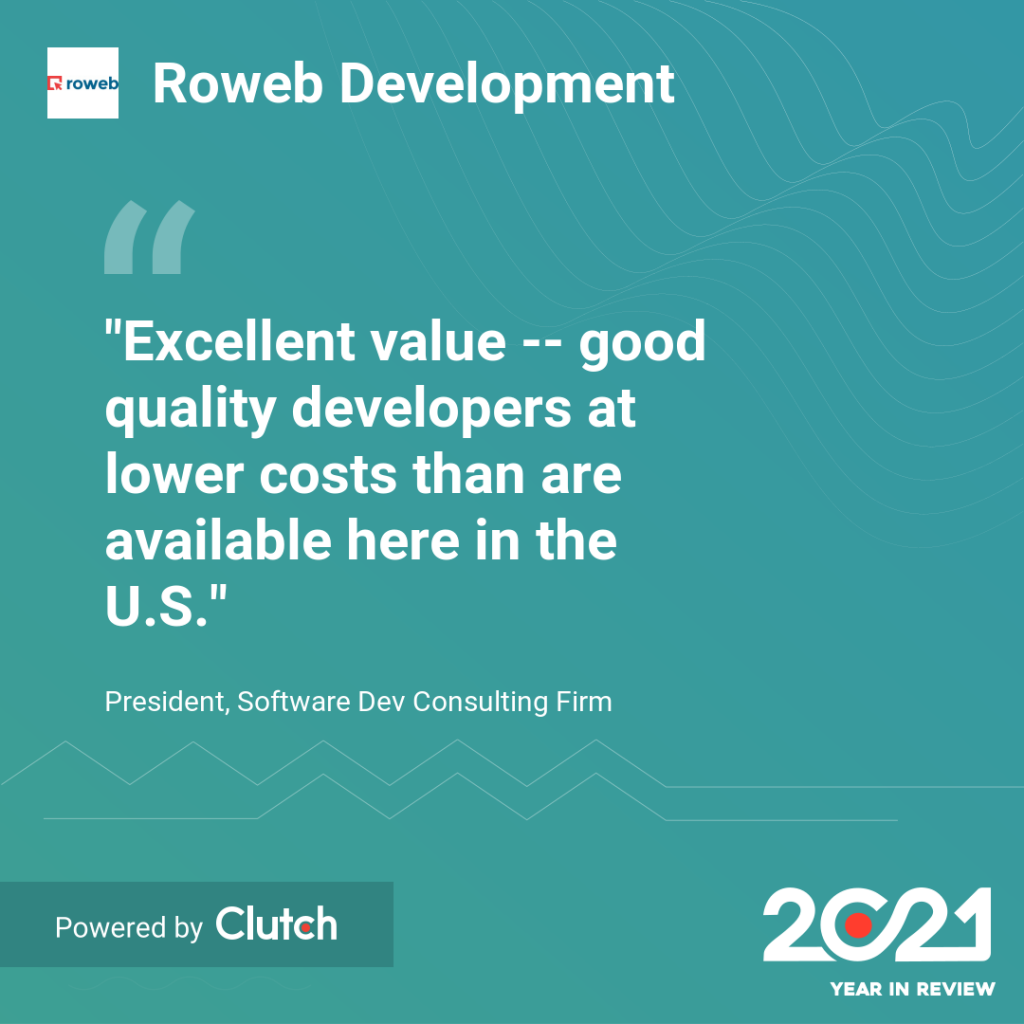 Offshoring to Romania: how can we help with your projects
Outsourcing models you can rely on:
Managed/dedicated teams – We build for you dedicated development teams (from scratch or related to your existing in-house teams) according to your expertise level.
Staff Augmentation – Expand your in-house staff by outsourcing IT specialists from Roweb.
Project-based teams – We"ll work together toward specific goals, while you can count on a full-spectrum project development process and well-defined milestones.
Industries we worked for:
Recruiting & HR
Finance & Insurance
Real estate
Tourism & hospitality
Associations
Transport & Logistics
E-commerce
Marketing
Our differentiator in the offshoring software development market
familiar with over 30 countries software development market specificity (check out our portfolio to access some of our projects);
no language and cultural barriers (e.g., fluent English knowledge across teams);
full transparency cost predictability, and budget control;
long-lasting partnerships with clients (our most extended ongoing project started 17+ years ago);
agile approach to ensure fast development;
able to provide complete and experienced teams (skilled, experienced developers, project managers, business analysts, scrum masters, UX, product owners, specialists designers, QA specialists);
valuable human resources for clients and projects: 45% of our professionals are senior developers.