The digital world is changing. And not only when it comes to tech trends but also at the level of the most essential aspect: the human factor.
However, there is no better time than March to talk about the contribution of women to society. Thus, we have chosen to highlight some aspects of women's role in the tech industry.
Especially since the statistics are on our side.
The data shows that more and more women are willing to work in the tech industry. In 2022, 28% of women had a job in this field. But, in the coming years, specialists say the percentage considerably increase.
Why work in an IT company as a woman?
IT is a complex industry that includes software development departments and related fields such as Quality Assurance, Business Analysis, Product Ownership, UX / UI Design, and so on. This means you can bring diverse knowledge that provides value to the project beyond writing code.
You have all the assets (or you can acquire them) to work in this industry, especially since there are specialized courses and tech faculties that can help you reach the desired level of knowledge.
The field is one with potential, which is continuously developing. Therefore, the need for specialists is directly proportional to the digital transformation that covers all areas.
The dynamism and constant changes in IT bring challenges and keep you from getting bored.
The perspective of the women in our company
Roweb is a company of 130+ employees, of which approximately 24% are women. They occupy positions of Tech Lead, HR, Marketing Specialist, Finance Manager etc.
They are intelligent, persistent women who learn and develop continuously in a technical field where logical thinking is intertwined with innovation, creativity and flexibility.
However, to get to know them better, we chose to ask them two simple questions. The first relates to the professional part because we wanted to know what made them decide to work in IT. The second one is personal and related to their favorite activity outside the office.
Below are some of their answers.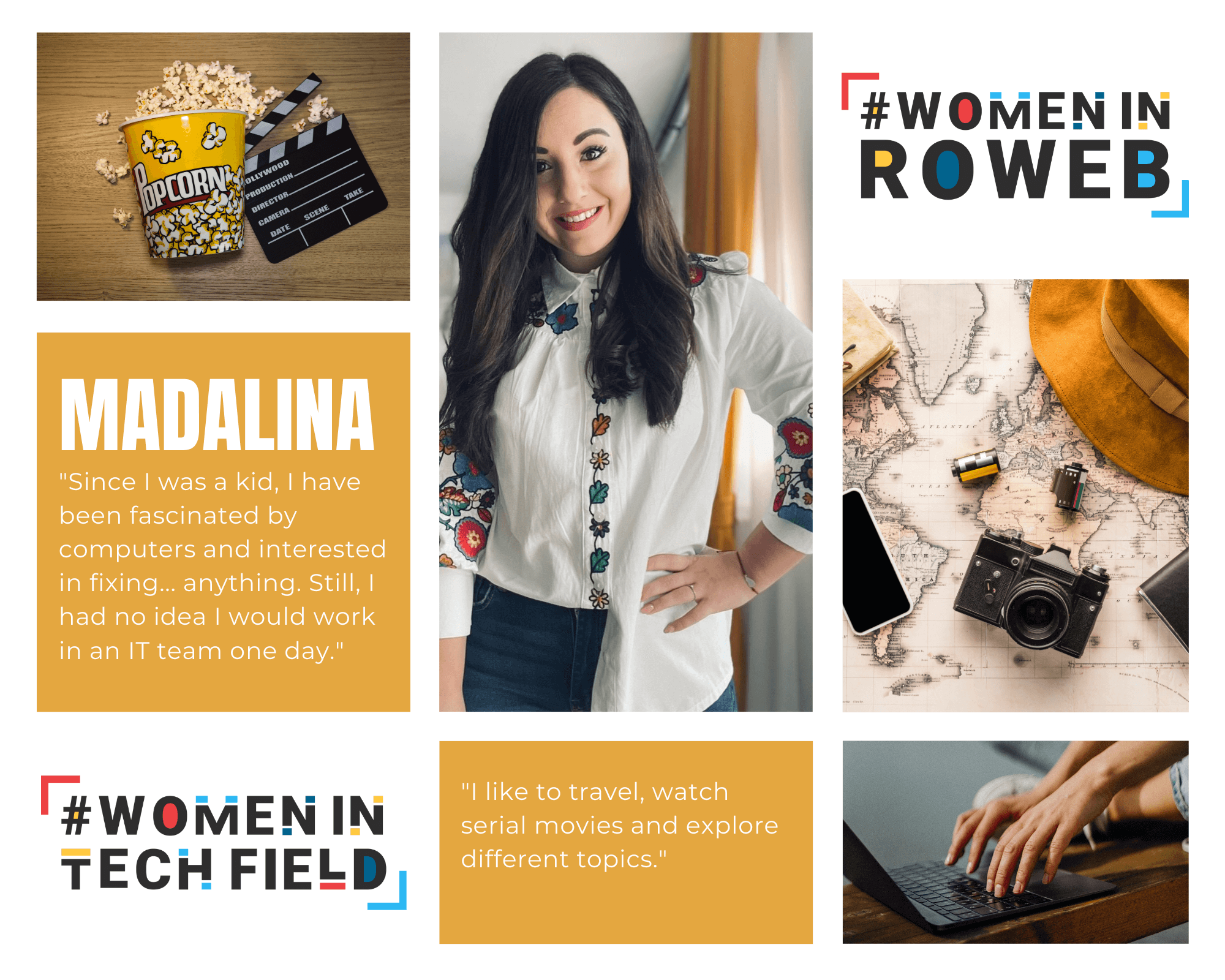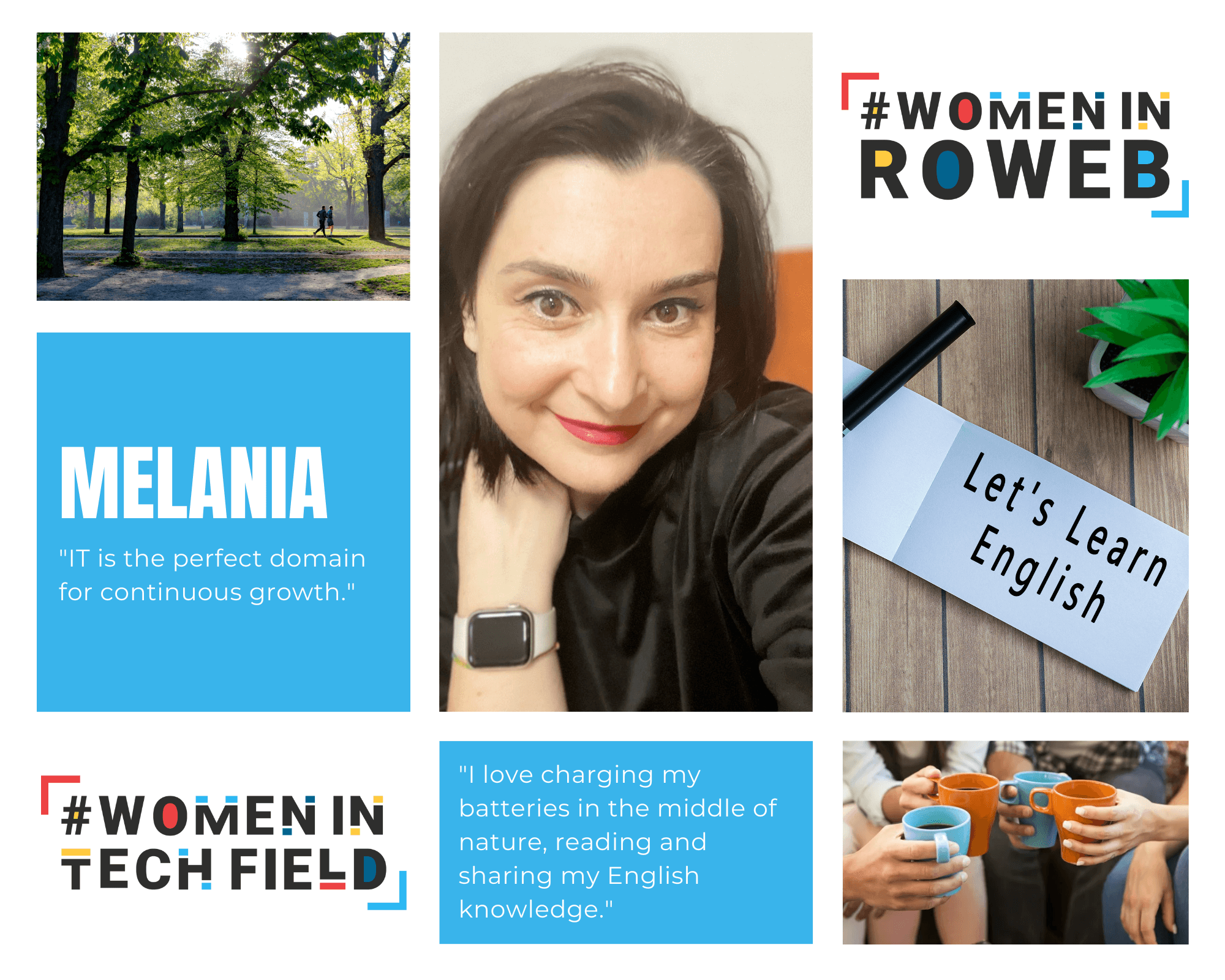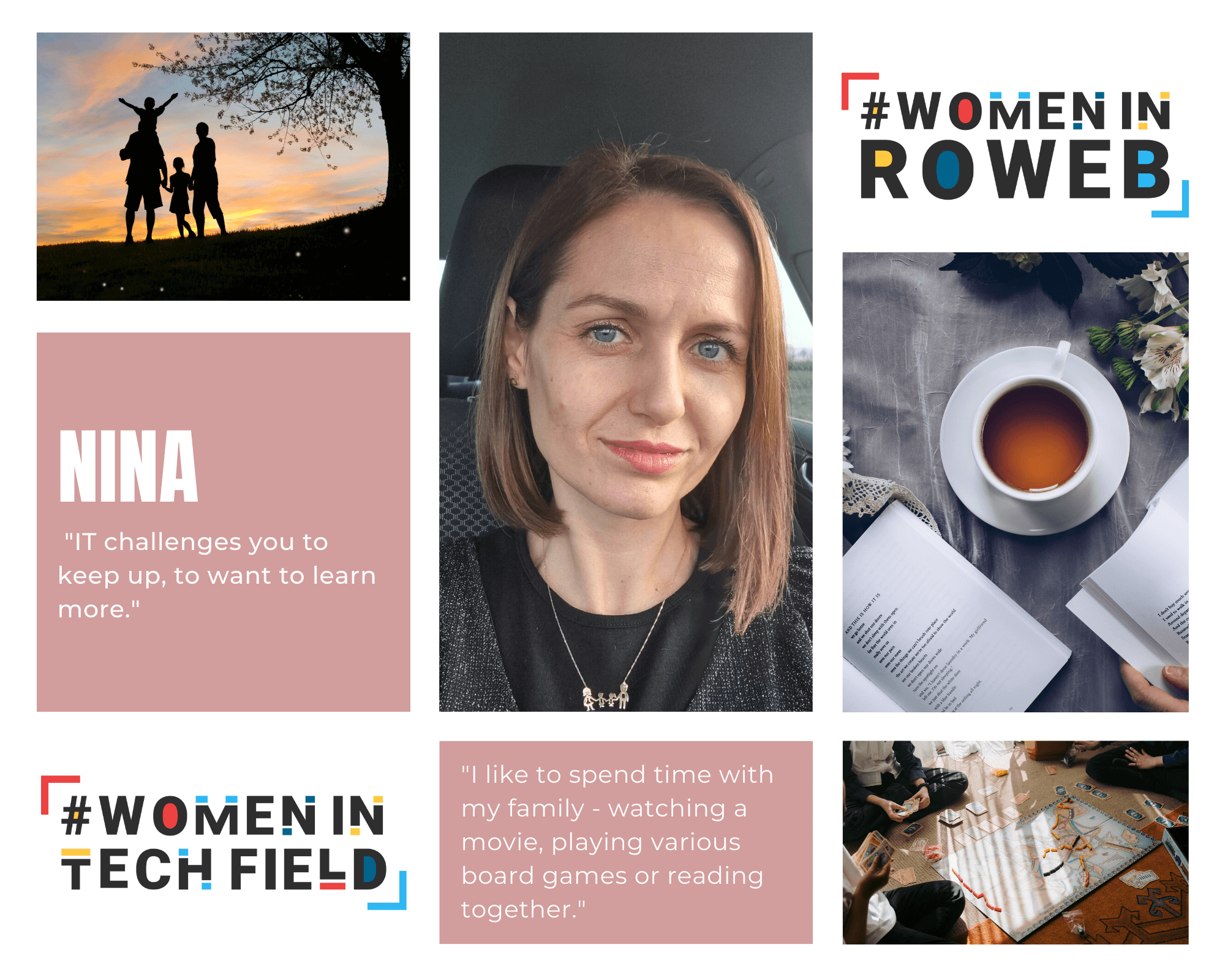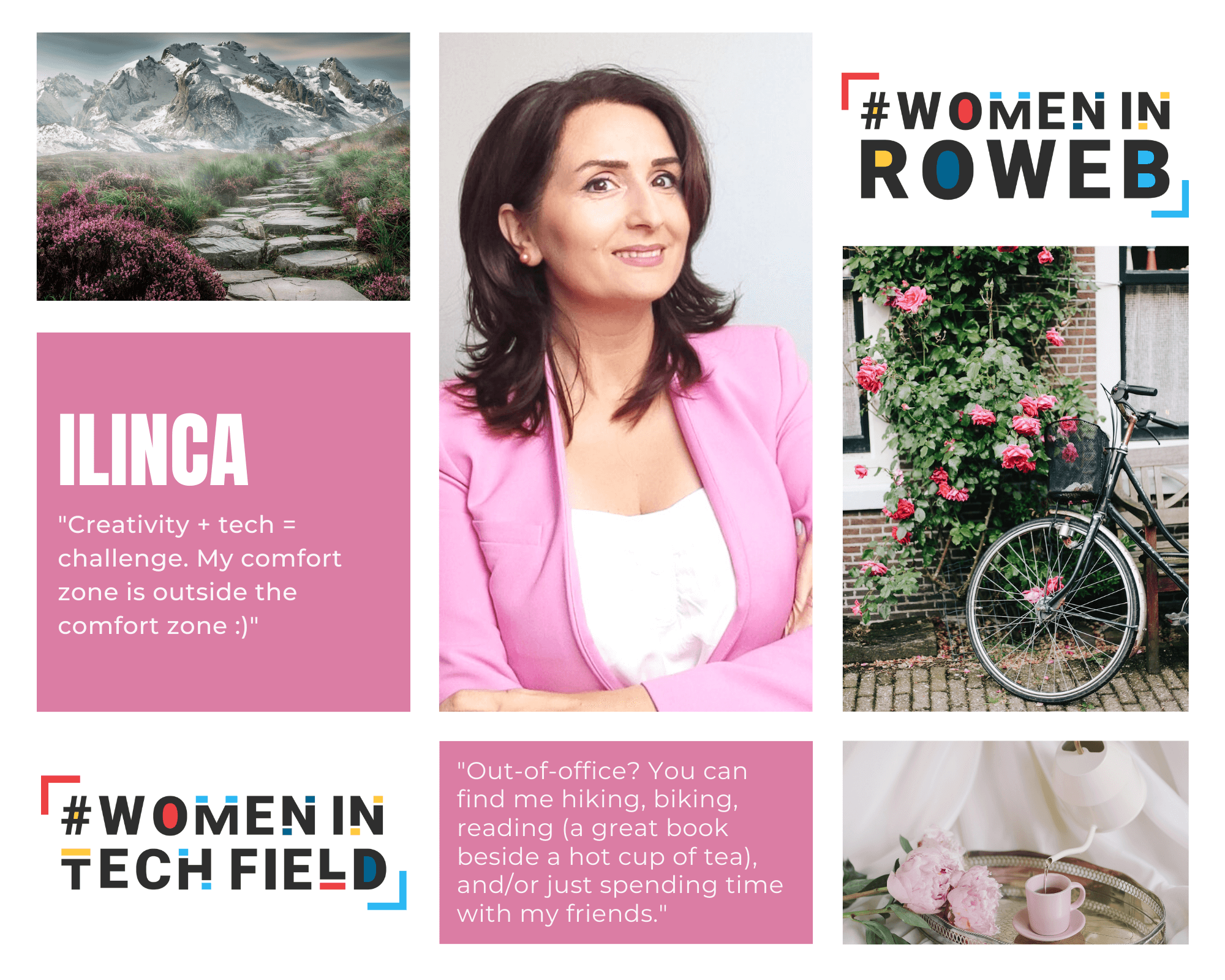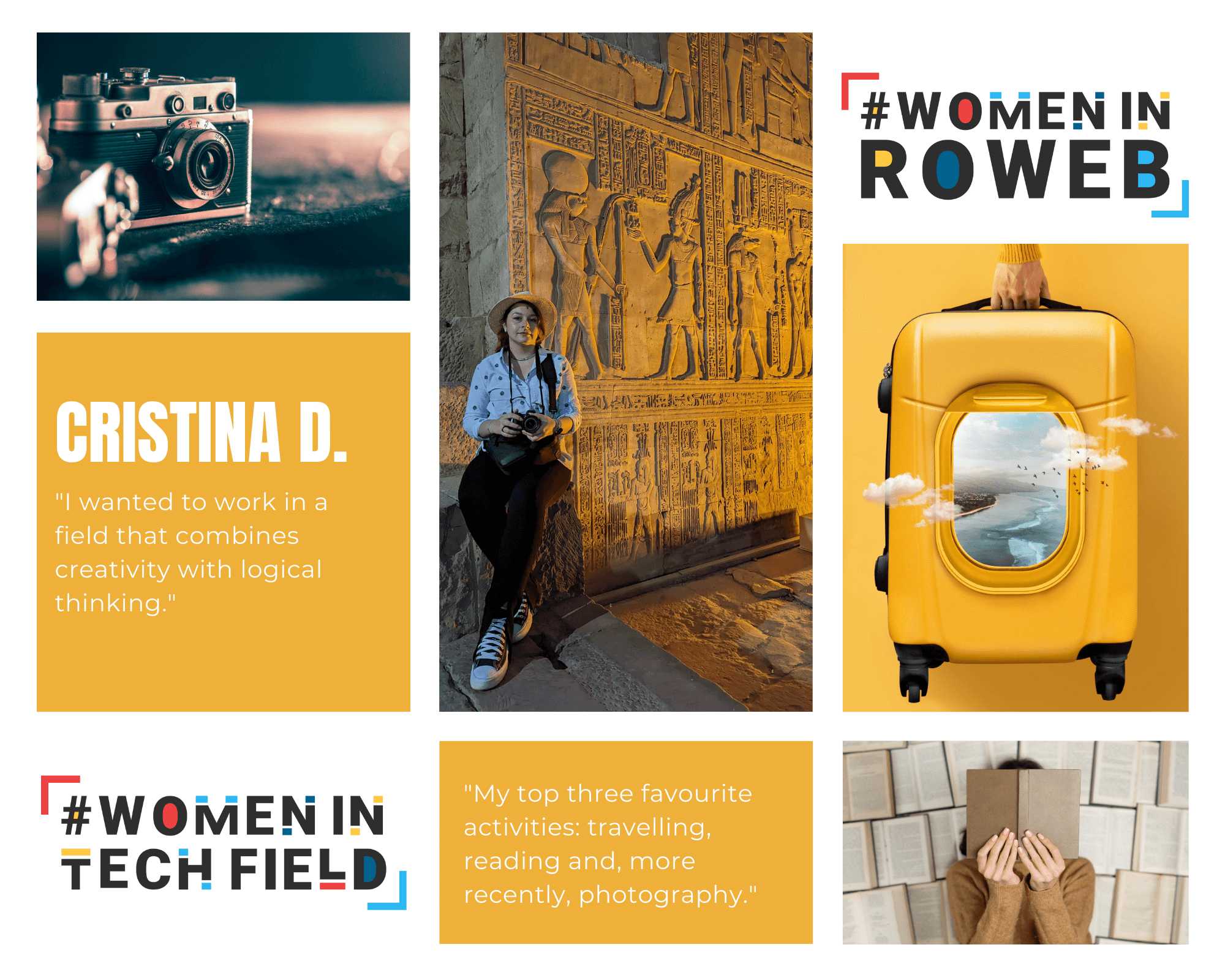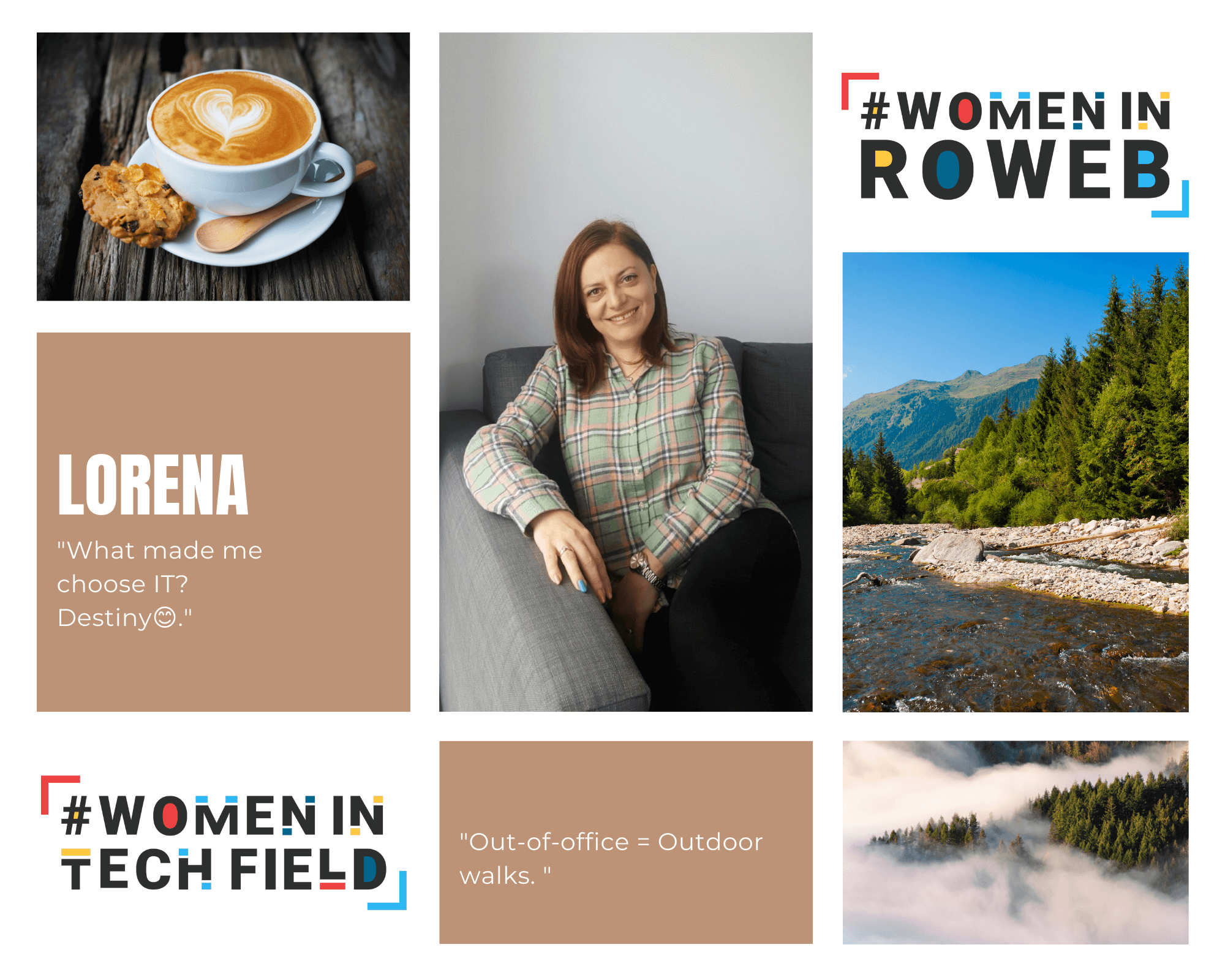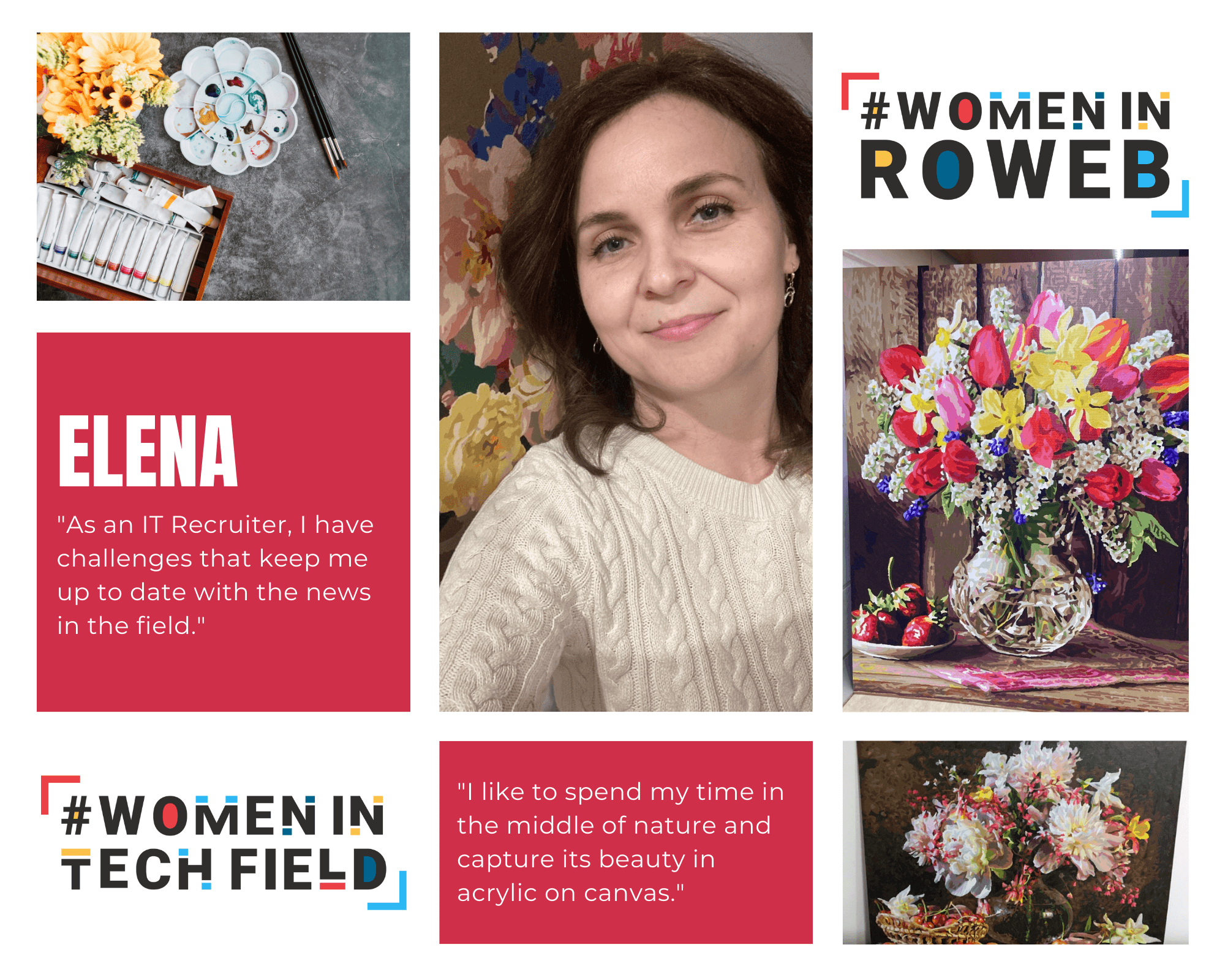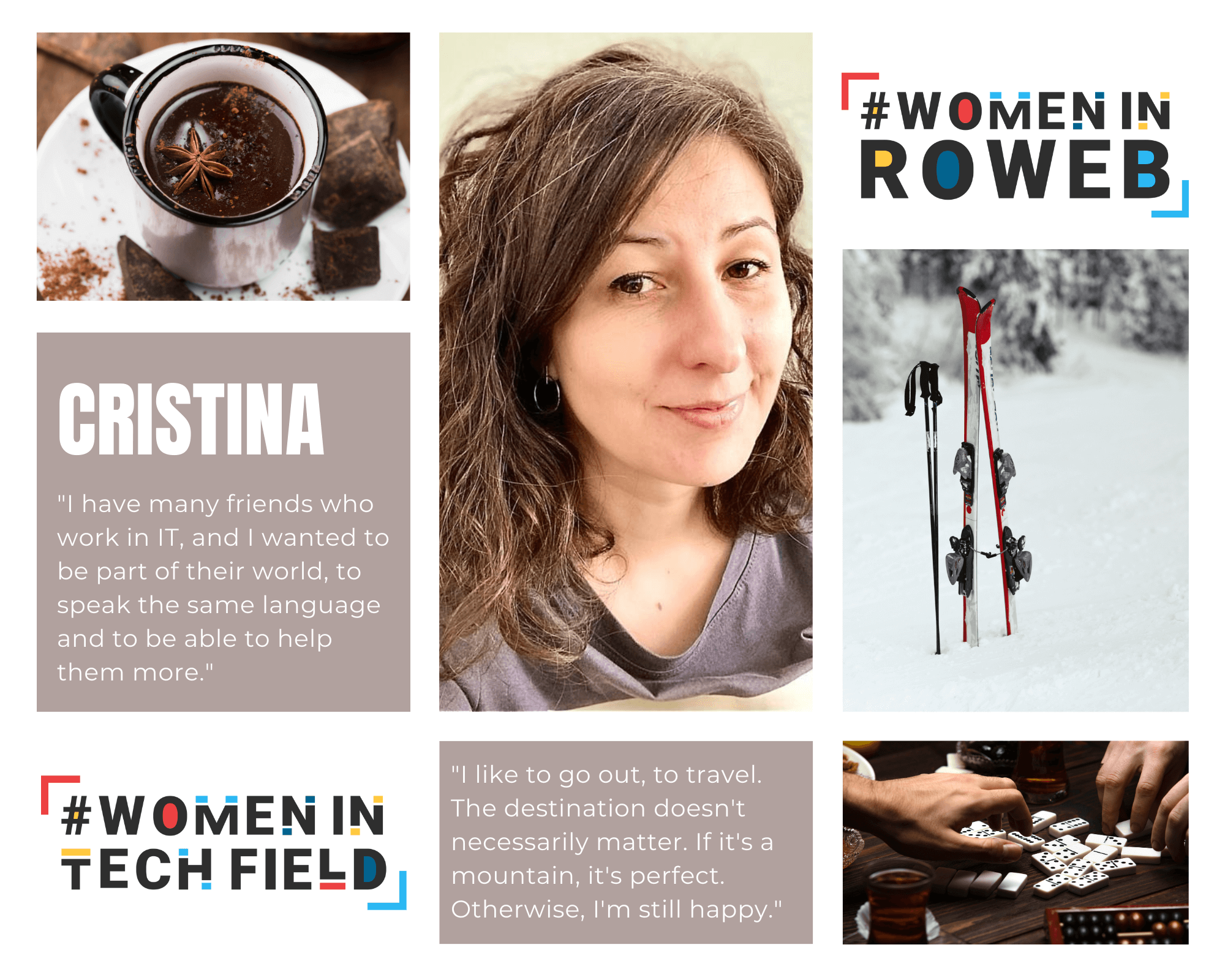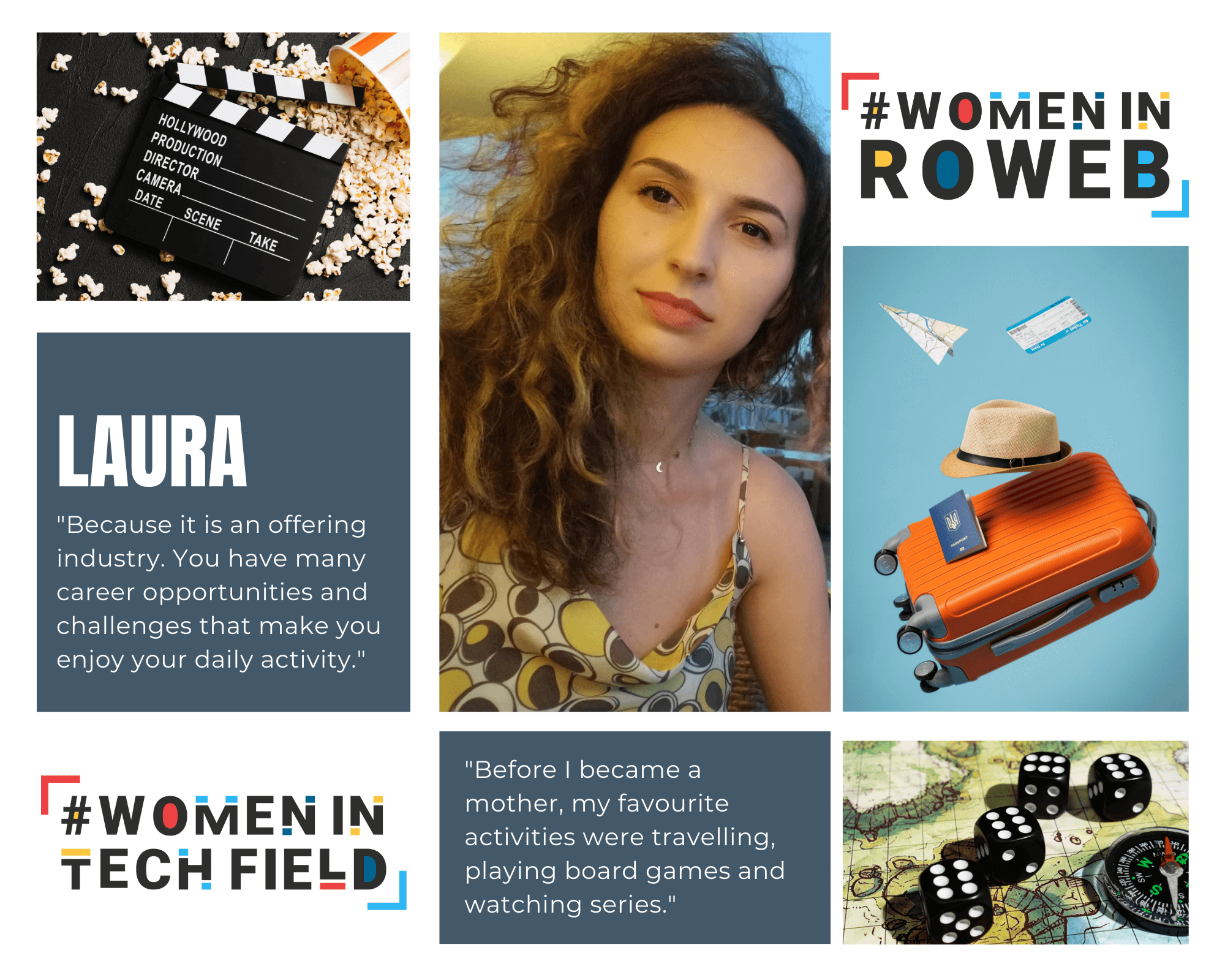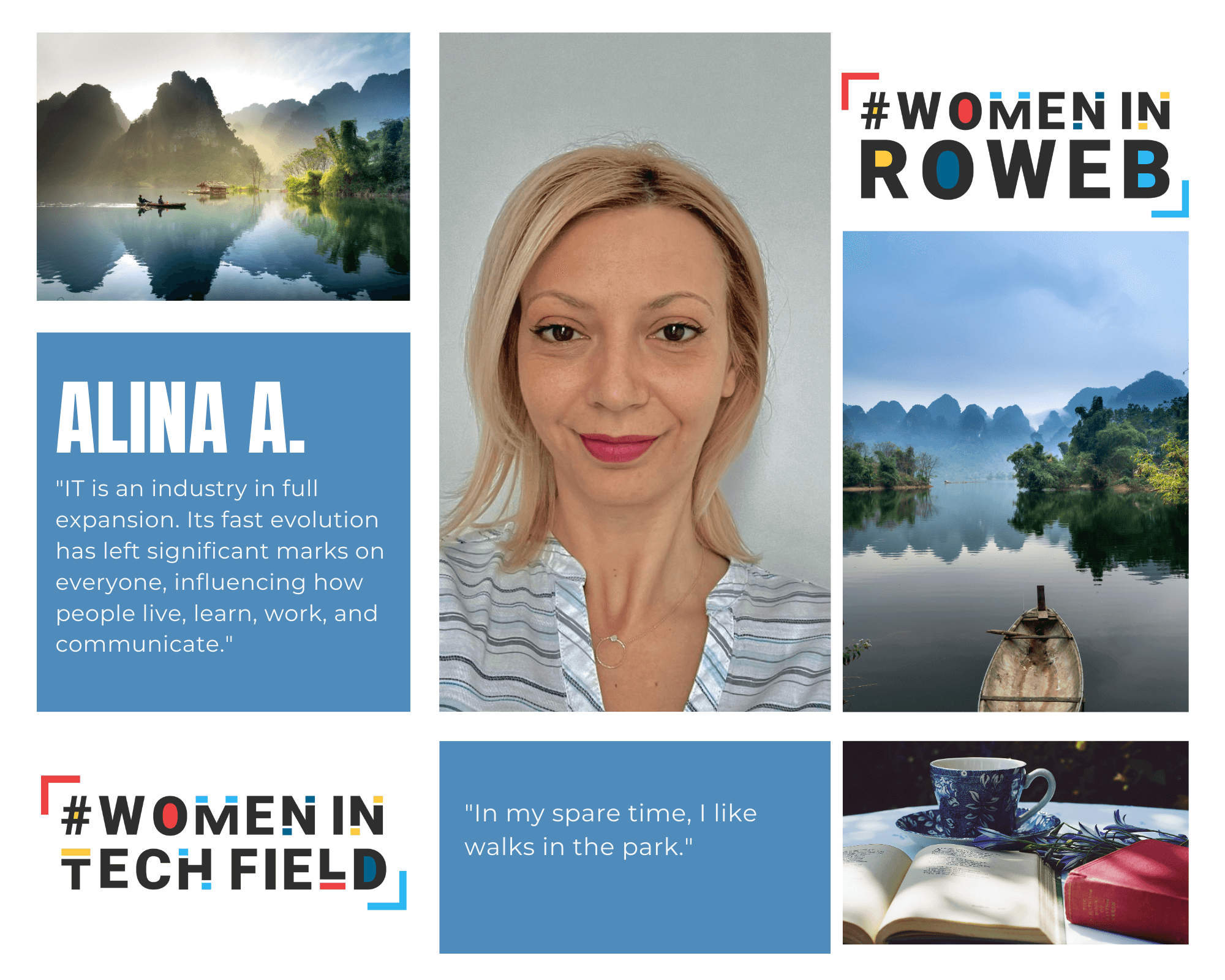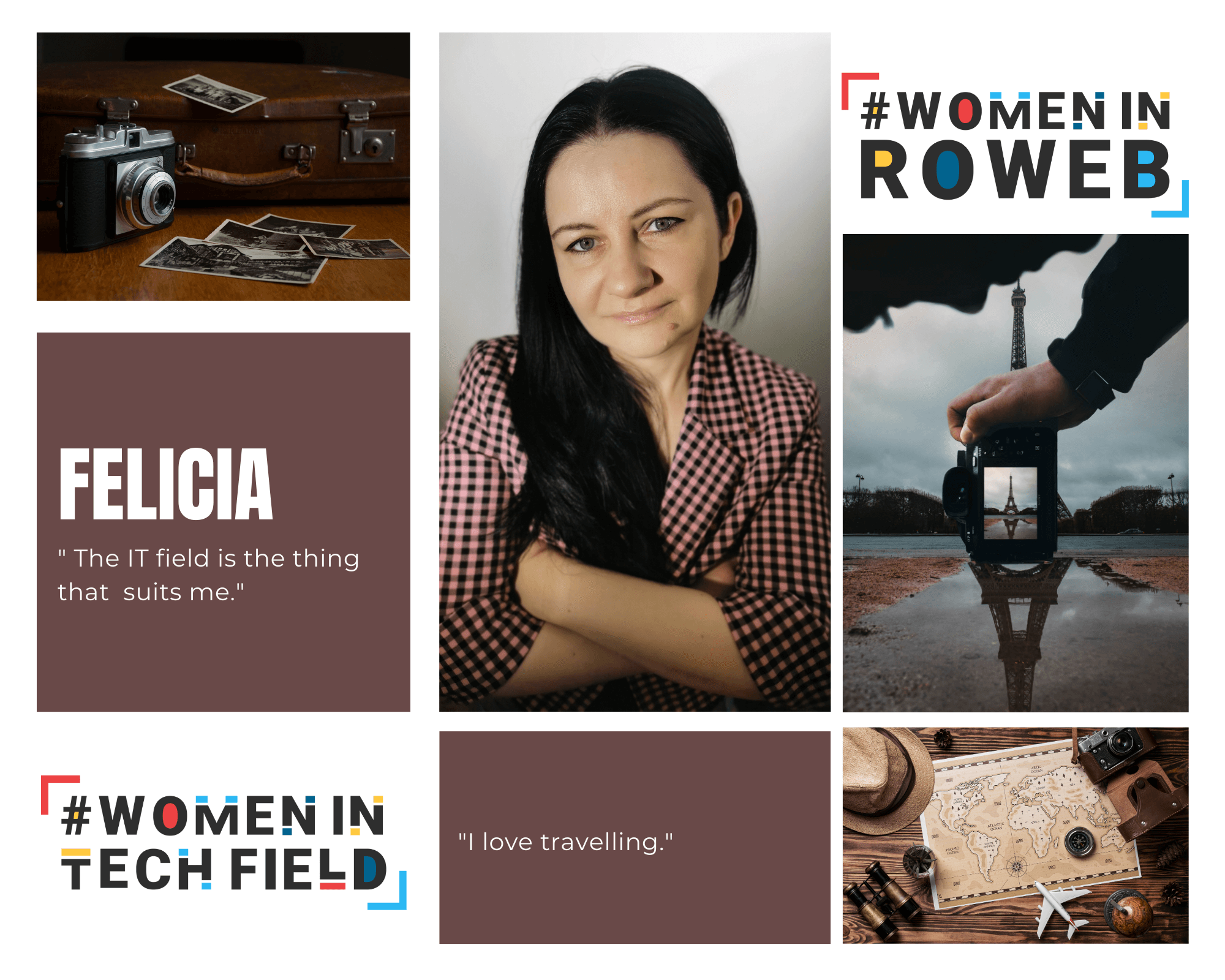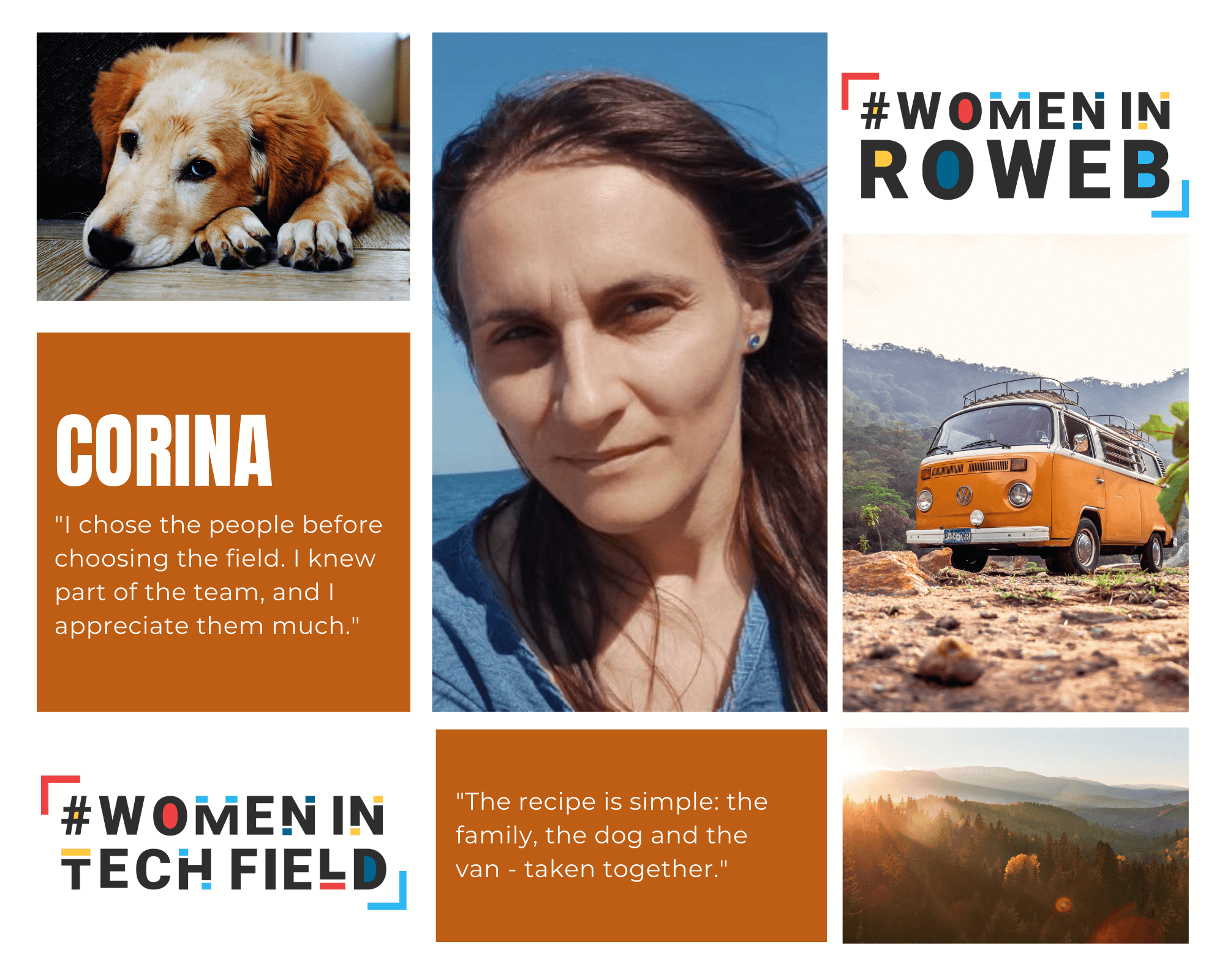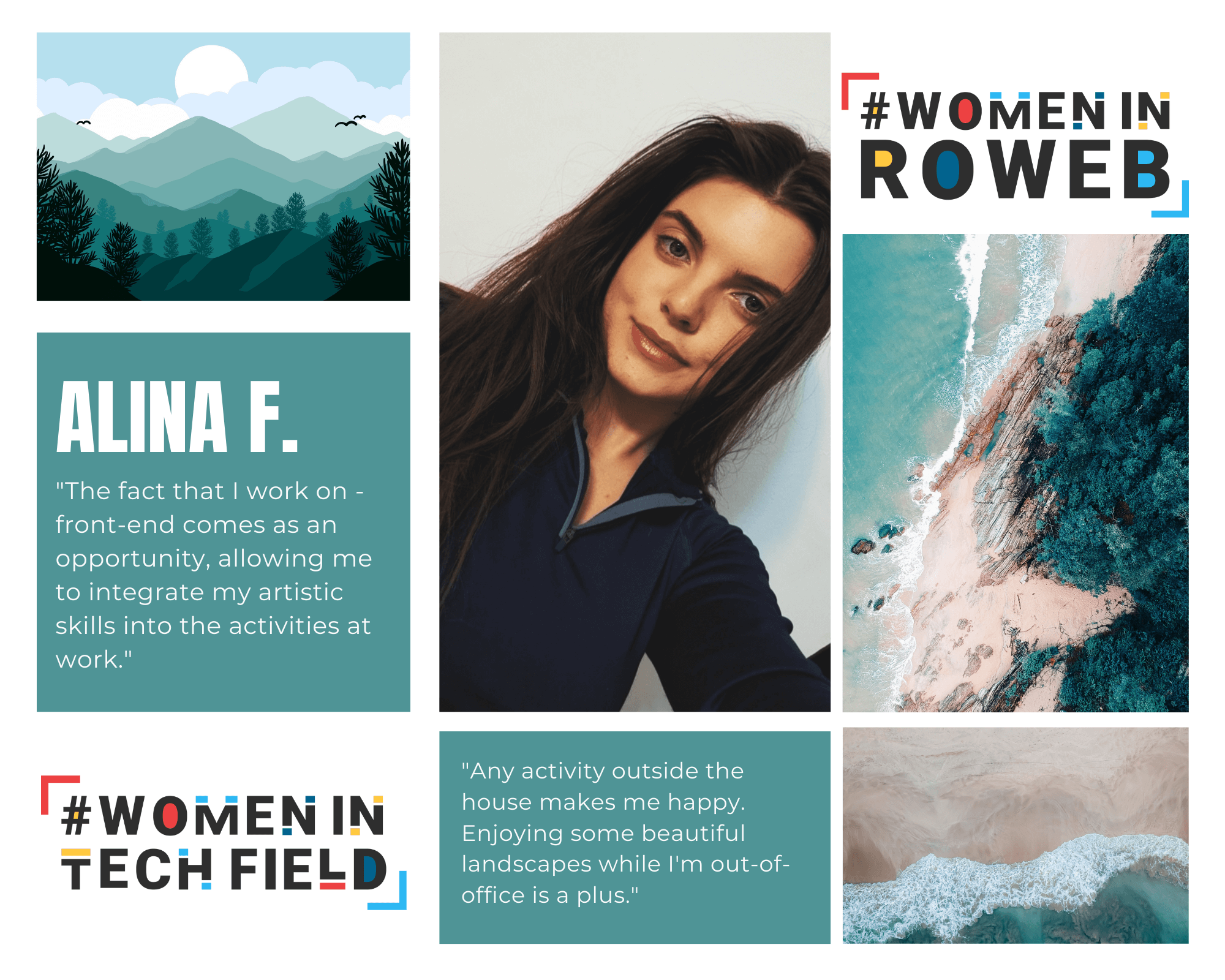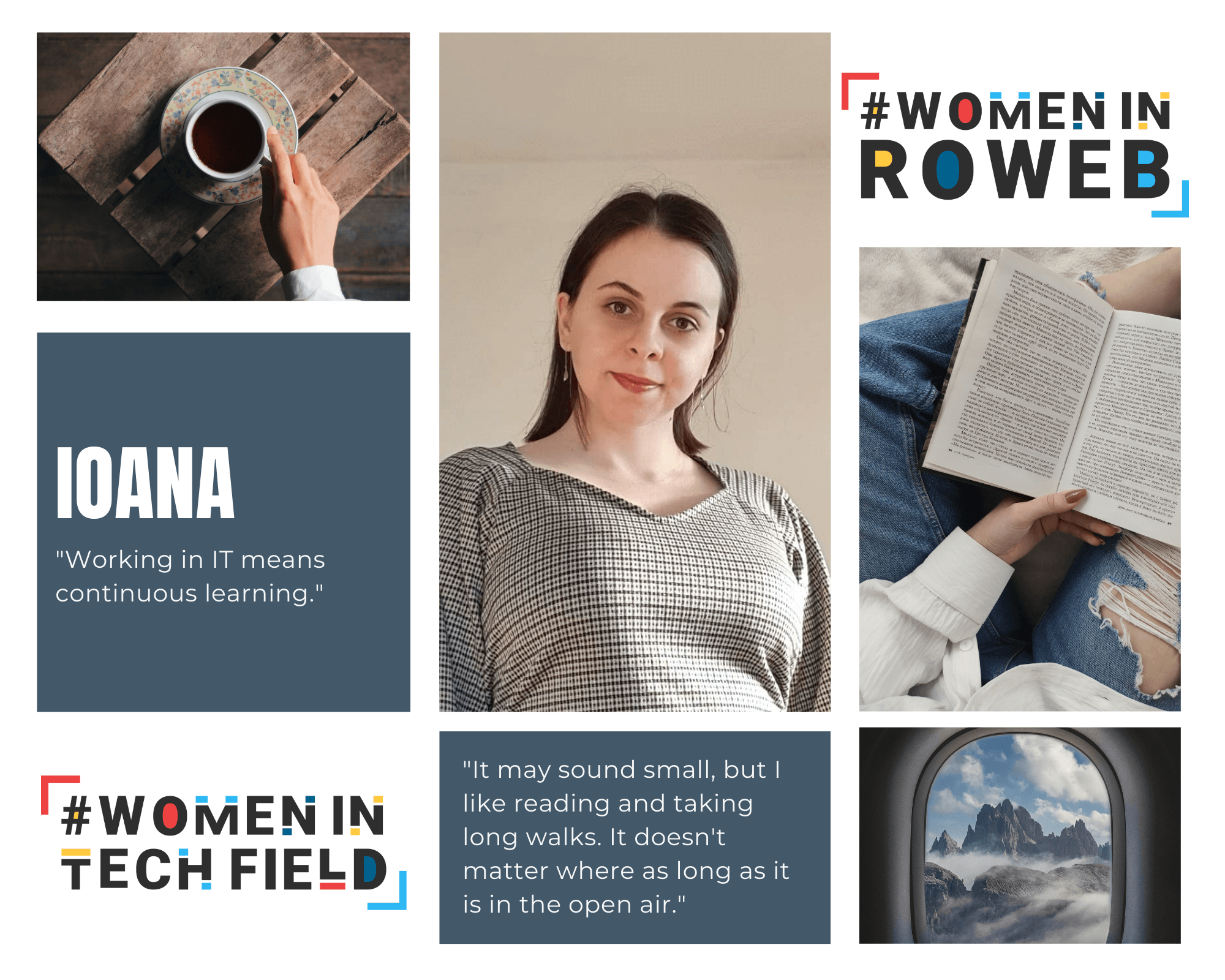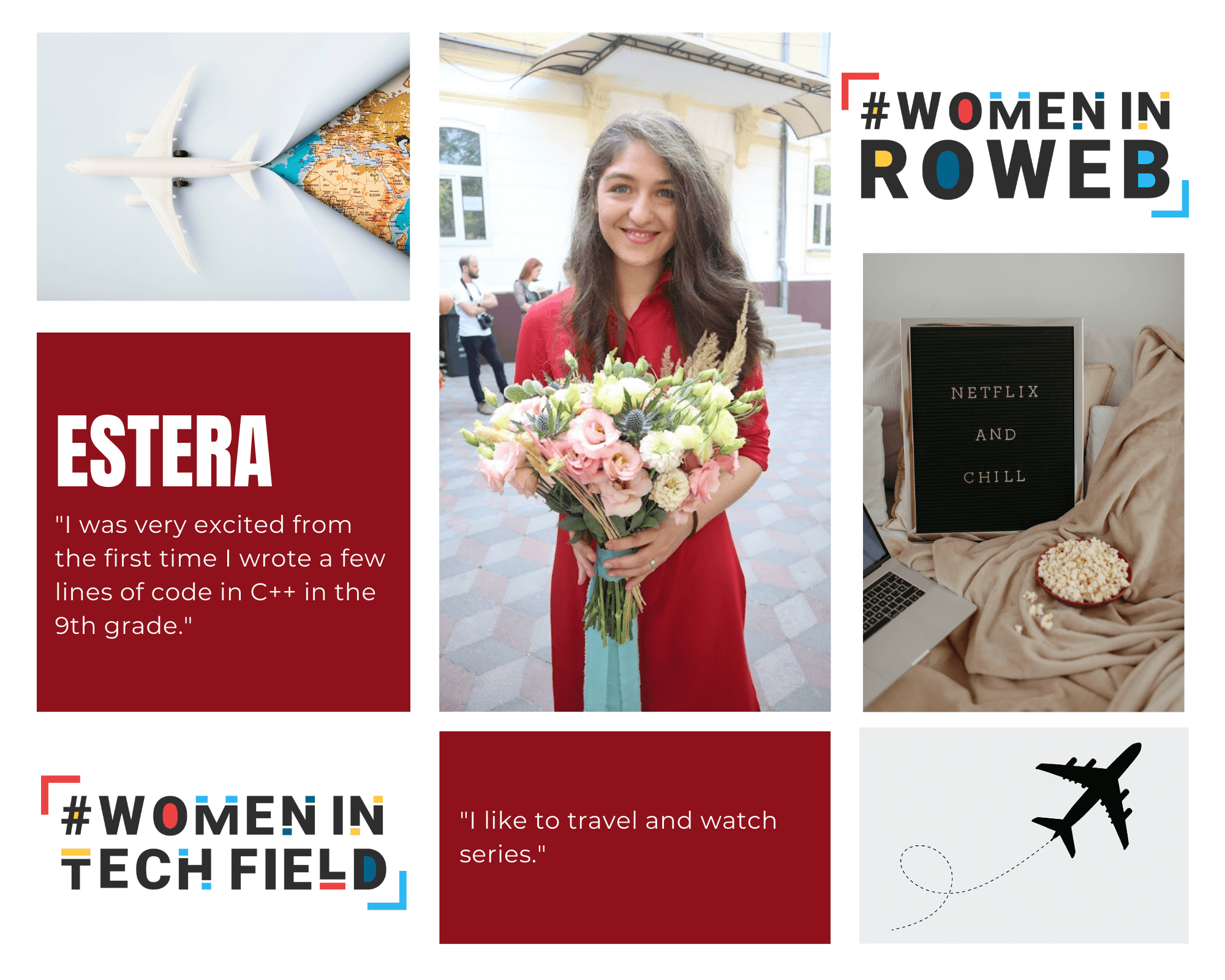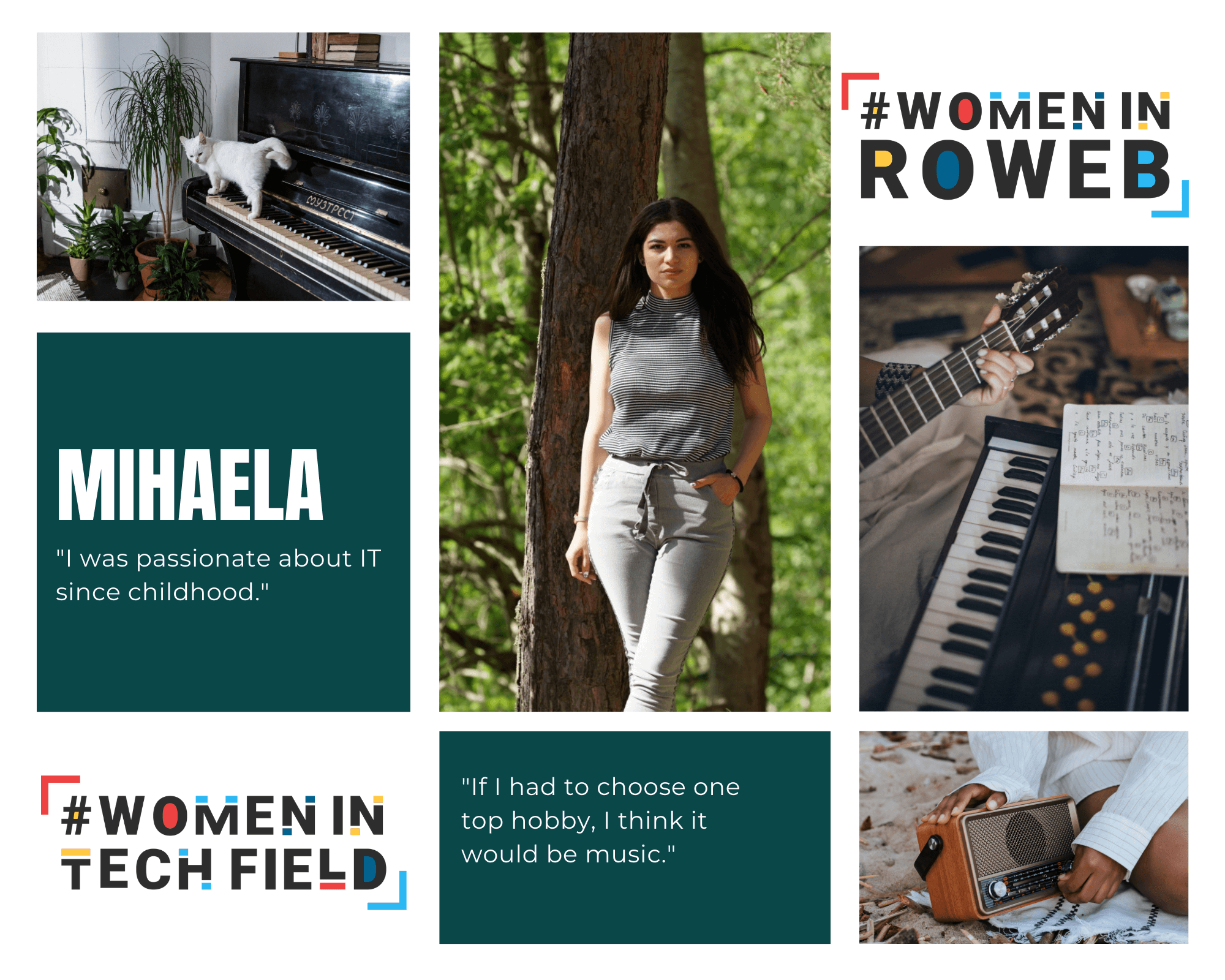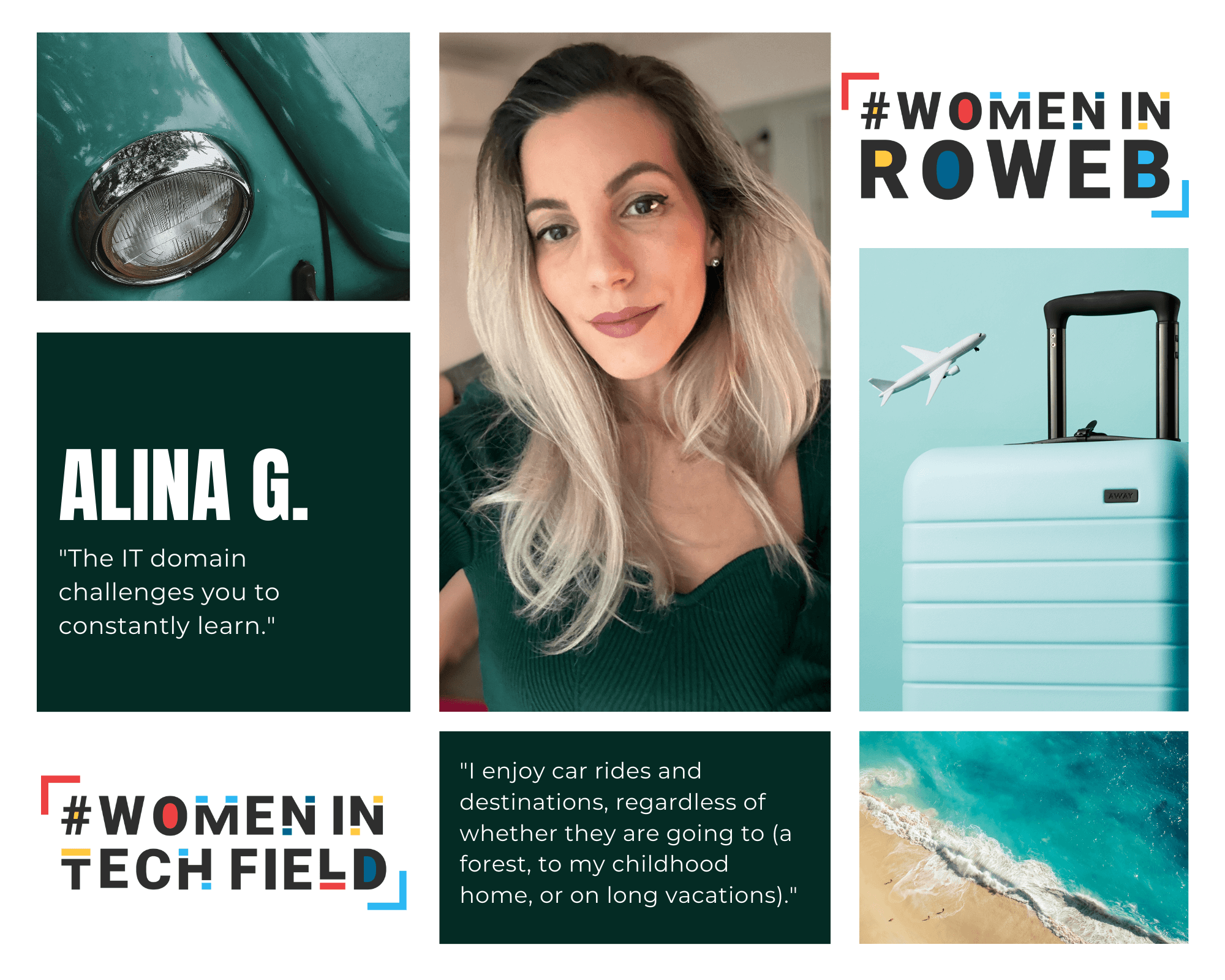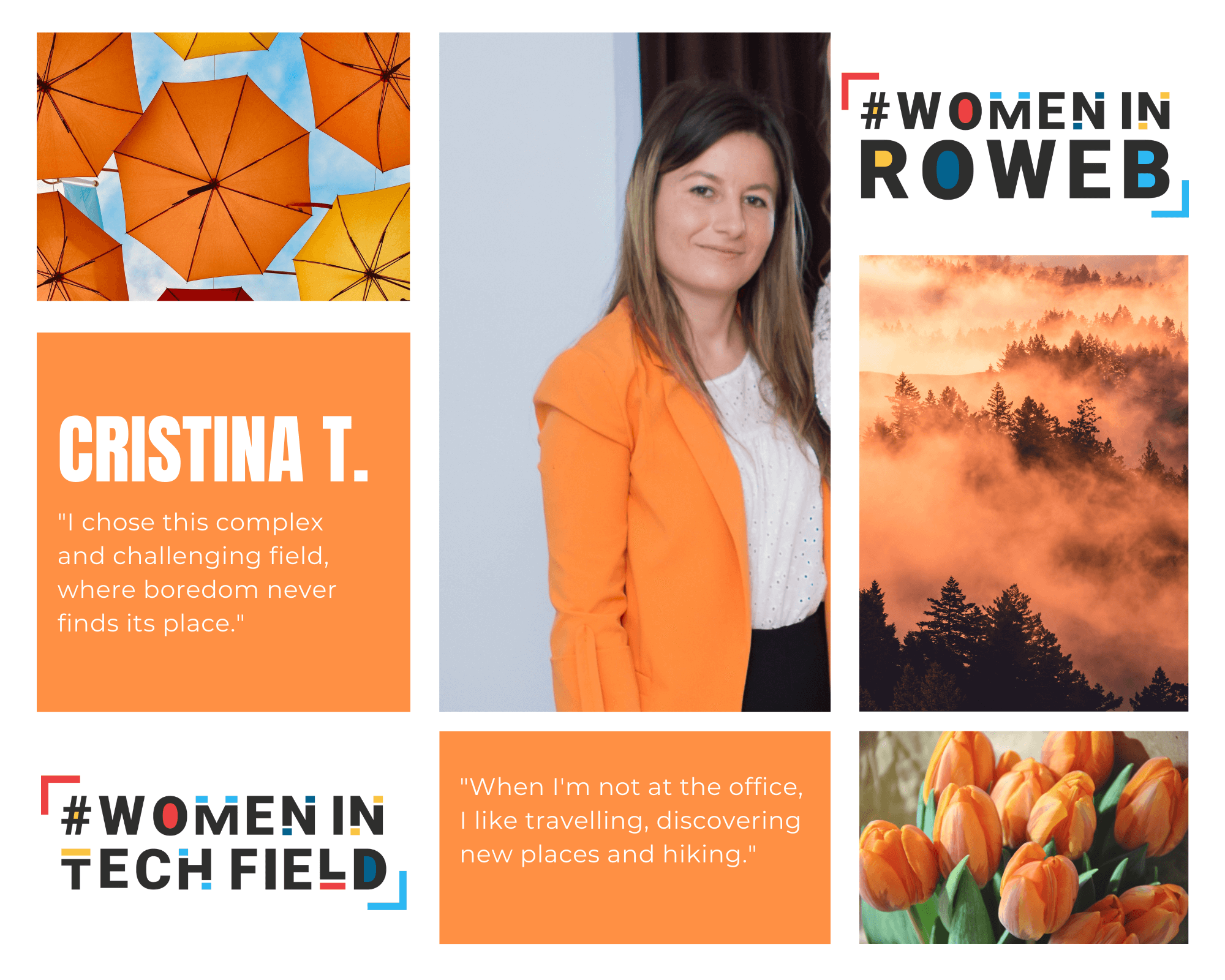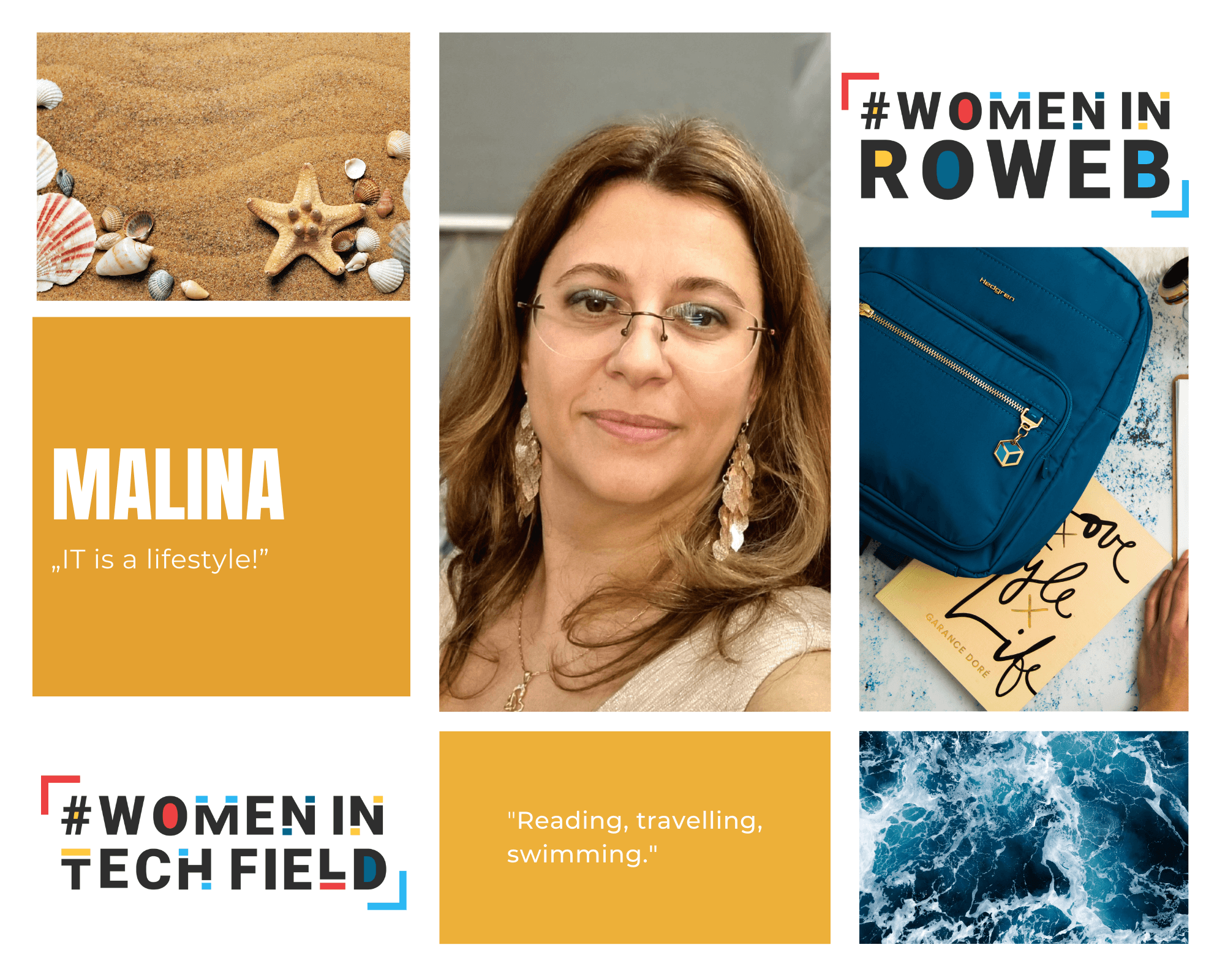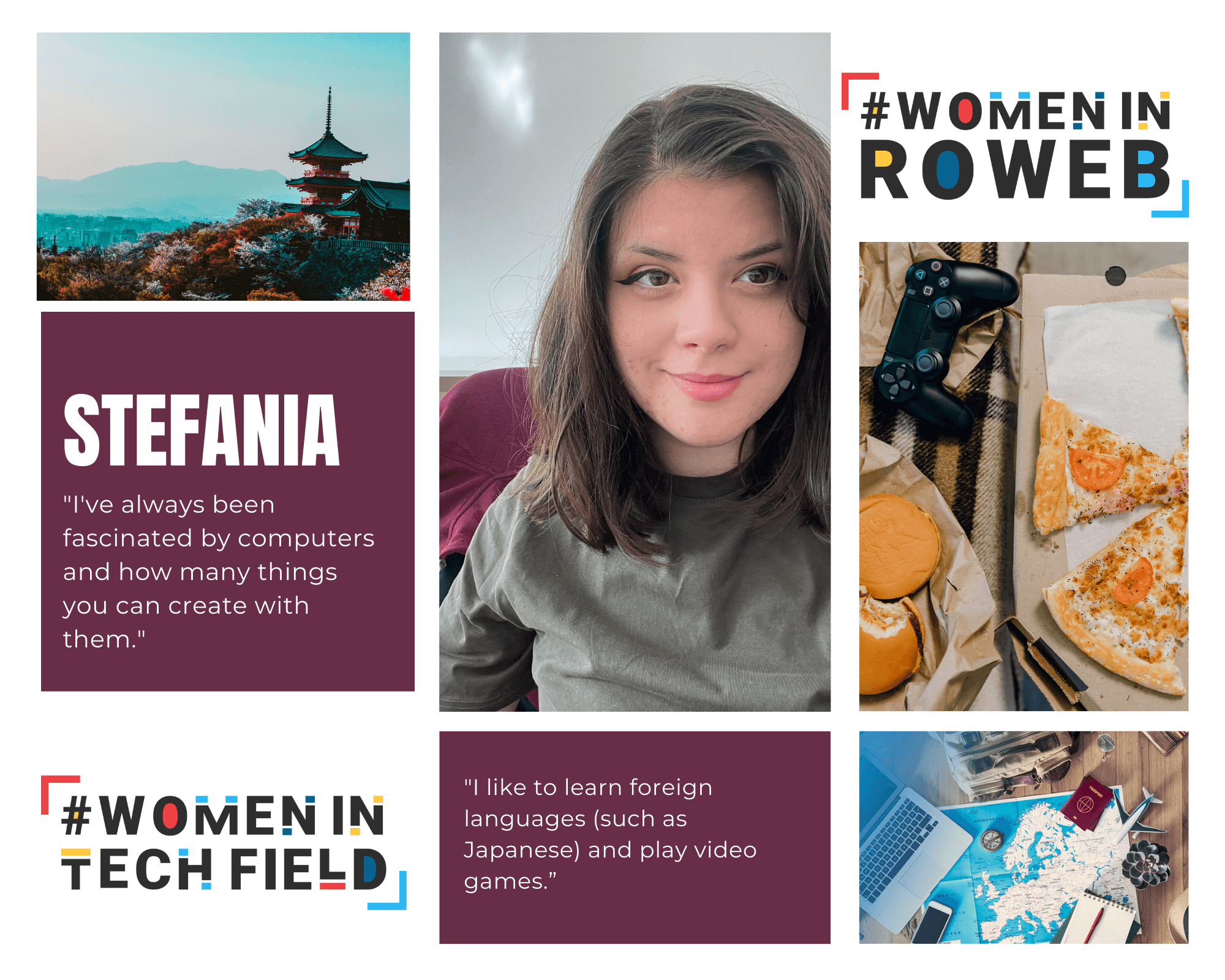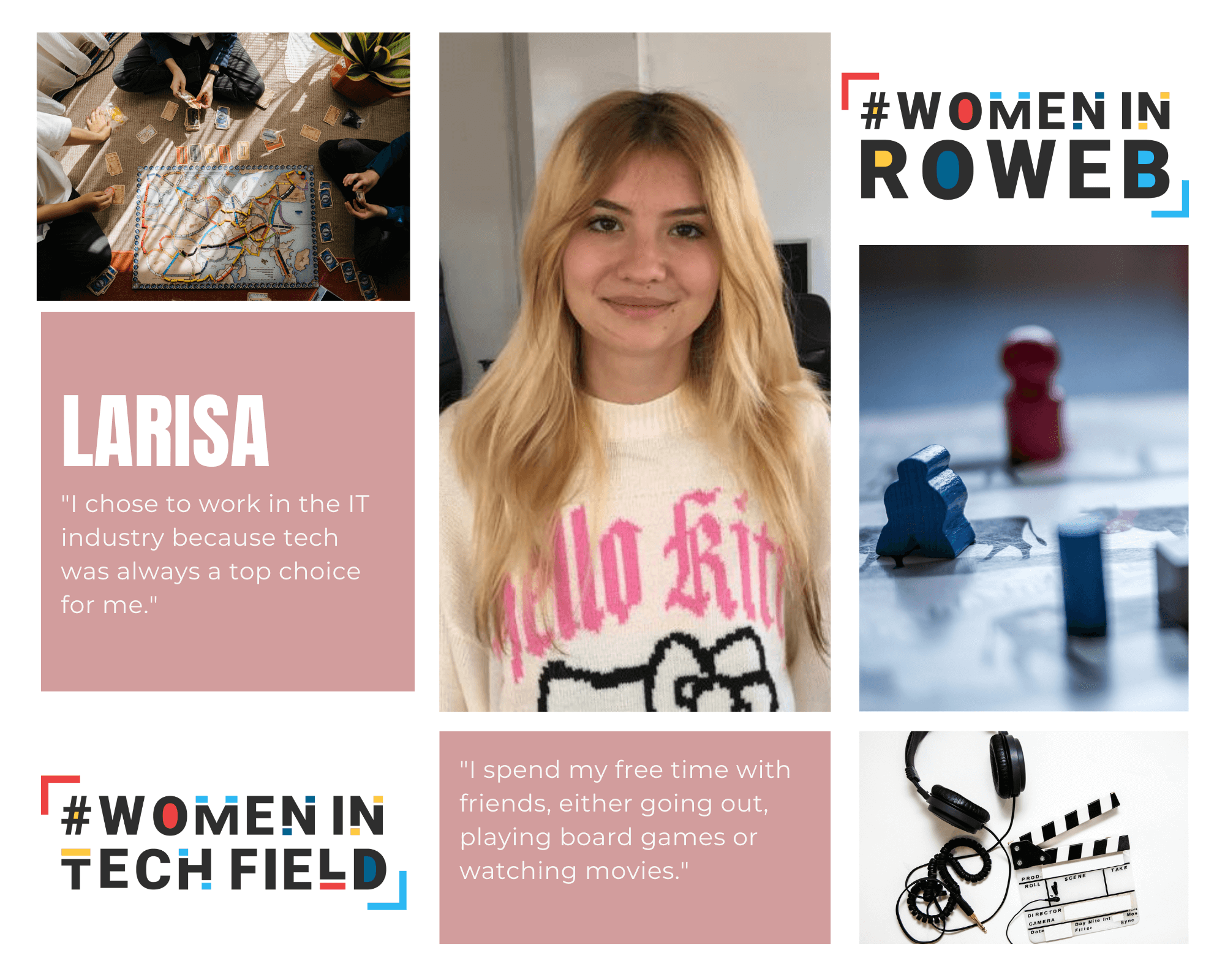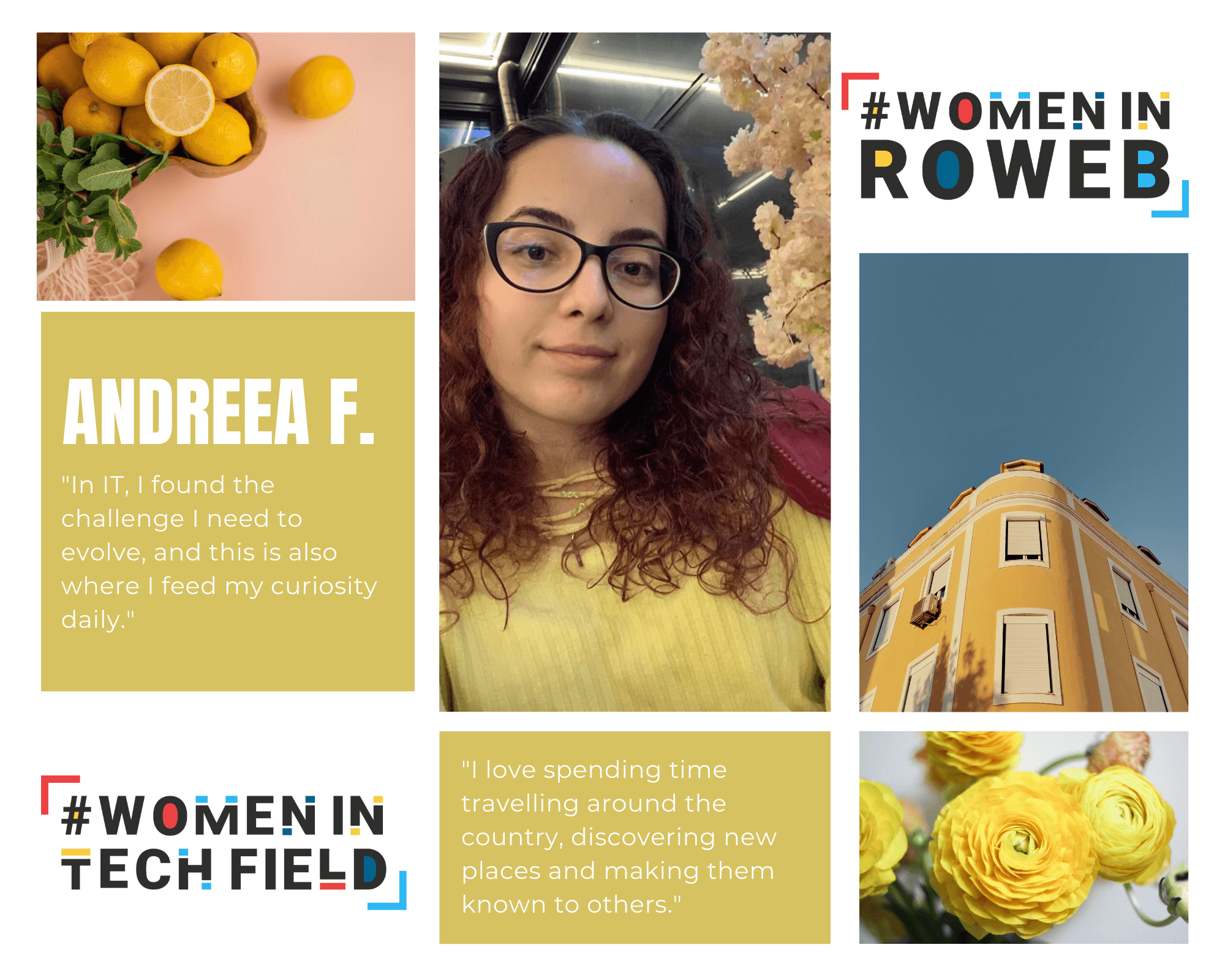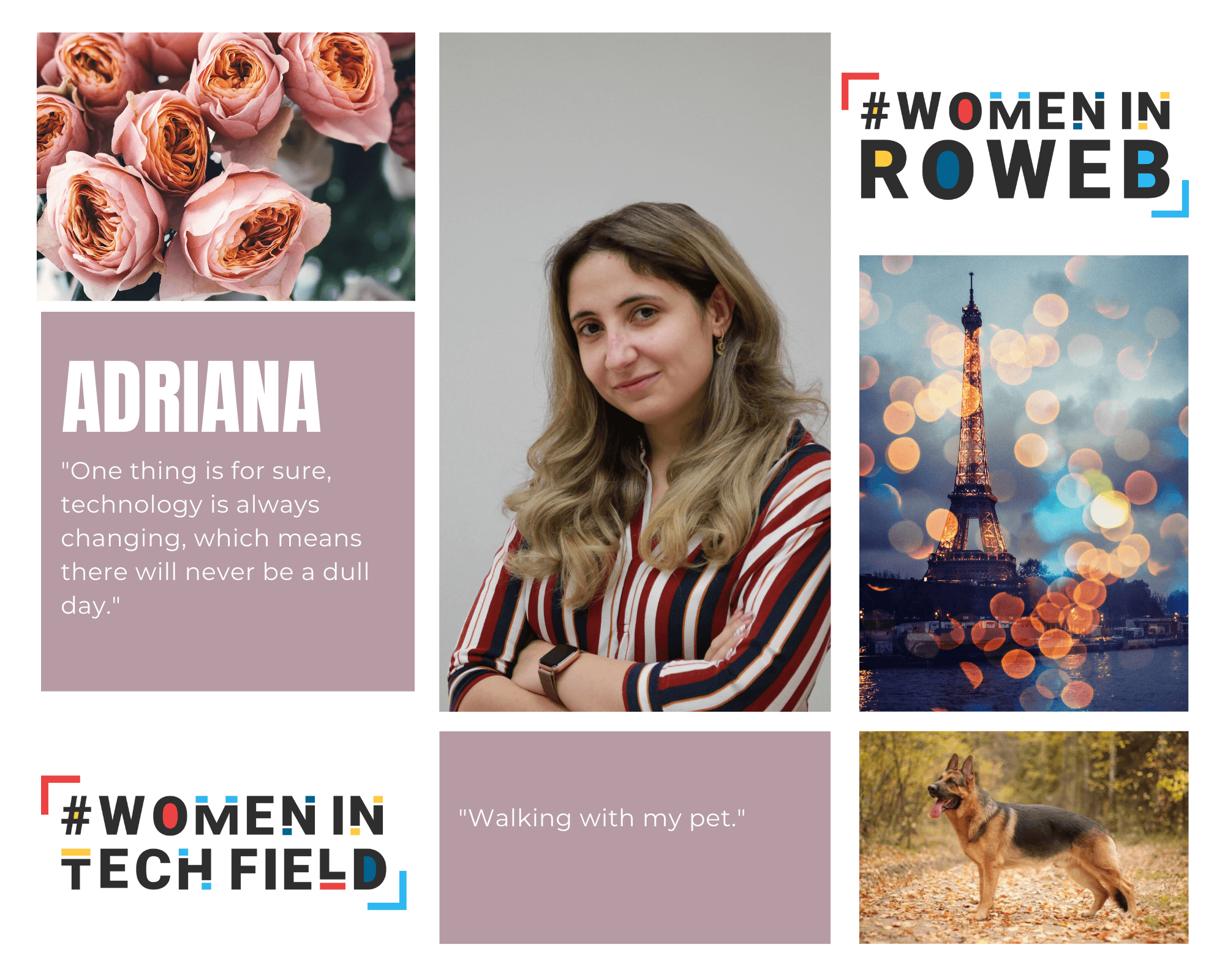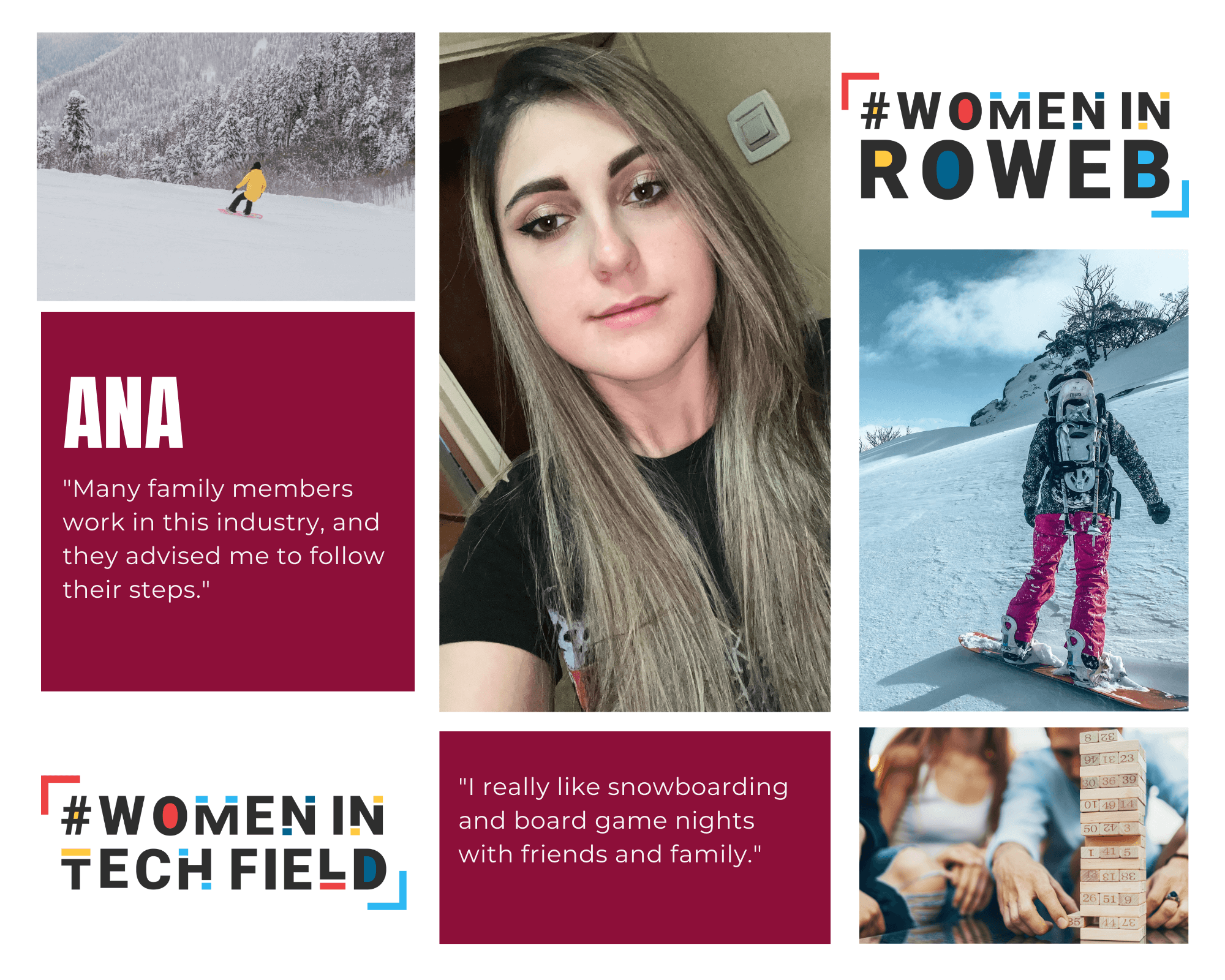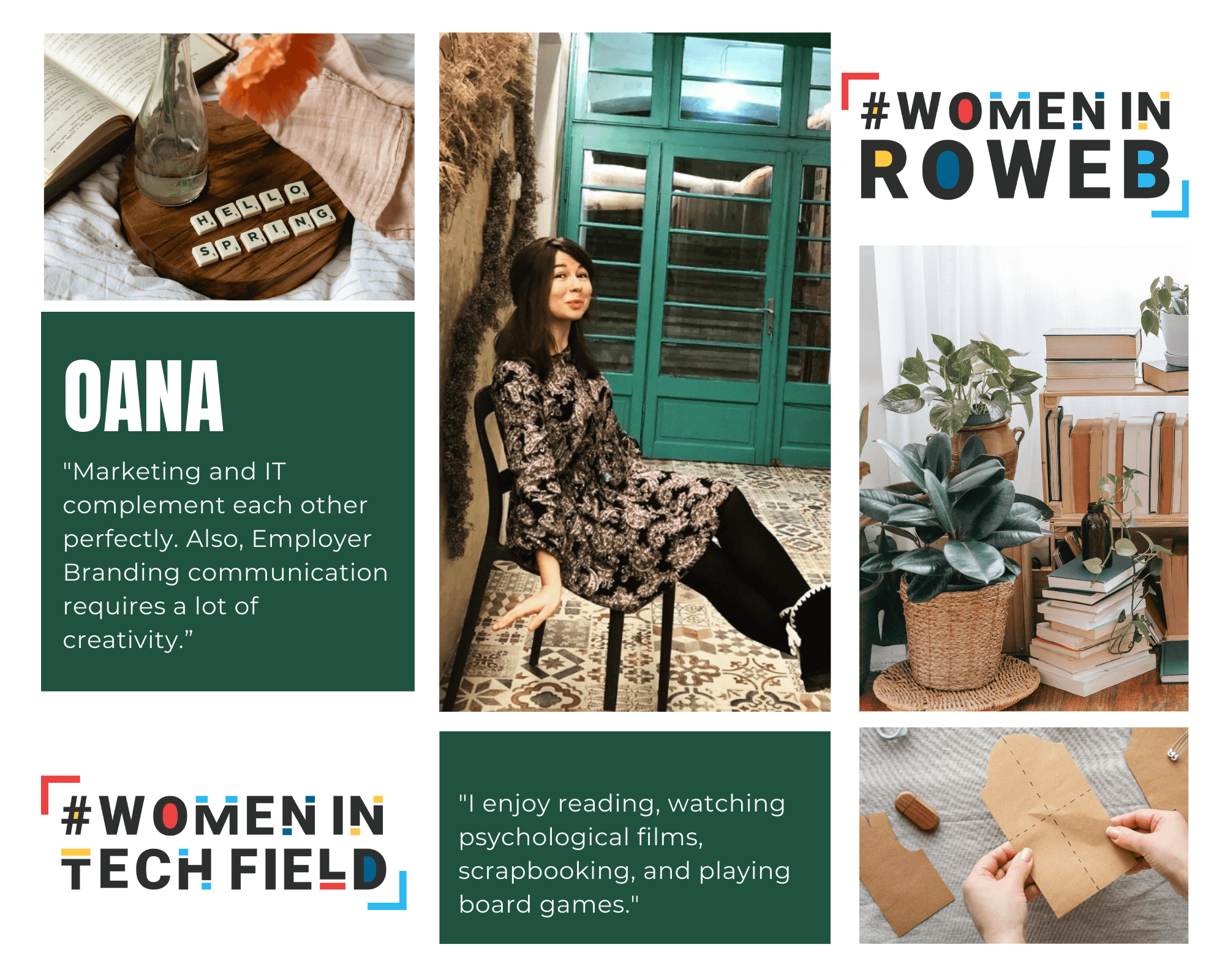 Why IT?"I chose to work in this field because I was offered the opportunity. IT was something new, allowing me continuous growth. I don't regret the choice I made."
Out-of-office mood: "I love charging my batteries in the middle of nature, reading and sharing my knowledge of English."
Melania
Why IT?"What made me choose IT? Destiny😊."
Out-of-office mood: "Out-of-office = Outdoor walks. "
Lorena
Why IT?"As an IT Recruiter, I have challenges that keep me up to date with the news in the field."
Out-of-office mood: "I like to spend my time in the middle of nature and capture its beauty in acrylic on canvas."
Elena
Why IT?"I like challenges :). Creativity in a tech field means getting out of your comfort zone and bringing added value through the things learned in other fields. &… My comfort zone is outside my comfort zone :)"
Out-of-office mood: "Out-of-office? You can find me hiking, biking, reading (a great book beside a hot cup of tea), and/or just spending time with my friends".
Ilinca
Why IT?"When I decided to work in IT, I considered it challenging. I have many friends who work in IT, and I wanted to be part of their world, to speak the same language and to be able to understand them and help them more. Plus, I like to be surrounded by young people. They give me a lot of energy and enthusiasm."
Out-of-office mood: "I really like to go out, to travel. The destination doesn't necessarily matter. If it's a mountain, it's perfect. Otherwise, I'm still happy 😊."
Cristina
Why IT?"IT chose me. I graduated in Theology and Social Work and worked as a Teacher and HR Manager. Out of the need to understand what my colleagues were talking about (at an IT company), I started to look for specific terms and learn… Then, thanks to my knowledge of the French language, I had the opportunity to work as a Project Manager in IT, where I studied everything I could to understand and provide specifications to my colleagues. The next stop was Roweb, a software development company, where I learn and develop continuously."
Out-of-office mood: "Outside of work, I have my family, and I like to do sports. I want to do more, but time does not allow me."
Madalina S.
Why IT?"IT is an industry in full expansion. Its fast evolution has left significant marks on everyone, influencing, influencing how people live, learn, work, and communicate."
Out-of-office mood: "In my spare time, I like walks the park."
Alina A.
Why IT?"The IT field is the thing that suits me."
Out-of-office mood: "I enjoy trips."
Felicia
Why IT?"In my case, it's a little different. I didn't choose the field, but the people. I knew part of the team, and I appreciate them extremely much. So I know that I made the right choice."
Out-of-office mood: "The recipe is simple: the family, the dog and the van – taken together."
Corina
Why IT?"For me, the decision to pursue a career in IT came naturally. Since childhood, I have been attracted to technology and the tech industry. The fact that I work on the front end comes as a help because I was able to integrate my artistic side into the activities at work."
Out-of-office mood: "Outside of the office, I am a person who loves fresh air and nature. Whether walking around town or following a mountain trail, any activity outside the house makes me happy. Enjoying some beautiful landscapes while I'm out-of-office is a plus."
Alina F.
Why IT?"I chose this industry because many of my family members work in this industry, and they advised me to follow their steps. And I made the right choice."
Out-of-office mood: "I really like snowboarding and board game nights with friends and family."
Ana
Why IT?"IT is a dynamic industry. One thing is for sure, technology is always changing, which means there will never be a dull day."
Out-of-office mood: "Walking with my pet."
Adriana
Why IT?"Since I was a kid, I have been fascinated by computers and interested in fixing… anything. Still, I had no idea I would work in an IT team one day. It seemed like a very high ideal, but destiny intervened here. I am grateful at every moment that I am part of this industry, that I am continuously developing, and I love to be up-to-date with everything related to technology. I'm sure I still have a lot to discover, and this is the challenge that trains me every day."
Out-of-office mood: "I like to travel, watch serial movies and explore different topics."
Madalina
Why IT?"I chose to work in the IT industry because it has a continuous evolution and challenges you to keep up, to want to know more."
Out-of-office mood: "I like to spend time with my family – watching a movie, playing various board games or reading together."
Nina
Why IT?"I chose to work in the IT industry because tech was always a top choice for me. Each project gives you the full satisfaction of the result and motivates you to evolve and apply the acquired knowledge."
Out-of-office mood: "I spend my free time with friends, either going out, playing board games or watching movies."
Larisa
Why IT?"I've always been fascinated by computers and how many things you can create with them."
Out-of-office mood: "During my free time, my hobbies revolve around the computer. I try to improve my skills in various programming languages, learn foreign languages (such as Japanese), and play video games."
Stefania
Why IT?"Out of love for mathematics, I attended a high school with a mathematics-informatics profile and graduated with a love for informatics. In IT, I found the challenge I need to evolve, and this is also where I feed my curiosity daily."
Out-of-office mood: "I love spending my time travelling around the country, discovering new places and making them known to others."
Andreea F.
Why IT?"I like to think that two reasons led me to make this decision. The first refers to the chance to study Computer Science in high school. The second reason is related to the continuous learning process, which attracts me a lot because it arouses my curiosity, and the challenges I face make everything intriguing."
Out-of-office mood: "I like reading and taking long walks."
Ioana
Why IT?"I was very excited from the first time I wrote a few lines of code in C++ in the 9th grade because I saw an immediate result of my work. Although I still didn't know what programming could do, I decided that this is what I want to do when I grow up."
Out-of-office mood: "I like to travel and watch series."
Estera
Why IT?"I chose to work in the IT industry because it has been a passion since childhood. I've always liked the games and the graphics they had at the time. So, I wanted to make a good game with good graphics one day."
Out-of-office mood: "It's a rather difficult question because I have several favorite activities, but if I had to choose a top one, I think it would be music."
Mihaela
Why IT?"Because it is an offering industry. You have many career opportunities and challenges that make you enjoy your daily activity."
Out-of-office mood: "Before I became a mother, my favorite activities were travelling, playing board games and watching series. Now, my whole universe is built around the little one. He is my passion."
Laura
Why IT?"I like to think that the IT industry chose me. If you had told me when I was in high school that I would work in this industry, I, a child with the soul of an artist, would have laughed. I knew I didn't have much in common with this world.
However, I made my way and I am happy with what I have built. All my skills have shaped me into the woman I am now, and I can't imagine what it would be like to work in a different industry other than IT. The IT domain challenges you to constantly learn and makes you stronger."
Out-of-office mood: "I love to travel. I enjoy car rides and destinations, regardless of whether they are going to a forest, to my childhood home, or on long vacations."
Alina G.
Why IT?"Although I was passionate about mathematics in primary school, I also discovered my passion for algorithms in high school. So I chose this complex and challenging field, where boredom never finds its place 😊."
Out-of-office mood: "When I'm not at the office, I like travelling, discovering new places and hiking."
Cristina T.
Why IT?"IT has been my passion since high school. In my spare time, I teach creative programming to children starting from 7 years old. My husband works in IT, the eldest son is studying Informatics, and the youngest is learning to write code. Also, we have an NGO. It is called Give IT Back. So IT is a lifestyle. "
Out-of-office mood: "Reading, travelling, swimming."
Malina
Why IT?"I wanted to work in a field that combines creativity with logical thinking, to be in an environment where I can always learn new things, and this seemed the most suitable."
Out-of-office mood: "I can't choose a single favorite activity. I have many hobbies that define who I am. However, I would choose the top three: travelling, reading and, more recently, photography."
Cristina D.
Why IT?"Marketing and IT complement each other perfectly. The complexity, dynamism and logic behind tech projects are translated into an easy-to-understand language through marketing. Also, Employer Branding communication requires a lot of creativity."
Out-of-office mood: "I enjoy reading, watching psychological films, scrapbooking, and playing board games. I am also a collector. I'm not sure if it's a feature or a bug. Sometimes my house looks like a bric-a-brac. "
Oana
Women who continue to inspire us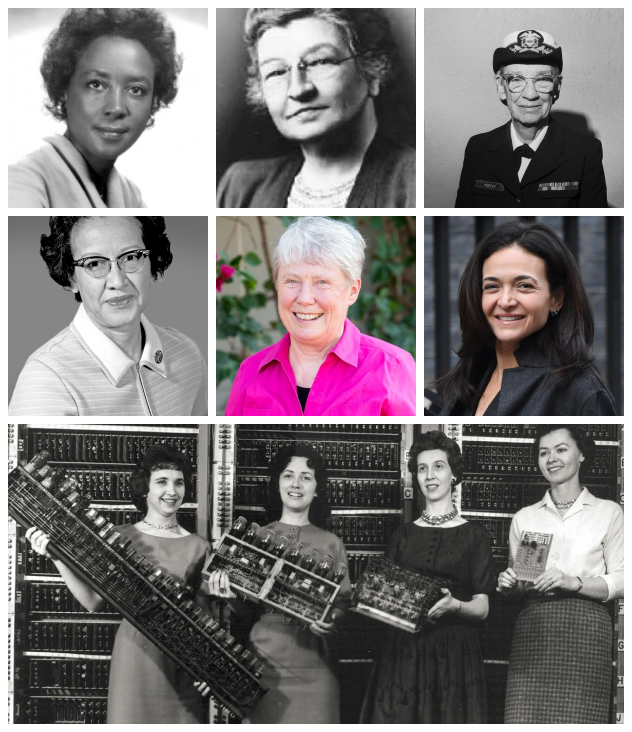 Over time, some famous names have established themselves in the tech field through their activity, thus managing to build a successful career.
Their initiatives have brought essential changes in the industry (sometimes even revolutionary).
This made us include them in our #WomenWhoInspire list.
Below are some quotes that have a strong echo in our activity:
The well-known Ada Lovelace – considered the first programmer, used to find peace in her work when things became too stressful.
"Your best and wisest refuge from all troubles is in your science."
Edith Clarke – the first female electrical engineer in the USA, supported the importance of a job well done.
"There is no demand for women engineers, as there are for women doctors, but there's always a demand for anyone who can do a good piece of work."
Rear Admiral Grace Murray Hopper – considered a pioneer of computers and known primarily for her innovative contributions to software development, design, and implementation of programming languages -often spoke about the importance of courage and daring.
"I always tell young people, 'Go ahead and do it. You can always apologize later.'"
The famous Katherine Johnson (mathematician known for her significant contribution to the Aeronautics and Space programs in the USA) always supported equal opportunities between women and men.
"Girls are capable of doing everything men are capable of doing."
The famous Katherine Johnson (mathematician known for her significant contribution to the Aeronautics and Space programs in the USA) always supported equal opportunities between women and men.
"Girls are capable of doing everything men can do."
Maria Klawe – known in history for helping to increase the percentage of women interested in studies in Computer Science from less than 15% to more than 40% – used to combine creativity with writing code.
"Coding is today's language of creativity. All our children deserve a chance to become creators instead of consumers of computer science."
Annie Easley – an American scientist whose contribution led to the technological invention of the battery, which was used to create the first versions of electric cars, always emphasized the importance of perseverance.
"Don't give up on it. Just stick with it. Don't listen to people who always tell you it's hard, and walk away from it."
Sheryl Sandberg – who played an essential role in the success of Facebook, is recognized for her motivational messages about success, leadership and action.
"Women need to shift from thinking I'm not ready to do that to thinking I want to do that – and I'll learn by doing it."
Instead of a conclusion…
… we want to wish everyone "A wonderful spring!" and to invite our readers to come back to this material not only on the 8th of March but whenever they are looking for inspiration or want to remind themselves of the importance of women in the tech industry.
Moreover, if you want to become part of the Roweb team, you can check our Careers page.