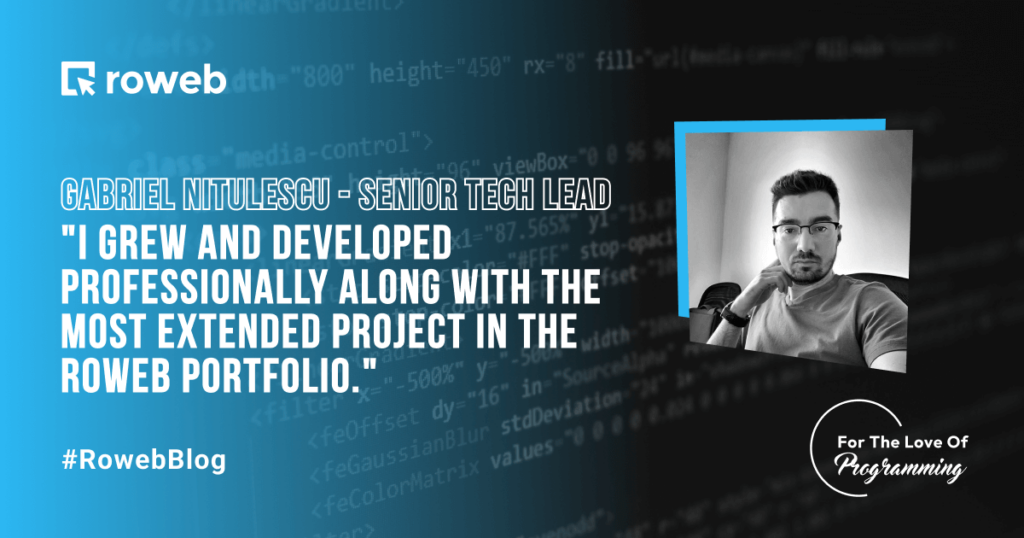 He goes to the gym, reads self-improvement books and has been part of our team for over 17 years… Gabriel Nitulescu accepted the challenge to answer our questions and to tell how his story began in the Roweb company.
Below is a mini-interview, seen from the tech and the personal perspectives.
#ForTheLoveOfProgramming – The Tech Perspective
How many years have you been part of the Roweb team?
Gabriel Nitulescu: I have been at Roweb since 17+ years.
What made you stay in the team?
Gabriel Nitulescu: I always had the opportunity to learn new things and continuously evolve. I also liked the "autonomy". I always had the freedom to make decisions, which improved my project and, implicitly, my career.
A memory from the first years in the company that nothing will be able to erase from your memory.
Gabriel Nitulescu: There are many memories. I was here from the beginning, so to speak. But I think that I remember the parties and team building with my colleagues best.
The Roweb as it was when you joined the company vs the Roweb of today. What do you think has changed? What remained the same?
Gabriel Nitulescu: We grew, we evolved in terms of the number of employees, in terms of technologies used in projects (now there are more and they are more modern), we changed the headquarters (we moved to a new, spacious building).
The atmosphere has also changed. But this happened especially with the pandemic. People choose the flexible program, in which they work both from home and from the office, and the connection between us is now made through various intermediaries: Teams, Skype, Slack, etc.
In the same way, I think everyone wants to develop professionally, and this will remain the same.
What made you choose IT, and how did you choose it?
Gabriel Nitulescu: Like my colleagues, I can say that I always liked the IT part. And that encouraged me to attend tech high school and college. So I had an inclination towards the technical side, and I can say I like logical things.
Who did you first work with within the team, and what were the first projects?
Gabriel Nitulescu: I was a high school and a college classmate with Sorin Tarceatu, and we are colleagues at Roweb.
Until 2019 (when Sorin changed the project), we worked for the same client. At first, it was just the two of us. And two more developers from the client worked part-time and took care of the database. And now… the project has become so big that we are 16 people. We also have two dedicated testers.
What projects are you currently working on, and from what position?
Gabriel Nitulescu: Right from the beginning, I have worked on an application for a client from Belgium in the real estate field. (Whise CRM – the client with whom we have the most extended partnership).
I can say that I evolved along with the project. Over time, the application has become very complex. New functionalities were added, the transition was made from one technology to another, and we faced many challenges.
The client is one who permanently invests in digitization and who wants to expand internationally. It is already the market leader in Belgium, but it will soon conquer new territories, which is also a plus for me as a developer.
What are the challenges in your project?
Gabriel Nitulescu: The most significant challenges were and will remain the migrations from one technology to another when you have to adapt everything to ensure that the application works without affecting the client's business.
How did you evolve from a professional point of view in the company? (job position, projects etc.)?
Gabriel Nitulescu: I started as a junior developer following an interview that I held because Roweb needed someone to work for Whise. Then I continued with various functions in software development.
I also had some DevOps activities and am currently Tech Lead. My activity involves writing code and code reviews and proposing solutions for application development according to the client's specifications.
I also mediate the relationship with the client's team, keep in touch with them and help integrate new people when necessary.
Some insights about the atmosphere in the current team.
Gabriel Nitulescu: The atmosphere is pleasant and we always support and help each other.
What advice would you have for a person coming to work at Roweb?
Gabriel Nitulescu: To learn a lot on his own, read, and be up to date. It's a dynamic field, and you have to have your way to master it.
#ForTheLoveOfProgramming – The Human Perspective
If you hadn't worked in IT, you would have been, most likely:
Gabriel Nitulescu: Surgeon. Not because I like the Medicine part, but for the Surgery part, which seems to be a technical position. It helps people to solve problems, just as I help the client to develop a product that solves the issues of real estate agencies.
Your asset in the team is:
Gabriel Nitulescu: Orientation towards solutions. I like to find solutions to problems and overcome the barrier of complexity.
If Roweb were a friend, his top quality would be:
Gabriel Nitulescu: He it is oriented towards evolution. Always.
If Roweb were a friend, his flow quality would be:
Gabriel Nitulescu: He doesn't go to the gym. Kidding :)))
When you are not at the office, we can find you most often:
Gabriel Nitulescu: For about a year, you can find me at the gym. I also cook. Healthy menus. Or you can also find me reading self-improvement.
If the team you are a part of was a quick key combination, then it would be:
Gabriel Nitulescu: QWERTY – these keys are next to each other, as those who are part of a team should be.
If your story in IT were an adaptation of the movie, it would have the title:
Gabriel Nitulescu: Jurassic Park.