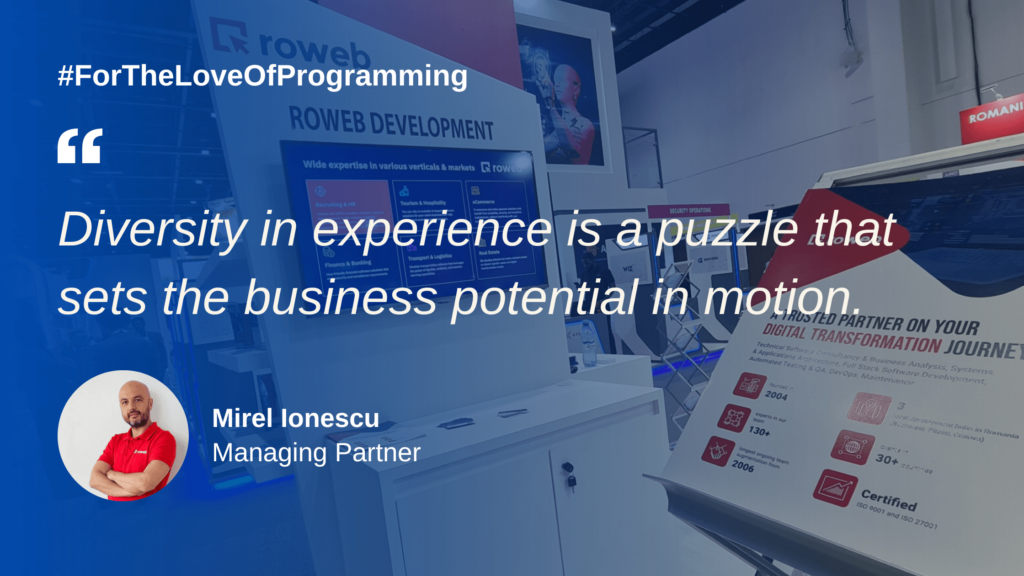 We continue the series of interview articles with a new story that stands behind the Roweb brand. A material that fully demonstrates the Diversity in experience, approach, etc., and the fact that we are all different, fortunately 🙂 , are assets that have set in motion the necessary mechanisms for Roweb's growth.
Scroll down slowly and discover 14 questions & answers with and about programming, business development, and opportunities in digital transformation – an interview with Mirel Ionescu, Managing Partner @Roweb.
From programming to business development
Q: #ForTheLoveOfProgramming. When did you know that programming is the right choice for you?
I attended Computer Science in high school. Since then, I was very passionate about this field, and I had results that would confirm that I can do a lot in this direction (I also had great results at the National Olympic Competition in Computer Science). However, I did not go to Computer Science when I finished high school. I chose management because, at that time, in 1998-99, everybody seemed to be interested in becoming a student at ASE and developing a career in banking. Later, I attended the second Faculty – Computer Science – returning to what initially attracted me.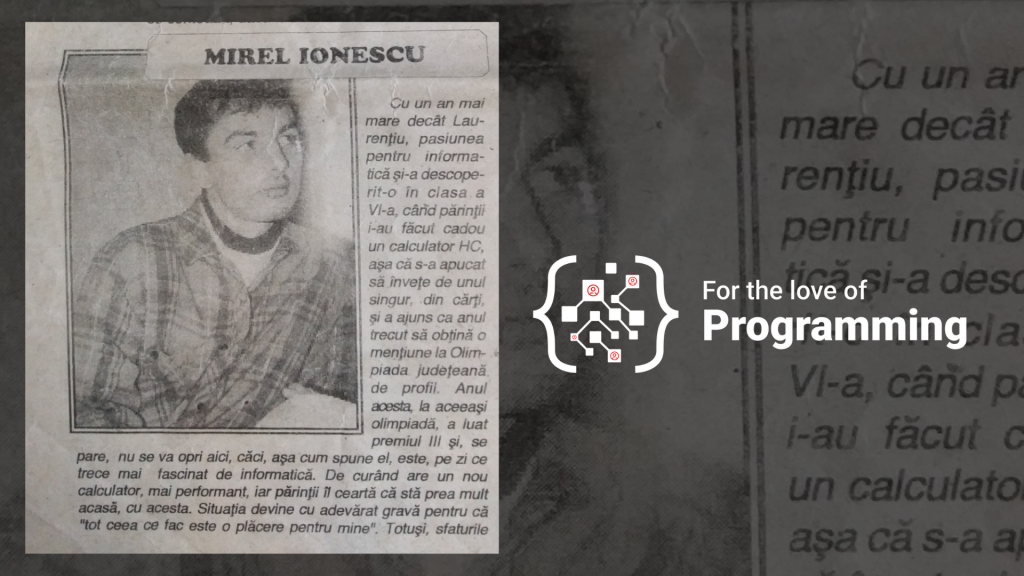 Q: The confidence that you can turn this into a career appeared… how? In what context?
I was Viorel's student in high school, and he played a significant role in how I perceived Computer Science. It inspired my passion for this field. And, as in most cases, if you have a positive experience with the domain itself and especially with the teacher, the chances of excelling in that field are significantly higher. So it was with me.
Q: Faculty. First job. Things seemed to take you in a different direction at first…
I attended Management and, during Faculty, I was hired by a printing house (where I did digital graphics for over 3 years). I had initially moved away from the programming area precisely because I had chosen to settle in Pitesti and there were no IT companies at the time. In addition, at 19 (the age I was when I started my first job) I did not have enough experience to evaluate the market correctly both in terms of opportunities and perspectives.
After all, at only 19 I was just a kid 🙂 , right?
Q: And yet, what made you reconfigure your career path? What brought you to Roweb?
Coincidentally, one evening I met Razvan (a.a Veliscu) and two other former high school classmates (one of them, Adi, who is also in Roweb). We were all passionate about Computer Science in high school, and this thing has somehow connected us ever since. They told me they both worked as programmers (Razvan was already working with Viorel on some dedicated projects). For me, the discussion with them was a kind of "aha-moment." I realized that I had left something important behind and had chosen a path that did not necessarily represent my real interests. In addition, I had a job where I had learned a lot but in a different direction.
That evening's meeting was at the right time. Razvan and Viorel had just decided to hire new people for the projects they were developing. As a potential employee, I agreed to talk to Viorel, but this time from a different position. I went through a period of learning (to reactivate the things I had accumulated in high school and to adapt to the technologies and frameworks with which they worked on the projects of that time – IT TradeOnline and BursaPC).
Q: How did you evolve in the company? When did you become a partner?
Everything I said above, when I started Roweb, happened somewhere in 2001. In its early years, the company was working with a small team but with big projects. So for a while, I had two jobs simultaneously: printing house + Roweb.
I adapted fast to the new working environment, and in a short time, I got to take on responsibilities and tasks at the same level as the others. It was just a step to the point where I became a partner in the company.
In 2004 we took a more serious lead in the market. As Viorel said in his interview, we take this year as a reference because it marks the moment when we took the name Roweb – until then, the company had a different name – and at the same time, we created the first version of our site.
From the first projects and the launch of the Roweb brand in the market to the positioning and growth of the client portfolio
Q: The first programming projects in Roweb. Do you remember who they were and what impact they had then?
ITTradeOnline and PC Exchange. These were the first projects, and I participated in their development. ITTrade was a portal that facilitated the trading of technical equipment – computers and components – in the US market. BursaPC was a kind of… OLX. It attracted a lot of attention in the market precisely because it came with something new. Although I did not promote the project in any way, it had come to have organic visibility far beyond expectations. They had even published an article about it in a national newspaper: Adevarul.
Although it was a promising project, I later gave it up because there were no monetization methods for such a business (there were no micro-transactions then, card payment, etc.).
These projects – especially the ITTrade project – were business contexts in which we had the opportunity to understand the specific service needs of external clients. This is where the idea of ​​web services for international clients was born, with which we set off with the launch of the Roweb brand.
Q: Speaking of launching the Roweb brand, what role did you play in this process?
Roweb came out on the market backed by a partnership. The most interesting part is that Viorel somehow managed to direct us to assume and share the responsibilities along the way in this partnership.
One of the most critical directions I took in the company from the beginning was the off-line and online marketing part. Not an easy task. When Roweb started to exist as a brand in the tech market, digital was still taking its first steps. Companies began to see it as an opportunity, but they didn't know exactly where and how to start. At the same time, the digital marketing channels were also still on the Romanian market.
Now the resources for inspiration and learning seem unlimited, and we can rely on various channels and models.
Back then, we had few digital marketing models to be inspired by. However, we have managed to make the presence of the online Roweb online strong. I think that the experience from the job I had in college (in printing) also helped me because I already understood what the elements of visual identity mean for a brand. I have no doubt that the notions from college helped me because I already perceived everything in terms of business concepts. The first projects obviously also played an important role because they helped me understand the market and its expectations.
But, beyond all these experiences, I think the fact that I liked the field helped me the most.
From the website structure to the texts and the visual approach, I was 100% involved in building a brand in the digital environment. Then came participation in business and tech events. (There were more and more channels through which we communicated at the time, but I think these two are by far the most important – hence our first qualified leads that later became customers)
Q: We are talking about the events you represented at Roweb … Where was the most visible brand and why is this visibility needed?
I think that every event has achieved its goal because they are designed in different niches of the market – niches that we address. Moreover, we did not respond to all invitations to attend events but only selected what was of interest to us. Basically, the ones that really facilitated our interaction with potential customers.
GITEX Technology
MWC Barcelona
LEC Geneva
IoT Solutions World Congress Barcelona
GPEC Summit
WebSummit
TechXLR8
Meet Magento Romania
DevFest
eCommerce Expo
etc.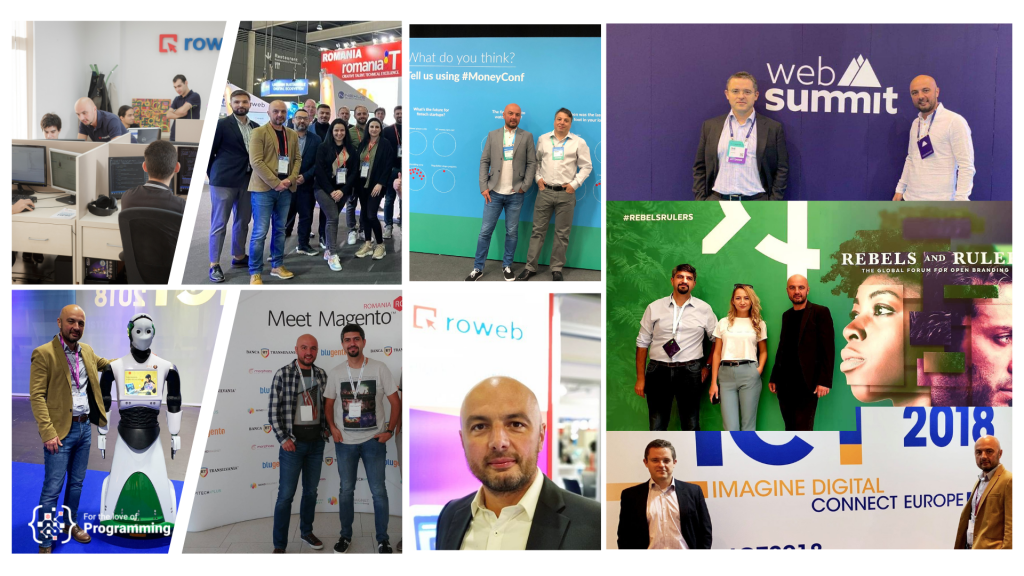 Q: Programmer – Project Manager – Partner & Business Development. How did you go through these professional stages?
For the first 6-7 years, I worked as a developer-only. And the solution developed by my colleagues and me represents important projects from Roweb today's portfolio. FileLater is a very good example of this. I worked on this project for a long time as a programmer, then as a project manager, and, finally, handed it over to my colleagues.
I went as far as I could with the programming part because I liked it. This is also the reason why I have always sought to certify myself in different areas – Microsoft certifications being just one example.
I slowly started to take over other activities in the company – first project management, then business development, management of departments like marketing, human resources, sales, administration, etc.
The number and complexity of projects have increased, and the need to hire new people or migrate senior developers from the company to positions that better reflect their experience. So, with time, the project management and account management part ended up being transferred to other colleagues while I focused more and more on the area of ​​business development and business administration.
Basically, I got to the point where I brought the same common denominator the programming, with what I learned in college (business management).
Q: Several things happened in the pandemic. A new headquarters but also a new working model. What has changed? What remained the same?
The pandemic blocked the plans we had initially with the project to construct the second headquarters building. The context forced us to postpone the work for 6 months. But we somehow recovered these 6 months quickly so that today we have a fully functional building, and the teams started to be more and more present at the office.
If there is one good thing about the pandemic, it is that it has forced us to become more flexible. And we proved that we are able to adapt fast!
The working model that we will maintain is called flexible. Ideally, it would be a hybrid. But what we want is to offer flexibility. Anyone who wants to work only remotely can do so. Who wants on-site – is welcome and has a secure place in the office.
Paradoxically, somehow beyond expectations, people are becoming more and more interested in coming to the office. But they lack the atmosphere here, the morning coffee they drink with their colleagues…. These human and direct experiences cannot be replaced by anything.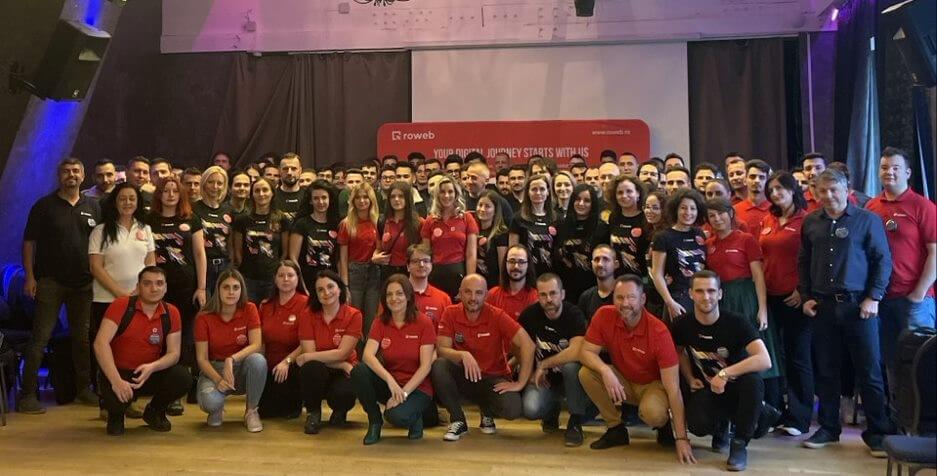 Product development according to the market's needs
Q: About the Horeka solution… How is it positioned and how have things evolved for this digital product?
We started developing a product during the pandemic – an eCommerce solution that addresses especially restaurants (but which can be easily adapted to other businesses). Starting from the market demands, we created a SaaS-type solution that we tested in 2020. We noticed that it has traction, and we set out to explore its full potential. In this context, we extended the solution in 2021 and assigned a dedicated team (development + marketing & sales). As we implemented the solution at various companies, a stand-alone business emerged around it.
2022 was the year in which we set out to double the Horeka business figures – and we have every reason to believe that we will achieve this goal.
Q: What's your role in this project?
I got pretty involved in this business. I somehow took it from scratch and slowly raised it to what it is today. From the concept to the first sales, then the creation of the team and its management. It is practically a project that I lead and coordinate in parallel with the activities at Roweb. It's a pretty rewarding project, and I like it.
Another product type project I developed recently is SmartCity. It is a project developed in partnership with Pitesti City Hall. We have built a set of interconnected applications that help the local administration streamline and significantly simplify its processes and communicate more easily with the citizens. It is a successful pilot project – it is used and has a fairly high utilization rate.
Business plans & expectations (and not only)
Q: What challenges do you expect and what do you think will happen next in the market?
Our goals for this year are clear: we aim for a 40% increase. This means more large projects (which is already materializing) and, implicitly, an increase in the number of developers in the company. This goal comes with a challenge: in the market, human resources with programming experience are very limited. That's why we keep the recruitment processes permanently open.
In addition, we aim to diversify technologies and certifications. This will mean even more advantages for the company, both for the growth of the client portfolio and for the attraction of new experienced developers.
Even if the senior developers are the ones we look at when it comes to recruitment processes, we continue the tradition of organizing events dedicated to students/graduates who are just now starting a career in IT. From this year, we return to the physical format for summer practice and internship programs. The goal of these programs remains the same: to show interns what it means actually to work in a project team and to give them (the best of them, after completing the internship) the chance to become part of the Roweb team.
Q: If you were to summarize your entire journey so far in one sentence, what would it look like?
What I can say is that I went through all the stages and I think I was involved in all kinds of activities carried out within the company starting from my passion for programming and then continuing with design, project management, marketing, recruitment and ending with the part of business development.
I can say that my expertise is like a puzzle that is built on the go and at the right time.
Every experience gained at a given moment helps me see things both from the businessman's perspective and the programmer's, salesman's, or marketer's. An overview based on the various insights I constantly need to grow the brand even more, while the business trigger has remained unchanged.
ABOUT ROWEB
Relying on skilled professionals (over 50% from 130+ developers are seniors) we create custom software solutions for various industries, including Financial Services, Recruitment & HR, Real Estate, Tourism & Hospitality, Healthcare, and more.
Since 2006 the longest ongoing
relationship with a client
130+Senior developers ready to work in
dedicated teams
Since 2004experience
in software development
Our services encompass a wide range of business apps such as CRM, ERP, CMS, and management apps, as well as mobile apps for Android, iOS, cross-platform environments and eCommerce solutions.
Companies from over 30 countries (UK, Denmark, Middle East, Belgium, USA, Switzerland, Germany etc.) chose us to develop custom & complete software solutions.
MARKET RECOGNITION