Any month of the year is perfect for speaking about what passions us the most. Programming. Since clicking and scrolling, coding and debugging, planning and building are our kinds of things, we can say (error-free) that we are doing what we do for at least one reason: #ForTheLoveOfProgramming.
You may know about Roweb, about our projects and our plans. But what do you (really) know about us? About our story? What made us what we are today?
Get comfortable and draw your coffee closer. This is an interview-article (the first from a series), and the answers will be provided by:

Viorel Costea
Co-founder & CEO Roweb
From teaching to managing IT projects, from a business idea to developing Roweb as a brand
Q: What inspired you to start a business in IT?
Viorel: As a teacher, I've met students with great potential. It's one of the privileges of teaching: to see not only what a student is, but also what he/she can become someday. Their enthusiasm and capabilities were definitely an inspiration for me. On the other hand, I've noticed a real potential for creating an IT company on the market. So, putting these two together, I've realized soon that it would be a real lost opportunity not to involve some of my (former) students in a bold project.
Q: How and when… has everything started?
Viorel: The initial start of the company was in 2000. The top management from then was different. But the management has crystallized, and shortly we've built a stable team. So, in this context, my former students became my business partners (Razvan Veliscu, Gabriel Rosu, and Mirel Ionescu).
Q: About Roweb's first projects…
Viorel: Our very first project was a B2B portal: IT TradeOnline – a trading platform for second-hand computers from the US.
This B2B portal provided our first custom software development projects for the international market. Moreover, we developed some projects in Romania – BursaPC being the most successful one at that time.
Looking back, I think starting a company from scratch and developing IT projects for such a young market were bold steps, even for an IT team. But if I had to choose to do it all over again, I'd still have no hesitation.
Q: When did the brand's name come for the first time on the market?
Viorel: In 2004, we named the company Roweb. After choosing that name, we've created the website – our very first online business card.
In the context described above, the name Roweb came from a mix between our company's focus (at that time) – on web – and the Ro code (a prefix that indicates that we are Romanians).
Since then, our business has developed in other directions (more complex projects). However, the Ro code remains still a clear indicator that we work with Romanian developers and that our company's shareholding is 100% Romanian.
Q: How different is today's Roweb from 2004's?
Viorel: Today's Roweb is a bigger company that provides more complex services, and solutions, counts over 130 employees, has offices in 3 cities… Speaking in numbers, today's Roweb is different from the initial one.
But these are only numbers. Behind them, the story remained somehow the same. And I think that this is one of our greatest accomplishments: that we succeeded to keep the same approach over the years. We've never wanted to become a corporation. We define our company as a human-centric one and I hope this thing won't change anytime soon.
Q: What word would describe the best Roweb's employees?
Viorel: Loyalty is for the developers that have been in the company for over…10…15 years. 'Cause, yes, we have many senior developers (in key job positions) that started their career in IT at Roweb and are still here. They are part of our story and made Roweb what it is today. They also play an important role in maintaining a friendly work environment, onboarding newcomers, and helping them adapt fast (with projects, teams, colleagues, etc.) And, of course, they manage our long-lasting ongoing projects (as Whise, Tourpaq, nGage, etc.)
For our youngest or latest onboarded employees – enthusiasm is the word that best describes them. They come to Roweb with a fresh approach and a lot of initiatives – and this way, they make a real difference.
Q: Roweb's longest project started over 15 years ago. What makes a client choose to work with a provider for so long?
Viorel: One of our key differentiators on the market is the relationship developed with clients. A healthy business relationship means trust, first of all. Not money, not winning a specific benefit. Profitability is an effect of a work well done, of transparency, counting on expertise for innovative solutions, having initiative, and having a genuine desire to deliver valuable assets.
We started working for Whise in 2007 and for Tourpaq in 2008-2009. And these are only two examples from our portfolio. There are several ongoing projects started many years ago.
Some of our clients developed a digital solution with our teams for the first time – starting, that way, their digital transformation with us (building or rebuilding complex digital solutions from scratch). And we have, also, several clients in our portfolio that chose to extend their tech teams by working with our professionals.
In both cases, their success is also their prerequisite to expand, and their expansion represents our path to growth.
There was no pattern for reacting to challenges brought by projects. But we had a pattern in the way we are doing our job: knowledge + stable teams + initiative + transparency.
So, getting back to the question above, in projects like Whise or Tourpaq clients know that they can count on us no matter what. Once we committed to providing them with custom software development services for building (a) specific solution(s), we made sure we'd keep that promise.
Q: Most of Roweb's projects are from the international market. Is there a specific reason for that?
Viorel: From the beginning we've approached the international market considering that we should be more focused on opportunities rather than limitations.
We are interested in accessing complex projects to get us outside our comfort zone and trigger our potential, but also reliable enough to engage stable teams on long runs.
Working with valuable human resources like our developers involves a certain level of responsibility: to make them part of engaging projects.
On the other hand, the company's growth can be guaranteed only through solid projects and long-term collaborations.
So, we didn't choose between the Romanian market and the international one. West Europe was, at some point, more ready for accelerating digital transformation than other regions. So, our services found solid ground for solid roots in this market. That's why most of our projects are from the international environment (especially from the UK).
Q: What about Roweb in 2025? If you would make a projection…
Viorel: For me, Roweb in 2025 is beyond a simple projection. It's a plan. 3 years from now, we will speak about Roweb as a company with more offices in Romania and abroad (UK being one of them), having an even higher diversity in terms of employees (age/gender, skills, nationality), technologies, industries, approaches and portfolio. 3 years from now we intend to double the nowadays Roweb from all the perspectives mentioned.
And, above all that, it will be more able than ever to keep a work environment able to cluster diverse people through one solid bridge: the passion for IT.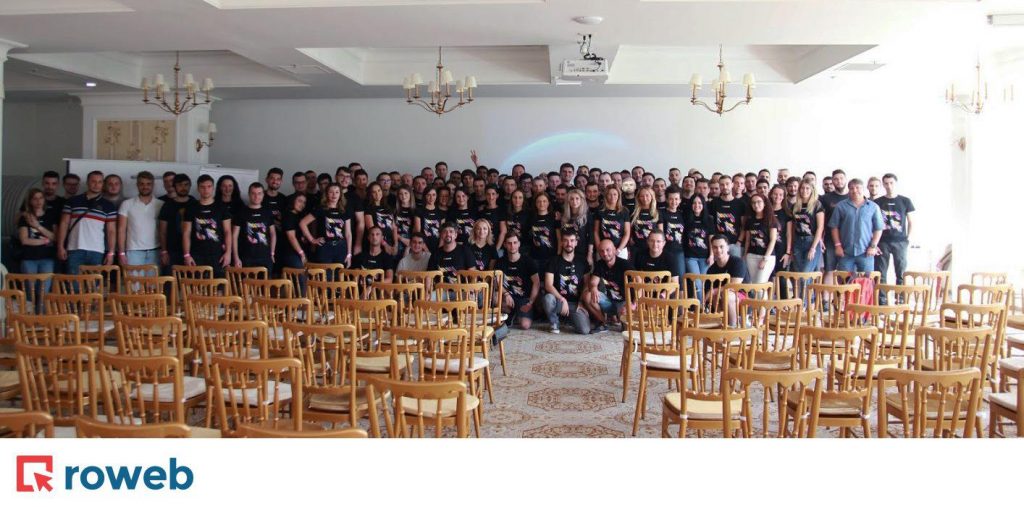 ABOUT ROWEB
Using our 130+ IT professionals' experience (50% seniors) and the latest technologies, we focus on providing custom development (business apps, mobile apps, e-commerce solutions, etc.)
We have wide experience in various verticals: Recruiting & HR, Finance & Insurance, Real Estate, Tourism & Hospitality, Associations, Transport & Logistics, E-commerce, Marketing.
We work with companies from all over the world (UK, Denmark, Belgium, USA, Switzerland, Germany, Middle East, etc.) and provide solutions for businesses of all sizes ranging from start-ups to large enterprises.
KEY FIGURES
18+ years in business;
130 + full-time IT professionals;
clients in 30+ countries;
3 offices in Romania (Bucharest, Pitesti, Craiova);
2008 the year when we became Microsoft Partner;
the longest ongoing project started in 2006 .
MARKET RECOGNITION

SERVICES
Enterprise Applications;
Mobile Development;
Web Applications Development;
Software Architecture;
Cloud Integration;
E-commerce Solutions;
Maintenance and Support.
MAIN TECHNOLOGIES
Microsoft (.NET Core, MVC, Web Api, Web Forms) | PHP (Laravel, Lumen, Symfony) Javascript (Node.js, React, Angular, Vue.js, Knockout.js) | Ecommerce | Infrastructure (Docker, Kubernetes, Nginx) | DB (MSSQL, MySQL, Elastic Search) | Mobile (Android, iOS, Cordova, React Native, Ionic) | Cloud (Azure, AWS, Google Could)