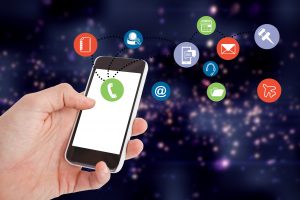 (Mobile App Stats) There are a lot of things happening in the Mobile App Development World. The Global Digital Population is continually growing, and digital consumers now use all the devices to explore services and experiences in both developed and now emerging markets.
Check the graph below to visualize the trends: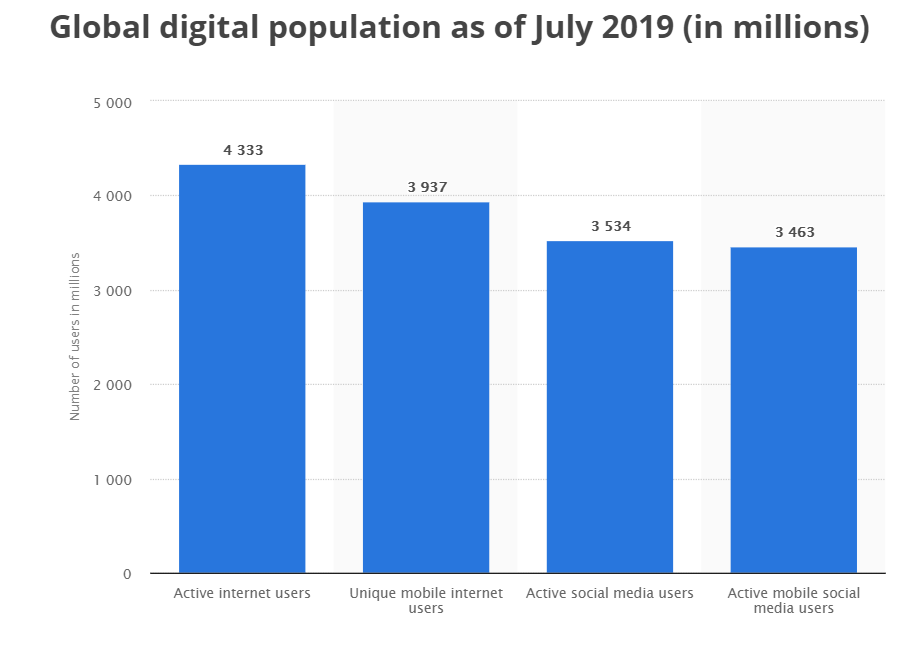 The demand for mobile capability is affecting all industries.  Either we are talking about Food Delivery, Tourism, the Payments Industry, Transportation, Logistics, Health, etc. an app  will help you better connect with your customers.
You can find below the statistics regarding the verticals where the mobile app development can have a massive impact:
Online Food Delivery apps
The annual growth rate of the revenue in the on-demand field is foreseen at about 6% level in the most expected years. As a result, this will increase the market volume with almost 25 bln USD by 2023. The market's most extensive section is Platform-to-Consumer Delivery. The demand volume worldwide is about US$53,786m in 2019.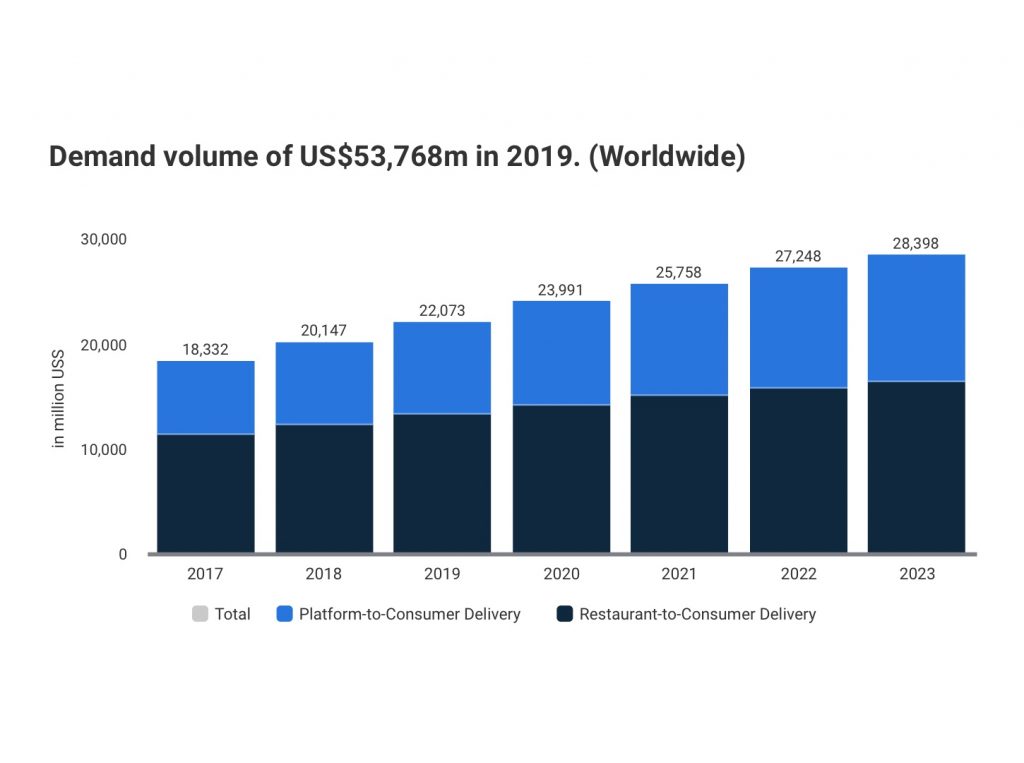 Payments Apps
It comes as no surprise that mobile payment solutions face a substantial increase. Therefore, is also accelerating growth in non-cash transactions.
A rising number of traders worldwide support and plan to support a diversity of mobile payment options. This is to say, the most popular one is represented by mobile apps for online shopping, mobile payments at POS, and special mobile payment options such as mobile wallets.
In 2017, the number of mobile proximity payment users reached 721.2 million worldwide and was predicted to surpass 1 billion users in 2020.
Mobile Medical Apps
The digital health market is foreseen to attain 206 billion U.S. dollars by 2020. So, the mobile and wireless health business have a major impact. In addition, mobile medical apps worldwide are expected to grow to over 11 billion dollars by 2025. The market in the Asia-Pacific area is anticipated to be a critical region in the future.
Social Media apps:
Since the appearance of smartphone and the subsequent explosion of mobile apps, low-cost or free chat and social messaging apps expanded intensively. Above all, it was a cheap alternative to operator-based text messaging via SMS.
Many messenger apps offer features such as group chats, the exchange of graphics, video and even audio messages as well as stickers or emoticons.
In the second part of 2018, the average of the media and entertainment app was launched 16.2 times per month. Overall app stickiness was 13 app launches per month.
 Roweb is an expert in developing independent mobile applications with the perfect screen resolution, suited for a wide range of devices and compatible with competitive hardware solutions.
We work with the latest technologies on the market and we make sure you get the best cost and talent.
Book a free Consultation with us and let's talk!
You can also check out Our Portfolio with samples from our Mobile Apps Projects.