ecomTeam 2022, Brasov – is not just an eCommerce event but a team building with essential names in the industry, with whom we had the pleasure to interact and discuss the trends in the industry.
We also took advantage of this opportunity and talked about how we can improve the sales process and create functionalities and tools that can offer customers a superior experience in terms of online shopping.
And it was an edition that pleasantly surprised us and made our team decide to participate next year.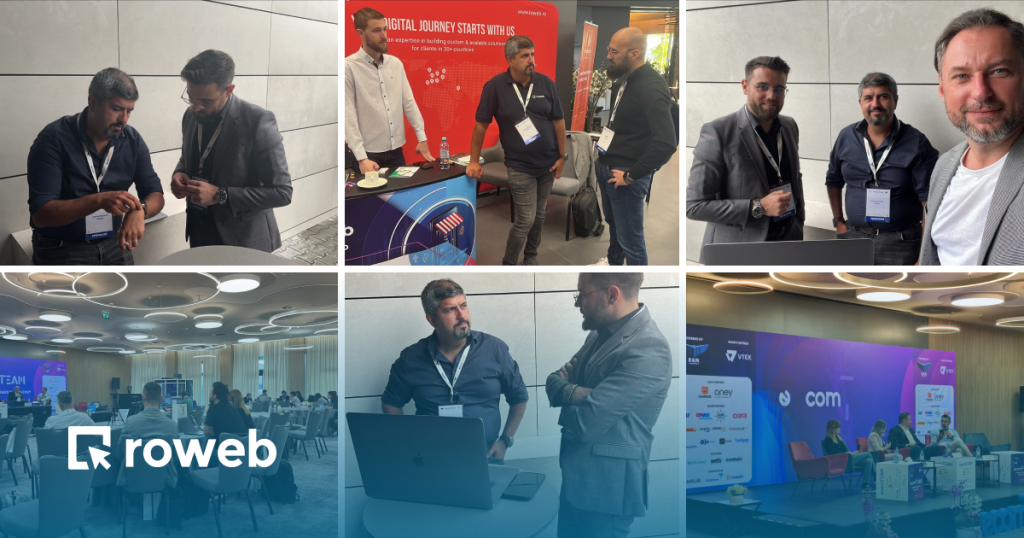 What remains after the end of the event?
It was two full days spent in Brasov, together with part of the Romanian eCommerce community. Two days in which extensive networking helped us realize that:
there are many businesses with growth potential in the market that need functionalities that simplify their sales process: from the supply stage of stores and warehouses to the completion of the order through the delivery of the product.

Romanian entrepreneurs are becoming more and more aware of the influence of digitization on their businesses. They are looking for solutions to keep up with the field's trends and competition.

it is not too late to open an online store or to develop an eCommerce platform with intelligent functionalities. As long as you have an idea and a reliable team to help you implement it, the first steps towards success have already been taken.
"ecomTeam was the biggest surprise of all the eCommerce conferences I attended. It's a conference that promotes itself as team building for eCommerce, and that's exactly what happened. We focused a lot on networking and establishing sustainable partnerships."

Stefan Nicolae
Head of eCommerce @ Roweb
From statistics… to practice
On the other hand, some well-known statistics were confirmed to us once again at ecomTeam. Namely:
The Romanian eCommerce sector is on the rise. In 2021, for example, according to the data provided by the Representative Association of Online Stores in Romania (ARMO), eCommerce exceeded the value of 2020 by 10%, reaching 6.2 billion Euros.
As we noticed during the event, the potential in the market is enormous, and software development companies are a pillar of support for those who need profitable eCommerce solutions.
For now, almost half of Internet users in Romania (44%, to be exact) have made at least one online purchase. But our estimates are that the tendency to buy smartly and quickly, directly from the comfort of one's own home and on smart devices, will grow even more in the next period.
"At ecomTeam, we met several types of visitors: from online store owners who wanted solutions that would bring them a high performance to entrepreneurs who were aware of the potential of this industry and were looking for ideas to make it more valuable. Thus, the conference in Brasov was a great networking event. Perhaps as one of the most engaging of the last period."

Valentin Necsuleu
Senior Sales Representative
What's next?

As we said in the blog post announcing our participation in ecomTeam, this autumn is full of tech, business and eCommerce events. Next, we have scheduled visits to Switzerland, Las Vegas, Dubai and Bucharest. (Take a look at the calendar below).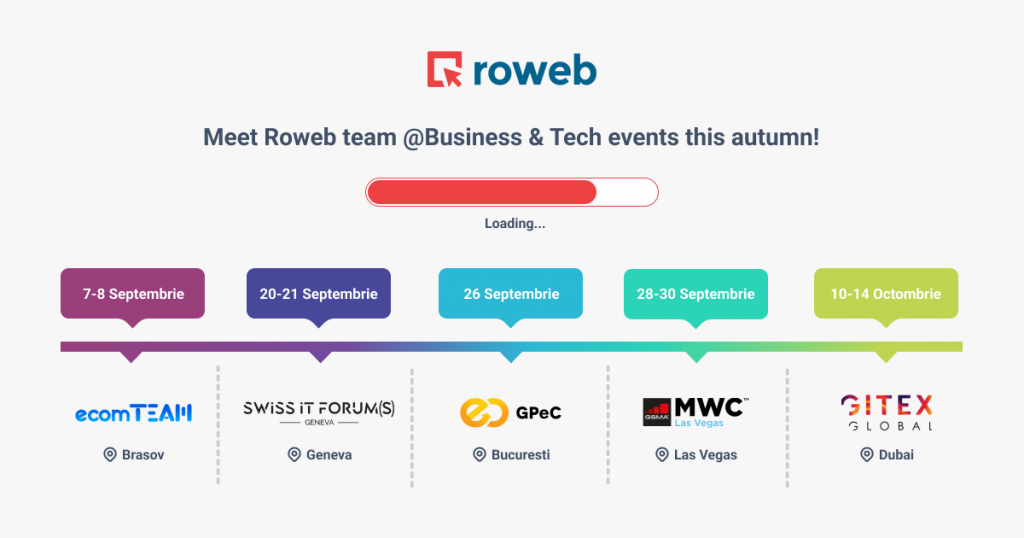 And because time is short, the Swiss It Forum(s) preparations are already in full swing. More details about the event can be found here.
We also recommend you look at our Social Media pages, which we constantly update with new information about our activity.
About Roweb
We are a software development company launched under the current brand in 2004. Our team comprises 130 software developers, more than half seniors with experience.
The company offers end-to-end business solutions based on complete consulting services, architecture development, implementation, design, QA, etc. The working method is based on three forms of organization: dedicated teams, staff augmentation, and the project team, and it is chosen based on the needs of the projects.
The clients in the international portfolio come from fields such as recruitment & HR, finance & insurance, real estate, tourism & hospitality, and retail / eCommerce.
The most extended partnership is an ongoing one (since 2006) with a real estate client, who quickly became a leader in the Belgian market and whose business strategy also involves conquering other markets in Europe.