Web portal solutions for city management are dedicated apps able to integrate several features and functionalities (informative pages, online payment tools, uploading and sending documents/complaints features, etc.)
Their core role is to bridge citizens to the city's authorities and grow people's trust in city management (Impact e.g., less paperwork, reduced costs, improved environmental programs).
What is the best way to use a web portal in your city?
As an independent solution or part of a more complex one? A standalone web portal is definitely less powerful than a complex solution.
Still, it may be enough if the challenge/problem you have to manage is particular (e.g., toll payments, sending documents. etc.)
The most efficient all-in-one solutions usually integrate 3 components (each addressing specific problems/ created for specific users).
a mobile app (for citizens/residents/stakeholders);
a web portal (for bridging users to city managers);
a back-office solution (for local organizations employees).
For what type of problems/challenges are web portals suitable?
for improving community engagement & communication;
for streamlining city maintenance;
for simplifying taxes payments processes;
for providing residents with full independence for managing information.
Case Study #1 Dedicated portal for solving complaints faster
The solution: SmartCity App – a multi-platform digital system for managing incidents and communication (city management).
The goal: Increasing transparency between the city and its residents and improving the quality of life through a complete digital solution that integrates 3 main platforms to assess both citizens' and municipalities' needs:
a mobile app: iOS & Android app designed for citizens so they can access information on events/ announcements and place complaints directly from their phones;
a web portal: extending the municipality services through an intuitive and communication-only website – optimized for mobile and search engine algorithms (e.g., Google);
BackOffice web: Intuitive system designed with the municipality staff in mind for real-time receiving and managing the citizens' complaints and requests.
The web portal: Extending the municipality services through an intuitive and communication-only website.
responsive design customized with branding elements (colors, logos, etc.);
integrated CMS system for articles, news, and events management;
complaints displayed directly on the map;
complaints can be added by citizens or by municipality employees;
dedicated page for each department providing also contact and program details;
easy access to updated stats and reports;
installing Google Analytics, Google Search Console, Facebook microdata, and generating sitemap.xml;
SSL certificate install and free hosting;
GDPR compliance;
website maintenance;
security updates;
SEO updates (according to Google algorithms);
the Portal can be used standalone or with Mobile Application and Backoffice online.
FIND OUT MORE ABOUT THIS SOLUTION
Case Study #2 Taxes postponement and payments made easy using a dynamic and secure web portal
Client's needs: Taxpaying Americans struggled for years to meet the dreaded April 15 deadline for personal income taxes as well as the March 15 deadline for most business income taxes.
Considering that the financial consequences for not paying their taxes on time are tough, Americans were looking for a solution to postpone them in a fast, safe, and secure way. (IRS offers the postponement option)
The solution: This project's core objective was to create a fast, safe, and secure digital tool so people without tax expertise can quickly extend their tax deadlines without involving a professional tax preparer.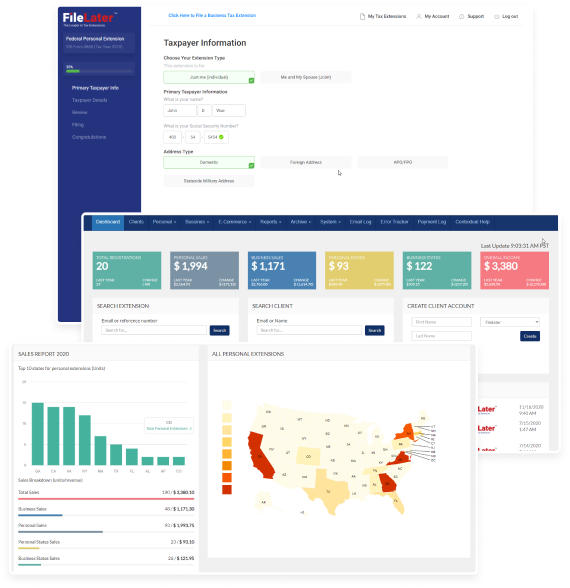 Features and functionalities:
dynamic and intuitive data collection from disparate sources;
real-time synchronization with IRS servers and fast submissions;
extensions generators both in digital format (by submission to the IRS) and in pdf format (so requests to be also printed );
complex dashboard that provides access to real-time stats and reports;
marketing module integrated with SendGrid;
deployment in Cloud for Microsoft Azure: the app is hosted and optimized in cloud on multiple servers;
the app is designed to provide high scalability;
key-features for performance in order to support a large number of concurrent users.
Case Study #3 One-click toll payment solutions
Market's needs & expectations: Toll payments are as necessary as time-consuming. To respect current legislation and avoid financial penalties, drivers must track the validity data of several tolls (including the RCA insurance) and pay on time for the policy renewal. In the absence of an application within reach, the drivers had to go to the insurance companies or brokers whenever the policy expired.
The solution: In order to respond to the market's trends and needs, we've developed a complete toll payment app (online portal + mobile app) to place (literally and figuratively) everything at the end-users fingertips.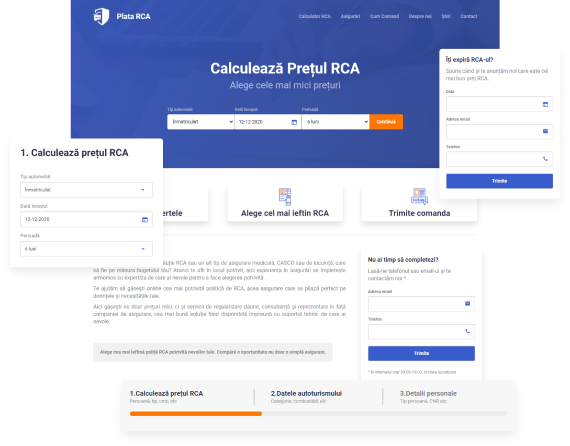 The Web Portal: Online Portal allows the customers to find the best insurance for their cars, searching in all the major insurance companies from Romania.
The website compares the quotes from various insurance companies in real-time and allows them to order and pay online for any RCA product they want.
The website interrogates the insurance databases consuming web services, aggregates, and filters the results.
We have done a lot of speed optimization so the portal can handle high traffic and a large number of simultaneous users/requests.
The admin panel is as complex as intuitive and includes several modules:
User management;
Order management;
Content Management;
Sales Reports;
Email marketing.
Case Study #4 Managing environmental programs through a complete and intuitive web portal
Our client: KBT runs a whole range of environmental programs, covering from beaches to parks and schools. They work at the heart of the business, government and the community to help people better understand that what's good for the environment is also good for our communities. (This project was the first collaboration with KBT. Since then, we've collaborated on several successful projects, including Clean for the Queen, Love Where You Live, Love Parks, The Big Tidy Up, and Green Flag Awards.)
Client's need: KBT needed a web platform that would allow them to manage and promote their organization's projects efficiently and centralized. They needed to have a network of sites that could all be managed from the same dashboard, and that could share user bases and maintain the same brand identity. They wanted a team who was able to work together with their internal designer – who was in charge of the branding identity and the visual style guide.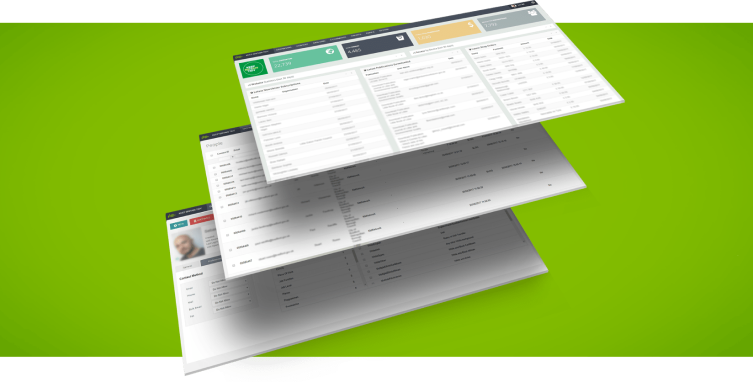 The solution: We provided KBT with a complete technical solution for their portal and we also created and upgraded their UI interface, web design, and email templates' design.
We built the portal using an advanced CMS system that gave the administrators full control over the content and an easy way to manage and edit the data.
SEO-friendly URLs, possibility to edit page names, titles, meta descriptions, and meta keywords or edit alternative tags for images
Advanced template system
Powerful WYSIWYG visual content editor with drag and drop
Responsive design
Facebook and Twitter plugins
News module
Subscriptions
Google Search and Google Maps integration
Donations module integration through Sage Pay & PayPal
Shopping cart implementation
Image gallery
Google Search integration
DISCOVER MORE WEB PORTALS DEVELOPED WITH OUR TEAMS!
How to choose the provider for developing your web portal solution?
10+ y of experience on the IT market – a guarantee that your project will be taken over by experienced teams;
various projects in the company's portfolio – illustrative both for dedicated teams and for your industry;
large and stable number of employees – the more employees a company has, the easier will be for it to provide you the team you need;
team roles provided by the company – an extra-guarantee that you can count on a complete team for developing your project;
disruption-free recruitment projects – recruitments processes based on modern and efficient technologies.
What guarantees do we offer for projects?
We are aware that our extended experience in software development, our portfolio, and our skilled professionals that work in dedicated teams represent solid guarantees for reliable services.
Still, it's essential for us to make clients feel treated as partners and provide them all the reasons to trust our services.
That's why we deliver every new project with a 3-month guarantee. This guarantee is meant to be an additional safety net for our clients, so they perceive from the beginning our services as risk-free.
Should you choose Roweb development?
Clutch operates a sister site called The Manifest that helps business buyers find service providers for their upcoming projects. They also offer potential clients a How-To Guide for using the services of a third-party business for clients to use if they wish to employ services of the firms found on the site.
According to The Manifest's 2021 research, we ranked second at the Top 20 C# Developers in Romania list and we invite you to check us out!
Our clients are truly the reason why we are where we are today. We look forward to connecting with new partners in the future! Let's get in touch if you'd like us to create or revamp a platform today!
16+Years longest ongoing relationship with a client
130+Senior developers ready to work in dedicated teams
17+Years of experience in the software development industry
TECHNOLOGIES THAT WE USE:








METHODOLOGIES
Agile
Scrum
Kanban
Waterfall
ROLES WE PROVIDE
project managers
business analysts
developers
Q&A specialists
Scrum masters
UX Designers