Do you manage a restaurant that, not very long ago, attracted plenty of customers every day? If your answer is YES, well…I know for sure that nowadays are the most challenging moments from your entire professional life.
Over 80% of the restaurants' managers announced – once the pandemic crises were confirmed – their intention to close (temporarily or definitively) their business – decision being taken as a consequence of the pandemic context.
On the other hand, the rest of the restaurant managers chose to see in online strategies their escape exit from a (seemingly) impossible context.
What does it mean to use a dedicated digital solution for your restaurant (these days)?
A complete digital solution for restaurants offers you:
an eCommerce website with unlimited space for uploading your products

,

fully optimized for mobile devices, and search engines rankings – SEO on-page (MetaTags, Keywords, URLs, Title Tags, etc.);

a mobile app that sends real-time notifications for every new order

and software solution (CRM) to manage better the sales process and the interactions with your customers

;
an automated "receiving orders" process

directly on the Mobile App, on the email, or printed on your kitchen's printer. This system helps you to manage multiple orders simultaneously – a more efficient than taking orders only by phone

;
the opportunity to install app on as many devices as you need and want;
the chance to cut costs with third-party providers (

you'll no longer need to sell through delivery companies – you'll have your own delivery app)

.
Find out more about the solution's features and functionalities and how these can concretely help your business to grow!
People accepted social distancing. Everybody is trying to avoid crowded places (hypermarkets, malls, entertainment places – it was noticed over 81% less traffic in places like these according to Google Report)
The impact on your business: If you don't have access to your products, your customers will soon forget the atmosphere experienced in your restaurant and look for new food providers.
The digital solution your restaurant needs: The digital solution that you use must be able to compensate for the experience your customers had in the restaurant. These days, more than ever, time is your enemy – so be sure that you can implement this solution as fast as possible. E.g., Roweb complete solution for restaurants can be implemented in only 3 days and responds to several business needs:
brad communication through dynamic and eloquent chromatics;
UX optimizations and intuitive and user-friendly website architecture;
online access to a dynamic menu;
fast ordering tools within reach (call-to-action buttons: Call & Order, fill in a form, etc.);
feedback tools (NFC tags and QR implementation to receive feedback from the clients through an online survey) recommendation tools (e.g., social media integrations);
flexible payment tools.
The number of online orders increased with over 30% in the past months in Romania – that means over 4.000 orders/day (source: Playtech)
The impact on your business: The customers' high interest in online ordering is a great business opportunity for your restaurant.
The digital solution your restaurant needs: By using a Mobile App based on a CRM solution, you'll be able to:
receive orders in real-time on different channels (on mobile apps for Android and iOS, SMS, on email or directly on your kitchen – listed on the restaurant's printer);
personalize every interaction with your client by having instant access to clients' profiles (applicable to existing clients);
access ordering history (menu preferences, number of orders, orders value, etc.).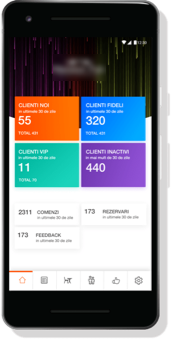 While the shopping cart average value increased significantly in the past months, the delivery providers are overwhelmed – so, for non-perishable products, an order can often arrive after 7 days (source: Playtech)
The impact on your business: By offering a responsive delivery service with a 0% commission, you'll definitely stand out on the market.
The digital solution your restaurant needs: To offer competitive prices and fast delivery you need 2 things:
0% commission for all deliveries;
your own delivery system – to have fewer costs and more control over the process and clients' satisfaction.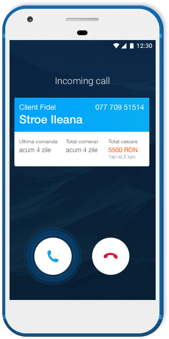 10% of online customers have started to use the delivery services from restaurants for the first time. About 14% are now using it more frequently. 27% haven't ordered anything yet, but have in mind doing that at some point. (source: Report CSA: Consumers shop differently during COVID-19 pandemic)
The impact on your business: The interest in online ordering will soon be higher, so you'll have even more chances to sell your restaurant's products online.
The digital solution your restaurant needs: Deliver a complete communication on your website, on apps and social media platforms. Boost your customers' trust by creating dynamic videos with real-feels from your kitchen and show them that your products are safe (packages, staff equipment, etc.).
Online promotion costs will increase by over 17,7% – promotion costs on social media will increase with 22,2%. (source: ayma.com)
The impact on your business: Your promotion costs will increase if you don't find alternatives or use different tactics.
The digital solution your restaurant needs: (Paid) promotion is an important step and the most effective approach to reach the potential customers. But you also have to find extended tactics or even alternatives. E.g., by using a mobile app based on a CRM solution, synchronized with your website, you can easily manage your contacts' data – name, phone, address, food preference – get back to them with personalized offers via remarketing messages.
More than that, you can optimize your website by integrating smart filters and strategically placing related or complementary products at their "fingerclicks".
To summarize: when a physical door must be closed, another virtual one should be ready to be opened and generate new opportunities for your business. To successfully cope with the global crisis and dynamic changes in consumer behavior, you have to become even more open to implement digital solutions and use them in your restaurant's profitability favor.
Are you interested in selling online to all your customers with 0% commission?
Keep your restaurant still open and profitable by implementing fast your own digital solution: delivery + online sales + marketing & CRM.