In 2020 digital transformation was accelerated, being suddenly perceived by many businesses as a safety belt during COVID 19 storm.
"The pandemic has resulted in businesses worldwide embracing digital transformation technologies and services, although some still predict that the digital economy may likely endure a long-term revenue loss like the overall economy." (Source: Statista)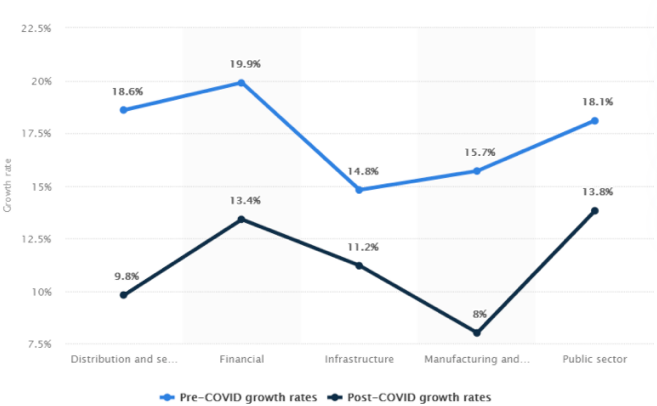 Tell us what your digital challenges are, and we will guide you to choose the most efficient digital solution for your business.
CFO's digital challenges in 2021
Discover 8 main challenges CFOs have to deal with this year (plus some projects examples from our portfolio).
1. Being prepared for new disruptions
It becomes more obvious that 2020's dramatic changes echoes will shape this year's trends. Here are some examples:
synchronized technologies become a must-have – from integrated apps working as a harmonized orchestra to developing platforms that are able to provide analysis and forecasting;
digital transformation is limited by the chaos of fractured markets and economies, while audiences are expecting solution able to provide agility and responsiveness;
users (external customers/employees) become more digitally focused and expect personalized and relevant experiences in both virtual and physical environments.
CASE STUDY: Custom Tax Extension App with Robust Security Features – FileLater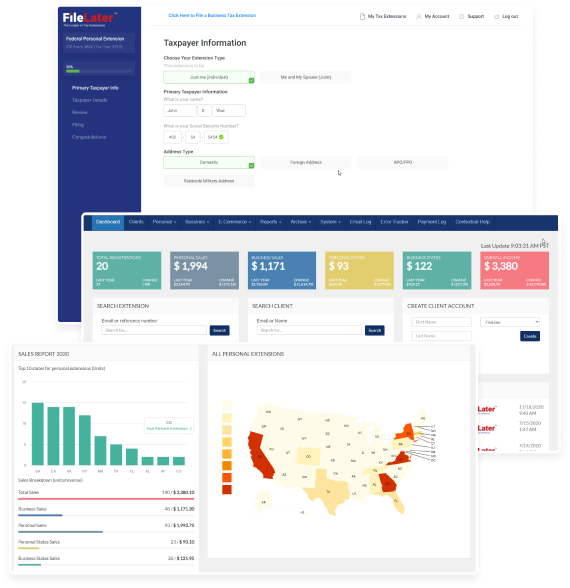 The very first version of FileLater was developed in 2008. Since then, the digital product has undergone several updates (and we are still working on its development for extended functionalities).
This project's core objective was to create a fast, safe, and secure digital tool so people without tax expertise can quickly extend their tax deadlines without involving a professional tax preparer.
We've succeeded in delivering fast exactly the solution that the client needed, which guarantees that we are a reliable soft development partner. So, since then (over 10 years), we offer them development, technical support, and permanent upgrades.
2. Modernizing a legacy-system
Most systems were purchased from a vendor that is no longer interested in investing in an outdated product. And that's a major issue.
How should you approach the legacy code to help internal and external systems still respond to our current needs?
CASE STUDY: Extended features & optimizations for an HR solution – nGAGE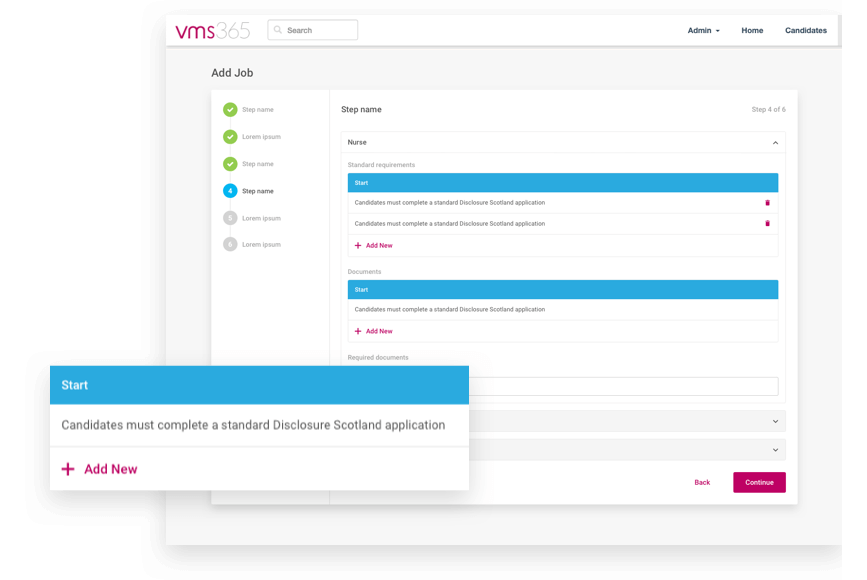 The lack of responsiveness from the previous provider in adapting the existing solution to the new requirements determined nGage to search for a new company to work with.
The client initiated a series of meetings to present the product and offered us the right context to present technical solutions to the company's needs. After only a few meetings with the former provider, we were able to make possible all the knowledge transfer and take over the project.
We optimized the software and completely changed the user interface in terms of design and usability. The main challenge was the high volume of legacy code that needed to be replaced. The key result: we created a fast, high performing and easy to manage/use vendor management system.
3. Random digitalization
Disparate sources and lack of integration between apps are a powerful signal that digital strategy has not a clear main objective. And this creates a risky context from many perspectives: security, coherence of activities, data management, communication between multiple parties, etc.
CASE STUDY: Loan app development with multi-user level environment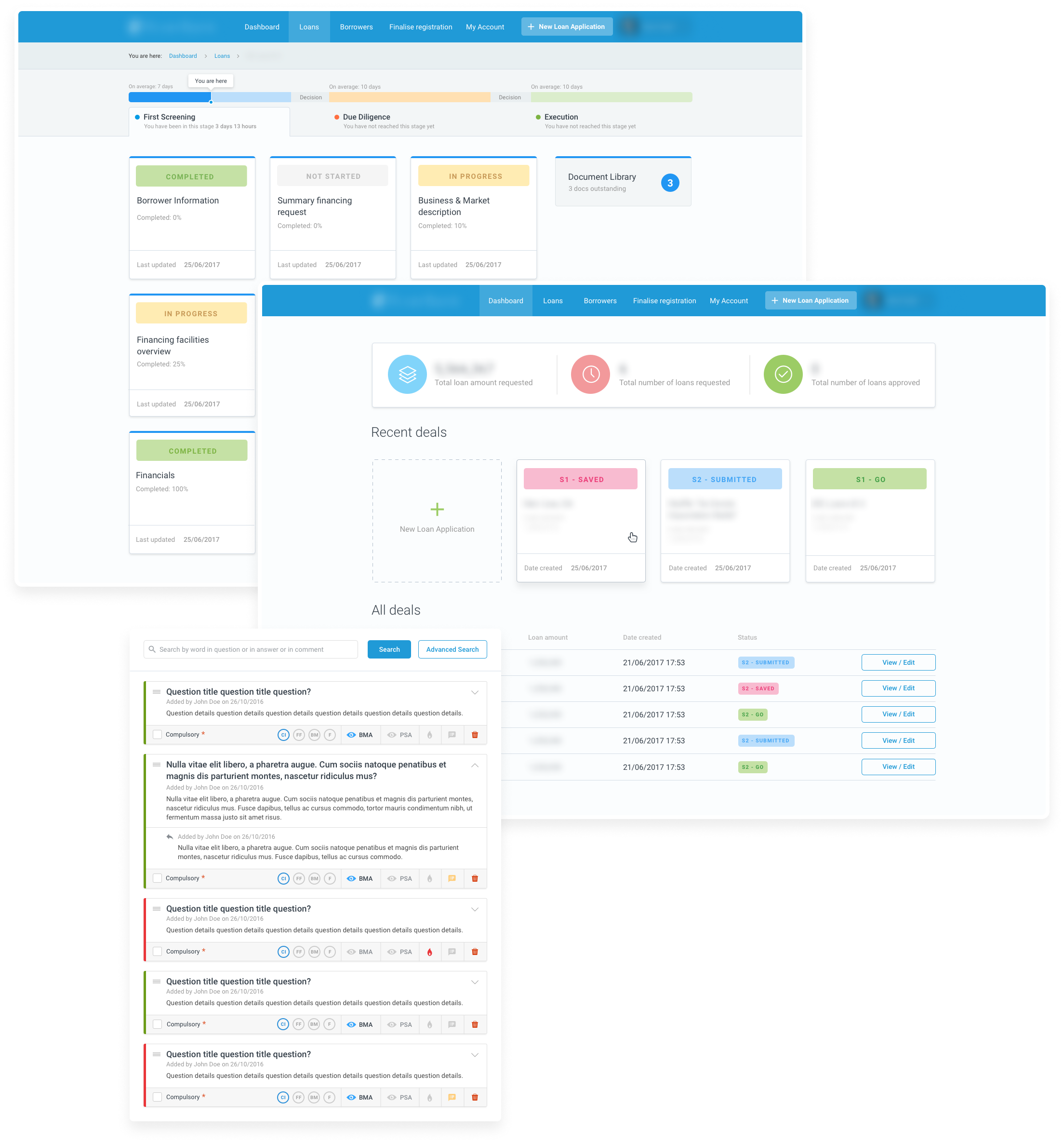 Our client – the bank – works with a network of partners who prepare the loan application on behalf of the SME. Initially, the process was based on using various apps and platforms – with poor synchronizations between them. This lack of unified systems generated a high risk of errors, data loss, and delays during the process.
So, what our client needed was an online solution that allows easy and secure management for loan applications at multiple levels: Partners (accountants, corporate finance advisors, law firms, tax advisors, private equity funds, and other banks), Borrowers, and Loans Provider (the bank).
4. Organisational resistance and lack of skills
Mixing physical interaction with virtual ones and keeping data and processes all together remains a great challenge – especially for medium and large companies. The new way things are done requires an entirely different cadence of change and entirely different skill sets.
CASE STUDY: Web App for Improved Performance on Multi-Party Financial Processes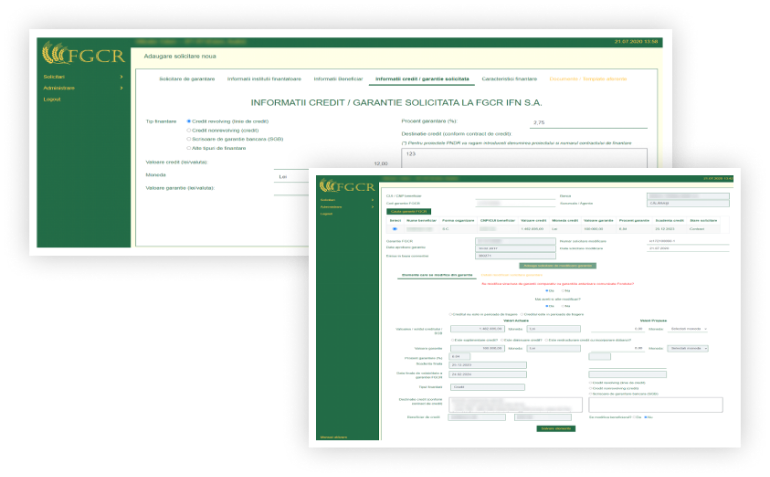 Our client – FGCR – constantly receives a large volume of requests for obtaining guarantees from the financing institutions.
Initially, the process of collecting / storing / synchronizing the transmitted data and documents was difficult and time-consuming.
Updates and data processing were mostly done manually, while documents were transmitted using traditional digital tools (for example, e-mail) – which led to delays and difficult trackings along the process.
We've created for FGCR a dedicated web app (with a focus on user experience – UX) that allows dynamic management for financial data (collection, storage, and synchronization) through an online module connected to an existing app.
5. Returned value
As you may already anticipate, investing in digital transformation seems to be an endless story. Still, you don't have to think of these investments as overwhelming ones. If you do these on time, using the right resources and the right IT teams – digital solution costs will be perceived more like maintenance ones.
6. Scaling insights up and splitting digital transformation by theme
Smart CRM apps, analytics systems, and BI dashboards are the most common solutions companies are interested in developing, implementing, and using.
The great challenge in getting these solutions working together and getting controlled access to intuitive insights, also.
Several analytics-powered insights could help you easily understand the next product you must develop or give you a sense of when to redirect consumers to a different channel or when a consumer is trading or leaving your brand.
7. Resources allocation
Scaling insights up and splitting digital transformation by theme will help you clarify the true value. It is essential to evaluate your existing solutions and resources correctly to prioritize your investments and avoid over or underinvesting in digital transformation.
CASE STUDY: Mobile APP for On-the-Go & Safe Banking, CIM Bank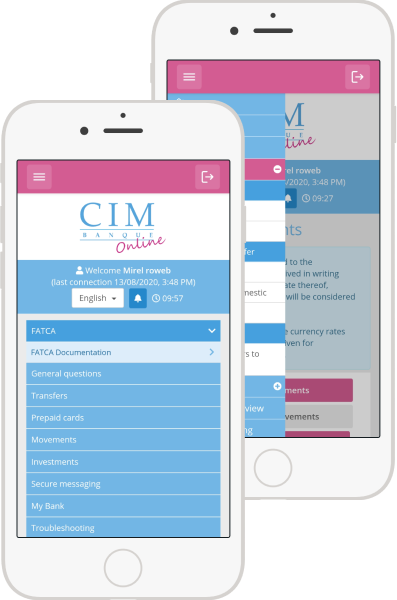 When CIM Bank requested our services, they already had a web solution, and they were interested in developing a mobile one as an extension (through new functionalities). The mobile app allows customers to:
securely log into their accounts. (the client had an existing responsive website that the application would load after login);
use the device biometric features to bypass the existing 2-factor authentication;
interact with the existing website and use the mobile device's built-in security features to authorize transactions;
enrich the current website's functionality with extended capabilities like Invoice payment through QR or document scanning.
8. Predict the unpredictable and adapt fast while running out of time
Pandemic worked as a digital accelerator for companies around the world. So, almost overnight, technology modernization became not only a must-have but also a great challenge for them. A lot of the technology for big companies was built decades ago in an old legacy-system model that's very hard to adjust.
If you are about to choose a software service company for developing these types of digital systems, pay close attention to the following details for choosing your partner correctly:
developed projects (does it have in its portfolio relevant projects for your industry, apps, etc.?);
stability on projects (for instance, in our company, the main projects developed with dedicated teams last for over 15 years – services covered: maintenance, extended functionalities development, updated, etc.);
reviews on relevant external websites (Clutch, GoodFirms, The Manifest, etc).
Are you dealing with significant challenges regarding digital transformation and need support in developing your apps and software solutions?
Get in touch with our team to start discussing your next digital project!
GET IN TOUCH WITH US
Is Roweb the software company that you need for your project?
TECHNOLOGIES THAT WE USE:








METHODOLOGIES
Agile
Scrum
Kanban
Waterfall
ROLES WE PROVIDE
Project managers
Business analysts
Developers
Q&A specialists
Scrum masters
UX Designers