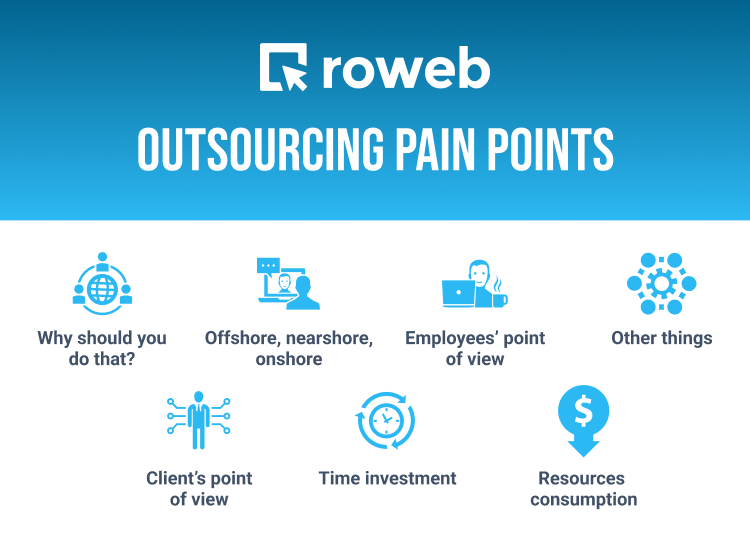 As a software company manager, your agenda is very busy regardless of your business size. But, if you are seriously thinking of outsourcing some of your activities or services to another software company, here are some pain points that may not give you peace of mind.
Outsourcing your software services or projects: why & when?
Outsourcing has become an increasingly common activity for worldwide software development companies. If this thought has already crossed your mind, here are some situations when it's time to outsource your activity:
When you have a large number of projects and a shortage of employees.
Why? Because when the workload is too high, employees become stressed and maybe even unproductive. The "Burnout" phenomenon is quite common in dynamic industries such as IT.
When you do not have the necessary experience and skills to solve specific tasks which your clients require.
Why? Because you don't want to lose those customers. Lack of experience increases the risk of having failed or blocked projects and losing clients.
When you have to use new technology, you don't have the time to learn it.
Why? Because sometimes it is faster and less expensive to outsource than to learn on your own. But that doesn't mean you don't have to invest in developing your employees' knowledge.
When you are in a time crunch and you must deliver the project to your client.
Why? Because outsourcing may be more effective than hiring new people. The outsourcing company already has the necessary experience and skills to solve the tasks you give it. It also comes with human capital. Due to the experience, the period of familiarization with the project may be shorter. Not to mention the fact that you eliminate recruitment costs.
When you are at the beginning of your activity, you have not yet developed your range of services.
Why? Because you want to stay competitive and not miss the start. Efficient digital transformation and rapid adaptation play a special role in differentiating the market. And you have to keep up with the trends.
Offshore, nearshore, or onshore software company? Which one is the right fit for you?
Suppose you have decided to outsource some of your services, a project, or even your entire activity. The next question that comes to mind is where you will find the right company.
It may be a recommendation received from someone you trust, or you can do online research.
From the perspective of proximity, we have three types of services for outsourcing: offshore, nearshore, or onshore.
They can offer the same development services, but they have their headquarters in different locations. For example, an onshore software company is in the same country as yours, a nearshore software company is in the vicinity of your country, and an offshore software company is located away from your location.
In short, the choice depends on your needs and geographical distance.
For example, if you need quick outsourcing and you don't have time to look for a software provider, maybe the best decision is to go for an onshore or nearshore option.
These are closer to your location, and there may not be significant differences in language, culture, and business mindset.
Instead, if you do not have a considerable budget for outsourcing and want to make this activity as profitable as possible, an offshore at a greater distance may be better.
Time investment
Time is one of the most valuable resources when it comes to business. Maybe you are familiar with the common phrase: Time is money.
Thus, as mentioned above, outsourcing services or activities can start because of the lack of time.
You may avoid the risk of dealing with an overwhelming and time-consuming outsourcing if you:
you choose the right software provider.
you don't spend too much time looking for the provider.
As a result, to avoid such situations, we highly recommend that you check the following aspects:
the clients portfolio of the company you want to outsource to;
the relevance of its projects;
the technologies used by the software developers;
the reviews and testimonials about the company;
the history of the company;
the numbers of employees;
a fair value for money.
Resources consumption
When it comes to resources, you should do the calculations very well. So a meeting with all of your departments is something to put on the To-Do list before you start outsourcing.
On the other hand, it is good to keep in mind the following recommendations.
The price-quality ratio is more important than the cost, and a good outsourcing solution means optimized costs in the long run. In contrast, a poorly developed solution involves more charges than just financial ones.
Use Time Management Software to keep track of the activities of the outsourced software company.
For example, our bespoke software developers created a full-custom project management portal that offers intuitive features and functionalities. It is an application called TimeReport that allows real-time management of employees' work and project progress.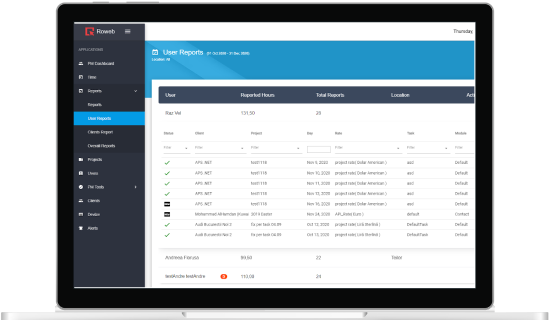 Time Report comes with an intuitive and dynamic dashboard designed with each type of user in mind and according to the best practice (information is displayed in a Z shape, and the most used info appears in the upper-left).
Moreover, if you don't want to worry about bills, you might want to use invoice management software that can help you automate the entire process. This app can help you get reports that will help you keep track of your expenses.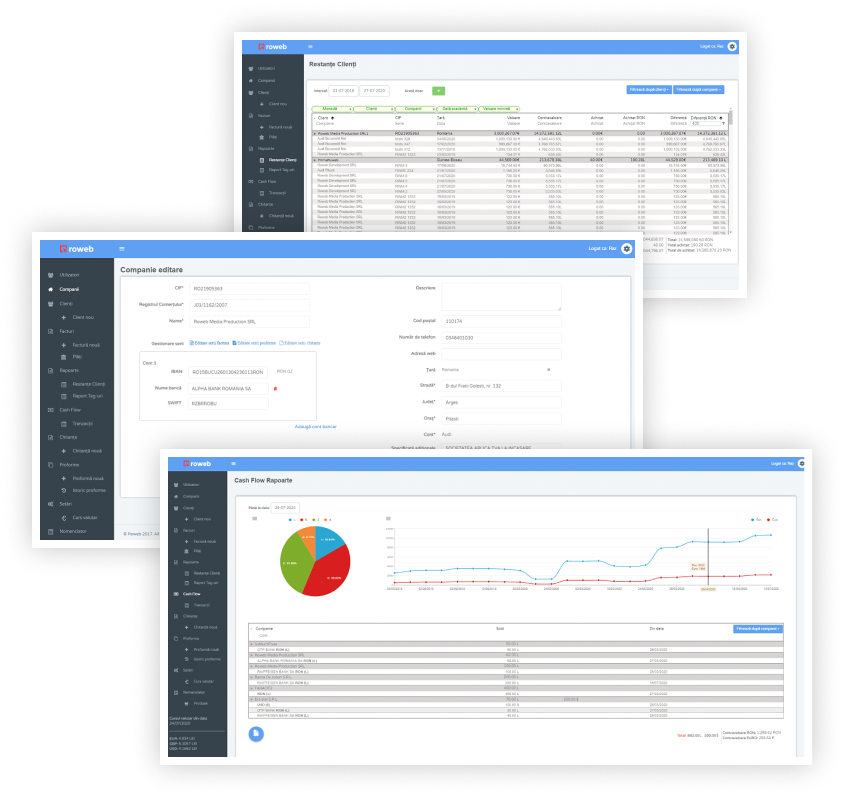 Employees' point of view
The software development industry is very dynamic and constantly evolving, not only due to the large volume of applications and projects but also due to human resources.
Software developers are often tempted to give up an IT company if another one offers them more tempting benefits. And very often, the benefits that employees in this industry opt for are not money.
So some of the pain points when it comes to your employees and outsourcing are:
Employees may feel wronged if they find out that you have decided to outsource without consulting them. To avoid this, you should clearly explain the terms of collaboration, tasks and projects that will be outsourced.
Employees may have conflicts with other software developers. Make sure that tasks are well defined and delimited and that the acclimatization of external developers is done in a transparent and coherent environment.
Employees may be tempted to migrate to the company you outsource to. These cases are pretty rare, but you should not lose sight of this aspect. Make sure you sign a one-time agreement with your provider.
Clients' point of view
The customer's opinion is another critical pain point. In most cases, clients do not know that you have chosen to outsource services or tasks related to their project.
However, if you are a company that offers complete transparency, you can inform the client about what will happen with his project, focusing on the benefits. For example, outsourcing can help you deliver the functionality of an application faster, and the customer can launch it earlier.
On the other hand, make sure that the outsourcing activity does not increase the client's costs because that can make him change his mind and look for another software company.
Or, if this happens and is unavoidable, make sure you inform the clients in advance so that they can adjust their budget and comply with the legal provisions of the contract.
Other things to consider
In principle, if you go through the list with the above details, there should not be many risks to bear in mind.
But you can think about what happens if your client goes bankrupt. In this case, the relationship with the company you are outsourcing to will also be affected.
However, you can look for a way to make up for it by maintaining a good communication relationship and outsourcing other projects.
Before making a business decision, you need to carefully choose not only the company you outsource to but also your clients.
About Roweb's activity as an outsourcing software provider
Roweb is a software house that provides outsourced development teams. Check out some key facts and figures about us.
Our client portfolio includes collaborations in finance, human resources, recruitment, business management, real estate, tourism & hospitality, transportation & logistics, e-commerce.
The challenges were many, but each software solution offered for applications and projects helped us evolve and become better in some essential aspects of a software development company: customer management, relationship intermediation, legal and financial factors, the efficiency of deliveries, employee management.
Also, what helps us to stay competitive and stand out among other companies are aspects such as:
fluent English knowledge, which allows us to communicate efficiently and overcome language and cultural barriers;
transparency in all resources involved, starting with costs and ending with deadlines;
the agile approach to projects;
diversity of portfolio. We have worked with companies of all sizes: from start-ups to companies with hundreds of employees;
employees' experience. Over 50% of our software developers are seniors. In addition, every year, we invest in a new workforce by hiring enthusiastic and eager to grow junior programmers.
complete solutions for customers in one place: those who outsource to us know that Roweb can offer the development, testing, and maintenance of projects and applications.
Tired of looking for a trustworthy software development company?