Every business owner wants to be successful. One of the secrets of being successful is to seize the opportunity at the right time. In order to do that, you should focus on your business, by reducing your costs through hiring an external software development team.. This is the reason why so many companies turned to outsource, as we explained in this article here.
Outsourcing has three main models – nearshore, onshore and offshore.
What are the main differences and which one should you choose?
#1 Onshore
Is when you outsource to service providers located in the same country. It is also known as local
One of the advantages of onshore outsourcing is that there will be no language barrier, and communicating with a highly skilled software developer is a lot easier. While this might sound like the best solution, it usually comes with a high price tag, depending on the project you want to implement. The main reason is because onshore companies cannot compete with the low prices from offshore companies. While the prices may be higher with an onshore company, the long term possibilities are higher. It all depends on your project – do you need a fast to market solution? Onshore might be better. Is your project more flexible? Offshore might be the right answer.
What are the main advantages?
no concerns about language barriers or cultural difference (regardless if you are in the USA or Romania);
easier to communicate, have a meeting, or conduct training;
faster time to market;
same tax and laws.
What is the main disadvantage?
One of our onshore clients needed to develop from scratch a one-stop-solution for the real estate industry enriched with specific features for providing a custom and intuitive user experience. The business's main direction is to promote complete offers for new properties (from those in the initial stages of construction to those already ready to receive their owners).
Our client wanted to launch a full-customized real estate portal to help real estate developers promote their residential complexes in a smart and complete manner.
placing built-in features (smart matchings, search tools, contact features, etc.) within reach;
dynamic promotion for featured properties;
providing complete information on each offer (general, technical, and financial details).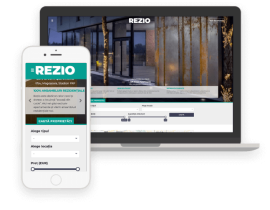 Features & functionalities:
advanced search features (based on specific criteria like property type, no. of rooms, location, etc.);
accessing the property directly from the map;
search property/residential complex by name;
selecting properties as favorites (using cookies only, without storing any personal data);
fast access to technical details (resistance structure, exterior walls, partitions, finishes, carpentry, plumbing, etc.);
fast access to general information (construction stage, completion deadline, price, etc.);
online calculator for a property with extended assets;
getting in touch with the seller via e-mail, phone number, or by using the contact form.
The key-benefit for the sellers
Cost-effective ways to advertise and list their properties/ residential complexes.
The key-benefit for the visitors/prospects
One-stop-solution for prospecting and buying properties.
The key-benefit for the portal's owner
Intuitive and efficient remote business management.
#2 Nearshore
It is when you outsource to countries located near similar time zones or are close to your border.
Nearshoring works excellent for businesses in all stages and sizes. As you have similar time zones, that means the language barrier is not that high, and you have few cultural differences that can be worked out pretty fast. At the same time, it is easier to find reliable companies that can be outsourced for your projects.
What are the main advantages?
easy to communicate;
similar work culture;
scheduling and in-person meetings are easier (due to the time zone);
enables your company by hiring experts without putting pressure on your in-house staff;
scalable workforce;
when you have a period of high demand, you can easily outsource, saving you time and money.
What is the main disadvantage?
while it is less expensive than onshoring, it might cost you more than offshoring.
One of our nearshore clients needed to enhance an already existent software solution. Their solution included data structure and SEO tools, finance management and payment monitoring tools, ticketing and credit management, automatic price Optimization tools and, CRM and marketing solutions.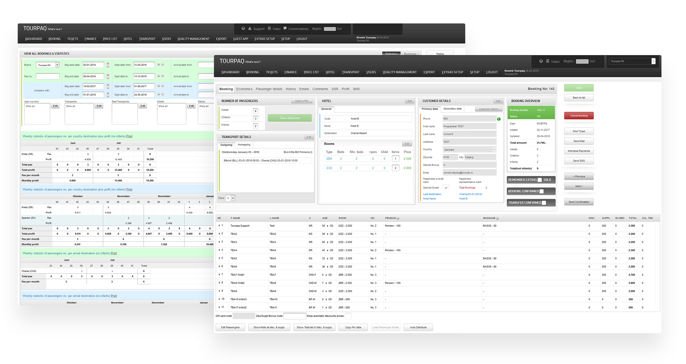 They needed a more user-friendly platform, with a single dashboard that could encompass all the activities performed by the users. Thus, we implemented the following features:
pricing;
offers;
availability;
online sales;
invoices;
due payments;
real-time reports;
data visualization;
price control automation;
integration with multiple 3rd party systems (such as GDS, insurance companies, SMS or email systems)
We also developed 2 mobile apps for this particular client in order to complete its enterprise solution and offer the full array of services.
Tourpaq destination app is developed in order to help guides and tourists get in touch and enables tourist guides to sell excursions faster, handle the issues encountered by tourists and an overall way for people to buy the experience.
Tourpaq guest app was developed in only 3 months and is meant to help the end-user to have a fully immersive holiday, by having access to real-time visitor information, details, updates, linked to the booking and inspiring ideas of what to visit.
#3 Offshore
It means that the outsourcing company is very far from your own, with considerable time zone differences. One offshore location for Romania would be the USA or China.
Out of the 3 models, offshore outsourcing is the cheapest, and it might be best suitable for small companies. Outsourcing makes it easier to hire lower-priced professionals – what you save could be used to improve capital funds. It means that you spend a lot less money on offshoring. You can increase funding for business activities or investments. As a result, such a solution aims to generate income and increase profits to expand on the market with more earnings.
So while it is the cheapest and might have benefits for both partners, it can quickly transform from positive to negative.
Simultaneously, there are differences between offshore companies. For example, Romania has a better understanding of the western culture. It has multiple proficient users of English, French, and German, among other languages. If you want to know why Romania is a very good country for outsourcing, check our article here.
What are the main advantages?
The project has access to a global talent pool;
Employing a team of highly skilled at a lower cost;
A dedicated IT team can manage your software to a wide variety of services;
If you are searching for the right offshore company, you ensure that you collaborate with knowledgeable software developers who are already capable of doing so – like delivering strict deadline.
What are the main disadvantages?
Significant time-zone difference;
The working culture in an offshore country will be different (especially in Asia and India).
One of our offshore clients needed to have built a safe and secure interface between taxpayers and public institutions; and our solution FileLater successfully facilitated the transfer and approval of a high volume of tax extension requests.
Americans had struggled for years to meet the dreaded April 15 deadline for personal income taxes as well as the March 15 deadline for most business income taxes. So, what they needed and expected was a solution that can quickly extend their tax deadlines without involving a professional tax preparer.
Today, 98% of FileLater users that request tax return extensions get approval from the IRS.
FileLater platform provides users with multilevel benefits:
can apply for both online personal and business tax extensions;
can finish their IRS online tax extension in minutes;
get a confirmation email with the status of their tax extension;
can make their tax payment using direct debit from their checking or savings account;
have access to flexible online support (online chat, email support, etc.)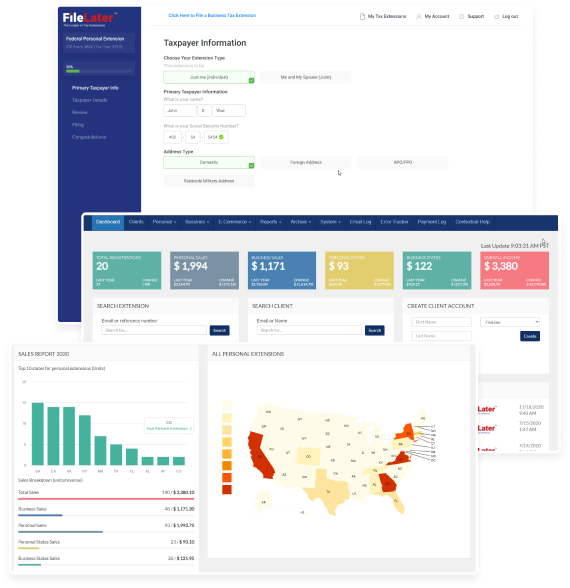 Which one should you pick?
It mainly depends on your company's size and the budget you have to hire a team of dedicated software developers from an outsourcing company. Your business is unique and has specific requirements. It all depends on your needs and what you want to accomplish with the outsourcing company's services.
Not sure what type of digital solution best suits your company's interests?
Get advice from Roweb's experts
Are you looking for a team?
With more than 130 developers, we can offer you a complete team of experienced developers or a dedicated pool of developers with more than ten years of experience in Roweb only, with the appropriate technical capabilities for your particular needs.
Second of all, you can save time on the whole hiring process and office expenses, and more. You will benefit from the experience of more than 18 years of being on the market, with teams that developed from the company's beginning and are specialized in industries like: recruiting & HR, real estate, retail & e-commerce, tourism & hospitality, charity, and non-profits, associations, insurance, financial services, IT equipment trading/reclaiming, transport and logistics, e-health, to name a few.
A dedicated team is a correct answer if you want to develop – or continue an already developed – new service or a product for your clients and you need something that makes you stand out from your competition. Besides that, you can have full control over the entire process while you are mobile in business decisions.
TECHNOLOGIES THAT WE USE:








METHODOLOGIES
Agile
Scrum
Kanban
Waterfall
ROLES WE PROVIDE
Project managers
Business analysts
Developers
Q&A specialists
Scrum masters
UX Designers