Outsourcing is a need companies started to address more and more across the globe. Why do companies outsource? There are many reasons to enhance a solution or create a custom solution, but mainly companies choose to outsource because it is more cost and time-efficient. Besides that, they benefit from expertise from a team of professionals.
According to a study done in 2020 by Computer Economics, a top research company in the USA and Canada, shows that in the past 7 years, outsourcing for app development kept a steady growth. That means more and more companies turn to outsource when creating an app, be it mobile or web-based.
The same study shows us that while 61% of small/ midsize organizations outsource at least a portion of their application development work, 56% of large organizations outsource this function.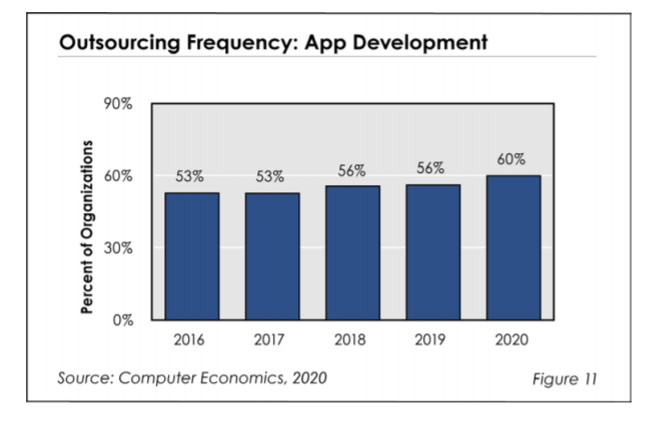 According to the study, small and large organizations started to outsource at similar frequency levels this year. However, there were still some differences in the level of outsourcing. Large organizations outsourced an average of 45% of their total application development work when they outsourced it, compared with an average of 28% for small/midsize organizations.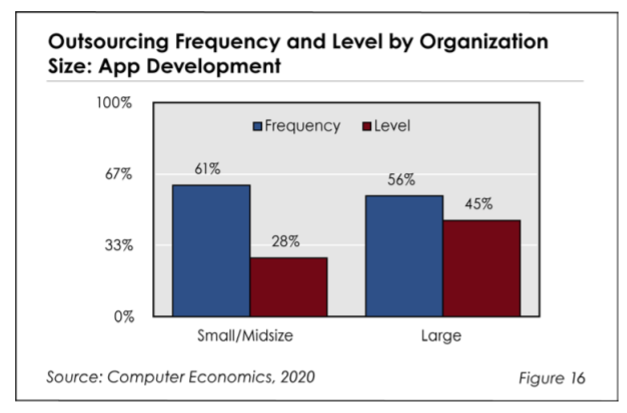 Sectors sometimes influence the tendency of organizations to engage in outsourcing. The image shows that the financial services sector outsourced application development at a higher-than-average rate, with 72% outsourcing some application development work. Retail/wholesale distribution companies are second and outsource at a 60% rate. Healthcare companies, at 31%, are the least likely to outsource application development work.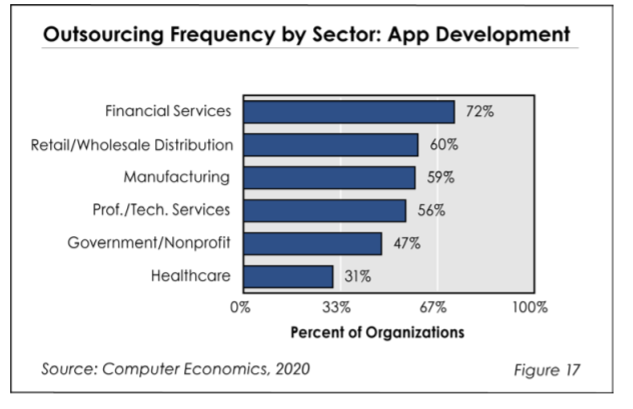 This study shows us that companies turn to outsource when it comes to app development. Why? For the same reasons listed at the beginning of the article: cost and time efficiency and access to a team of professionals. That means companies worldwide are already focused more on business processes and how to improve their company overall.
Instead of thinking about how it is possible, they look for someone who can make it possible, thus focusing more on business rather than being static.
But how does someone choose an outsourcing company?
#1st step – Learn where to look
Most of the time, when you are searching for a development team outside your business, time might not be on your side; thus, you might find yourself going after the first result in Google. Fortunately, there are multiple trusted sources you can rely on:
What other people say – As a business owner, you must have a network of companies that previously worked with a software development team. Ask around and see which company pops out as cost-effective and excellent communication. Delivering a project within the deadline is not the same as having good contact with the project manager
Check their website – Any respectable software development company has a well put together website, so this is one of the first things you should pay adequate attention to. You should also do a keyword search on their website that is relevant for your project or business.
Look online – There are many websites where clients, just like you, from worldwide post reviews on software companies they worked with. A good company that delivers international coverage should have at least a few thoughts on websites like Clutch and GoodFirms. The higher the score, the better the company.
#2nd step – Assess Skills and Experience
After you made a shortlist that consists of a maximum of 5 software companies, you should start to assess their skills and experience. See if they can meet the minimum requirements for your needs. To have a good overview and make an informed decision, you should take into consideration the following:
Portfolio – on their website, they should have a portfolio. You can see past work and even study cases and see how they managed to solve a problem or implement new technology
Experience – if you have to outsource a medium complexity project, look for teams with a higher understanding. If you want more complex projects, you should look for companies with at least a few years of experience. A company with more experience is one way to assure the success of your project.
Services – what services do they provide? A more comprehensive array of services may help you scale your business in the future with the same company, thus having a long-time partner, which means smaller costs and saving time. They can also offer expertise on broader aspects of your project, making it better and more scalable with multiple technologies.
Communication skills – managing a virtual team is a new reality that we all had to adjust to. It would be best to ask how you will stay in contact and receive reports (daily, weekly). It would help if you also understood that some project managers would like you to be available for meetings and discussions depending on the project's complexity.
Expertise – this is maybe one of the most important, second only to communication skills. A team's expertise is what makes the software development team valuable and, most importantly, knowledgeable.
#3rd – What about Flexibility?
One of the most critical aspects of the development process is that everything changes. Your company's needs will reveal themselves during this process, so you should seek an open and experienced company with this typical challenge. You can also look for customized solutions, which are easily modified and can be tailored to your needs.
If the software company that took your project is not in your time zone, keep in mind that you are separated by a few hours, if not almost a full day.
#4th step – Transparency is key
You should choose to be permanently updated on how the development process is going. Up until the deadline is the best method to ensure that the result will genuinely cover your needs. Find a team that has multiple ways of reporting, daily, on a few days, weekly.
If you feel up for it, ask for access to the project plan's overview – statuses, task assignments, strategy, etc. One of the most critical aspects is problems. They always appear, but what makes a good team great is how they managed to solve them. To have a clear idea of the whole process, ask them how they solved it and why it appeared in the first place.
Another way to stay in touch with the project's evolution is to ask for weekly demos and briefings. That also means you have to collaborate with the team to deliver your company's best possible product. Even though you are the client, you must understand that you must express yourself as straightforward as possible and practically behave like a partner or a team member for the software development team to follow your needs.
#5th step – What about the costs?
There are no other answers than – you should know from the start. But there are some things to keep in mind.
First of all, you must always have a little extra set aside for the project. You should look for quality, and if that means you should invest some more than you initially planned, you should do it. The purpose of the product or service you are requesting is to boost your sales and your overall brand equity.
Second of all, if you decide to go with a company that asks for the lowest price, you should expect at least communication problems that result in delays depending on the time zone. That means the process has to be sped up in other parts of the project, resulting in a solution that you need to market, even though it is not ready. A company that asks for a higher price should also offer support after the project is finished.
#6th step – Read the contract carefully.
You decided and finally have a future partner on your side that will transition into a collaboration. Now both of you must sign a contract. What should you look for in your side of the contract:
Confidentiality agreement: once you start to invest in something such as a software solution, you should protect it with mutual secrecy, especially for you, as a client.
Masters Services Agreement: la piece de resistance, which has the main clauses that oversee the whole relationship between your company and the software development team. Try always to respect the payment terms, and very notably – the non-compete agreement. You do not want to see the same idea developed for your competition in six months.
Statement of Work: The two main types of Statement of Work are as follows: Fixed Bid and Time and materials. Fixed Bid means that you will pay for the work delivered at a specific price. Time and Materials means that the billing is done on the project's hours and not the project itself.
Why hire a dedicated team from Roweb?
First of all, we check all the steps above. With more than 130 developers, we can offer you a complete team of experienced developers or a dedicated pool of developers with more than ten years of experience in Roweb only, with the appropriate technical capabilities for your particular needs.
Second of all, you can save time on the whole hiring process and office expenses, and more. You will benefit from the experience of more than 16 years of being on the market, with teams that developed from the company's beginning and are specialized in industries like: recruiting & HR, real estate, retail & e-commerce, tourism & hospitality, charity, and non-profits, associations, insurance, financial services, IT equipment trading/reclaiming, transport and logistics, e-health, to name a few.
A dedicated team is a correct answer if you want to develop – or continue an already developed – new service or a product for your clients and you need something that makes you stand out from your competition. Besides that, you can have full control over the entire process while you are mobile in business decisions.
TECHNOLOGIES THAT WE USE:








METHODOLOGIES
Agile
Scrum
Kanban
Waterfall
ROLES WE PROVIDE
Project managers
Business analysts
Developers
Q&A specialists
Scrum masters
UX Designers