IT is a challenging field regarding the work tasks of the programmers, who transform the code into efficient functionalities, and the recruitment part.
Those beginning their professional journey can enroll in career programs such as summer practice or internships, even from the faculty period. Whereas senior software developers receive working offers from HR consultants every week.
The reason? IT is a competitive industry in continuous development and with a real shortage of employees.
Considering all these challenges, we asked our colleague, Lorena Iordache, to share more details about her HR manager role and offer some recommendations for those who want a career in our company.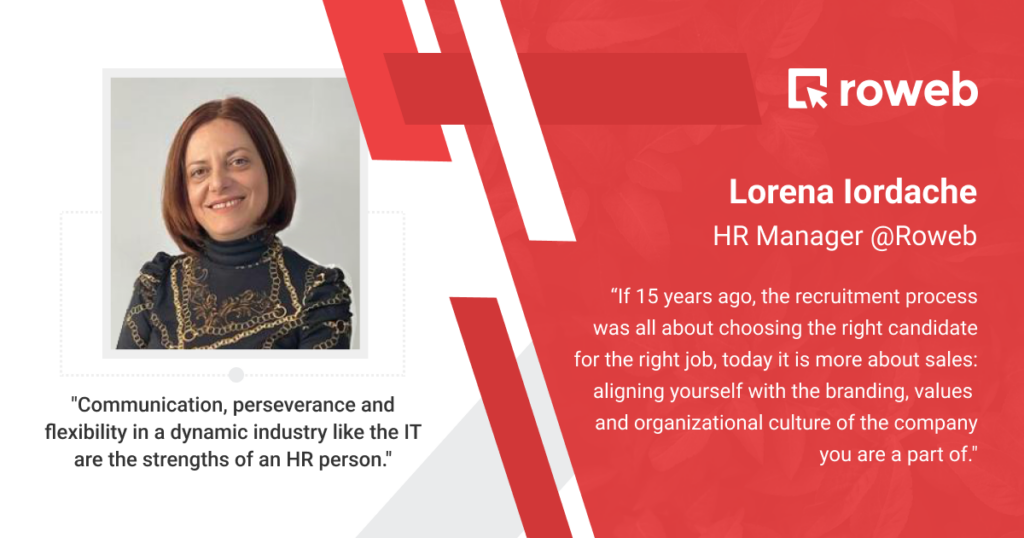 Read all the details in the interview below.
What differentiates some CVs from others? What makes a CV suitable both for a position and for Roweb?
Lorena Iordache: CVs are differentiated by content and presentation.
When a CV is neat, well-structured, easy to read and detailed (especially regarding the technologies used), the recruiter will know better which project would suit the specific application.
If the technologies we seek are not found, the CV is introduced in our database and can be used later in other projects. Therefore, candidates who highlight their experience as best as possible (preferably through a portfolio/examples of projects/applications) have more chances to be noticed.
What does the recruitment process look like, and what stages should a candidate expect?
Lorena Iordache: For a candidate, the recruitment process in Roweb is simple: HR discussion (calibration of technologies used, personal skills and salary expectations) + technical interview + offer.
Sometimes, when we have several candidates with similar skills (who are at the beginning of their careers), they can receive technical/logic/ personality tests.
The most important thing, regardless of how the recruitment process ends, is the final feedback given to the candidates, and the Roweb recruitment team provides it every time.
Which soft skills do you look for?
Lorena Iordache: A recruitment process is completed successfully if the new colleague's soft skills match our values. That is precisely why, in the Roweb team, we want colleagues who are:
ethical and responsible;
proactive and attentive to details;
analytical and innovative.
What about tech skills? What technologies do we develop most projects on?
Lorena Iordache: Lately, the demand for Full Stack Developers has increased a lot because many clients are looking for this profile; the industry demands it, and digitalization is omnipresent.
Thus, we always look for Full Stack .Net, Full Stack PHP, and Full Stack Java programmers.
Do you work in internal teams or in teams assigned to a client?
Lorena Iordache: For more than 18 years, we have dedicated teams of programmersfor clients who need our help.
However, there are two types of customers:
those who do not have their own teams of software developers, and we offer them our know-how and internal working processes;
those who already have teams of programmers, but they do not cover a wide range of technologies that they need in a specific project.
Programmers usually want to work in a pleasant environment with a flexible organizational structure and supportive leadership because they want:
to demonstrate their abilities by solving complex situations, thus eliminating the risk of getting stuck in mundane activities;
to manage projects in which they can keep up with new technologies to not limit themselves.
That is why we are proud to have a strong core of employees who have been in our team for over 10-15 years. Our relationships with our clients and employees for over 18 years are equally stable, based on trust and mutual respect.
After closing the hiring process, will the new employee be directly involved in a project, or is there an intermediate phase?
Lorena Iordache: Depending on the level of experience of the programmer, there is a training period or not.
Afterwards, the distribution will be done by projects, depending on the technical skills of each one. Those with a solid knowledge base no longer go through the training phase but are integrated into a project to keep the level of challenges close to their expectations.
On the other hand, juniors have an accommodation period to help them feel comfortable and get used to the work environment, methodologies and tasks.
What can you tell me about the internal communication processes?
Lorena Iordache: For uniformity and better organization during working hours, we chose the Teams package (Office 365) for internal communication.
Out of the office, we prefer direct, face-to-face communication. Together, we participate in sports competitions and have parties and team building.
Which are the main aspects that define the company vision?
Lorena Iordache: Roweb has an organizational culture based on trust and respect, where employees are appreciated and encouraged to express their opinions. Plus, their loyalty is our objective.
What are the main benefits offered to employees?
Lorena Iordache: The main benefits offered are:
working with modern new work technologies;
mixed teams in terms of experience level;
a flexible way of working and collaborating;
international travel opportunities to clients;
teambuilding and Christmas parties;
socializing events(for example, we participate annually in the IT Regatta).
As well as the rest of the benefits offered by the employment contract: meal vouchers, private medical insurance, performance bonuses, Easter and Christmas bonuses etc.
Do employees have access to learning platforms?
Lorena Iordache: Every employee has unlimited access to e-learning platforms and has the opportunity to learn various programming languages, which they can use in our projects. We also organize internal training on the technologies required by our projects.
At the same time, the fact that we participate in various events and conferences (national or international) helps employees' intrinsic motivation and continuous development. The internal evaluations are done by the direct project manager, but the feedback received from the client is also taken into account.
In our company, we also value the time spent together beyond working hours. Thus, we organize parties and annual teambuildings, which help us get to know our colleagues better, especially since Roweb has more than 130 employees.