How do you perceive IoT applications in your industry? As disruptive? Or as an opportunity? Changes generate disruptions – that's for sure! IoT applications as part of the digital transformation process are challenging projects. Not all development companies have the experience to take over these types of projects. On the other hand, developing IoT projects, it's a must and a valuable asset for your business.
And here's why…
What is IoT?
Connecting physical objects to virtual apps (with minimal human intervention) transformed the way consumers perceive the world today and how they set their expectations.
Beyond the mirage regarding the power of the internet, IoT apps – the Internet of Things – made possible an incredibly rich set of data provided by sensors.
If you asked me "What is IoT?" five years ago, I would probably be tempted to give you an elaborate and more informative answer ("the network of physical objects that are embedded with sensors, software, and other technologies for the purpose of connecting and exchanging data with other devices and systems over the Internet" source: Wikipedia)
Today we are all familiar somehow with the IoT concept, being that kind of thing we've started to interact more often.
So, a nowadays answer for "What is IoT?" would be: The very next step companies and people must embrace to keep up with the dynamic reality.
IoT impact during pandemic (and beyond it)
The IoT prerequisite is to improve life (in both homes and workplaces) and to increase potential (for extending existing businesses and creating new ones, as well).
In the past years, the main promise of IoT applications referred to a cleaner environment (e.g., used for reducing waste), fewer costs (by reducing tasks volume and replacing humans on specific activities), and more productivity (allowing people and companies to keep a better focus on core objectives).
Resuming the impact expected with IoT applications, there are several levels at which its effects are more obvious:
security – real-time monitoring of connected devices;
communication – simplified and remote communication;
efficiency – less human intervention, more dynamic tools;
analytics – instant access to relevant data.
As was expected, during pandemic, IoT applications proved as key tools for responding to urgent needs. From facilitating remote work to providing more safe and healthy work environments (e.g., ensuring air quality, sanitation in buildings and transit systems, etc.) IoT helped both people and companies to adapt fast to the new reality.
What IoT for business means
IoT for business is different from IoT for consumers.
While IoT for consumers is focused mostly on increasing life quality, IoT for business is more about streamlining processes and tracking behaviors.
Some examples of what IoT applications change in a company's environment:
business processes;
employee engagement and performance;
number of activities completed by humans;
behavioral data volume;
monitoring capabilities;
safety and security;
communication and interconnectedness.
And our focus at Roweb, is on delivering end-to-end projects for companies. Being aware that it's not a one-size-fits-all approach, we offer custom developments to respond to each company's needs differentially.
IoT and its applications (by industry)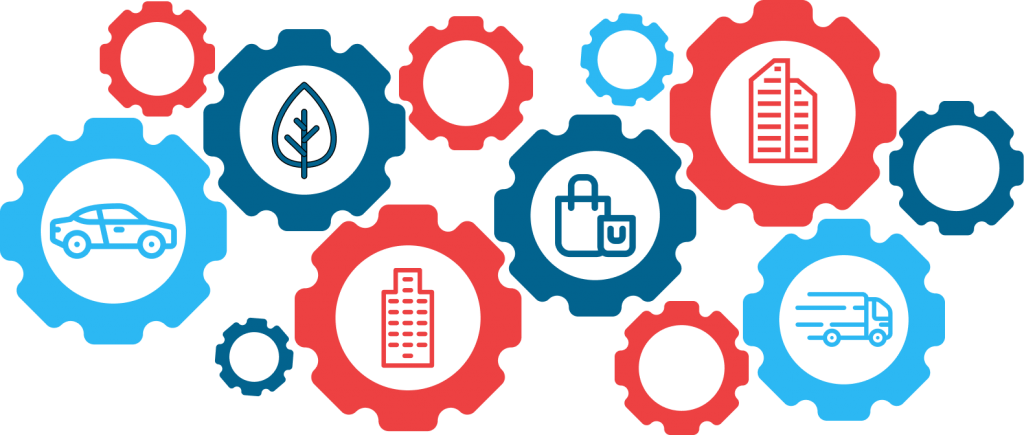 Transportation
E.g., #1 – Real-time monitoring vehicles through sensors. Using these IoT apps, the fleet managers have access to smart reports and trackings for geographical location, drivers' profile, drivers' behavior in the car, arrival/departure time, etc.
E.g., #2 – Smartphone app connected with physical devices increasing comfort in the driver's cab by providing efficient control over 3 devices: e-fresh, season sleeper, and the liftable bed.
Agriculture
E.g., – Sensors and apps work together for identifying and regulate the climate in the greenhouses.
Logistics
This industry is developed IoT apps for tracking and managing locations and routes and managing and tracking inventories.
Retail & distribution verticals
E.g., #1 – IoT applications based on sensors for measuring temperature, humidity, or any other indicator considered relevant for spaces where goods are traded or stored (e.g., used in warehouses).
E.g., #2 – IoT applications for tracking customers' behavior and preferences.
Building management
From the smart office concepts (able to simplify remote work, increase productivity and provide a safe workplace) to automated technologies to reduce environmental impact (e.g., reducing energy consumption), IoT applications became a valuable asset for every company.
Beyond standard solutions, IoT developments for building management must be approached as specific ones (taking into account several types of buildings).
Custom developments are recommended especially for:
industrial buildings;
historical buildings;
educational buildings (schools);
cultural buildings (museums, art galleries, churches, etc.);
commercial buildings (mall, retail gallery, etc.);
touristic buildings (hotel and apartments).
Smart cities (energy metering or public transport monitoring)
Relating the smart city concept to IoT is top of mind for most people.
A Smart City is defined through the application of a wide range of Internet of Things (IoT) like:
sensors and digital technologies placed in communities and cities;
applications for buildings performance;
smart technologies for managing energy consumption;
urban waste management;
apps for public lighting management;
public transport management.
IoT trends: How should your business adapt to keep its relevance
IoT story is far from being over. In fact, the greatest boom is yet to come. Take a look at what stats say about how the IoT market will evolve:
30 billion – estimated number of IoT device connections by 2025 (IoT Analytics, 2020);
11.7% – the 2020 market share of IoT application software (IDC, 2020);
The amount of data generated by IoT devices is expected to reach 73.1 ZB (zettabytes) by 2025;
By 2025, there will be 152,200 IoT devices connecting to the internet per minute.

How should your business adapt to keep its relevance? It's essential to develop what fits best for your company's needs – so, when it comes to IoT, a custom solution it's a must. If you manage a non-tech business or your teams have no experience developing projects for IoT, the wisest approach is to find a reliable IoT development company to work with.
IoT opportunities: why choose IoT applications for your business?
Competitive advantage: a customer-centric business approach;
Data value: turn raw data into valuable insights for making business decisions;
Results: more profitable actions – less operational costs;
Tech trends: modern technologies for better services;
Safety and security: improved workplace security/safer trading environment;
New business model: modernized business model and more revenue opportunities.
IoT projects: how we turned ideas into reliable IoT solutions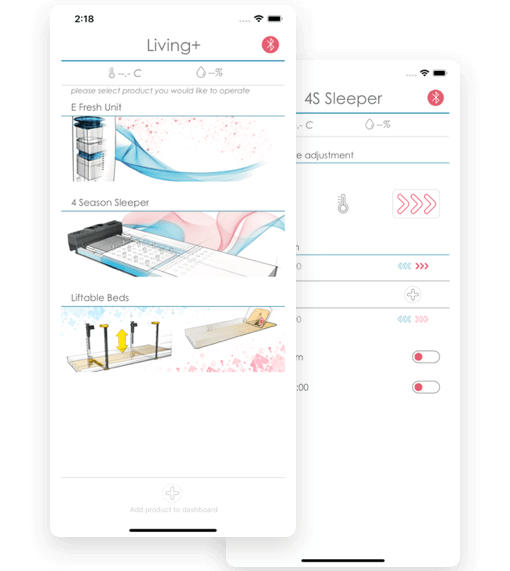 iOS app connected with physical devices for bringing workplace comfort to the next level (Living+ project)
Innovation-driven iOS app that supports and completes Living+ project by allowing users to manage and control from distance 3 physical devices: e-fresh, season sleeper, and the liftable bed.
Technology
TECHNOLOGIES Swift, Xcode, UIKit, CoreBluetooth, XCGLogge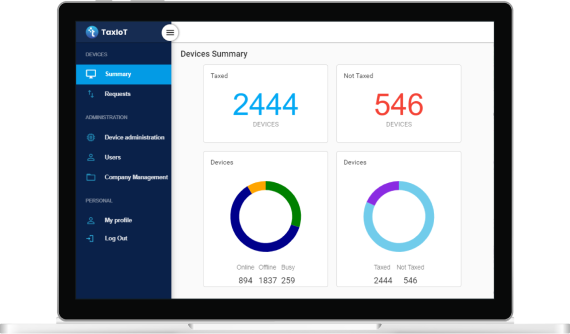 TaxIoT – web solution for taxi fleet management
We developed a web-based solution for remote monitoring and control of taximeters based on a microservices architecture.
Technology
C#, Asp.Net Core, NodeJs, Angular, SQL, NoSQL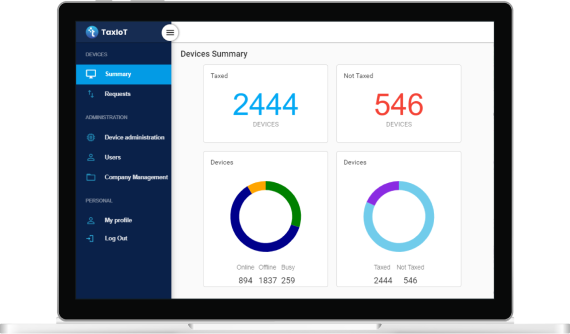 Ready to develop your IoT project with our dedicated teams?
Why develop IoT solutions with Roweb
Roweb is a custom software development company, started in 2004 with offices in 4 major cities: Bucharest, Pitesti, Craiova, and Râmnicu Vâlcea.
With our 130+ IT professionals' experience and the latest software development technologies, we focus on building Enterprise, Web, Mobile applications, and E-commerce solutions.
We work with companies from all over the world, and we understand the needs of and provide solutions for companies of all sizes ranging from start-ups to large enterprises.
Custom services and complete IoT development teams for turning your ideas into innovative end-to-end solutions.
IoT development services we provide:
IoT consultancy;
Hardware programming and interfaces;
Networking and communication;
Security systems;
IoT analytics;
IoT integrations;
IoT Apps Development;
System Design and implementation.
Technologies we use for IoT projects: LPWAN, GPRS, Microsoft Azure IoT: IoT Hub, IoT Edge, Stream Analytics, .NET, C#, NodeJs, Angular, SQL, NoSQL
What our clients say about working with us

"Roweb proved to be a great partner to work with, providing us with a highly responsive team. During our collaboration, I found it very easy to communicate with them and they were very flexible in meeting our requirements."

Jean Waucquez
Owner, WHISE nv

"What we liked best about working with them is the fact that they delivered a tight-knit team that's used to working together efficiently, instead of individual developers, as it is the case with many staff augmentation services providers. The team proved capable of making a smooth transition from PHP to Node.JS as Ezebee grew and we needed to scale up, and they quickly learned new skills and adapted to our requests. I would readily recommend Roweb for their innovative mindset fuelled by passion for their work and love of new challenges."

Ossian Vogel
Co-founder, CEO Ezebee

"We were impressed by the level of professionalism that Roweb showed throughout our collaboration. They have always managed to understand our needs and wishes and help us turn our ideas into reality. Roweb continues to be our partner, maintaining communication with TourPaq users, taking care of daily corrections and planning the development directly with them."

Bjarke Hansen
CEO, Owner TourPaq Aps

"There is no better partner than Roweb. Their large arsenal of competencies exceeded our requirements. The implementation team is confident, consistent and reliable, delivering perfectly to specification every time and far ahead of schedule. The developers are incredibly positive, adept, creative and artful, pouring heart and soul into a project."

Paul Horner
Director at DiGiConsul GmbH

"Roweb have also developed new applications for us including web and Windows desktop products used by many users within our company. The location in Romania is very convenient for the UK, the level of English spoken by developers is very good and I have no hesitation in recommending Roweb as a offshore development partner."

Tim Styles
Chief Information Officer at nGage (formerly Human Capital Investment Group)

"Gauge has been working with Roweb since 2011. They are quick, cost effective and direct, every project has been delivered to meet its objectives. Roweb also provides the skills and knowledge to help enhance your processes and functions prior to build and make them future proofed. Not only have we developed our own solutions with Roweb, we have developed 3rd parties projects and introduced clients direct."

Spencer Wright
CEO / Head of Development Gauge360
External references