There are plenty of fintech examples that can inspire you for your next digital project. Since digitalization in financial services became a must-have for every business that intends to keep its relevance on the market, developing a fintech solution is more and more about synchronization and compatibility.
So, the purpose of this article is to inspire you for the development of your next digital project by exposing 5 examples of fintech solutions.
Example #1: Invoice Management Software for Simplifying Process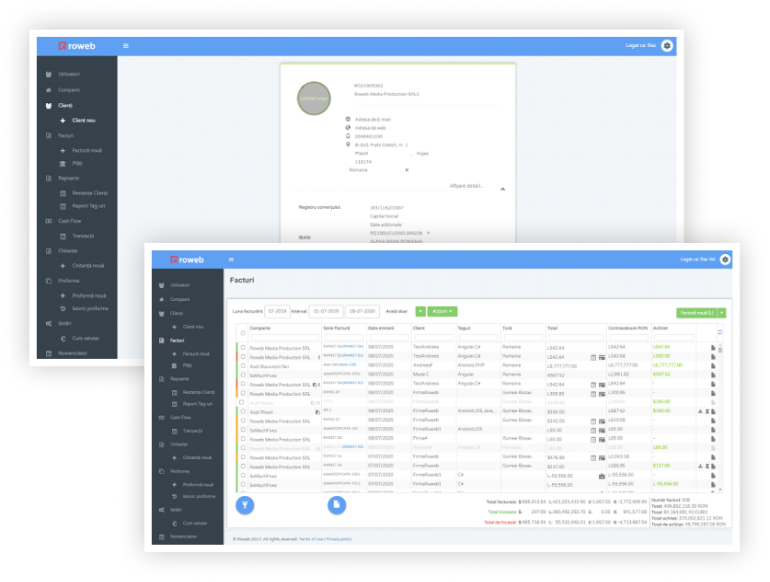 Repetitive/time-consuming tasks and difficult tracking of financial documents have become a long-forgotten story once Invoicer was created – a tailor-made invoice management software.
HOW PROCESSES WORKED BEFORE INVOICER:
Before implementing Invoicer, the financial department of Roweb had to deal with significant complexity in tracking and managing payments, receipts, payment systems of salaries and bonuses, etc.
THE IMPACT OF INVOICER IMPLEMENTATION:
Once this invoice management software was developed and implemented, the financial department had access to:
flexible tools for data management and export;
smart data displaying (listing, filtering, charts) for a faster and better overview;
automated processes for eliminating redundant and time-consuming activities (e.g., transforming the proforms into invoices, exchange rate listing, management, etc.)
READ MORE ABOUT THIS PROJECT
Example #2: Multi-Party Web App for Financial Guarantees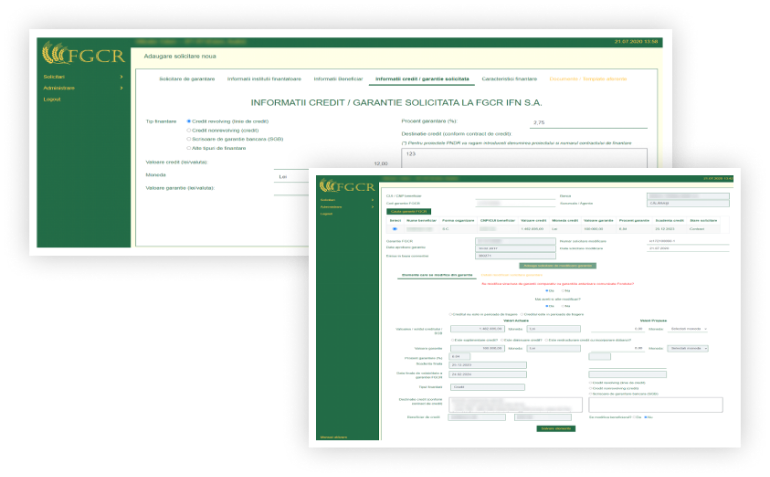 By bringing multiple entities on the same page (literally), FGCR accomplished to help entrepreneurs obtain funds faster and easier.
WHAT WAS THE CHALLENGE BEFORE THE WEB-APP:
Initially, the process of collecting/storing/synchronizing the transmitted data and documents was difficult and time-consuming. Updates and data processing were mostly done manually, while documents were transmitted using traditional digital tools (for example, e-mail) – which led to delays and difficult trackings along the process.
THE IMPACT OF THE WEB-APP IMPLEMENTATION:
We created for FGCR a web app that integrates a suite of features and functionalities that are aimed to solve the main challenges:
Profiles registration and creation;
Collecting data from financial institutions and banks;
Registration of warranty claims/changes for existing requests;
Listing, filtering, exporting recorded data for each client;
Financial data analysis and validation;
Request for modification of invalid data;
Data standardization and synchronization;
Customize the upload settings;
View request history: validation statuses, modified values;
Re / Assigning the request to a manager.
READ MORE ABOUT THIS PROJECT
Example #3: Shared Web-Based App for Online Loans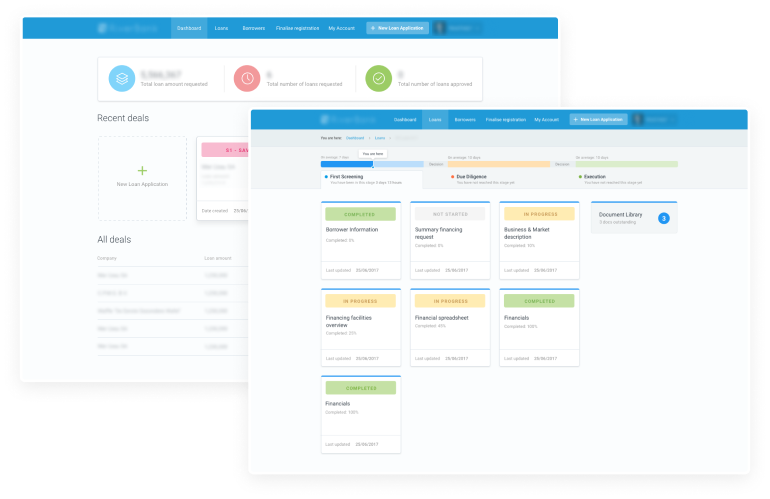 Simplifying the process of granting loans was made possible by developing a shared web-based solution that can include several participants in the process at the same time (Partners, Borrowers, and Loans).
WHAT WAS THE CHALLENGE BEFORE THE SHARED WEB-BASED APP
The bank works with a network of partners who prepare the loan application on behalf of the SME.
Initially, the process was based on using various apps and platforms – with poor synchronizations between them. This lack of unified systems generated a high risk of errors and delays during the process.
THE IMPACT OF THE SHARED WEB-APP:
The web-based application is designed to manage Partners, Borrowers, and Loans by offering a unified, intuitive, and dynamic digital environment with multilevel benefits:
Security – high-security level respecting current industry best practices to protect customer information and deter unauthorized access.
Scalability – the solution is based on an architectural design capable of future scaling to any servers running the application tier.
Availability – the system requires guaranteed "four nines" availability.
Performance – the system requires performance levels sufficient for smooth operation under the projected storage and traffic workload. The app integrates several performance features, like:

loan tracking – both the client and the bank can track the loan stages;
extended requests– by adding new information/document to the initial loan request, based on its stage;
loan approval – automated/manual approval process according to the loan's stage.

Authentication – access is strictly limited to authenticated users.
Concurrency/Transactions – the ability to serve many users simultaneously.
Localization – Multi-Language – the application is Multilanguage (English, Dutch, and German)
EARLY ADOPTION OR CUSTOMIZED SOFTWARE SOLUTIONS?
Whatever your need is, we adapt fast to it and deliver you exactly the solution that suits your interests best.
Example #4: All-in-One Mobile App for Dynamic Banking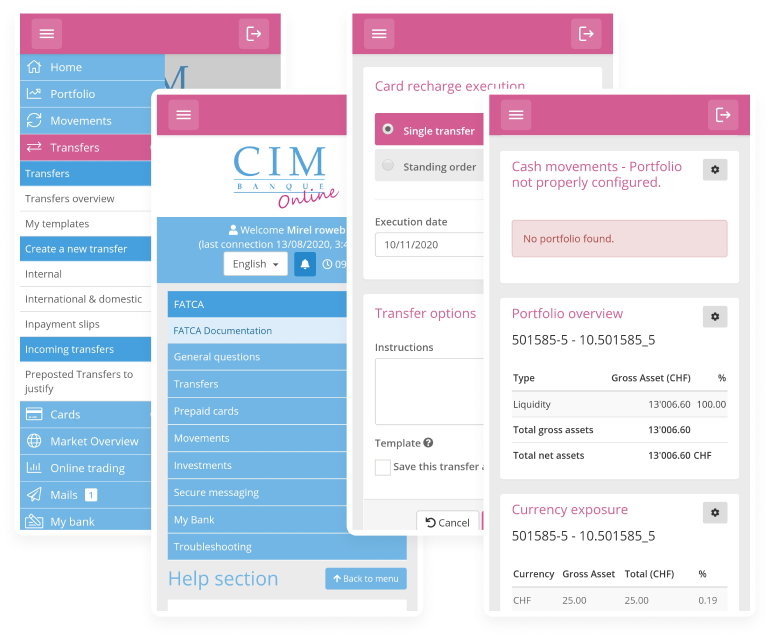 By providing a wide range of banking services to answer clients' everyday needs through an all-in-one and secure mobile app, CIM Bank gained their trust and loyalty.
WHAT WAS THE CHALLENGE BEFORE THE MOBILE APP
Before launching the mobile app, customers had access to disparate resources – physical and digital. This was also a disadvantage for the bank, as it was more difficult to increase interaction with its products and gain customers' loyalty.
In this context, CIM Bank needed a mobile app that is able to allow customers to:
securely log into their accounts. The client had an existing responsive website that the application would load after login;
use the device biometric features to bypass the existing 2-factor authentication;
interact with the existing website and use the mobile device's built-in security features to authorize transactions;
enrich the current website's functionality with extended capabilities like Invoice payment through QR or document scanning.
THE IMPACT OF THE ALL-IN-ONE MOBILE APP
Once the all-in-one mobile banking app was launched, CIM Bank's customers started to have access to several functionalities that punctually respond to their current needs:
transfers (using templates, creating new ones, preposted transfers, etc.);
cash movements;
cards (card recharge, manage owned cards, etc.);
online trackings;
message box (for notifications);
portfolio (summary, analysis by currencies);
announcements;
market overview;
my bank
support & FAQ.
Example #5: Secure App for Tax Extension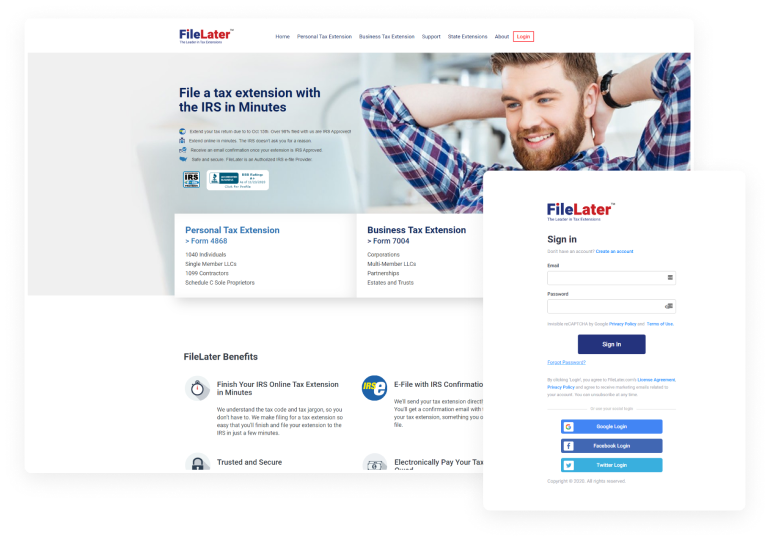 By building a safe and secure interface between taxpayers and public institutions, FileLater succeeds in facilitating the transfer and approval of a high volume of tax extension requests.
WHAT WAS THE CHALLENGE BEFORE FILELATER
Americans had struggled for years to meet the dreaded April 15 deadline for personal income taxes as well as the March 15 deadline for most business income taxes.
So, what they needed and expected was a solution that can quickly extend their tax deadlines without involving a professional tax preparer.
THE IMPACT OF FILELATER
Today, 98% of FileLater users that request tax return extensions get approval from the IRS.
FileLater platform provides users with multilevel benefits:
can apply for both online personal and business tax extensions;
can finish their IRS online tax extension in minutes;
get a confirmation email with the status of their tax extension;
can make their tax payment using direct debit from their checking or savings account;
have access to flexible online support (online chat, email support, etc.)
Find out more about how we can help you with your projects development!
How to Start Developing Your FinTech Solution with Roweb's Teams?
Starting a new project with us it's easy. Fill the form and send us relevant details about your software development needs, and we'll get back to you as soon as possible with a project brief or even with a project proposal (if the project requirements sent by you are complete).
Until sending your project requests, there are some things you may want to know about us:
TECHNOLOGIES THAT WE USE:








METHODOLOGIES
Agile
Scrum
Kanban
Waterfall
ROLES WE PROVIDE
Project managers
Business analysts
Developers
Q&A specialists
Scrum masters
UX Designers