Black Friday, Christmas in July (or any other month you want to choose), Cyber Monday…It seems that you have plenty of opportunities to sell your products online massively.
Special offers are tremendous ways to boost sales in eCommerce businesses. That's for sure.
And, when it comes to special offers, nothing draws a crowd like a crowd. That's a fact.
But it's also a fact that in the past 8 months, the online business environment became (also) as crowded as ever.
So, standing out in today's online market is now a great challenge. And what makes the difference is not only the way you choose to do it. It's also more and more about the tools you choose to define your online presence.
How to reach the right audience with your special offer? (main channels)
For developing special offer campaigns (e.g., eCommerce Black Friday), brands have shifted their product focus promotion based on trending interests during COVID and also, shifted their strategies while choosing their channels to communicate these offers.
Even if online seems to be a place for everyone, relevant sales belong only to those that understand the market trends and design their strategies around customer's behavior.
So, for successfully running your eCommerce Black Friday campaigns, it's not enough to have a multi-channel promotion approach. It's also essential to prioritize your efforts on what might work best for your brand.
SMS marketing
The average open-rate for text message marketing campaigns is 98%, compared to a 20% open rate for email marketing campaigns;
SMS response rates are 295% higher than phone call response rates;
75% of people wouldn't mind receiving an SMS text message from a brand if they opt-in for the service.
Source: Voice Sage | Franchise Help | Marketing Profs
How to reach the right audience through SMS marketing As you may already imagine, you need an existing contacts database managed through a CRM software for using the SMS approach. This solution allows you to select clients based on specific criteria and send them text messages (SMS) with coupons and promotions to give them reasons to complete a purchase or, at least, check out your offer..
Dedicated mobile app
The mobile share of traffic continues to become greater than the traffic from desktop;
Conversion rates from mobile apps are three times higher than mobile sites.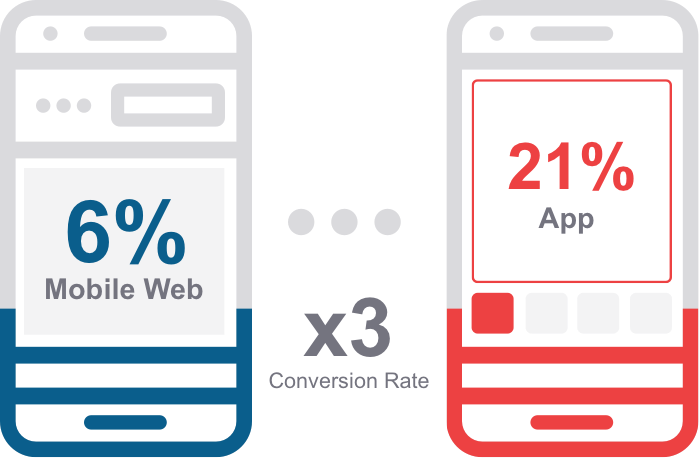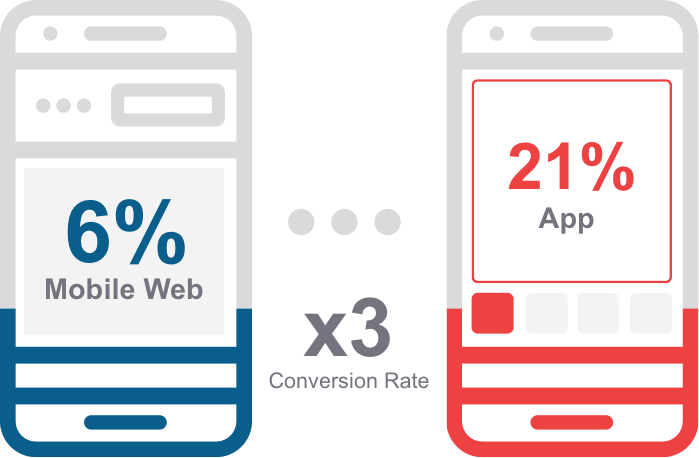 (Sources: Merchant Savy | Marketing Land)
How to reach the right audience through dedicated mobile apps A good app is a great opportunity to place your offer to your (potential) customer's fingertips. Two essential steps have to be taken into account to reach the right audience at the right time:
develop & launch fast your mobile app and attract as many relevant downloads as possible (e.g., promote your app via Facebook ads to a well-targeted audience and encourage people to download the app by emphasizing what will be their real win);p>
keep your app clients (that downloaded your app) engaged through updated offers and push notifications for special promotions (e.g., eCommerce Black Friday offers).
E-mail campaigns
35% of marketers choose to send three-to-five emails per week to their customers;
Almost 30% of marketers surveyed use audience segmentation tactics to improve email engagement;
40% of consumers say they have at least 50 unread emails in their inbox.
How to reach the right audience through e-mail campaigns It's not enough to communicate your offer to a list of contacts. If you want a high open-rate and a relevant click-through-rate for your special offer emails, make sure that:
you first segment your contact lists based on key-behavioral criteria (once again a CRM solution is very helpful for doing that)
send them personalized messages.
Also, one email is not enough. Create email sequences to drag your audience in a sales funnel (e.g., start with an announcement email and end with an urgency one).
SEO (Search Engine Optimization)
51% of shoppers surveyed say they use Google to research a purchase they plan to make online;
49% of users say they use Google to discover or find a new item or product;
In a survey conducted by Databox, 70% of respondents said that SEO is better than PPC for generating sales.
How to reach the right audience using SEO Un up-to-date and SEO-friendly website is essential for every eCommerce business. Ensure that your website ranks for top key-words (relevant for your customer's interests) and that every page from it has well-structured content and a dynamic design (to avoid the bounce rate). If not, hire a development team to optimize your existing website or develop a new one from scratch.
Video promotion
87% of video marketers say that video has increased traffic to their website;
80% of video marketers claim that video has directly increased sales.
How to use video marketing into your special offer campaign's favor: Having at least one video on your website can increase the traffic and the engagement IF you integrate it without affecting the page speed (loading time & time to first byte). Worried that you can't do this with your in-house team? Externalized the website optimization to a dedicated client team.
You can also use the video for email campaigns and social media ads while promoting your special offer campaign.
Social media
In April 2020, over 98% of Facebook's active user accounts worldwide accessed the social network via any kind of mobile phone;
Instagram is the social channel with the second-highest ROI among marketers.
Twitter is among the top three social channels used by marketers with the highest ROI;
68% of marketers stated that paid advertising is "very important" or "extremely important" to their overall marketing strategy.
How to use social media into your special offer campaign's favor From synchronizing social media platforms with your website and apps, simplifying ordering through fast logins and access, to implementing pixels and codes for tracking audience behavior on your website – every step counts if you want to run successful eCommerce campaigns.
CHECK OUT OUR LATEST ECOMMERCE PROJECTS AND GET YOURSELF INSPIRED FOR YOUR NEXT DIGITAL INVESTMENT!
What digital solutions and tools you must consider to run a successful e-commerce business in any season?
eCommerce Websites that simplify the sales conversion processes.
Websites' main goal: to increase visitors' engagements with the products that respond to their interests.
Marketplace solutions – that can integrate useful eCommerce features (custom filters, smart matchings, push notifications, market trends & analytics. etc.)
Marketplace's main goal: bringing vendors, retailers, and customers on the same page. Both literally and figuratively. And offer them access to dynamic, and intuitive sales tools for providing a complete digital experience.
Portals (B2B / B2C) eCommerce hubs that integrate custom dashboards and functionalities and transactional tools placed at users'/prospects'/clients' fingertips.
Portal's main goal: offering personalized experiences.
Analytics Platform – eCommerce solutions that help you have a quick overview of the market's trends by presenting raw data under intuitive and synthesized forms (e.g., charts).
Analytics Platform's main goal: providing valuable business insights.
Workflows automation – solutions to automate time-consuming processes and boost the impact of your actions. (push notifications, email marketing, etc.)
Automation's main goal: simplifying/reducing/eliminating time-consuming and redundant processes.
Mobile Apps by providing great UX on multiple devices and delivering outstanding conversion tools through specific mobile apps, you increase the chances of keeping your customers engaged and satisfied.
Mobile App's main goal: placing eCommerce offers at the customer's fingertips.
Custom Solutions – by working with a dedicated client team that is able to turn a business idea or a specific business need into a functional solution made from scratch.
Custom Solutions' main goal: solving specific problems and challenges by developing custom dynamic digital tools.
Not sure WHEN & HOW to start developing digital solutions for your eCommerce business? Ask for specialized advice from Roweb's professionals!
GET A FREE CONSULTANCY SESSION