Do you need to hire a software development team, or it's more efficient to recruit new specialists? How do you know which one is the right choice for your company?
When you have to develop a new project, there are lots of resources and variables that you have to take into account: types of equipment, technologies, time involved, budget, etc.
But the very first step is about making a decision on how many employees will be involved in this new project and if those employees should be from an internal team or an external one.
These days, hiring new people is a risky engagement that could destabilize your budgets and generate false hopes for the company's newcomers. In other words, extending your teams by hiring new people could become a real problem that can affect both the image and the profitability of your company.
So, what you have left to do is to find out…
How to extend your team (to keep developing new projects) without hiring any new staff
The solution to your dilemma already has a name: a dedicated team. If you are not already familiar with the concept, this is the right page to find out what is all about.
A dedicated team is exactly what it sounds: an external team (from another company) that can overtake an entire project. This team will handle everything: from resources and management to implementation, testing, and optimizing the solution resulted.
This means that you don't have to worry about anything (literally) during the process. From budgeting to project management and specific implementations – every step is in the dedicated team's responsibility while you and your internal teams continue to be focused on the core activities.
But what suits others may not be suitable for your business. So, you are perfectly entitled to ask…
Is the dedicated team model right for your company?
Whether you represent an IT company (small, start-up, medium, or large), or you own/work for a company that belongs to other industries (real estate, healthcare, human resources, retail, etc.), you may have to:
plan a rapid release of a functional, ready-to-use product;
be focused on gradual add-on development and feature upgrades;
be aware of the complexity of new project development;
gain competitive advantages and become more profitable;
find a solution for curtailing costs or expenses;
adapt fast to a new context without extending your administrative costs.
For every situation above, the dedicated team model is a healthy and strategic premise for developing a digital project and take your company to the next level.
Get in touch with our software consultant to find out how to turn challenges into profitable digital projects
How dedicated team model works and what are the benefits
Every project owner is focused on 3 milestones when it takes into account working with a dedicated team:
Estimating and budgeting the ongoing costs. The pricing system for dedicated teams is pretty simple and transparent: the client-company has to pay (monthly) to the provider-company the hours and human resources involved in the project during that period of time. Since the client-company knows from the beginning what are the project's needs in terms of time and human resources, and what is the hourly price, the budgeting and costs estimation for ongoing costs can be done easily.
Starting the project's development. Once a company identifies its needs for developing a new digital project (e.g., a business app), it will get in touch with a reliable software company that offers dedicated team as a service. The software services provider will analyze the client's needs and will make a project proposal (phases, professionals involved, time schedule, etc.) along with a financial one.
Keeping close to the external team during the project's implementation. Even though the dedicated team entirely overtakes the project's responsibility, the client-company will be constantly informed by the project's evolution (e.g, via periodical meetings).
The top benefits for working with a dedicated team are strongly related to:

Scalability

Increased productivity

Expanded capabilities

Staged technology adoption

High-security standards

Cost predictability
What types of projects you can develop by working with a dedicated team
Since there is no better example than reality, let's take a closer look at one of the illustrative projects from our portfolio:
Real estate (leading software company from Belgium)
Client's need: Our client needed to replace a desktop solution for real estate companies with a web-based and mobile-first solution, while migrating all of the data.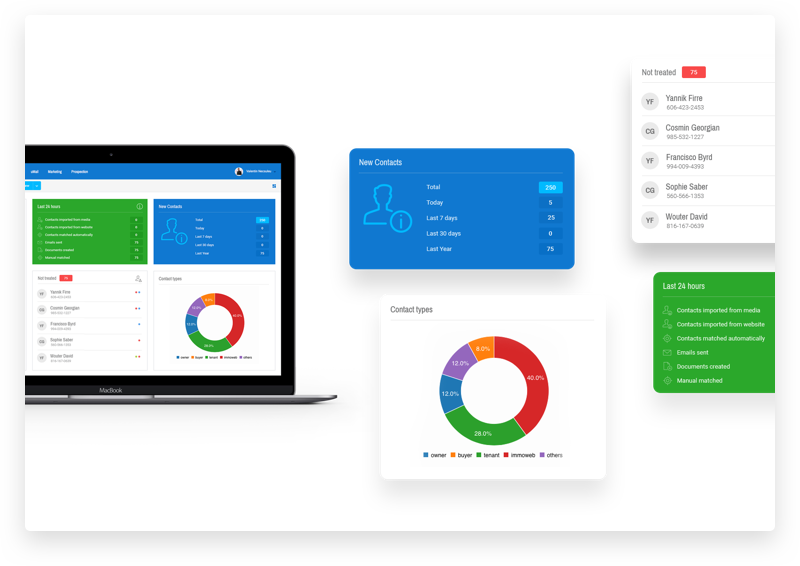 Project team: The client requested to hire a development team – a complete project team, including back-end developers, front-end developers, designers, and a UX specialist.
Benefits for the end-users
Complete mobility – access to WHISE CRM on Android and iOS
Dynamic connection between WHISE CRM and the agency's website
Option to have a mobile-responsive and SEO-optimised website developed by our team
Increased online visibility leading to more successful transactions
Dedicated tools for enabling exclusive representation
Constant access to notifications, emails, planning tool, and follow-up
Client's benefits from working with us:
Our extensive experience in developing complex web solutions and a high level of professionalism ensured that deliveries were made on time
Best value for the client's budget
Option to have a mobile-responsive and SEO-optimised website developed by our team
High flexibility and fast response time for specific requests
A wide variety of experts including designers, database developers, back-end and front-end developers
Support and seamless transition from the client's old platform to the new one
Count on our 130 skilled developers to turn your ideas into functional solutions.