As with any topic that involves money, the mobile app budget is a sensitive subject. Are you wondering:
how much should you invest in app development?
what should you expect in return?
when is the right moment to start developing a mobile app?
who should take care of your mobile project development?
Well, breath in and breath out. This article is aimed to provide you with all the answers you need to the questions above (and some more).
So, let's hit the budgeting road and see the essential pillars you must take into account to get a realistic and efficient cost estimation.
Mobile app budgeting pillar no. 1: Make a list and check it twice
No worries – there will be no Santas involved in this pillar. It's all about defining what you need and for whom you're going to build this app.

Because the answers' power stands in the questions you ask yourself, here are 3 essential checklists to start with.
Key pain-point – top questions list:
why do you need a mobile app?
how fast do you want to launch it on the market?
what may happen if you postpone this app development?
why is NOW the right moment to start developing this project?
how could a mobile app development process impact your teams' focus?
have you taken into account this project in the company's annual budget?
(and if you did) how flexible is the previsioned budget?
what type of apps your competition already developed?
how much different should your mobile app be from it?
Audience – top questions list:
what is your mobile app user general profile? (age, demographic, interests, job experience, device types they are using, etc.)?
the mobile app will be something that your audience needs, wants, or expects?
is your audience's interest in your app very contextual or specific?
is your customer expecting to find a specific feature?
is your customer willing to keep the app constantly on their phones?
What customers are expecting from your mobile app:
modern design;
intuitive app architecture;
personalized experience;
real-time information;
chatbots and live chats;
useful stuff only;
app features that are battery-friendly;
seamless Logins and Checkouts.
Objective – top questions list:
what is the key-purpose for this app development?

offering extended services?
launching an innovative idea?
generate competitive advantages?
increase customers' engagement?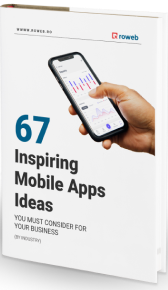 Need a hint for your mobile app development project?
Download the ebook:
67 inspiring mobile apps ideas for your business (by industry)
Mobile app budgeting pillar no. 2: Analyze your resources
There are several resources needed for starting to develop a mobile app.
Considering that each resource is essential for making or breaking the project, it's important to allocate enough time to analyze what you have and what you lack to materialize this initiative successfully.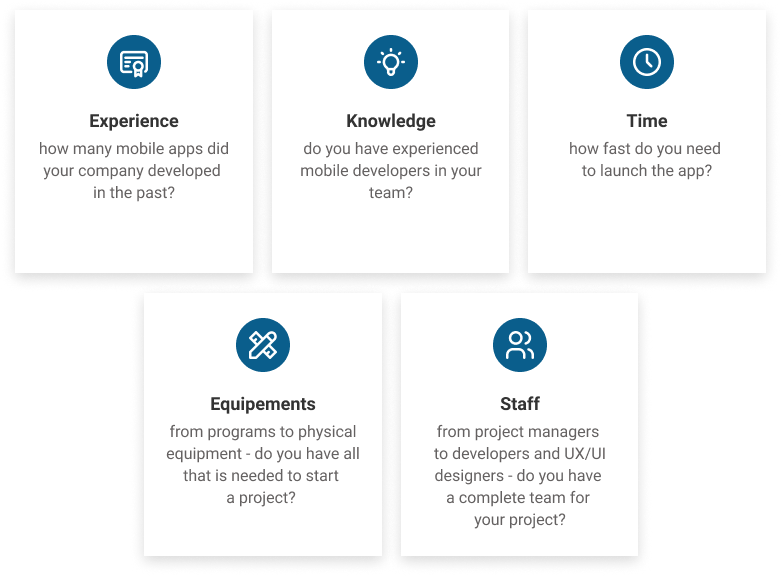 Mobile app budgeting pillar no. 3: Define your mobile app development team
In-house team or outsourcing services?
Which one responds better to your business needs?
Costs generated by extending your internal teams (In-house Staff)
When it comes to hiring new people for extending your team, there are several costs you must take into account:

Hiring process:
recruiting costs (job ads placement, time spent by your HR specialist for selecting and interviewing candidates, etc.);
one-time onboarding and employment costs.

Equipment and training costs:
tech equipment for office or/and remote work;
training costs for specific technologies.

Ongoing payments:
monthly salary;
benefits (bonuses, health insurance, pension, etc.);
course fees and associated costs.

Other costs:
vacation;
holidays;
illness.
Costs generated by working with an external team (dedicated development team)
Main costs a client has to take into account for working with dedicated team are:
Hourly rate according to the team structure;
Travel expenses (if applicable);
Management & communication for the project.
Costs like…
professionals' salaries;
associated hiring taxes;
logistic investments;
benefits, taxes;
recruiting investments.
…are supported by the company that provides the dedicated team.
Need a dedicated team for your projects? Start Developing Your Mobile App with Roweb
Starting a new project with us it's easy. Fill the form and send us relevant details about your software development needs, and we'll get back to you as soon as possible with a project brief or even with a project proposal (if the project requirements sent by you are complete).
Until sending your project requests, there are some things you may want to know about us:
TECHNOLOGIES THAT WE USE:








METHODOLOGIES
Agile
Scrum
Kanban
Waterfall
ROLES WE PROVIDE
Project managers
Business analysts
Developers
Q&A specialists
Scrum masters
UX Designers