The consumption of every resource begins and ends with spending more money. Based on this obvious reality, evaluating the team's expansion from a cost perspective is essential mostly because:
the new (social and economic) context generates an unpredictable market dynamic. This dynamic directly influences your business evolution by:

forcing your company to operate in new ways;
determining you to re-prioritize your business with a digital focus;
generating urgency in developing a rapid response to the current disruptions;
managing the shift to new patterns of work (remote work, hiring external teams, etc.)

the competition became tougher – If you are working for a software development company, you are aware that every project counts. While all your competitors will try to attract new projects through persuasive arguments like costs and extended capabilities, you have to adapt fast to the clients' specific needs and expectations and be ready to offer them a complete and competitive package of services.
you need to rely on long-term profit – maintaining a good relationship with clients can guarantee you a long-term profit as long as you are able to respond fast to their contextual needs with a smart price-quality ratio.
What are the costs generated by extending your internal teams (In-house Staff)
When it comes to hiring new people for extending your team, there are several costs you must take into account:

Hiring process:
recruiting costs (job ads placement, time spent by your HR specialist for selecting and interviewing candidates, etc.);
one-time onboarding and employment costs.

Equipment and training costs:
tech equipment for office or/and remote work;
training costs for specific technologies.

Ongoing payments:
monthly salary;
benefits (bonuses, health insurance, pension, etc.);
course fees and associated costs.

Other costs:
vacation;
holidays;
illness.
Hidden costs generated by new hires:
acclimating period to the work environment (team, methodologies, etc.) – During the accommodation period, the employees are not productive, initially generating only costs. As research showed (source: sloanreview.mit.edu) it will take 8 to 26 weeks for an employee to achieve full productivity;
adaptation to projects requirement – If they don't have experience in working on similar projects, new hires will generate extra-cost for more training. As research confirmed, due to the learning curve, new hires end up costing between 1% to 2.5% of total revenues. (source: MIT Sloan Review);
employees leave the company until generating any profit – In IT companies the fluctuation of employees is dynamic as a result of the high demands on the market for specialists;
retaining key-employees – Every project development relies on some key-employees. Keeping them satisfied takes energy, time and…money. Bonuses and salary increases are the most commonly used methods to retain performant employees in the company;
employees become unavailable – Personal events like pregnancy, accidents or long term illness may keep them on pause for a significant period of time, blocking a position in your team and forcing you to restart the recruitment process;
once the project is over, they become unproductive – Hiring people for a specific project comes together with the risk of taking on expenses for a period when they might not producing anything.
EXAMPLE (East Europe):
Basic team structure:

1 X Project manager

1 X Developers

1 X UX Designer
Annual salary + benefits + taxes/1 employee: $60-$70K
Annual training costs/1 employee: $1200 – $1500
Recruiting and initial hiring costs/team: $3000 – $5000
---
Average costs for a BASIC In-house team: ($65000 x 3) + ($1300 x 3) + $4000 = $202900
*without including other inevitable costs mentioned above
What are the costs generated by working with a dedicated team? (Software outsourcing)
Dedicated Team Model is the approach based on bringing together business analysis, project management, and skilled external employees' absorption. By taking over an entire project, a dedicated team will cover all the needs and risks that can occur on a project: from setups operations to project management and team's architecture and functionality.
How it works
Services covered by a Dedicated Team (for software outsourcing):
high-level management
project management
task management
activities and processes supervision
project stages and workflow development
team architecture
logistic management
recruiting/selecting/integrating professionals in the project team
The dedicated team pricing system is simple and allows easy estimation. Based on an hourly rate, the client pays monthly bills according to the team size and structure.
Main costs a client has to take into account for working with dedicated team are:
Hourly rate according to the team structure
Travel expenses (if applicable)
Management & communication for the project
Costs like…
professionals' salaries
associated hiring taxes
logistic investments
benefits, taxes
recruiting investments
…are supported by the company that provides the dedicated team.
Looking for a professional team for your next software development project?
Count on our 130 skilled developers to turn your ideas into functional solutions.
Comparative Cost-Effectiveness Analysis:
Dedicated team (software outsourcing) vs In-house Staff
Dedicated Team Model is usually used for:
long term projects;
projects with dynamic requirements and objectives;
projects that require extended skills;
developing a project (e.g., an app) with fixed deadlines;
completing an existing project.
For projects like these (and not only), the profitability is significantly higher when the company hires a dedicated software development team.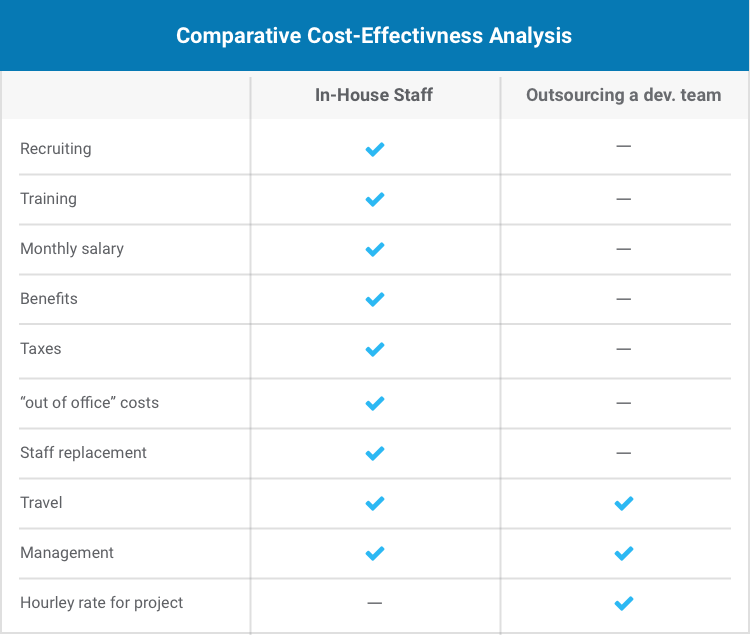 Cost simulation: Dedicated team vs In-house Staff

(source: Existek Global Software Report 2020)
Get in touch with one of our software consultants to get a free quote for your next project.
SEND US A REQUEST
How to start working with Roweb's dedicated dev teams on your next project?
Starting a new project with us it's easy. Fill the form and send us relevant details about your software development needs, and we'll get back to you as soon as possible with a project brief or even with a project proposal (if the project requirements sent by you are complete).
Until sending your project requests, there are some things you may want to know about us:
TECHNOLOGIES THAT WE USE:








METHODOLOGIES
Agile
Scrum
Kanban
Waterfall
ROLES WE PROVIDE
Project managers
Business analysts
Developers
Q&A specialists
Scrum masters
UX Designers
Check out some projects developed with our dedicated teams