Even if you use mobile apps as a lead generation hook or place them in the core of your business as main products, finding the right mobile app monetization strategies is never easy.
And, if you see apps development and monetization as a time-consuming approach and you are tempted to leave this topic aside for the next years, I give you two reasons to reconsider your choice:
The latest global trends show a remarkable interest from users to invest in useful apps. That's no wonder that from 2016 to 2019 app consumers grew with 2.1 x.
Moreover, it is estimated that by 2023 mobile apps will contribute with 4.3 trillion $ to the Global GDP (Report State of Mobile 2020 – App Annie).
As you may already expect, games apps are generating the majority of revenues – over 70%. The surprising data comes from non-gaming apps: if in 2016 these apps were accessed by only 18% of users, in 2019 the percentage arised to 28.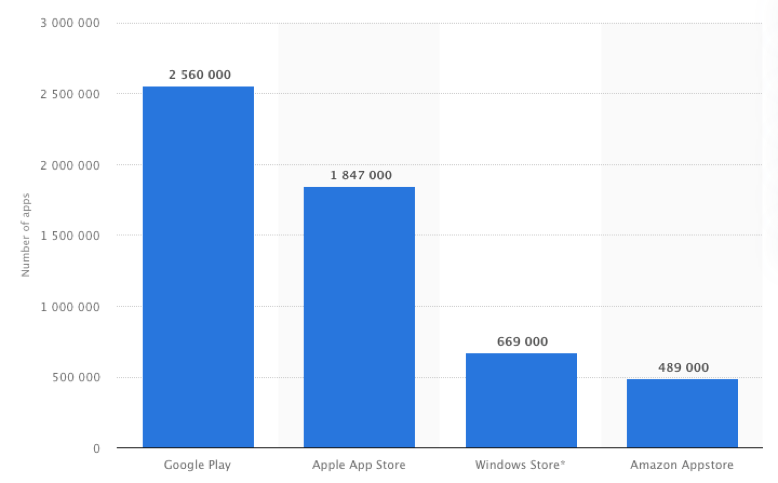 (Number of apps available in leading app stores as of 1st quarter 2020 – Statisata Report, May 2020)
Mobile apps are the shortest way to keep your customers close to your business. Once your app is downloaded on their phones, they will be able to check out your offers effortlessly – with no risk in forgetting your company/product's name or wasting time in Google searches.
As you may conclude, mobile apps are becoming part of your customers' lives more and more, each day.

What is mobile app monetization?
Monetizing your apps means making money out from your mobile apps by converting your app users into revenue.
And, in order to do that, you have to use specific strategies according to the category of app you have. (We'll get there soon – in a dedicated chapter from this article – so, stay tuned!)

UX role in app monetization
How intuitive are the interactions that your mobile app offers?
Does it use a friendly "voice" to communicate?
Is it focused on emotions, motivations, and needs?
How much time does a user spend until taking any action?
A customer-generator app is the one that positively responds to all the questions above. Usually you only have a few seconds to convince your app's visitors that this is what they are looking for. Otherwise, they will choose the one promoted by your competitors.
Need to accelerate or adjust the project development
for a mobile app?
Our app developers have the right skills to deliver scalabel apps & full-cycle dev
services for iOS | Android | cross-platform applications.
Get a free project estimation (costs + time)

Paid Apps vs Free Apps
How should you promote your app?
As a free one?
As a paid one?
If you intend to develop an app for your business, most probably you've already tried to figure it out which is the right answer.
After a closer look, you'll realize that "free apps versus paid" is, in fact, a fake debate.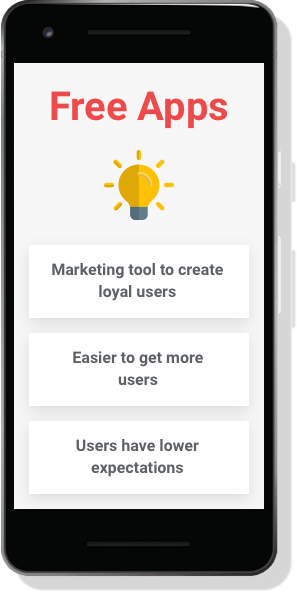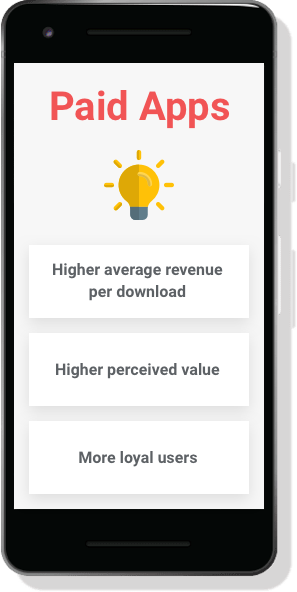 Choosing the type of app you want to develop and promote should be based on your company's specific needs:
DEVELOP A CUSTOMER-GENERATED APP BY HIRING ONE OF ROWEB'S DEDICATED DEV TEAM

you are interested in placing your offers closer to your clients and generating multi channels sales;
you intend to gain brand awareness by attracting a high number of users;
you want to reduce marketing costs;
you want to gain customers' loyalty.

you want to turn visitors into revenu generators;
you are interested in delivering quality;
you want to gain long-term customers' loyalty.

Mobile App Monetization Strategies
In-App Ads: Nowadays this is the most popular mobile app monetization strategy. From banner, native, interstitial, affiliate ads, to reward or summary ads – there are several ways to generate incomes through advertising.
Pay-to-download: In the early age of App Stores this was the main monetization strategy used for apps. Users paid a fixed price to download a new app – and neither the price, nor the fact that it was a paid product discouraged them to download the app they want. Today, users' expectations are significantly changed – accessing free stuff and testing apps first being the kind of steps they are expecting for their journey.
Subscription: This is a great mobile app monetization strategy for generating recurring revenue. It's important to build a flexible payment model (e.g., monthly or yearly payments) and offer users value to keep them loyal. The subscription strategy is often combined with the Freemium model.
Freemium model: This is exactly what it sounds like: give something for free now to convince your users that it is worth to invest in your product (e.g., give a free subscription for accessing your product and encourage them to access the paid version based on attractive benefits that make the difference).
Data monetization: Collecting users data it's another effective way to monetize your app. It may be difficult to feel the "ka-ching" effect at first, but you'll definitely see the advantages later. Your users pay with their data while you access valuable insight for improving their experience and making room for effective monetization strategies.
In-app purchases: A small percentage of users are willing to make in-app purchases once they download it for free. To generate revenues and increase the chances of a profitable monetization it's important to have a real high number of users.
Transaction fees: Ideal for marketplace, this monetization strategy is based on a fee (percentage from a transaction) paid when two users make a transaction.
Transactional apps: Emerged from the transactions fees strategy, these are dedicated apps that generate revenues (a percent from a transaction) every time the users make a new sale.
Get more customers through an intuitive, dynamic, and UX
optimized mobile app.

Mobile apps examples [developed by Roweb]
---
See more mobile apps examples