Last year, after our Summer Internship, we selected the 4 most talented students for an extended training program, at the end of which they were offered full-time roles at Roweb.
Let's take a look at how they're doing now, 7 months after they first arrived at our company.
Meet Gabi, Dan, Georgiana and Irina, "the 4 Musketeers" in our mobile department!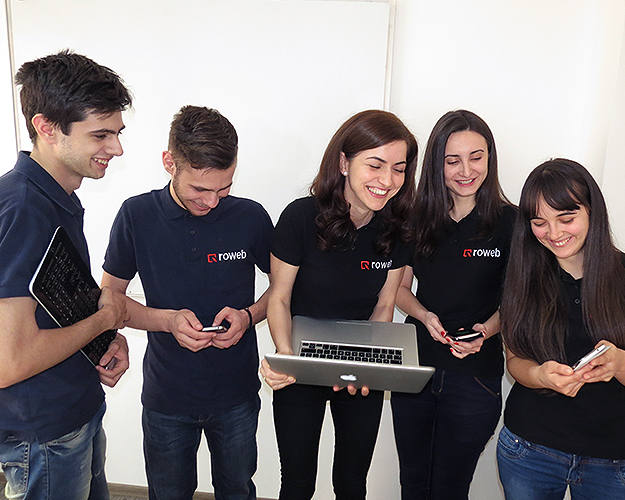 What was your first experience at Roweb like?
Gabi: "Pretty demanding and tiring at first, because up until then I had been used to writing three lines of code and then just relax for the rest of the day! Later on I got used to the work schedule, my colleagues were very welcoming and helped me fit in with the group, Dan, who sits next to me, helped me better understand things that were new to me and our team leader  was very patient and helped us every time we asked her to. All this helped me fit in right away."
Dan: "During the first 2 weeks I would almost get a headache from all the information we had to process to complete our tasks, but luckily the internship helped me a lot in adjusting to the work pace"
Irina: "It certainly helped us become more organized, get better at managing our time and being more productive."
What does a regular work day look like? How did your daily activities evolve since you joined us? 
Georgiana: "I check my tasks in the morning and try to distribute my time as efficiently as possible. Now that I've had the time to set in I'm getting better and better at it."
Gabi: "My typical workday starts with a cup of coffee and planning for the day. I split out the tasks within the available time, but lots of times I find it hard to stick with that plan throughout the day, try as I might!  My day-to-day activities are tasks assigned by our team leader or tasks I assign myself based on issues I might discover along the way. These have gradually evolved from simply writing a class in JAVA to API requests or call detection."
Dan: "I plan my day in the previous evening and I've found that this works best for me. I would say that the activity that has evolved the most for me has been precisely planning the tasks for the next day!"
Irina: "I start planning my schedule in the begging of the day and work together with my colleagues to find the best solutions. When I get tired I take a break to 'recharge my batteries', usually I have a tea with my colleagues or we go for a short walk around the office."
How do you get along with the colleagues?
Georgiana: "We've got great communication and mutual understanding. They're very supportive whenever we're uncertain about something."
Gabi: "They're great. Nice people and great programmers / testers. Whenever I've had a question and asked around they've always helped me out. I got to interact personally with each of them and I've found that they're very kind people one can learn a lot from. "
Irina: "And we always exchange ideas and advice."
What were your initial expectations and have they changed? Do you now have a different idea about what you would like to do next in your career?
Dan: "At first I just wanted to learn to develop mobile and put my spare time to better use, so I wouldn't end up finishing college without any idea of what it's like to work in this field. My ambitions have grown a bit after having published our first apps. I still want to work on mobile, but once I get better at it, I would also like to improve my C# and stock Java skills."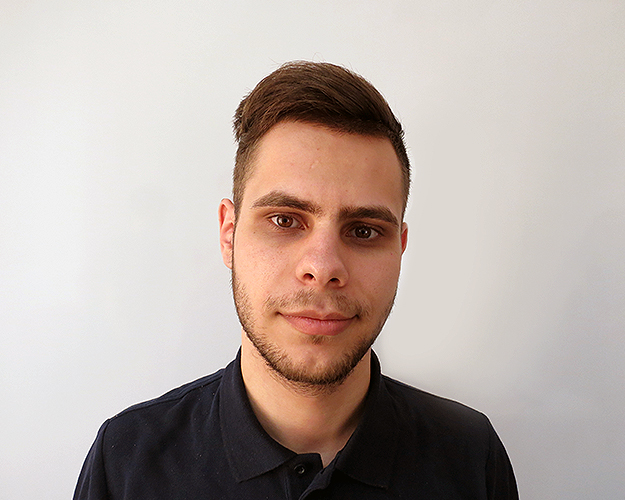 Georgiana: "I still want to specialize in Android, like when I first started here, but now I would also like to learn to use other technologies, too."
Gabi: "To be honest, at first I just wanted to experience working in a company, see how things play out, what kind of work goes on there and what differences there are between what we're taught in college and what's required on the market. I've accomplished that after my first 4 hours at Roweb. After that, expectations were higher, I had to adapt to deliver what was asked of me and also set expectations for myself. With every task I solve, my own expectations of me become higher. In the future, I'd like to continue programming in Android and also develop web and desktop apps."
Irina: "My expectation was to work in a company that enables me to grow professionally and to do what I love in a friendly environment – and I can say it was met."
How was the transition from interns to full-time employees?
Dan: "It was pretty smooth, except for getting into the habit of filling out reports in the time management tool."
Georgiana: "The schedule was a challenge for me, but luckily, Roweb was flexible about that, so we're able to attend courses as well."
Gabi: "It happened fast and I'm still amazed by how far I've come and the things that I'm able to do today."
What made want to work in tech in the first place?
Irina: "I like that it's a field of work that favors people who always seek to learn new things and that it has a wide range of applications. I've always been interested in new devices and I wanted to learn more about how they work and what new possibilities they bring."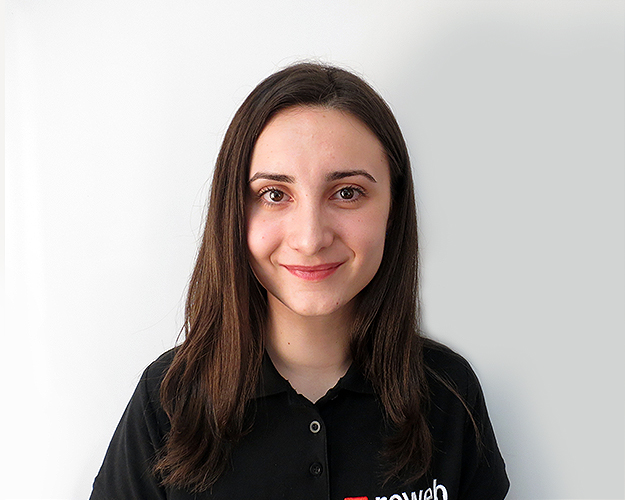 Dan: "I love the idea of creating something from scratch, relying only on a computer, the internet and my own brain. I also enjoy the possibility of building something that a lot of people can use."
Georgiana: "What I like most about it is that you don't fall into a routine, unlike with other professions, you get to do something different each day."
Gabi: "The fact that I get to do what I love, I don't go to work just because I have to, I don't force myself to wake up Monday morning and drag my feet to the office, I'm happy to get to work."
What did you know about Roweb before the internship? How has your view of the company evolved since then?
Gabi: "I'd heard that Roweb was a web application development company and just wanted to see what it was like. I didn't think that I had any chance to be selected, I thought the 3rd year students had the best chances. What I found here was a very tight-knit collective, a growing family that's been very supportive of my own growth. The colleagues, along with the schedule flexibility, where the main reasons that made me want to stay as a full-time employee."
Georgiana: "I was advised by several people to apply for an internship here. The reasons that made me want to stay after that where the schedule flexibility that allowed me to continue my studies and the professional and friendly people."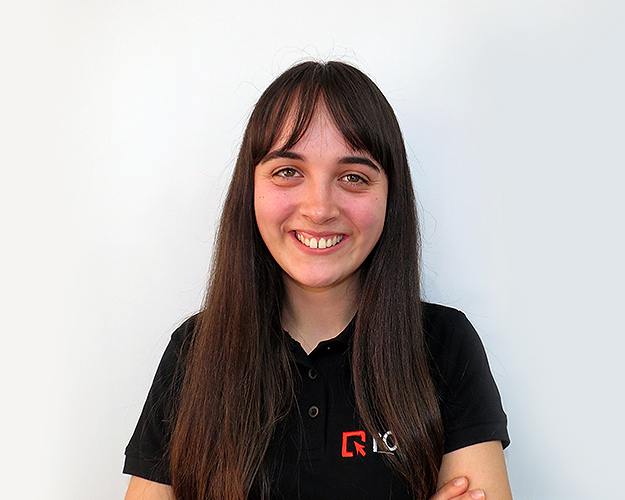 Irina: "Several professors in the University had told us Roweb was one the most high-profile IT companies in Pitesti and I had also attended a company presentation shortly before the internship. I'd always wanted to work in a welcoming environment that would allow me to grow, that's why I decided to apply for an internship here. Before that, my Android knowledge was only introductory level but here I've had the chance to learn a lot more, most of it while working on various projects. The internship made me realize that this company checked all the boxes for what I wanted in a workplace."
Dan: "I knew Roweb was the only company in Pitesti that developed Android apps and, since this was what I wanted to learn, I decided to apply because this gave me the opportunity to learn in a more engaging, hands-on way than by following tutorials on the internet. After the internship, I accepted the full-time job offer precisely because it was in the mobile development team."
What would you say to a student who considered applying for an internship at Roweb?
Gabi: "I would tell them to believe in themselves and come join us, because they'll find here a united team that will certainly help them develop very fast."
Georgiana: "I would advise them not to miss out on the opportunity to put their theoretical knowledge into practice and to interact with people that work in the industry. It will definitely help them transition to a career after they graduate."
Irina: "I would tell them that the team's openness will help them fit in easily and that it's a great environment for them to develop their passion. If they're persistent and they like to always learn new things, they'll have great results and personal satisfaction here."
Dan: "I would encourage them to apply and to continue to learn beyond the internship, too. I would also advise them to start building their application portfolio early on, even if they're very simple at first."
How do you like to spend your breaks?
Gabi: "Joking around and chatting with colleagues."
Georgiana: "I like to go outside for a walk and hang out with my colleagues."
Irina: "Taking a walk is my favorite way to spend my breaks, too. I enjoy being outdoors whenever possible."
Dan: "I usually chat with colleagues or look up answers to challenges I encounter in my personal projects."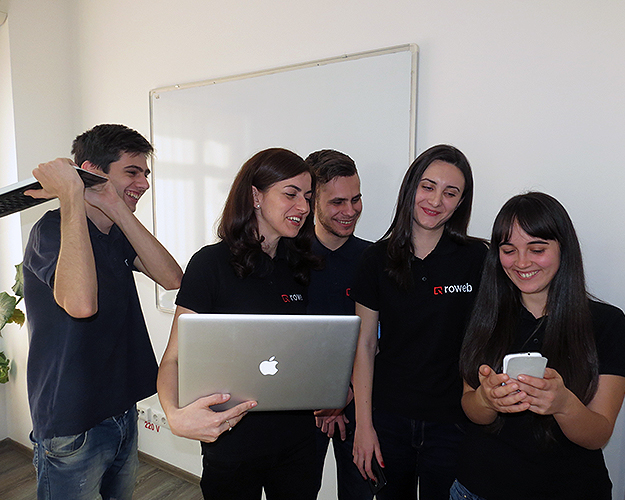 Outside of work, where do you spend most of your time online?
Georgiana: "I follow technology-related topics on several blogs and on YouTube. I also spend time on Facebook, where I'm subscribed to various news pages and I'm a member of several IT discussion groups."
Gabi: "Browsing tech and sports news or on stackoverflow."
Irina: "I spend a lot of my time reading or watching videos about new technologies, new devices and frameworks, on various IT blogs and channels. As far as entertainment and general information goes, I try to find the most objective and impartial sources. I also like to follow travel websites and, like most people I know, I use Facebook and Google+ to socialize and stay up to date with the topics I'm interested in."
Dan: "I'm not really interested in the news unless it's technology-related. For this, the sites I prefer are go4it.ro, hit.ro and tutsplus.com. I also spend time on Facebook and Youtube."
Their team leader and mentor, Magda, joined our team when she was still a student, through our internship program. During her third year in undergraduate college, she applied for an internship at Roweb, in application testing, so when she was designated to teach the Android classes, her thoughts immediately went back to the time when she was a student herself and first arrived at Roweb as an intern.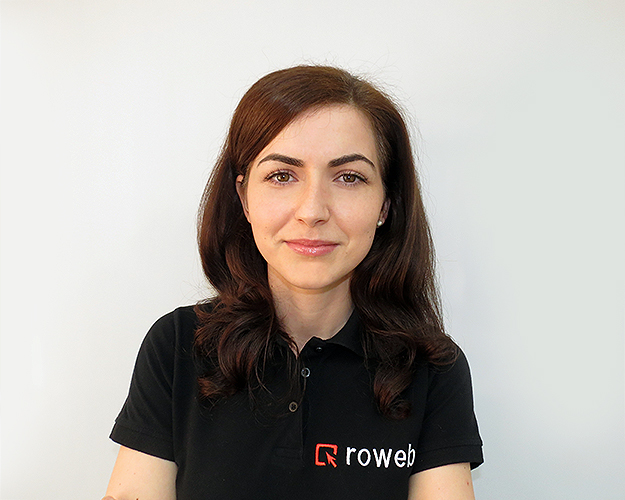 She recalls: "I was very excited when I learned that I'd been accepted, and also very curious to see how things play out in a corporate environment. For me it was a great opportunity to put into practice the knowledge that I had previously accumulated and it also influenced my choice of subject for my undergraduate dissertation. After the internship, I was offered a full-time role at Roweb and I took up on that offer without hesitation!"
"At Roweb I found a friendly and challenging environment, in which I've been given the opportunity to express my ideas, learn lots of new things and work with the latest technologies, and during this time I also got to grow both personally and professionally as my career path led me from intern to team leader."
How does she feel about her young team? "In my role as a team leader I've relied a lot on project management courses and on my 6+ years' experience as a programmer and this smoothed the transition. My 'musketeers'' journey has only begun, but I admire their ambition, the ideas and observations that they contribute, and their eagerness to learn."
Describe your relationship with Magda
Georgiana: "It mattered a lot to me that she made learning new things easier and that I can always talk to her openly whenever I encounter an issue."
Gabi: "Everything I know today I owe to her, she helped me understand things that I'd thought were impossible for me to grasp."
Irina: "I appreciate that she's always open to different ideas, she asks for our opinions on things and she cares if we're doing alright. Whenever a difficult obstacle comes up or if we're on a very tight deadline, she steps in and helps us solve the situation, while also giving us advice on what we did wrong."
Dan: "And when we ask for help she'll always drop what she's doing and find the time and patience to guide us."
What's the 'secret recipe' to Magda's mentoring success?
"I prepared a learning plan meant to help them become completely independent from a technical standpoint, over the course of the next 6 months. The plan works simply: we all follow an online course in Android and iOS development and at the end of the week, we get together and discuss the most challenging topics within the course and the team members take turns in briefly presenting the main idea behind the week's courses. By doing so, I'm also aiming to help them improve their public speaking skills.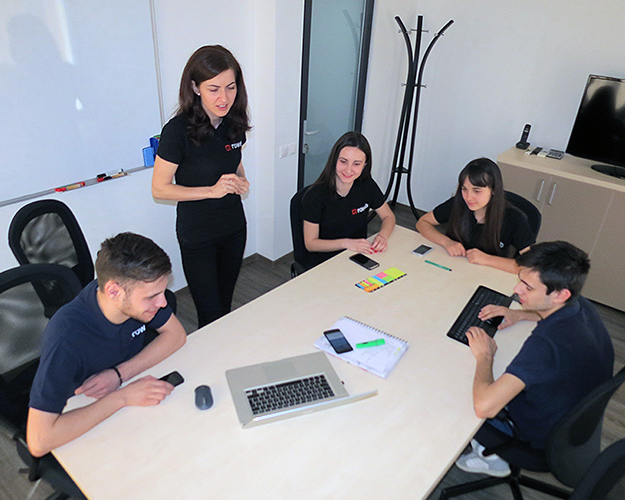 Also, every week we have a team meeting, we do a code review over a cup of tea and discuss what we've accomplished during that week, plan goals for the next one and handle any possible impediments.
I encourage them to be transparent towards the team and myself, to let me know whenever they have any questions or encounter an obstacle and to share their own ideas and approaches. I also try to instill an appreciation of well-organized work flows, based on priorities, so that everyone knows exactly what they need to accomplish. For task tracking we use a management tool that always has them very excited to change tasks' statuses from "in progress" to "done". It is my belief that a team is a reflection of its leader and this is why I always do my best to inspire them."
In terms of personal growth, here are the most important things our newest colleagues told us they've learned since they joined us: 
Irina: "I've learned a lot about productivity and the importance of efficient planning for succeeding in meeting your objectives as quickly as possible."
Georgiana: "I've learned that when working on a project, communication and teamwork are essential."
Dan: "Yes, I would also say that developing my skills for working in a team has been my greatest gain on a personal level."
Magda: "We've had great results so far and I'm very proud of my team!"