A new year, a new story to be written. 2021 took all of us by surprise, serving unexpected challenges to the world and forcing companies to keep afloat.
In 2022 change remains (still) the name of the game. So, what a better reason to ask you: did you integrate outsourcing software development on your business plan for this year? What's your strategy for adopting new technologies? Do you have enough in-house resources to turn your goals into actions?
I bet you've already taken into account important shifts in your business's core and regarding the technology you use to cope better with the "new reality."
That's why I've decided to come to you with additional support. So, I took a closer look on the market trends with a special concern for outsourcing software development services.
Hit the scroll to see what I've discovered!
First thing first: what stats say about outsourcing software development services in 2022?
In 2022, spending on digital transformation (DX) is projected to reach 1.8 trillion U.S. dollars (Statista);
IT outsourcing market is expected to grow by about 5% each year in the years 2020–2024 (Global Industry Analytics report);
The global outsourcing industry is predicted to reach $332.4 billion by 2025 (Grand View Research);
The PaaS, SaaS, and IaaS markets grow by 24% annually. The global cloud computing market size is forecast to grow by US$190.32 billion until 2023 (Technavio);
The talent shortage (including tech talent) is predicted to reach 85.2 million unfilled jobs – because there aren't enough skilled people to take them – by 2030 (Korn Ferry report).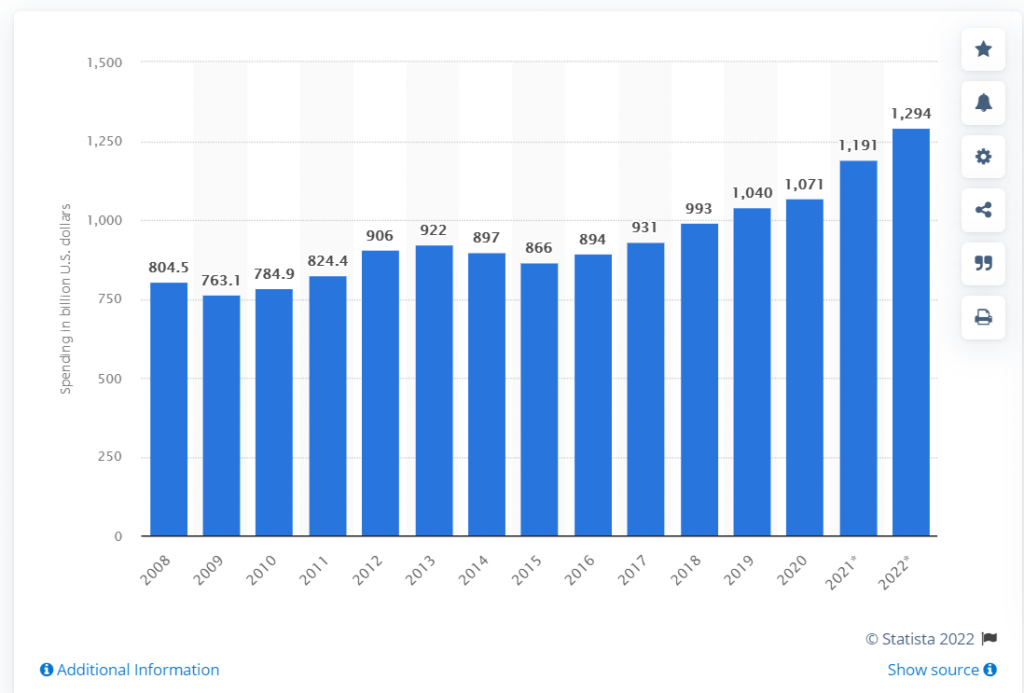 14 Key Outsourcing Software Development Trends in 2022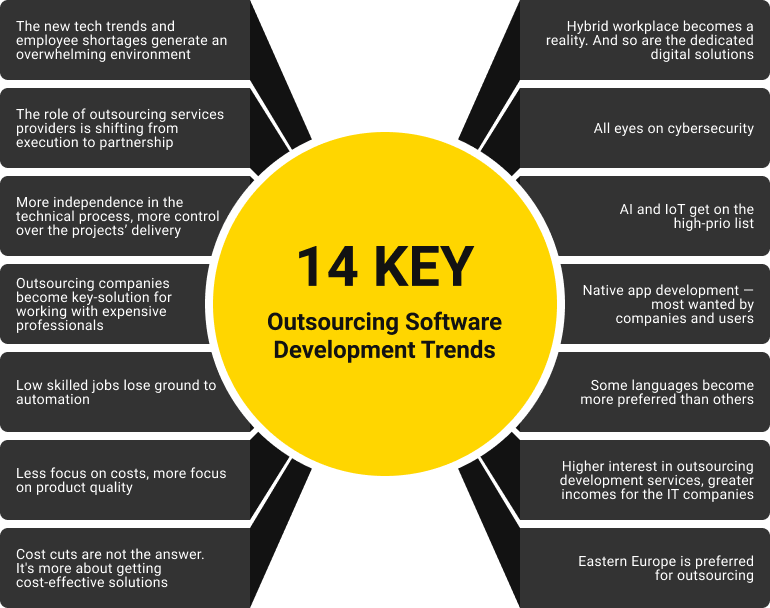 The new tech trends and employee shortages generate an overwhelming environment for industries, companies and entrepreneurs. This trend is experienced even by big corporations but not being able to keep up with the pace anymore.
The role of outsourcing services providers is shifting from execution to partnership. As the importance of adopting new technologies has increased significantly, outsourcing services' role has been redefined. Starting from 2022 it is expected for outsourcing dev providers to cover extended services like consultancy, research, and development, data analysis, technical analysis, etc.
More independence in the technical process, more control over the projects' delivery. The obvious trend of roles and skills diversity from the dedicated development teams makes room for keeping the client less involved in the technical process and allowing providers to control the projects' delivery.
Outsourcing companies become key-solution for working with expensive professionals. As the tech staff shortage becomes cut-throat, high-skilled professionals raise their rates, becoming inaccessible for most companies.
Low skilled jobs lose ground to automation. To increase efficiency in costs and projects' delivery time, outsourcing companies will invest more in robotic automation in 2022 and 2022. As automation takes over redundant and repetitive tasks, the staff must shift their attention to getting more specialized knowledge.
Less focus on costs, more focus on product quality. Though money remains a sensitive topic due to the pandemic impact, now the key factor in outsourcing is more about enhanced security, customer experience, and business expansion.
Cost cuts are not the answer. It's more about getting cost-effective solutions. The companies become more aware of the real need to invest in cost-effective solutions. One of their top choices to minimize expenses: cloud storage.
Hybrid workplace becomes a reality. And so are the dedicated digital solutions. At least 25-30% of the global workforce already works from home multiple days a week. In other words, the companies have to keep their focus on providing a mixed digital ecosystem to their employees (project management, task management, security, communication solution, etc.). For achieving good results, companies might need to consider outsourcing.
All eyes on cybersecurity. The greater the companies' interest to migrate online is, the higher the cybersecurity risks become. Not only customers and entrepreneurs are interested in online market evolution. Black hat hackers pay great attention to it and try to find new and unexpected ways to get into the companies' systems. That's why the multi-level security approaches become mandatory to eradicate cybersecurity risks.
AI and IoT get on the high-prio list. Great focus on solutions that allow replacing human interaction for: providing customers with guidance (by using AI) and for providing fast access to relevant data – statistics – and tools to personalize the communication & interactions (by using IoT).
Native app development – most wanted by companies and users. The more users and companies look for remote and device-friendly apps to solve their daily problems, the greater the demand for native applications becomes. This trend is not exactly surprising, considering the advantages of native applications over web and hybrid ones: faster, more efficient, built-in functions, great focus on the user experience, use of modern languages (Swift, Kotlin), etc.
Some languages become more preferred than others. When it comes to app development languages, specialists point to the trio Kotlin-Java-Scala and to Python, TypeScript, and Flutter.
Higher interest in outsourcing development services, greater incomes for the IT companies. The global outsourcing industry is predicted to reach $332.4 billion by 2025 (Grand View Research).
Eastern Europe is preferred for outsourcing.70% of the global demand for software outsourcing comes from the United States and Western Europe. Surprisingly (or not), when it comes to choosing a reliable outsourcing provider, Eastern European companies are highly preferred
Why is the outsourcing market growing in 2022?
the new economic environment forces companies to rethink their spendings;
employees feel more engaged in their jobs with workplace flexibility;
easier access to global talent pool – a WIN – WIN – WIN situation: for client, company, and employee;
less logistic costs (e.g., according to research done by PGi, the average business with full-time telecommuters saves $10,000 per employee per year in real estate costs);
great way to compensate for the lack of internal resources and know-how;
real opportunity to increase business flexibility;
no need to invest in long processes of creating internal structures.
*For providing accurate and relevant information, this article is based on multiple sources (Statista, Global Industry Analytics, Grand, Technavio, Korn Ferry, Clutch, etc.)
Changed business needs that will lead you to offshoring
When it comes to offshoring, the main drawbacks taken into account by companies are about:
reduced employment rate in their country;
the cultural and social differences that can generate serious bottlenecks and mismatching developments and implementations;
risk of security breach and compromised/broken data by transferring access to a partner.
Is offshoring right for your business in 2022?
Especially in the software development field there is no one-size-fits-all kind of answer.
For example, by working with one of our dedicated (Romanian) development teams, you won't have to worry about the cultural and social differences or security risks since all our developers communicate constantly and efficiently with our worldwide clients, and are
At the same time, not all the providers are able to ensure certain quality standards of services. That's why, for make sure you're offshoring to the right company, it's essential to take the following criteria:
10+ y of experience on the IT market – a guarantee that experienced teams will take over your project;
various projects in the company's portfolio – illustrative both for dedicated teams and for your industry;
large and stable number of employees – the more employees a company has, the easier will be for it to provide you the team you need;
team roles provided by the company – an extra-guarantee that you can count on a complete team for developing your project;
disruption-free recruitment projects – recruitment processes based on modern and efficient technologies.
The other thing you must take into account is the real impact offshoring may have on your business:
reduced costs;
improved productivity;
increased flexibility.
In 2022 your business needs are changed. You intend to migrate most of your apps on cloud, develop teams with innovative skills, are more interested in virtual employment, etc.
According to your changed needs offshoring will play a significant role by providing:
niche-focused expertise;
adaptability;
custom services;
end-to-end services;
UX-centric approach;
latest technology
Developing solutions with a Romanian software house: why work with Roweb in 2022?
Our differentiator in offshoring software development market
familiar with over 30 countries software development market specificity (check out our portfolio to access some of our projects);
no language and cultural barriers (e.g,. fluent english knowledge across teams);
full transparency, cost predictability and budget control;
long-lasting partnerships with clients (our longest ongoing project started 17+ years ago);
agile approach to ensure fast development;
able to provide complete and experienced teams (skilled, experienced developers, project managers, business analysts, scrum masters, UX, product owners, specialists designers, QA specialists);
valuable human resources for clients and projects: 45% of our professionals are senior developers.
Check out our portfolio to see samples of successful projects developed by our skilled software developers (dedicated teams)
SEE THE PORTFOLIO