Things are definitely getting back to normal. This year's MWC (28 February – 3 March 2022) event speaks for itself about this.
A great opportunity and Roweb will be there!
As we used to do before the pandemic years came, we'll be there at Barcelona with an exhibition stand for increasing Roweb's awareness in the international software development market.
From networking to meetings with prospects and clients, identifying new opportunities for partnerships and collaboration and being inspired by other businesses, as we have done every time we have participated, we will add value to our participation in this event.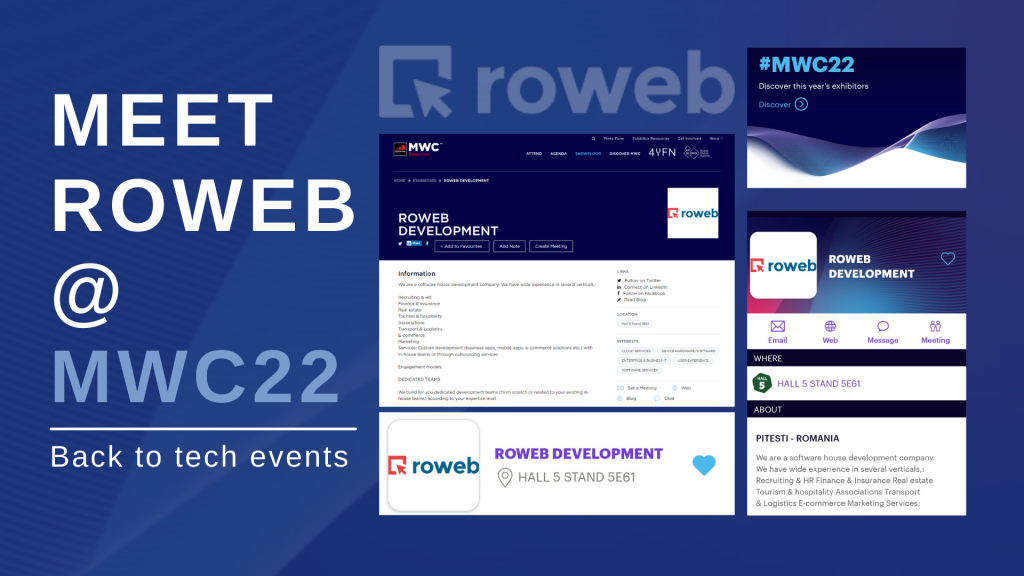 About MWC Barcelona
MWC Barcelona is the world's most influential event for the connectivity industry. It's where world-leading companies and trailblazers share the latest thought leadership about the progression and future of connectivity. And it's the best place for networking opportunities with mobile and tech industry influencers.
MWC Barcelona is attended by global mobile operators, device manufacturers, technology providers, vendors, and content owners. MWC Barcelona is the place to be seen, exhibit ground-breaking products and technologies, and make remarkable connections with senior decision-makers, creators, and innovators in the industry.
Our team at MWC 2022 Barcelona
This year Roweb will be represented at MWC Barcelona by
Mirel Ionescu – Managing Partner
Laurentiu Nicola – Sales Manager
Valentin Necsuleu – Business Development Manager.
Stay tuned! We'll get back on social media and blog with fresh updates (infos and images) from this event!