After participating in a meeting organized by students who are part of the TehnoZ Lightning Bolts team from the Zinca Golescu National College in Pitesti, it was our turn to host an event dedicated to them. The ten energetic, intelligent and optimistic youngsters will participate in the World Robotics Championship (SESI FIRST INTERNATIONAL OPEN – Rio de Janeiro 2022), and Roweb decided to get involved by offering sponsorship.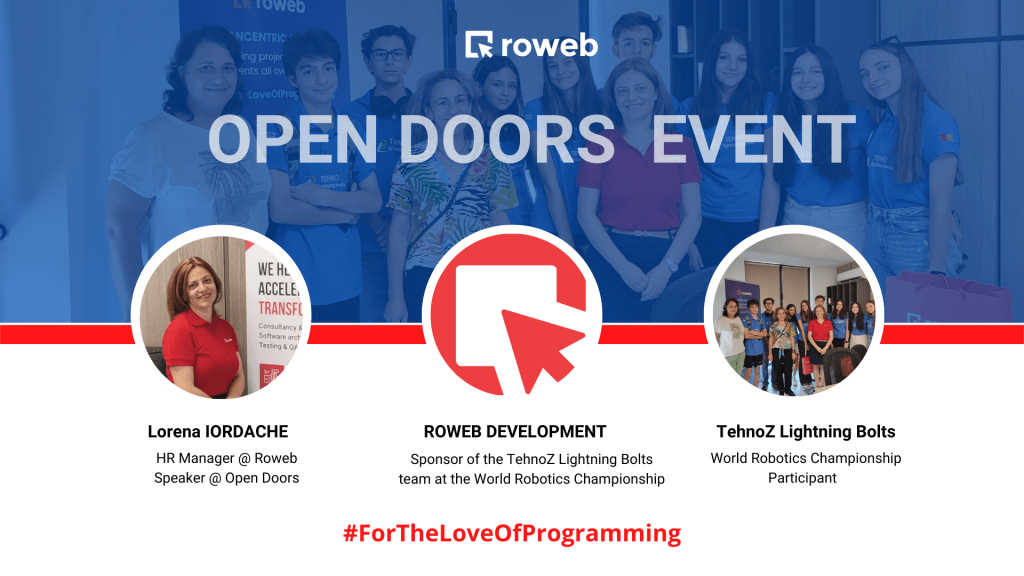 Beyond the financial support, our team wanted to organize an Open Doors event, through which these kids had the opportunity to come to the Roweb headquarters and learn more about our usual activity.
Our colleague, Lorena Iordache (HR Manager), presented the story behind Roweb and quickly captured the students' attention at the event precisely because everything started from a passion for technology and informatics.
The Roweb story began during computer classes when a teacher (today, the company's CEO – Viorel Costea) managed to instill a passion for programming in his students. Later, 3 of them (Gabriel Rosu, Razvan Veliscu, and Mirel Ionescu) became his partners in a business that was shaping up in a context in which digital was just a little more than a rumor.
"As a teacher, I've met students with great potential. It's one of the privileges of teaching: to see not only what a student is, but also what he/she can become someday. Their enthusiasm and capabilities were definitely an inspiration for me. On the other hand, I've noticed a real potential for creating an IT company on the market. So, putting these two together, I've realized soon that it would be a real lost opportunity not to involve some of my (former) students in a bold project."

Viorel Costea
Co-fondator & CEO Roweb
Thus, by presenting the company's history, our colleague Lorena Iordache, HR Manager, wanted to prove to these students how the passion for programming can materialize later in a rewarding career.
"I am happy to bring my +15 years of HR experience to a company such as Roweb, with an excellent organizational culture where people are respected and have a good work-life balance. Another great advantage is that you are encouraged to bring your added value and feel comfortable giving and receiving feedback.
Since 2019 I have been enjoying this dynamic environment of the tech industry, which challenges me, especially in finding new colleagues.
We search for developers who are driven, resilient and eager to leave their mark on the projects and teams they will be part of."

Lorena Iordache
HR Manager @ Roweb
At the same time, Lorena had an interactive audience that could not wait to find answers to questions such as: What technologies does the software development team work with? What projects does Roweb have in its portfolio? What industries do customers come from? How many members have dedicated teams? What does an ordinary working day look like for a software developer?
Roweb supports future generations of programmers and technology enthusiasts
The purpose of our meeting was to help students understand what the steps of a career in IT are, the challenges and what they need to do to see their passion for technology turned into a job to go enthusiastically in each day.
The students did not come alone, but together with the coordinating professor Gratiela Ghiordunescu and professor Cristina Constantinescu – two teachers who leave their mark on the formation of a generation of #TechEnthusiasts and whom we are pleased to have on our list of educational partners.
Moreover, the teachers enjoy not only the appreciation of the ten children from the TehnoZ Lightning Bolts team but also that of other colleagues from the Roweb team, who had the opportunity to be their students during high school.
"If you can dream it, you can do it…"
The Open Doors event helped us get to know the team of students we support better and encourage them to pursue a career in technology, giving them a motivational model like If you dream it, you can do it.
And we enjoyed having students with us who invested in their future careers outside the robotics lab.
From volleyball, horse riding and anime to design, physics and computer games, the students enthusiastically shared their hobbies with us. They only confirmed what we intuited from the beginning: we had in front of us children with a huge potential in programming, determined and ambitious enough to face the challenges of a successful career.
Roweb carries out a series of actions and events that we believe in and that are related to our activity. Since this year, we have gathered all these initiatives under a roomy umbrella that we place above all programming enthusiasts. And we want to make it bigger and bigger: