Umbraco is an open-source .NET CMS (content management system) designed for publishing content on the World Wide Web and intranets. It's got plenty of ready-to-use packages and plugins and helps build friendly URLs.
It's flexible enough to cover a wide range of needs, from small presentation websites to complex applications for large media organizations. Its many add-on modules allow for a high degree of customization.
#1 For whom is Umbraco suitable?
Umbraco offers flexibility and a great editing experience being an excellent choice for both developers and marketers. If you manage an agency, Umbraco is a CMS that you definitely must take into account.
#2 What types of solutions can you develop with Umbraco?
Over 500,000 powerful websites around the world are created today with Umbraco. (Based on our extended expertise in building performant portals and CMS systems, we can help you get the same performance for your business.)
From simple presentation websites to complex portals, you can get dynamic and intuitive solutions using the latest Umbraco version and taking advantage of its powerful features:
Multi-language capability;
SEO friendliness;
Enhanced security;
Blazing performance;
User-friendly admin area;
Responsive interfaces;
Search engine for your website;
Easy to use API's.
Projects Developed with Umbraco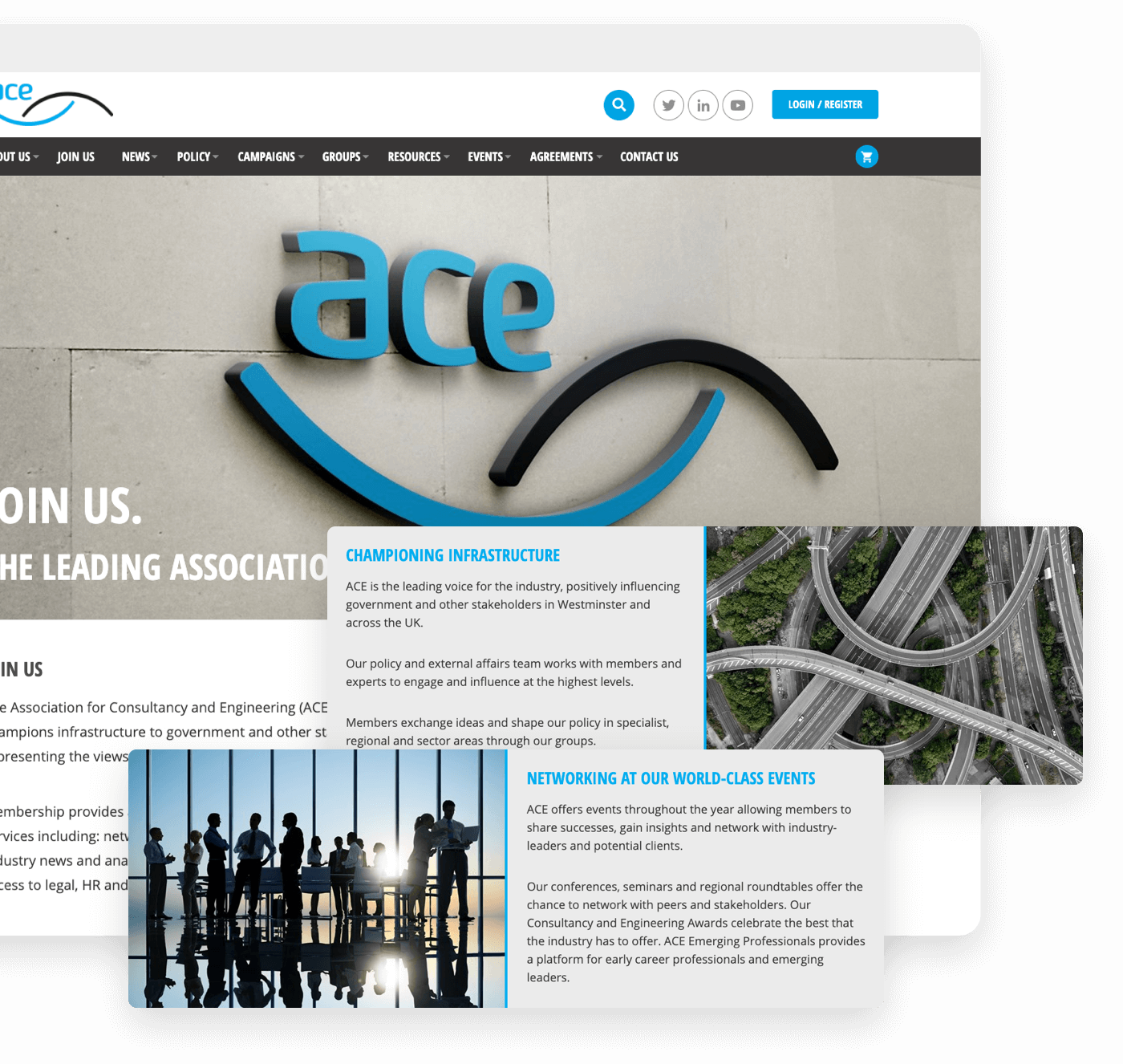 Multichannel consistency through a ready-to-use web portal, a UX/UI optimized website, and seamless integration between website and CRM.
TECHNOLOGY
.Asp.NET, Umbraco, Knockout.js, Web API, Dynamic CRM, Sql Server
Read case study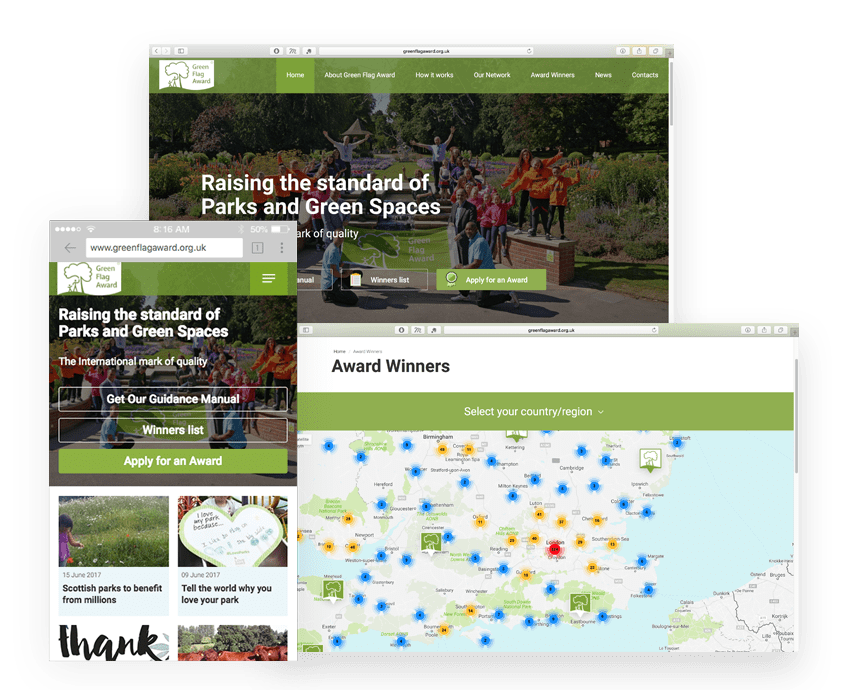 Project Upgrade from Umbraco 4 to Umbraco 7
Green Flag Award – UK
TECHNOLOGY
.NET, C#, Microsoft SQL Server, Telerik Ajax UI, Umbraco 7, Bootstrap 3, JQuery, JS plugins, Google ReCaptcha V2 and Google Maps & Google Geolocation APIs
Read case study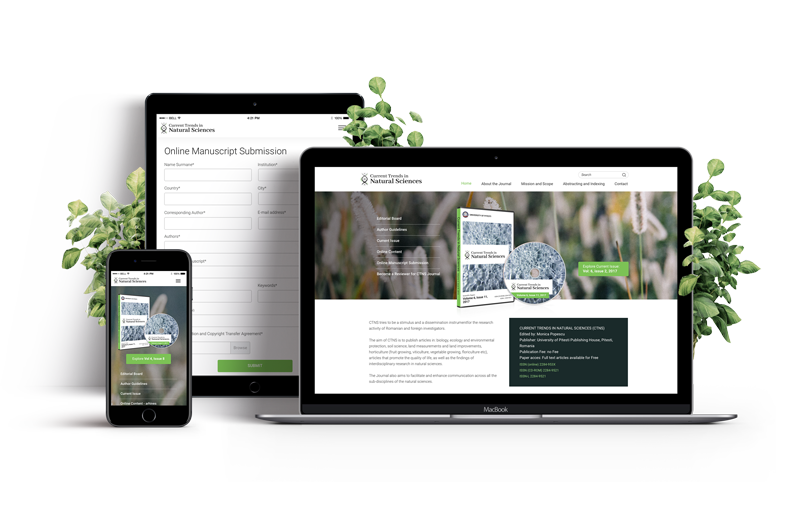 CMS PROJECT BUILT WITH UMBRACO Current Trends in Natural Sciences
TECHNOLOGY
Umbraco, .NET, SQL Server, Windows Server, Bootstrap, jQuery
Read case study
#3 Why is Umbraco the right fit for your projects?
it's user friendly, dynamic & SEO-friendly;
it's flexible and cost-effective;
provides multi-language capabilities;
allows updates and content management in real-time;
can be integrated with almost any system;
offers access to an active support community;
comes with vast documentation;
allows further development of the CMS.
#4 How to manage outdated Umbraco websites?
Hiring an external team is usually the next best thing you must do for managing an outdated Umbraco website. For instance, we provide dedicated Umbraco teams for covering services like maintenance, support, bug fixing, and new features developments for legacy/outdated Umbraco websites.
Upgrading outdated Umbraco websites & migrating the content
If you have a legacy Umbraco website and want to take advantage of the new features, improved performance, and security enabled by the latest Umbraco version, we can help you upgrade your platform and seamlessly migrate all of the content.
Maintenance services for legacy Umbraco websites
You can hire one of our dedicated development teams to work with you as needed, or we can set up a Service Level Agreement (SLA) system and set timelines for your requests.
We review how Umbraco has been set up and configured for your legacy website to make sure it follows industry best practices and responds to your customers' needs and expectations.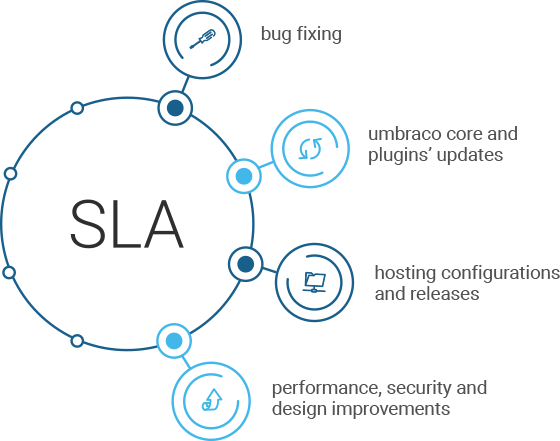 #5 How to optimize an existing Umbraco website?
For getting a modern and functional Umbraco solution it is essential to implement changes and optimizations efficiently at several website levels:
import/export data between Umbraco and other platforms;
website content management;
website speed optimizations;
security improvements;
SEO audit and optimizations;
website Uptime and health monitoring.
#6 What does a complete team for developing a Umbraco project look like?
The complete Umbraco team your business needs to start a new project must integrate: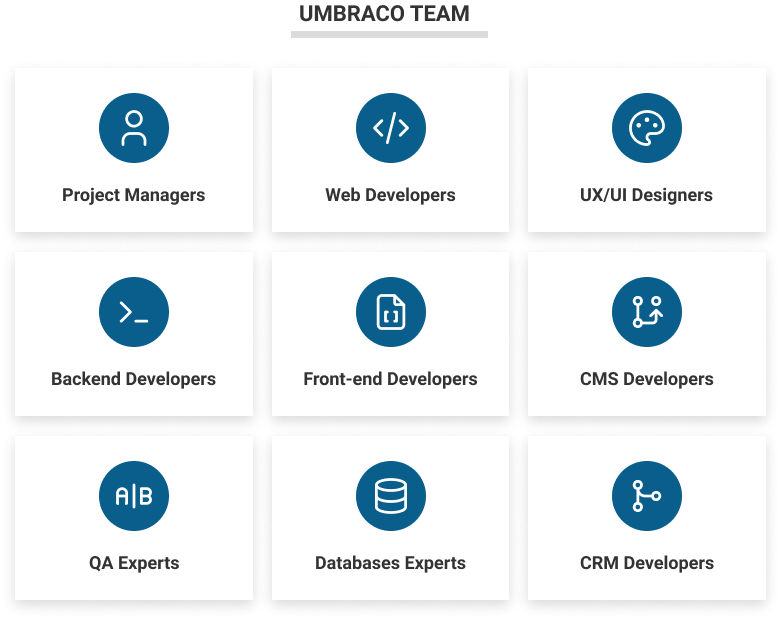 Want to hire a development team for your outdated/legacy Umbraco website?
Get a personalized offer for your project team!
GET AN UMBRACO TEAM OFFER
#7 What systems does Umbraco integrate with?
With its many modules and ease of customization, Umbraco can be integrated with almost any system. Some of the third-party systems that we can integrate Umbraco with include:
Microsoft Dynamics and many other CRMs;
Social media APIs;
Enterprise platforms;
Payment gateway.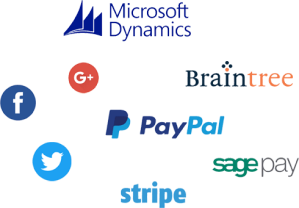 #8 How to select the right company for developing your Umbraco projects?
10+ y of experience on the IT market – a guarantee that your project will be taken over by experienced teams;
various projects in the company's portfolio – illustrative both for dedicated teams and for your industry;
large and stable number of employees – the more employees a company has, the easier will be for it to provide you the team you need;
team roles provided by the company – an extra-guarantee that you can count on a complete team for developing your project;
disruption-free recruitment projects – recruitments processes based on modern and efficient technologies.
#9 Why develop your Umbraco project with us?

"Roweb was amazing. Thanks to their improvements to the GFA administration system, we're able to save hours of work every day. They proved that they truly understood our business and were able to identify the best ways to make the user flows more efficient. As for the front-end, they helped us offer the best experience to our website's visitors. Roweb is always quick to respond to our requests and understand our needs, getting it right the first time."

Manager, Green Flag Awards

"Our collaboration with Roweb was an excellent one. The website came out the way we wanted. Congratulations!"

PiticuDanceStudio

"Roweb was a great choice for creating an academic website for the Current Trends in Natural Sciences journal by the University of Pitesti. The cooperation and communication with the team at Roweb continuously contributed to the improvement of the website's content and functionalities. We definitely recommend them for academic and scientific websites!"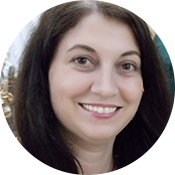 Associate Professor Dr. Monica POPESCU Editor in Chief, Current Trends in Natural Sciences Journal
University of Pitesti, Romania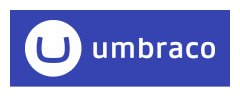 Check out our Umbraco services to see how we can help you work best with this CMS.