Being a mayor is hard, but being a mayor during a pandemic is terrible. Mayors across the country have to balance the historic public health emergencies while facing a severe economic downturn and the unleashing of tension and resentment by the private sector as they saw their businesses close overnight. One method that could ease the tension and gain trust is to implement a digital public solution.
As the private sector raised the bar on the customer experience and people's expectations, digital public services are an imperative. As shown in the research done by McKinsey, it is a matter of trust: citizens who are satisfied on how the public service is done, are 9 times more likely to trust the government overall than those who are not.
Navigating public services can be maddening, especially during this pandemic. To reach the information you need, as a citizen, you have to access services often presented in a hard-to-understand, highly specific language. Simultaneously, the citizens have to visit multiple websites and/or physical offices for each service. Applications require hard copies of supporting documents to be printed and signed, and many online forms are highly complicated, just like the paper versions.
People see no reason why having access to public services shouldn't be as easy as online shopping. They want to quickly get in touch with the city hall or the public agency in charge of helping them daily. At the same time, the information should be clear and in simple language. For example, if someone wants to report a fallen tree, or if the city hall wants to announce to its citizens that certain streets are flooded, it should be done instantly, without having to increase expenses.
At the same time the potential of a digitalization inside the public sector is quite big: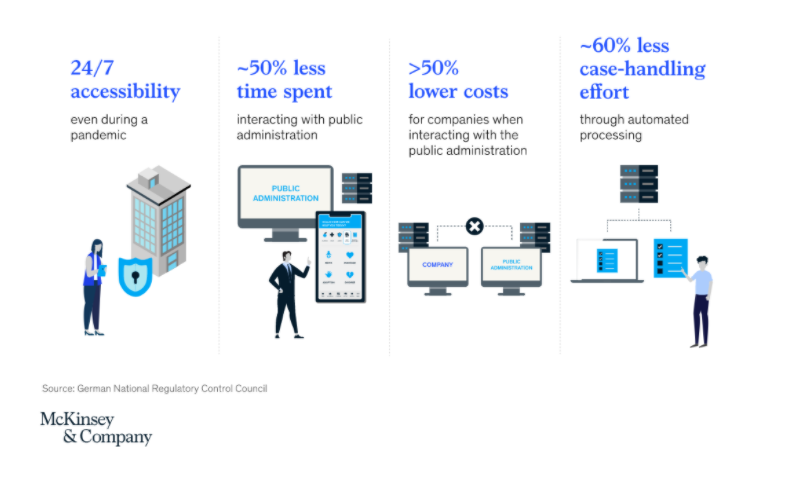 source: https://www.mckinsey.com
But truth be told, the government agencies and offices from across the world are still behind what it means to have a digitalized organization.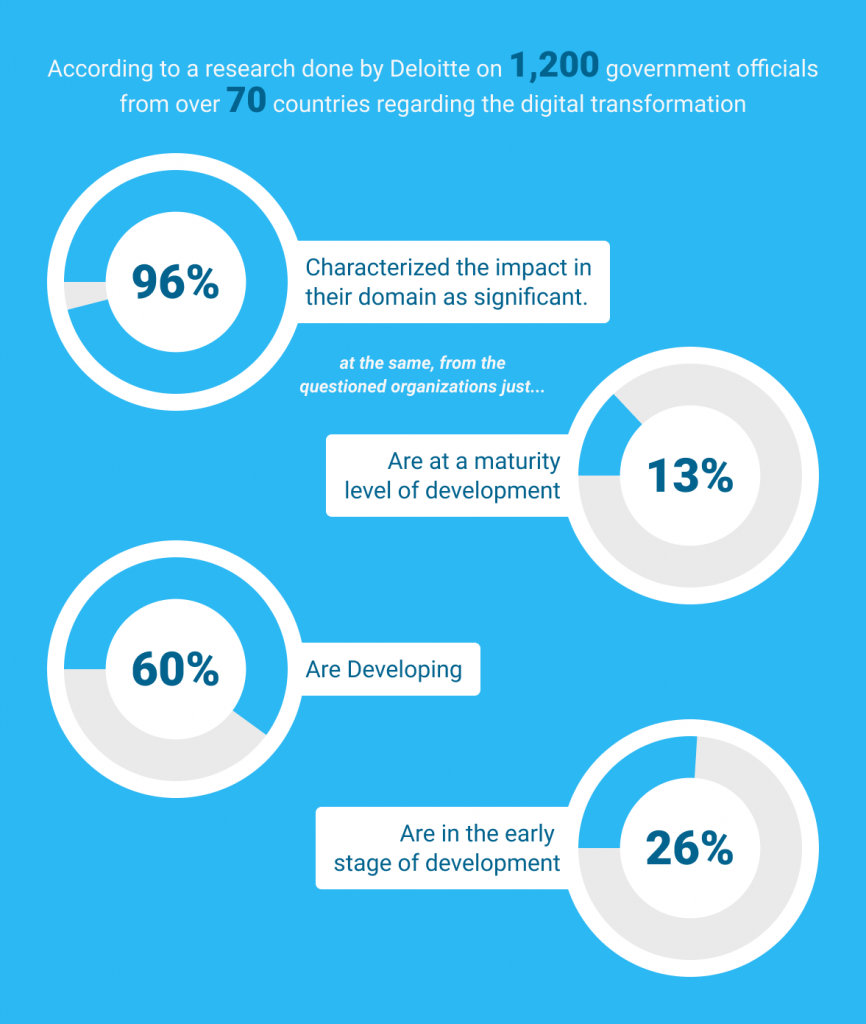 Source: Deloitte
The main reason for the digital transformation for public service organizations is to become more efficient and increase the citizens experience and engagement, while creating a more transparent environment.
How do you make the citizens trust the mayor and the city council?
Trust sits at the heart of the social contract between citizens and their governments. At the same time, one of the biggest problems that the public sector needs to address is the low level of trust.
The Edelman Trust Barometer registered a low gain in people's trust for all major societal institutions – government, business, media and NGO's. The majority of the population (46%) believes the system (public organizations) is failing them. Regardless the area of activity of said system. Dealing with such a big level of distrust, means that any decision is met with suspicion and with a very small amount of trust.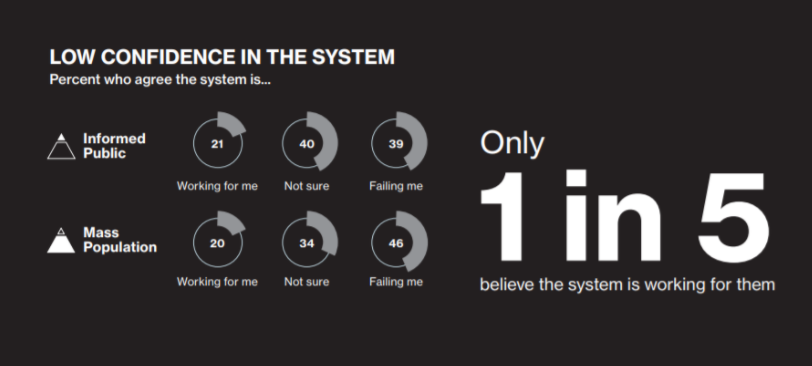 source: www.edelman.com
Having a solution that would help citizens be part of the day-to-day life of the city can improve the trust between city hall and the people it manages. The main way to solve the trust issues is by involving the citizens and make them partners in the well-being of the city.
One way to do that is by having a mobile app which is available on both iOS and Android, so that anytime a citizen interacts with a problem, or when the city hall has to announce something.
How to prove you are interested in making the public service better for everyone?
When documents are stored using cloud technology, instead of physical files, employees will save time – instead of waiting for requests, they can be easily added in the flow of the documents, based on their username. In the same time, the chance for misplacing reports and/or documents will significantly decrease.
Having automations for document management will help produce faster results of a higher quality. Digital workflows enable government employees to track a project's progress, automatically notify the correct people once a milestone is reached and create reminders so tasks are not stalled due to interdepartmental miscommunication. Digital forms, filled out by the public and employees, automatically populate databases with information, reducing the need for manual labor.
With centralized documents, all departments are working on the same information. The data and information silos will be deleted. Employees across all departments can access, manage and make decisions based on current and accurate data. The incidence of costly human error is reduced, and communication bottlenecks are removed to facilitate seamless interdepartmental collaboration.
Recent budgets have outlined the cost-saving potential of implementing new technologies in government agencies. One approximation from the Technology Board of Directors indicates that between 2017 and 2027, technology services might save the federal government over $1 trillion or $100 million annually. Such solutions would not require new legislation; they represent "low-hanging fruit" and could be implemented almost immediately.
Having a cross-device software solution that can manage reports from both citizens and city hall specialists sent in place to verify the claims saves time and, most importantly – increases the efficiency across all departments. At the same time, the city hall can cut costs by not buying materials, man hours, and using its specialists in a more efficient manner, so that the projects can advance faster.
SmartCity App – become more transparent, increase efficiency and improve quality of life
SmartCity app is a complete digital solution that simplifies requests and claims management, and communication inside the city. The software solution includes three modules that are permanently in touch:
mobile app – available on both iOS and Android, and it can be accessed by both citizens and public office representatives;
website – available for both citizens and public office representatives;
back-office platform – available only for the public office representatives.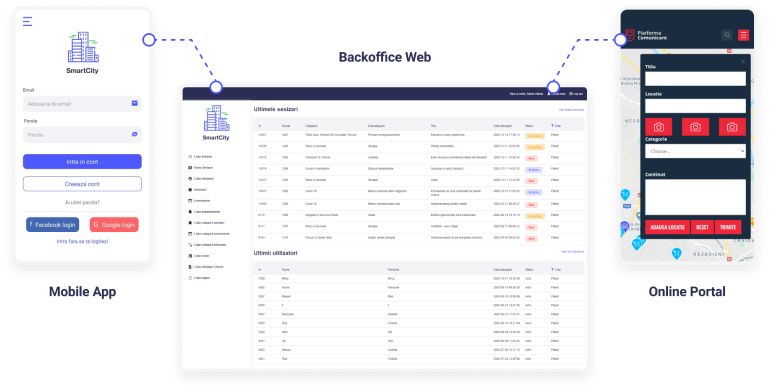 Managing a city regardless of its size is difficult. Many times citizens do not see how the city hall improves their daily lives, because they simply do not know; but by investing in this platform, city halls can eliminate the bureaucracy, increase employee effectiveness, and improve citizens' trust.
0% paperwork for the municipality staff. SmartCity App is designed to reduce the paperwork needed to solve a request, while saving time and cutting costs around multiple departments.
At the same, it was developed in order to be implemented fast inside any city hall, regardless of its size, and to be highly intuitive for both staff and citizens.
Instant online interaction with the citizens is a very efficient method to communicate any decisions, while greatly reducing the health risks. For example, if you have to announce where a certain part of the population can get vaccinated against COVID-19, or if a street is blocked due to renovations and people have to detour their usual routes, it can be done seamlessly and immediately.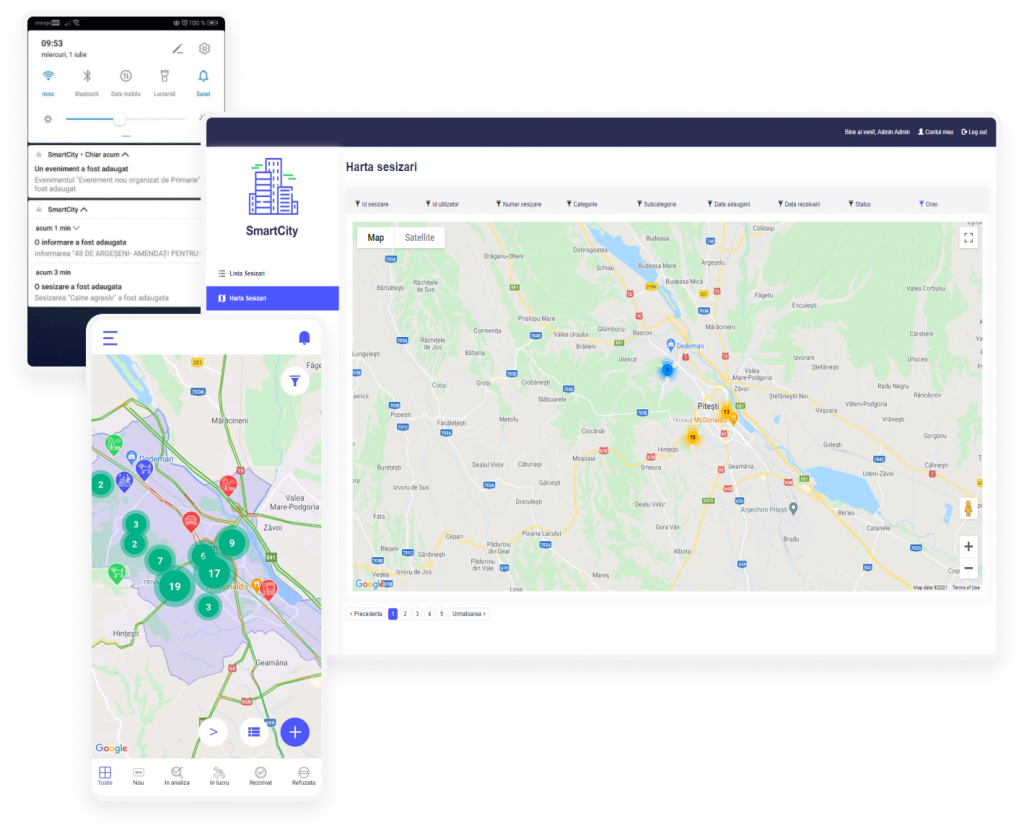 Any request by the citizen, for example, that a tree has fallen on a street during the night, or an abandoned car occupies a parking spot, is instantly sent towards the city halls departments, regardless of the working hours. How is that important? It gives citizens a sense of security and a feeling like a part of something bigger, which is continuously working towards making life better.
Using real-time feedback from the citizens helps them feel heard and, most importantly – can actively participate in their city's life. Having a mobile app that allows them to send requests or claims instantly, alert others, and have a continuously updating map will significantly increase citizens' sense of community and have a higher trust in the public office and its representatives.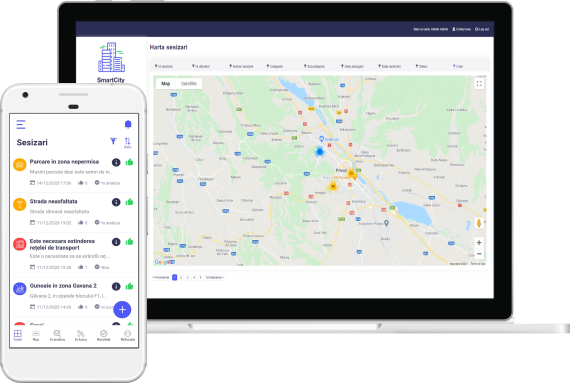 SmartCity app for mobile available for both iOS and Android
In order to be an intuitive mobile app, we focused on a simple design, with functionalities that are efficient, regardless of the type of smartphone used by the citizens. In this way they can petition a request or claim as easy as ordering online. Among the functionalities there are:
direct upload of the requests regarding the city – the request can have both text, and photo;
real time tracking of requests;
instant email to the concerned department;
everything is done online, without any paperwork;
all requests can be seen on the city's map inside the app;
access to the city halls' contact (phone, email) instantly.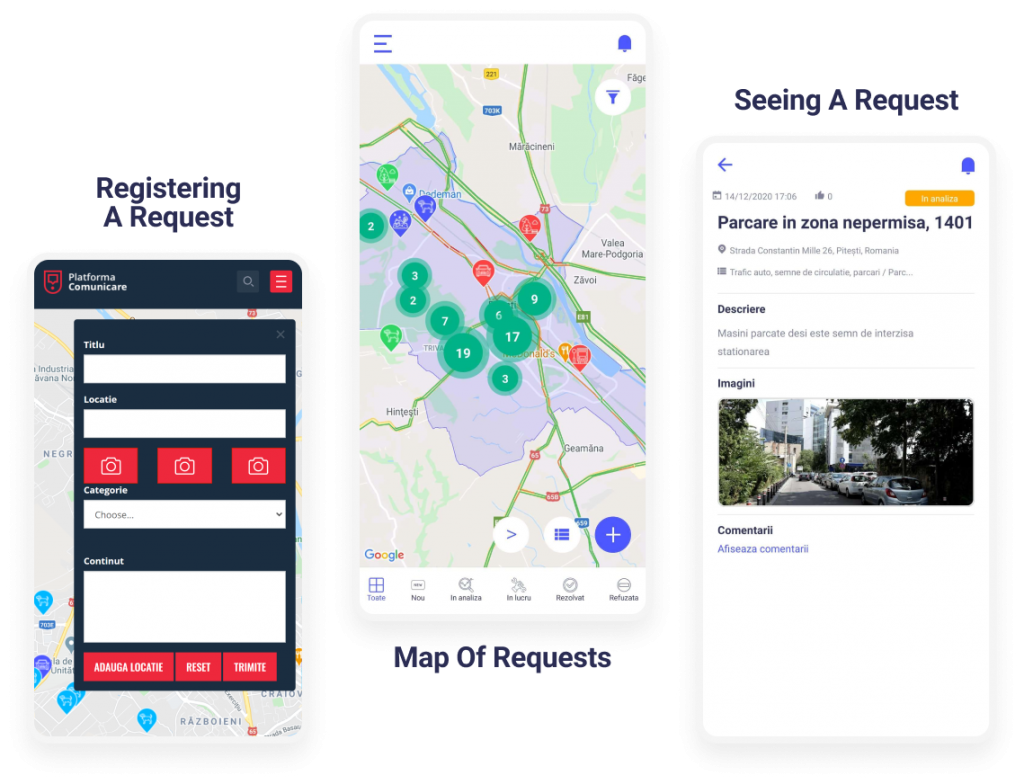 SmartCity online portal
SmartCity website will ensure a higher transparency of the city halls decisions and how the requests and claims are being settled. Among the functionalities, there are:
responsive design customized with branding elements (colors, logos, etc.);
integrated CMS system for articles, news, and events management;
complaints displayed directly on the map;
complaints can be added by citizens or by municipality employees;
dedicated page for each department providing also contact and program details;
easy access to updated stats and reports;
installing Google Analytics, Google Search Console, Facebook microdata, and generating sitemap.xml;
SSL certificate install and free hosting;
GDPR compliance;
website maintenance;
security updates;
SEO updates (according to Google algorithms);
The Portal can be used standalone or with Mobile Application and Backoffice online.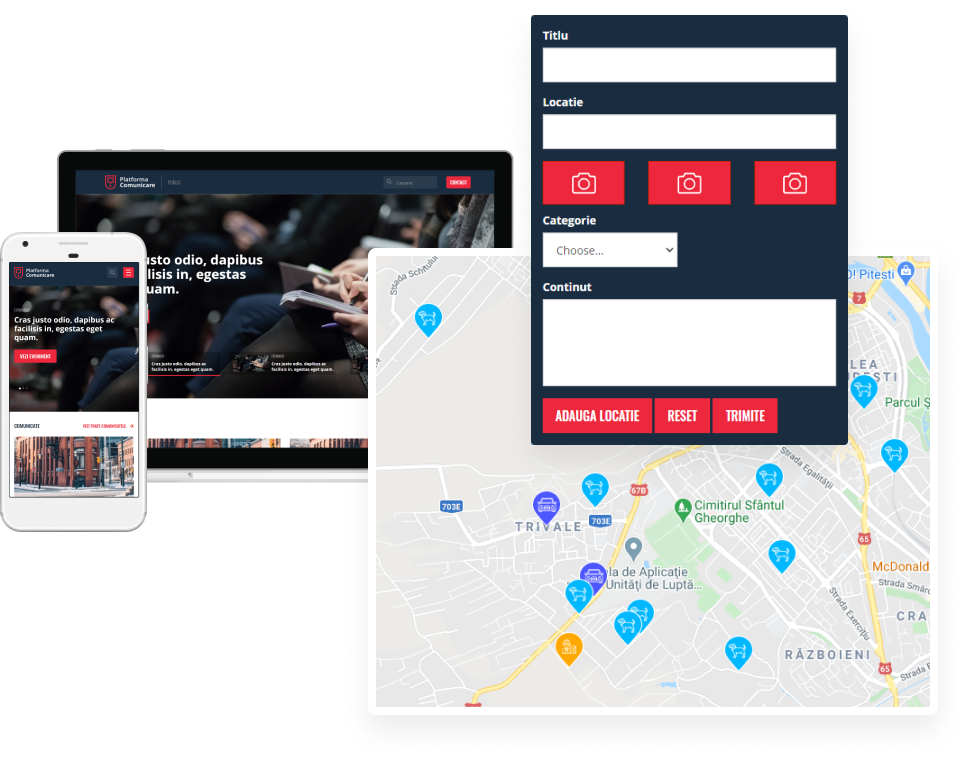 SmartCity backoffice – Intuitive system designed with the municipality staff in mind
The requests or claims are received in real time and the communication with the citizens is managed automatically. Some characteristics of the backoffice:
What requests did a particular citizen have?
Do you want to add new events?
Do you want to inform the citizens with the latest news?
Do you want to manage all requests and claims that came from all the communication channels (including Facebook)?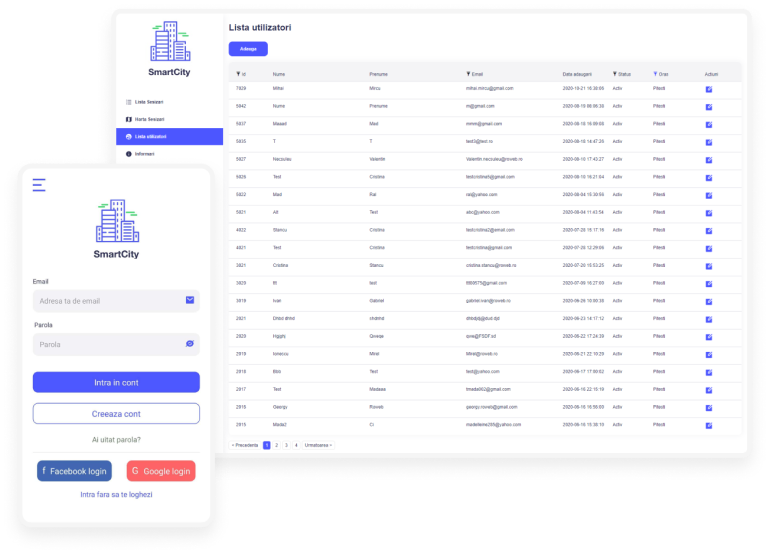 You can see all users from a single dashboard. Manage their account, requests and permissions
What are some of the functionalities of SmartCity backoffice:
when a new event (complaint) is added to the Mobile App, the system sends an automated email to the departments in charge;
faster synchronization of the public institutions' activities and an easier complaints management;
easy edits for complaints/events/information (list / map / filtering / add / edit / delete);
multiple-view options for complaints (categories / subcategories / departments);
intuitive management for users and internal users (list / add / edit / delete);
easy edits and management for cities and counties (list / add / edit);
complaint localization – this can be visualized directly on Google Maps, and administration employees can identify the location right away;
instant notifications in the Mobile App for every new event, announcement, or complaint added.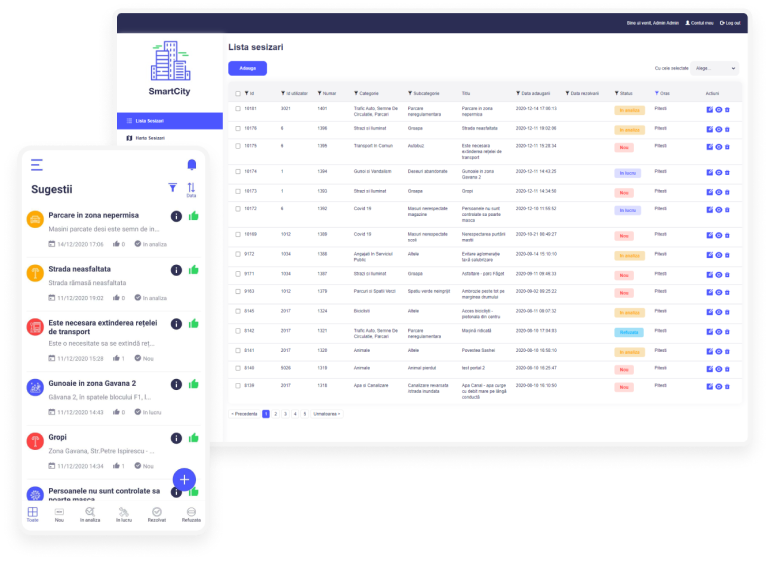 See the requests, what user has a specific request, check the requests that were solved
Why Roweb?
With more than 130 developers, we can offer you a complete team of experienced developers or a dedicated pool of developers with more than ten years of experience in Roweb only, with the appropriate technical capabilities for your particular needs.
Second of all, you can save time on the whole hiring process and office expenses, and more. You will benefit from the experience of more than 18 years of being on the market, with teams that developed from the company's beginning and are specialized in industries like: recruiting & HR, real estate, retail & e-commerce, tourism & hospitality, charity, and non-profits, associations, insurance, financial services, IT equipment trading/reclaiming, transport and logistics, e-health, to name a few.
TECHNOLOGIES THAT WE USE:








METHODOLOGIES
Agile
Scrum
Kanban
Waterfall
ROLES WE PROVIDE
Project managers
Business analysts
Developers
Q&A specialists
Scrum masters
UX Designers