This year took its toll on restaurants all over the world. The pandemic struck hard on restaurants around the globe. Restaurants protested all over Europe, France, Italy, or Portugal due to the government's restrictive measures against COVID-19. To survive, restaurants took their business online as a measure to stay on the market and keep the business open. But are restaurants surviving?
In the United States, 3rd party companies ask anywhere from 15% to 30% on each restaurant's delivery. A study from Crossover showed that 3rd party food apps could charge the client anywhere from 15% to 40% more than the restaurant's price in their menus. Considering the number of restaurants on the food delivery apps, a restaurant's actual profit after a month is barely enough for billables, like electricity and gas, and paying their employees.
This year, Google registered a record high search volumes for the term" food delivery" and" local food." In the same month, Eurostat recorded an all-year low for food services (restaurants).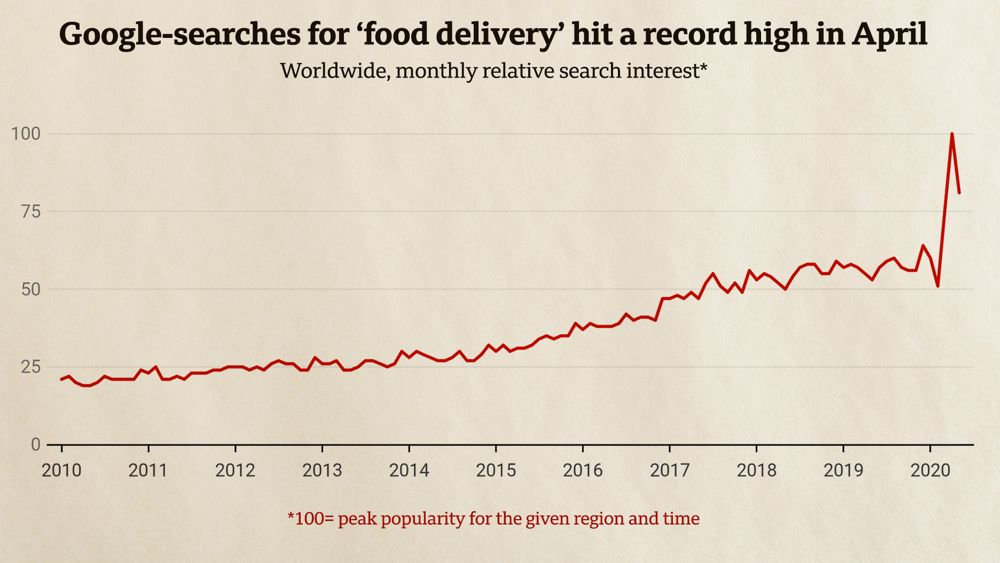 (Credit: Krystina Shveda/ Datawrapper Source: Google Trends)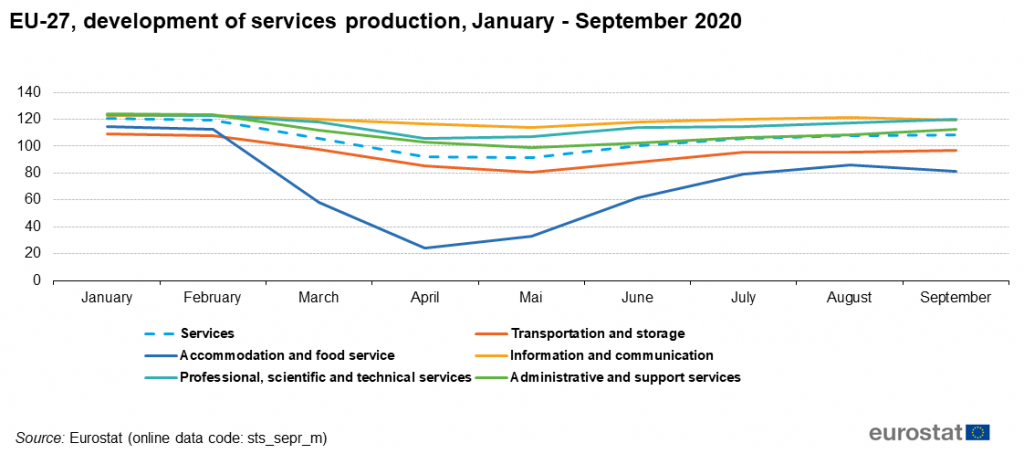 All around the globe, the consumers' behavior shifted towards ordering online. There is no denying it. In the USA alone, the four major companies raked in roughly $5.5 billion in combined revenue from April through September, more than twice as much as their combined $2.5 billion in revenue during the same period last year.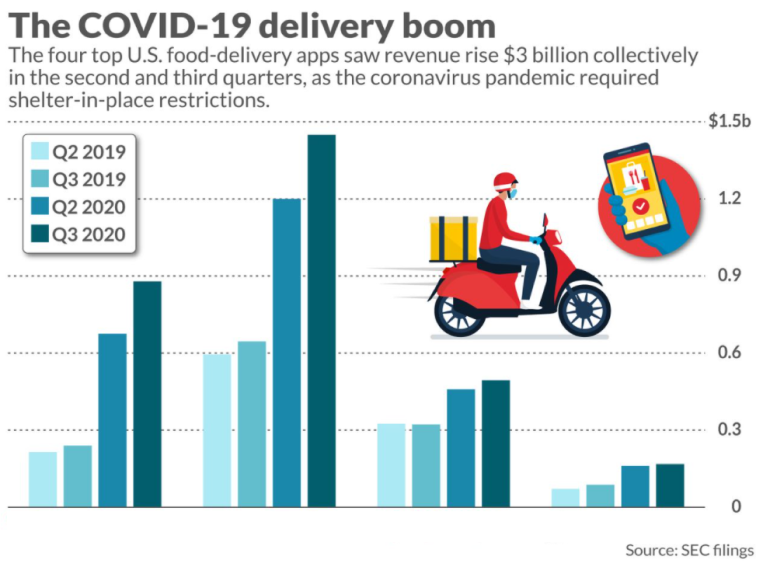 While 3rd party apps are booming and will continue to, the prices are too high to maintain a profit other than survivability for their stakeholders: restaurants and drivers.
How will it be in the future?
A study conducted by eMarketer suggests that the food delivery apps will continue to rise, despite a slight decrease in the next year. Their forecast is that the number of smartphone food delivery app users will rise 25.2% to 45.6 million this year.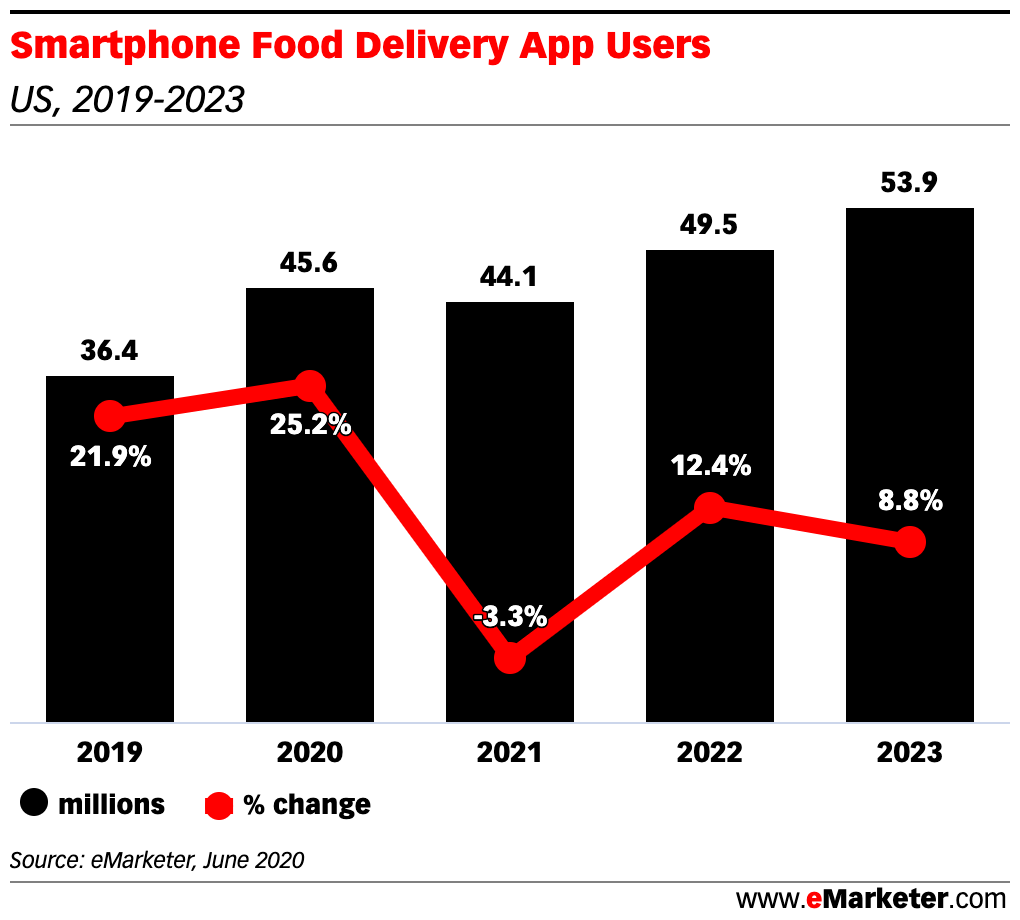 Another study reveals that before the pandemic, the online/app food ordering had a 1% growth/year, reaching a peak in five years. Taking in account the pandemic, now the market for these apps is thought to achieve a 21% growth in 2025.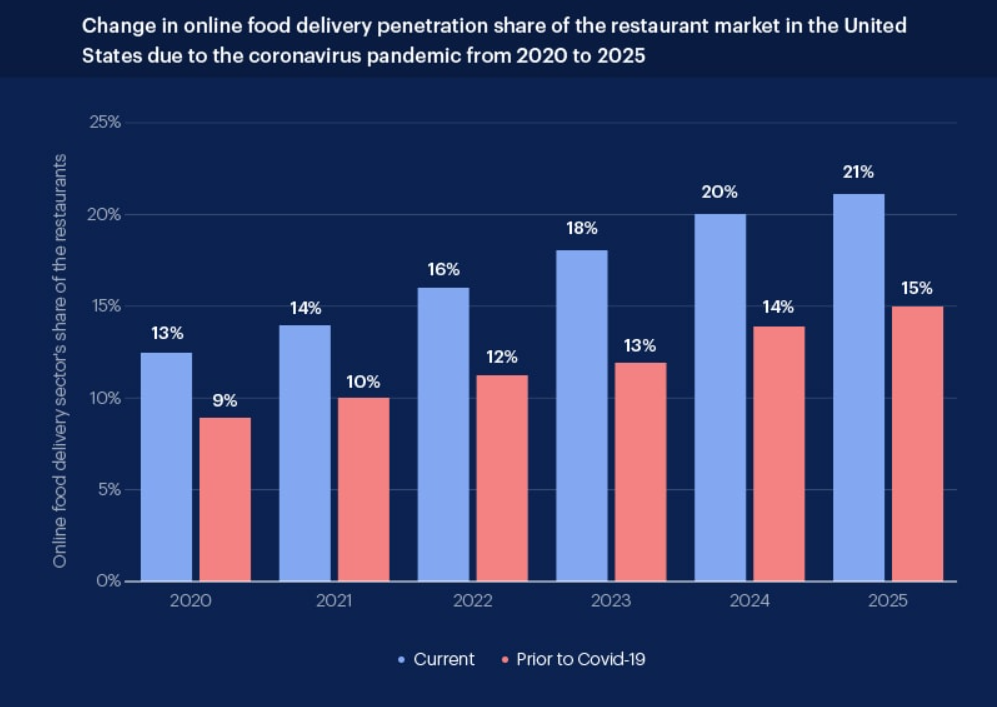 Even though the numbers may be different, there is no doubt – the behaviour of the consumer will be prone to online/app orders. As the pandemic drags on, according to research presented at the conference "Food on demand" by the financial services company Cowen & Co, consumers seem less willing to return to restaurants. As of mid-July, 52 percent of surveyed consumers said they would continue to avoid dining in once fully reopened restaurants, up from 36 percent in mid-April.
How our solution helped restaurants achieve a great number of sales in just 3 months
We already installed our solution and seen some big improvements for the restaurants in just 3 months, since the app was up and running. Taking in consideration their location, marketing strategies and their notoriety, using our dedicated mobile app, there are restaurants that had a staggering growth of 330% in orders and 221% in sales since September.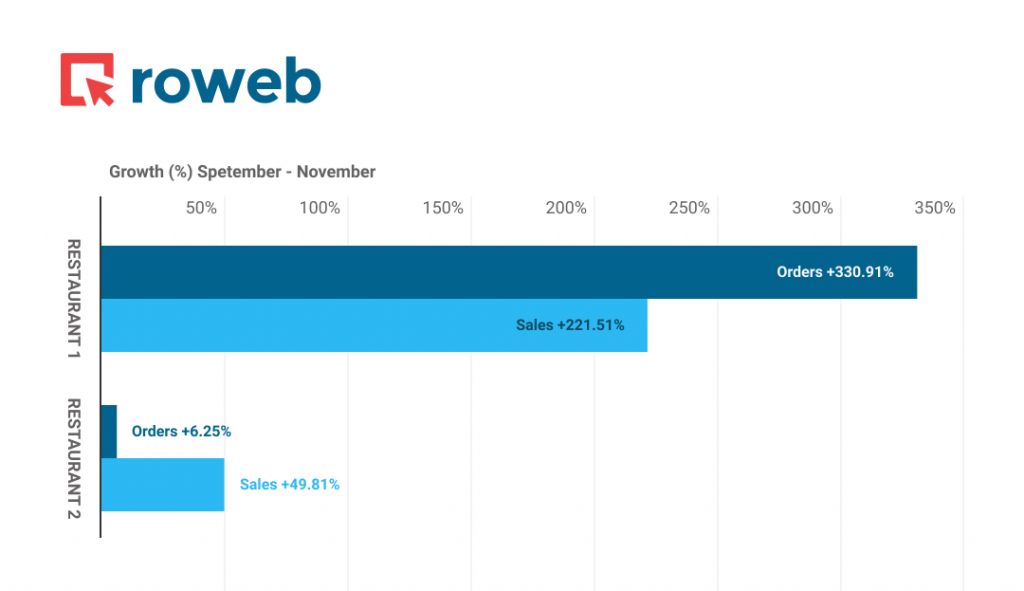 According to a study by Preoday, 70% of consumers answered that they'd rather choose to order directly from the restaurant, than paying a 3rd party app. This is revealed during 1 month of using our app where 5 restaurants managed to increase their orders and sales just by letting their customers know they can order directly.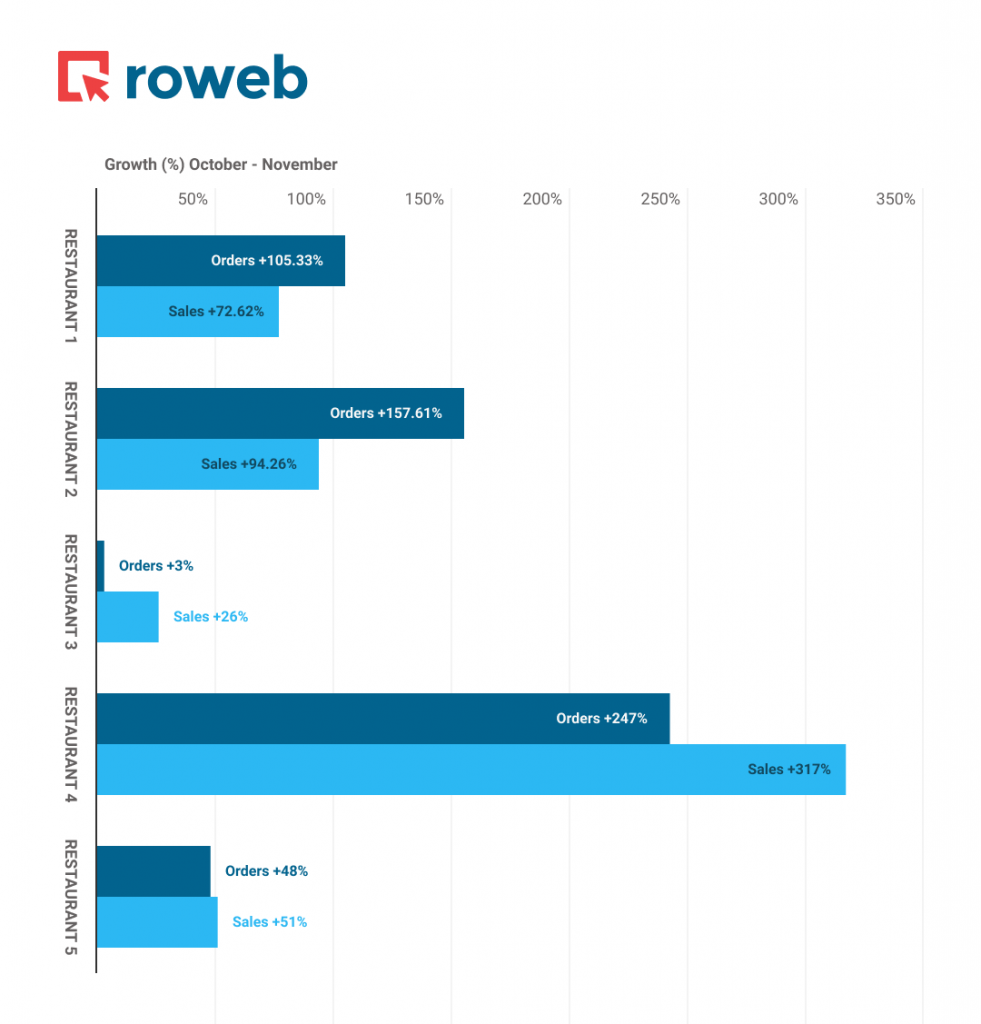 When a restaurant has its own app means that it will have access to something of high value – consumer behaviour. With its built in CRM solution, Roweb's dedicated mobile app can offer valuable insights on how a client behaves and can start to build loyalty marketing strategies in order to increase customer retention.
Why should you consider your own app built by Roweb?
Our solution is made so that online delivery, sales/reservations/ orders & marketing to be up and running in just 3 days. Besides that, Roweb does not perceive any commission on orders. Through this app, the clients can order food, give feedback, and receive notifications.
What are the main functionalities?
own delivery system that can be used easily by both clients and employees;
0% commission for all the online sales – eliminating commission for third party delivery services;
online menu with contactless access to reduce risks and boost the clients' trust;
extended restaurant services through online offers in only a few days by creating a dynamic and ready-to-sell website;
ordering mobile app for placing your restaurants offers only one "touch" away from your clients;
CRM based mobile app that offers you valuable insights about your customers' behavior (ordering history, contact data, client type);
real-time feedback from clients (by using QR codes and NFC tags) and the opportunity to optimize your offers based on valuable information;
taking over and efficiently distributing orders and managing all your business remotely;
promoting the restaurant's offers to the existing clients and to the potential ones, as well.
What are the costs?
Roweb's philosophy is to help companies grow through innovative technology. This is the reason behind 0% commision, so that a restaurant should focus on expanding its delivery and services. Besides that, restaurants can ask for installment payments according to their need.
We are ready to answer all the questions above (and even more).
Get in touch with us to start discussing your next app for your restaurant
Is Roweb the software company that you need for your project?
Since 2006 the longest ongoing
relationship with a client
130+Senior developers ready to work in
dedicated teams
Since 2004experience
in software development
TECHNOLOGIES THAT WE USE:








METHODOLOGIES
Agile
Scrum
Kanban
Waterfall
ROLES WE PROVIDE
Project managers
Business analysts
Developers
Q&A specialists
Scrum masters
UX Designers