If 10 years ago IoT seemed to be closer to fiction rather than to reality, nowadays we have Internet of Things examples at our fingertips – literally. Companies around the world started to adopt IoT technologies as a result of both market trends and their needs.
Things are evolving rapidly and so are consumers' expectations. Somehow, IoT apps' presence in companies and homes started to look like a must-have for the new world.
And what is more surprising is that although the figures show overall growth in the IoT market, its growth is just beginning.
The IoT (Internet of Things) market revenue is impressive, proving by figures (e.g., in 2020 – $212 billion worldwide) a growing trend embraced by both users and companies. Smart cities, smart homes, performant remote management, etc. – all these will rely (sooner or later) on IoT. And things won't stop here.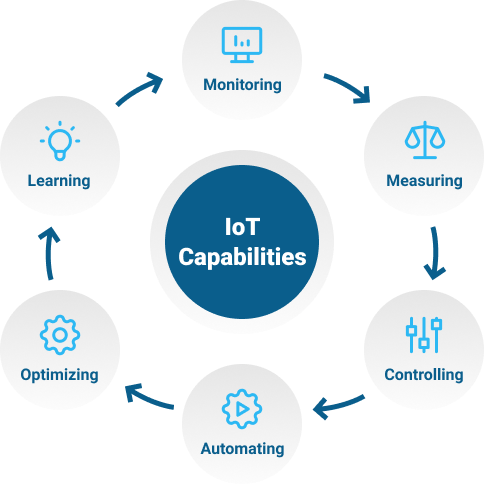 IoT market overview
In the past years, the main promise of IoT applications referred to a cleaner environment (e.g., used for reducing waste), fewer costs (by reducing tasks volume and replacing humans on specific activities), and more productivity (allowing people and companies to keep a better focus on core objectives).
Resuming the impact expected with IoT applications, there are several levels at which its effects are more obvious:
security – real-time monitoring of connected devices;
communication – simplified and remote communication;
efficiency – less human intervention, more dynamic tools;
analytics – instant access to relevant data.
The number of installed IoT devices is on the rise, which promises to bring great value to our lives. IoT might be the next holy grail in terms of technology with sensors getting more precise, greater capability networks, and high computing power at our disposal.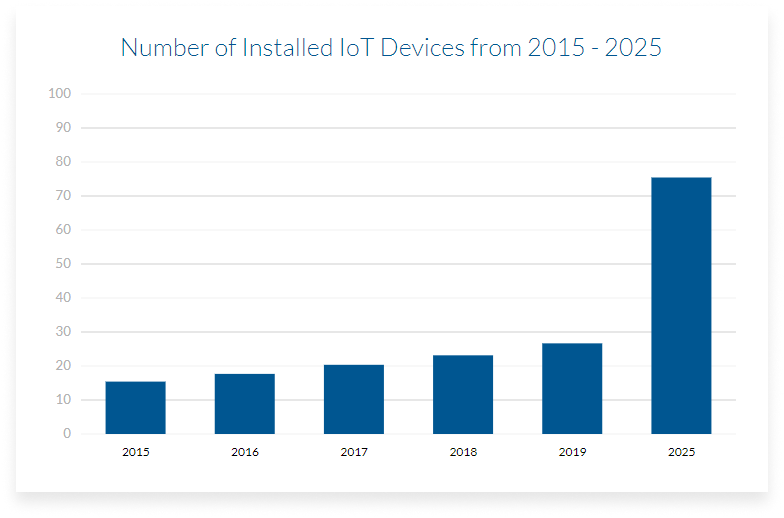 Source: FinanceOnline
IoT story is far from being over. In fact, the greatest boom is yet to come. Take a look at what stats say about how the IoT market will evolve:
30 billion – estimated number of IoT device connections by 2025 (IoT Analytics, 2020);
11.7% – the 2020 market share of IoT application software (IDC, 2020);
The amount of data generated by IoT devices is expected to reach 73.1 ZB (zettabytes) by 2025;
By 2025, there will be 152,200 IoT devices connecting to the internet per minute.

Source: FinanceOnline
How IoT market changed during pandemic
During the pandemic, IoT applications proved as key tools for responding to urgent needs. From facilitating remote work to providing more safe and healthy work environments (e.g., ensuring air quality, sanitation in buildings and transit systems, etc.) IoT helped both people and companies to adapt fast to the new reality.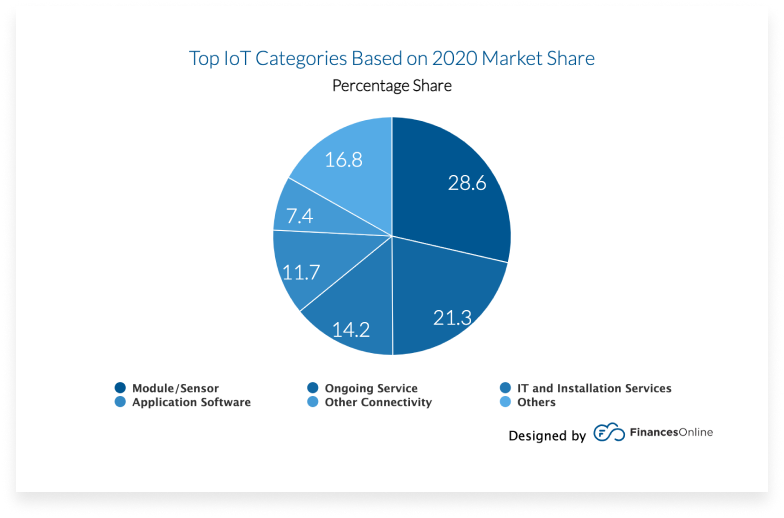 Source: FinanceOnline
Need support for building an IoT app that is the right fit for your business?
IoT applications – Transportation
Indeed you saw the ever-increasing number of cars while the road infrastructure remains the same or improves slightly. Imagine you own a fleet of vehicles, and you want to know their state at any given moment. Well, our prepared staff can help you with applied IoT technology to cars in the form of fiscal taximeters.
By choosing this solution, you can take advantage of remote monitoring and control for your taximeter. The solution offered by our experts is fulfilling the requirements of the financial regulations and is offering features for the equipment's producer, distributors, and end-users.
The installed features include:
Storing & Retrieving information about devices operations and users;
Facilities for remote device configuration;
Regular fiscal reporting;
Online Data Visualization (including geolocation, taximeter status, and parameters).
If you want to know more about how we use the technology and maybe implement it for your fleet of vehicles, contact our staff and request more information. We are always happy to help you grow your business.
Internet of Things example for transportation: TaxIoT
IoT fleet management market
The transportation industry is one of the most receptive when it comes to IoT adoption. For instance, to stay in the game and cope better with the market changes, the taxi companies are more willing (than ever) to implement IoT-based fleet management solutions.
Devices management. Real-time route tracking and control. Extracting data for daily and monthly reports. Respecting all National Regulations. (etc.) There are plenty of things a fleet manager has to do – usually using disparate solutions.
TaxIoT solution we developed
Based on these challenges, we've identified the opportunity to develop a complete digital solution able to integrate all the data and the tools needed in one place and allow admin users to manage activities remotely.
This type of solution could integrate devices, networking, and software applications, assuring edge and cloud data processing and operations, and interconnection with business applications.
The web-app helps taxi companies' owners to save money and be flexible by monitoring applications and scale up the infrastructure.
We define it as an off-the-shelf fleet management solution because it has an already-developed architecture easily customizable for new implementations.
TaxiIoT architecture
The app's architecture is based on multiple microservices:
Agent Portal: Microservice for the interactions with the client app.
Coordinate Service: Microservice for daily coordinates and routes storage.
Dispatch Service: Taxi dispatch system for real-time activities management.
GeoData Service: Microservice allowing instant calculation of the distances.
Scoring Service: Fast calculation and overview of the associated score for each registered item.
Other Microservices: Auction Service / Authentication Service / Email Service / Logger Service / Receipt Service / TcpProxy Service
Read the complete case study to find out what functionalities are integrated into the TaxIot solution, and what technologies we used for developing it.
IoT applications – Agriculture and Ranching Industry
One of the applications of IoT is in agriculture. Think of it like this, you have a fleet of agricultural vehicles that you want to monitor, how they are being utilized, or maybe to see how well they perform and take precautionary actions before they break.
Or, you might want to monitor crop growth and do different field operations before they get in trouble and you lose the production for that year. Another application is storing grains more safely in controlled silos. All of this is available right now and you can reach out to professionals to implement the best solution for you.
By using IoT Ready Solutions, you can calibrate irrigation, pest control, and optimal scheduling of agricultural works. You have real-time parameters about the weather, air, and soil. You also have access to historical data for analysis & operational improvement.
Internet of Things example for Agriculture and Ranching Industry
Smart vehicles that require increasingly less human intervention
These vehicles are equipped with sensors, computer vision, performant GPS and machine learning farming capabilities.
There are two types of IoT approaches for ag vehicles: managing autonomous ones or getting IoT solutions to improve performance for existing ones.
Machines equipped with smart technologies and connected to apps – so, vehicles that still require an operator/ driver.
Fully autonomous vehicles that can be managed remotely from the office or by artificial intelligence.
Besides those smart vehicles, we must also mention autonomous plant protection drones that can be a tremendous help for farm managers.
Installed sensors for gathering information on time and enabling rapid intervention
Several types of sensors can be installed for gathering relevant information remotely and even offer the possibility of fast intervention. Can be integrated sensors for monitoring (some examples):
soil;
humidity;
moisture;
light;
air temperature;
CO2;
solar energy.
IoT applications – Logistics, Distribution, and Retail
Do you have a truck or a fleet of trucks and you were wondering how to manage them from one location? Or maybe you need to know more about their load? Then you will be happy to know that the Internet of Things can be applied to logistics, distribution, and even retail.
One of the applications of this technology in Logistics is truck monitoring. Think about seeing all the trucks you have and using info about their loads. This way, you will be able to make all the right decisions in regards to your auto park.
Internet of Things example for Logistics, Distribution, and Retail
Logistics
IoT solutions are essential in Logistics at several levels: operational efficiency, safety and security, customer experience, and new business models.
What can you monitor with IoT apps?
(Some examples)
status of assets;
parcels;
people;
warehousing;
air temperature;
operations;
freight transportation.
Distribution
What can be monitored with IoT solutions?
equipment, containers, packages;
products status and placement;
physical assets status;
warehouse inventory;
temperature for perishable products;
performance of equipment and productivity of workers;
warehouse space;
products loading process.
Retail
vending machines for detecting and reporting inventory or maintenance problems;
QR codes for providing real-time feedback or accessing information from a distance;
interactive shop displays;
self-checkouts systems;
connected cameras.
IoT applications – Workplace
From the smart office concepts (able to simplify remote work, increase productivity and provide a safe workplace) to automated technologies to reduce environmental impact (e.g., reducing energy consumption), IoT applications became a valuable asset for every company.
Beyond standard solutions, IoT developments for building management must be approached as specific ones (taking into account several types of buildings).
Custom developments are recommended especially for:
industrial buildings;
historical buildings;
educational buildings (schools);
cultural buildings (museums, art galleries, churches, etc.);
commercial buildings (mall, retail gallery, etc.);
touristic buildings (hotel and apartments).
Internet of Things example for workplace: Living+ project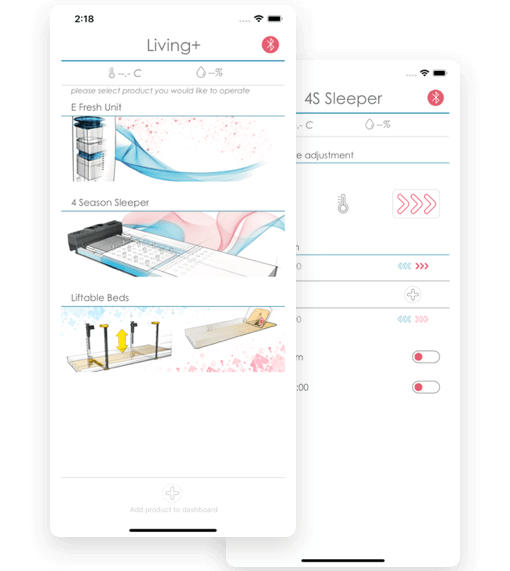 Project highlights
Mobile Agency was interested in developing an iOS app that was to be used in a technical test center for a truck company to test new possibilities;
To support the showcase, we developed an iOS app that interacts with the devices in the mockup (a bed, air, fresher and other things) through Bluetooth so that users have great control over them and quick access to an enhanced experience;
The project (Living+) came along with a challenge: this app is driving hardware based on a Bluetooth connection, and the hardware was located in the Netherlands. Yet Roweb succeeded in creating a driver relying only on own skills and available documentation.
"For this project, Roweb came with a nice approach for the project and a highly experienced developer. The approach and the developer made sure that we got the result we needed and that we could deliver something valuable to our customer."
Frans-Willem Duijnhouwer / COO Mobile Agency / CEO EasyIQ
The solution
We developed an iOS app that communicates through Bluetooth with the devices in the mockup (a bed, air, fresher and other things) so the users have great control over them and easily have access to an improved experience.
There are three devices that the app can control. They are accessible via a Bluetooth manager (one Bluetooth manager for the e-fresh and season sleeper, and another Bluetooth manager for the liftable bed).
Some features are simulated in the app, and some are actually The Bluetooth manager works as a bridge between the app and the devices.
"We have worked with Roweb on several projects. We've created an app together where we did the design, and Roweb did the app development. We also created some GRPC drivers for another customer and made a website running PHP work with WebSockets. Working together went great, and what I found absolutely fantastic that they have been able to create a Bluetooth driver for hardware that was in the Netherlands, while they were at their offices. Roweb is a professional partner that I can recommend to other app developers."
Frans-Willem Duijnhouwer / COO Mobile Agency / CEO EasyIQ
Find out more about this app's functionalities from the complete case study.
Why develop IoT solutions with Roweb
Roweb is a custom software development company, started in 2004 with offices in 4 major cities: Bucharest, Pitesti, Craiova, and Ramnicu Valcea.
With our 130+ IT professionals' experience and the latest software development technologies, we focus on building Enterprise, Web, Mobile applications, and E-commerce solutions.
We work with companies from all over the world, and we understand the needs of and provide solutions for companies of all sizes ranging from start-ups to large enterprises.
Custom services and complete IoT development teams for turning your ideas into innovative end-to-end solutions.
IoT development services we provide:
IoT consultancy;
Hardware programming and interfaces;
Networking and communication;
Security systems;
IoT analytics;
IoT integrations;
IoT Apps Development;
System Design and implementation.
Technologies we use for IoT projects: LPWAN, GPRS, Microsoft Azure IoT: IoT Hub, IoT Edge, Stream Analytics, .NET, C#, NodeJs, Angular, SQL, NoSQL
What our clients say about working with us<

"Roweb proved to be a great partner to work with, providing us with a highly responsive team. During our collaboration, I found it very easy to communicate with them and they were very flexible in meeting our requirements."

Jean Waucquez
Owner, WHISE nv

"What we liked best about working with them is the fact that they delivered a tight-knit team that's used to working together efficiently, instead of individual developers, as it is the case with many staff augmentation services providers. The team proved capable of making a smooth transition from PHP to Node.JS as Ezebee grew and we needed to scale up, and they quickly learned new skills and adapted to our requests. I would readily recommend Roweb for their innovative mindset fuelled by passion for their work and love of new challenges."

Ossian Vogel
Co-founder, CEO Ezebee

"We were impressed by the level of professionalism that Roweb showed throughout our collaboration. They have always managed to understand our needs and wishes and help us turn our ideas into reality. Roweb continues to be our partner, maintaining communication with TourPaq users, taking care of daily corrections and planning the development directly with them."

Bjarke Hansen
CEO, Owner TourPaq Aps

"There is no better partner than Roweb. Their large arsenal of competencies exceeded our requirements. The implementation team is confident, consistent and reliable, delivering perfectly to specification every time and far ahead of schedule. The developers are incredibly positive, adept, creative and artful, pouring heart and soul into a project."

Paul Horner
Director at DiGiConsul GmbH

"Roweb have also developed new applications for us including web and Windows desktop products used by many users within our company. The location in Romania is very convenient for the UK, the level of English spoken by developers is very good and I have no hesitation in recommending Roweb as a offshore development partner."

Tim Styles
Chief Information Officer at nGage (formerly Human Capital Investment Group)

"Gauge has been working with Roweb since 2011. They are quick, cost effective and direct, every project has been delivered to meet its objectives. Roweb also provides the skills and knowledge to help enhance your processes and functions prior to build and make them future proofed. Not only have we developed our own solutions with Roweb, we have developed 3rd parties projects and introduced clients direct."

Spencer Wright
CEO / Head of Development Gauge360