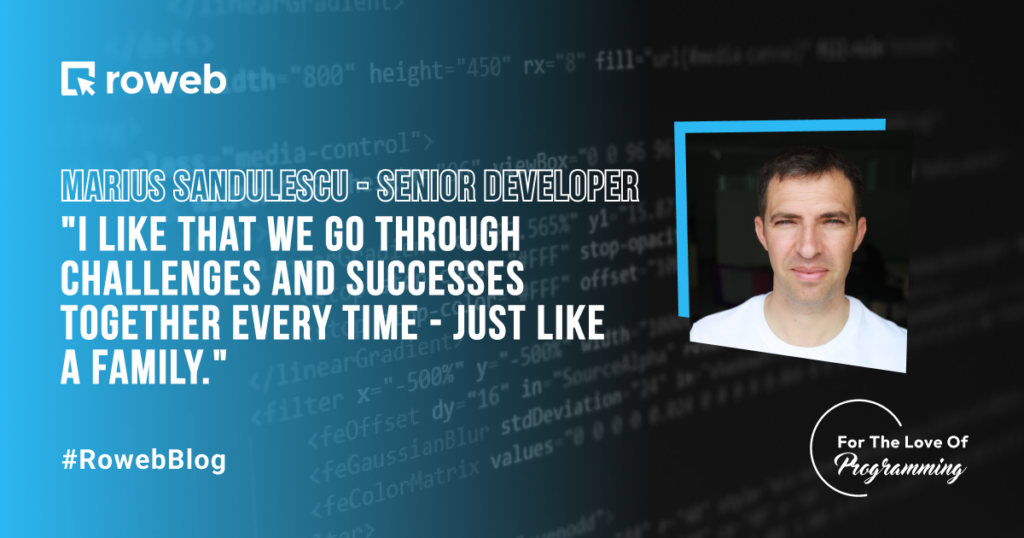 Marius Sandulescu – Senior Developer "I like that we go through challenges and successes together every time – just like a family."
From 2005 until now – Marius Sandulescu, part of our team. And over time, many memories and challenges helped him become an experienced senior developer and a man you enjoy being around when he tells stories.
Below, you can find some details from his professional and personal experience.
#ForTheLoveOfProgramming – The Tech Perspective
How many years have you been part of the Roweb team?
Marius Sandulescu: I came to Roweb in September 2005, when I finished college. I had heard of Roweb because I attended a presentation held by Mirel Ionescu (Managing Partner of Roweb) about this new company. So, following Mirel's invitation, I came to the Roweb headquarters and met Viorel Costea again (who was also my high school teacher from the 9th to the 11th grade.)
During college, I lost touch with Viorel, but we met once by chance, and he told me about the IT company that was starting to take shape. Thus, the brand name was somehow familiar to me.
The visit to Roweb was suitable for me as I was finishing college. So I talked to those in the company at the time and told them I wanted to join the team.
What made you stay on the team?
Marius Sandulescu: We all get along with each other. From the beginning, I liked the atmosphere at Roweb, and I think it suits me. However, I also liked that we were united when there were difficult situations and got through them well, just like a family.
A memory from the first years in the company that nothing will be able to erase from your memory.
Marius Sandulescu: I have many memories because it was a beautiful time. And I remember that we always shared impressions. We helped each other.
I also remember 2013, when I had the opportunity to travel to Europe, visit a client and find new ways to develop the project. I was lucky to say that I saw exciting places in times when ticket prices were not affordable.
Also, in the beginning, we were more than colleagues. We participated in everyone's personal events, such as weddings, which made us get to know each other very well and get closer.
The Roweb as it was when you joined the company vs. the Roweb of today. What do you think has changed? What remained the same?
Marius Sandulescu: A lot has changed, starting with the number of people in the headquarters. Now we have colleagues from all over the country, and the company has more than 130 employees.
It's natural that, as the company grows, the expectations, the objectives, and the rules of working also change.
What made you choose IT, and how did you choose it?
Marius Sandulescu: I was always surrounded by technology and computers. When I was little, I used to play with HCs. Then, I attended the faculty of Informatics (University of Pitesti) and was even in the first generation of graduates.
In those days, teachers were still finalizing their lessons. I remember studying Mathematics a lot, although the faculty profile was Computer Science. So I learned more by practicing at Roweb.
When I started, the web part was not a trend in the labor industry. Most of the apps were local. But the technical side always attracted me, and I wanted to pursue a career in this field.
Who did you first work with within the team, and what were the first projects?
Marius Sandulescu: I worked for many years for a client from the USA that offered design services (including furniture items) for important events such as conferences, summits, and private events. I was an office colleague with Stefan (Nicolae), and we used PHP in our projects. Then I switched to Pearl technology.
What projects are you currently working on, and from what position?
Marius Sandulescu: Now, I am working with a client in the HR industry. I transitioned from PHP to a technology that meets the current client's needs, Pearl. I was among those who accepted the challenge.
I like the project. Although the technology is a bit older, the project is complex. It includes recruitment, submission, and analysis of CVs. It is a complete system and a tool that significantly simplifies the client's activity, helping him save time and resources.
What are the challenges in your project?
Marius Sandulescu: I switched to Pearl, even though I worked on PHP for many years. I think that was the main challenge. And now, I want to grow the project just like I did with the others.
How did you evolve from a professional point of view in the company? (job position, projects etc.)?
Marius Sandulescu: I have evolved quite a lot and am glad I had the opportunity to try two types of complex technologies. I started as a junior (a fresh graduate of the tech faculty) and became a senior developer. I also have the opportunity to coordinate and teach those at the beginning of their IT journey.
Some insights about the atmosphere in the current team.
Marius Sandulescu: People are very ok. Understanding and empathy characterize us. When someone new comes to the team, we always support and encourage him. As a result, we improved the team integration process and became faster and more efficient.
And I consider it an advantage that we are not a corporation. So we collaborate more quickly, we exchange information faster, and we don't wait a long time for rigid procedures or approvals.
What advice would you have for a person coming to work at Roweb?
Marius Sandulescu: To learn. Not to be discouraged and persistent and eager to learn and evolve – especially since he has the support of his colleagues.
#ForTheLoveOfProgramming – The Human Perspective
If you hadn't worked in IT, you would have been, most likely:
Marius Sandulescu: Electrician or automotive engineer, most likely. As are most graduates from The University of Pitesti.
Your asset in the team is:
Marius Sandulescu: Patience, calm, and good organization. At home, I have all things put in a rigorous order. I think this is the "sin" of people who work with databases.
If Roweb were a friend, his top quality would be:
Marius Sandulescu: I would say humanity and empathy.
If Roweb were a friend, his main flaw would be
Marius Sandulescu: Hmm, I have no idea. Perhaps more challenging to understand for those who do not have patience.
When you are not at the office, we find you most often:
Marius Sandulescu: Practicing sports. I have a daughter, and we like riding bicycles. We also like roller skating. But I also practise sports on my own: I go swimming.
If your story in IT were an adaptation after the movie, it would have the title:
Marius Sandulescu: Let's say Dune. Maybe the comparison with my story in IT is "too much", but we can consider that there are common elements if we think about the conditions and how Roweb evolved 🙂