A multi-vendor marketplace platform that can be developed in only a few weeks – this is what every entrepreneur wants when it comes to launching fast, a profitable business.
Not everybody is interested in getting apps made from scratch, thinking that it's no need to rewrite a path when you have hundreds of already-developed solutions and smart features within reach.
(Based on our 16+ years of experience in software development, we can help each of our clients to discover fast what suits best its interests: an early adoption or a full-customized solution?)
That's why, not long ago, we've started to develop a solution architecture with a specific entrepreneurs' need in mind: to fastly get on the market by using a multi-seller marketplace app.
A brief recap of how a marketplace solution works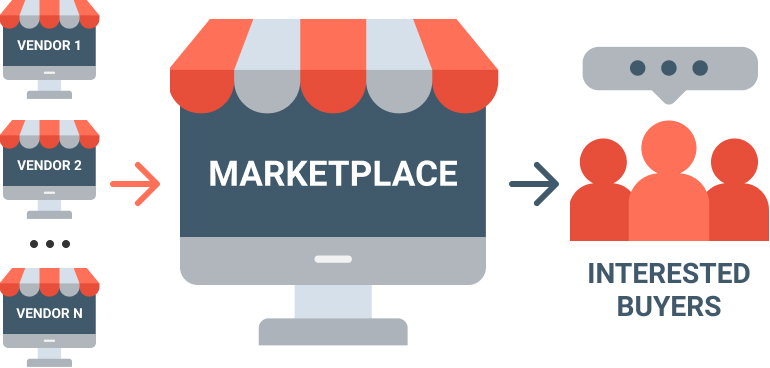 Multiple vendors register to an online platform where they can upload, promote, and sell their products.
A multi-vendor marketplace platform generates great advantages for both sellers and clients, but also for the marketplace owner:
key-advantages for the sellers: reach the right customers in no time;
key-advantages for the clients: see and engage with relevant offers only;
key-advantages for the marketplace owner: cost-efficient and effortless manageable business.
About our solution (user levels, features & functionalities, etc.)
Our marketplace solution can be adopted by any business that uses eCommerce principles and sales processes initiated (and even completed) online (retail, real estate, etc.)
To build an example, we had to choose a field of reference. So, we've created a multi-vendor marketplace platform for Real Estate. (Mostly because this domain allows us to show advanced features and of the simplicity with which users can track and engage in a sales process.)
Features and functionalities integrated into our pre-defined marketplace
Designed with 3 types of users in mind: marketplace admin, agents, clients;
Customized view for admin/agents/clients – multilingual and multi-currency platform;
Reachable info through smart search features – smart search filters integrated into a responsive design that works seamlessly on both mobile and web devices;
Properties displayed by relevance/importance/date – several DISPLAY features that are able to generate relevance and shorten the trading process;
Transactional tools and info only one click away for users (e.g., direct contact tools to connect sellers and clients simpler and faster, push notifications – e-mail notification for every matching property).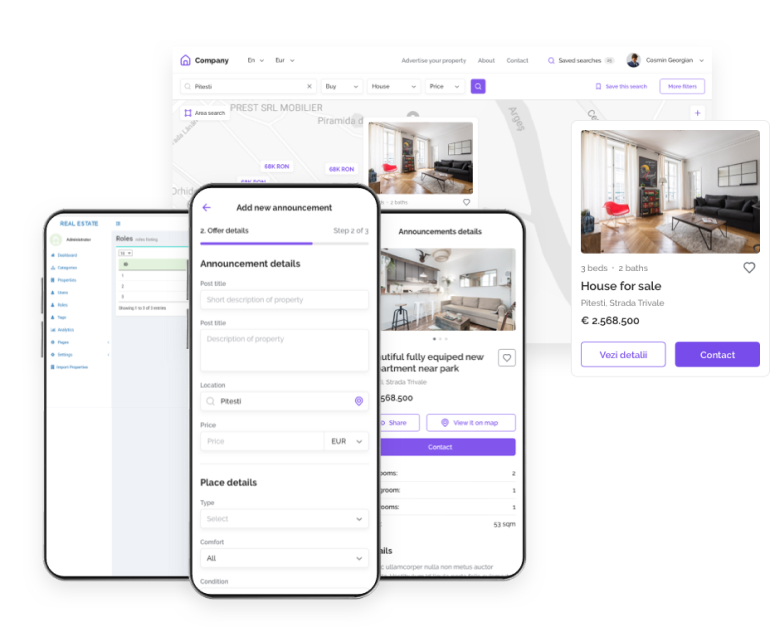 DISCOVER MORE ABOUT THIS MARKETPLACE PROTOTYPE
3 types of users – 3 Panels
Admin Panel
Dynamic dashboard that offers quick access to the main admin functions (categories, utilities, properties, users, analytics, settings)
Easy users management & easy content management (list/add/edit/remove custom filters) for each request-offer match (request = filtering criteria)
Matchings notifications by sending email notifications to the agents.
Fast data import: import estates (items) from FlexMLS and WHISE CRM.
Useful insights from Analytics (history for each user)
Actions: Search, Login, Logout, Contact, Hide, Remove, Add, Save search
Quick data view: Results, ID, Time, Location, Page URL
Wide range of customizations(background image, About Page content, on-page SEO optimizations (Meta Descriptions & Meta Titles, etc.)
Easy addition of new properties by following 3 simple steps ( property type, add descriptions (locations, photos, attributes, etc.) and contact details (name, phone. email, etc.)
Custom filters: cities can list properties, and each agency/agent is displaying all the properties in their portfolio;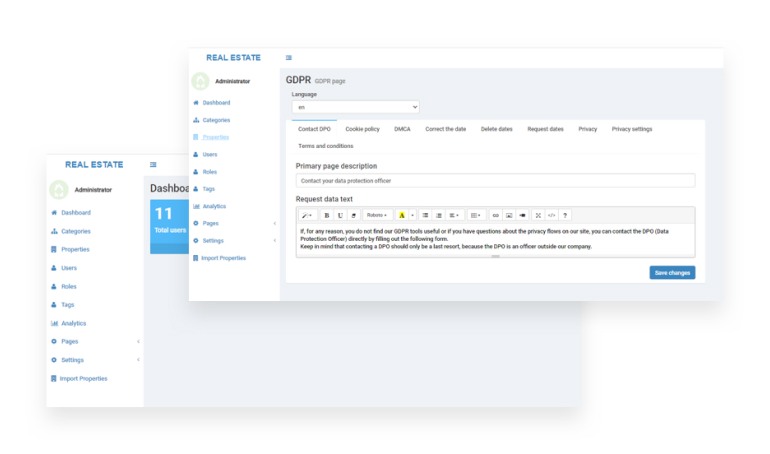 Seller Panel
Matching Feature: the mixed parameters option when performing the search brings agents' offers to qualified buyers' fingertips.
Matching notifications via email.
Smart tags setups (low price, hot offer, exclusive, comparative prices – old price vs new price, etc.).
Market trends in Analytics (sales evolution indicators, rentals on price/mp2, location, city, etc.).
My properties section from:(where the agent can see the number of "likes" for each of his listed properties, the number of "hidden" for each of his listed properties, properties details, etc).
My Profile section (name, logo/photo, phone number, website, email/password, billing address individual/agency).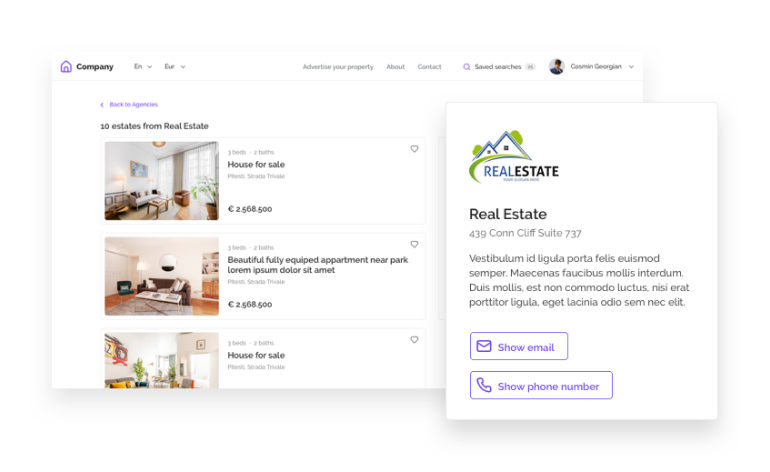 Client Panel
Matching Feature: the buyer can easily visualize only the properties that match his interests.
POI Nearby – mapping client's interests with nearby searches (transport, restaurants, bars, schools, healthcare institutions, parks, grocery stores, etc.
Options for Favorites & Hidden
easy adding to Favorites the properties that may be a good match;
easy hiding properties that do not respond to his interests (and one-click unhiding them anytime later).
Multiple options for Search Results View – when proceeding to the properties' research, can be featured through a list, grid, or directly on the map.
My account section for the Listing Agent Fast access to listed and matched properties.
My Account Section for the Buyer – One-click customization for searches and requests and email notification for new matched properties.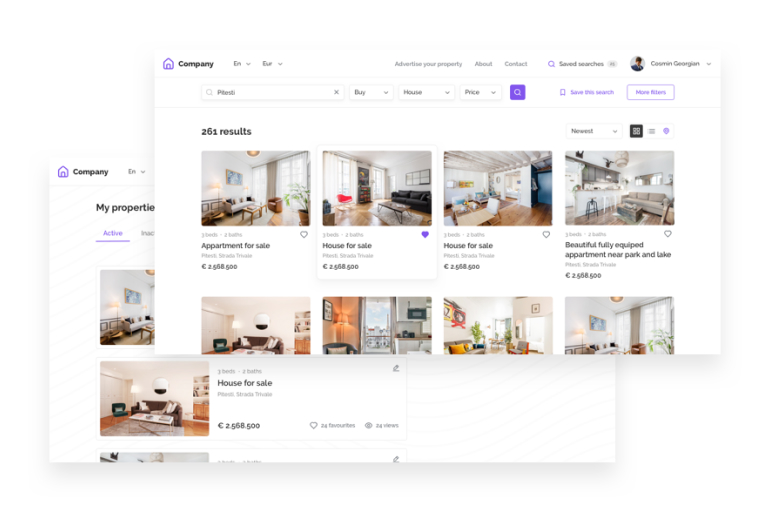 What is the Development Process for Your Marketplace
Step 1: Customizing the Prototype According to Your Requests Early adoption or extended features? According to your needs, our dedicated development teams will take over your project and turn it into a functional solution.
Step 2: Implementing and Testing Your Marketplace Platform We pay close attention to details and functionalities – that's why we will deliver this platform only after it is well tested on multiple devices.
Step 3: Offering Training & Technical Maintenance for a Performant Use Even if our solution is intuitive and user-friendly, we know how important it is for our clients to acclimate fast and correctly to its features and functionalities. That's why, after implementation, you get full training and technical maintenance for you and your staff.
What if you need more?
From specific features to third-party integrations or extended functionalities.
Developing a prototype-based marketplace solution doesn't mean that we limit the development to basic features. We love to think outside the box, keep things flexible, and adjust to your objectives.
Once you request a personalized offer, we will pay special attention to your specific needs and expectations.
ARE YOU READY TO GET YOUR OWN MULTI-VENDOR MARKETPLACE PLATFORM?