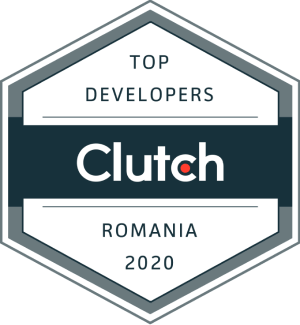 Here at Roweb Development, we know that a harsh economy is no excuse to slow down your operations. That's why we're here to help! We create cutting edge solutions for our clients so they can focus on repairing and optimizing other areas of their business offering. We always take a flexible approach, so we can meet our clients where they're most comfortable. Whether you need a web or mobile app, web portal, e-commerce platform, or even IoT solution, we'll make sure you have the infrastructure you need to excel!
In recognition of our success and impact, we've been named among the top B2B providers partner in Bucharest, Romania by Clutch! Clutch is a B2B market research firm based in the heart of Washington, DC. Their unique reviews-based formula helps companies pair with suitable vendors.
We couldn't have earned this award without the help of our great customers. They took time to engage with Clutch to assess our impact on a number of parameters. We were graded on the basis of our quality, attention to deadlines, pricing, and overall project management skills. We're pleased to say we've amassed a 4.9 out of five stars on Clutch, based on that client feedback! Take a look at a snapshot of our most recent review below: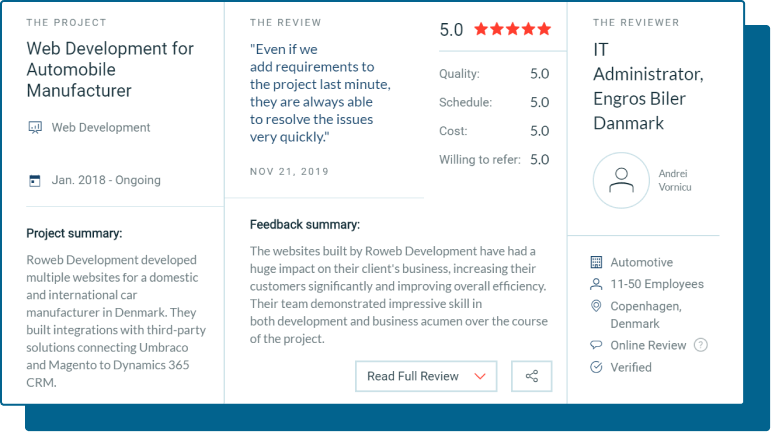 "We are thrilled to have been chosen as one of the leading top B2B Companies in Romania, by Clutch. This award is further recognition of our presence and expertise and the promise of the quality we deliver. Thanks to our team for the hard work! "

Viorel Costea, CEO
Interested in learning more about how Roweb Development
can help you exceed your goals?
Drop us a line and we'll walk you through
our award-winning strategy!