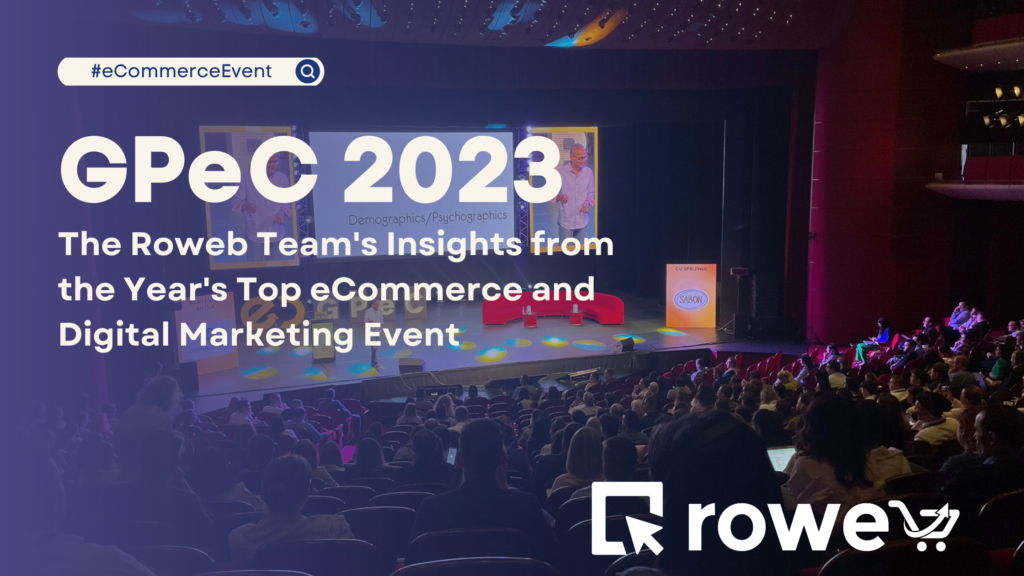 Roweb at GPeC 2023, one of the most significant eCommerce events in Romania.
Following our participation in the international exhibitions and conferences such as MWC Barcelona and Gitex Global Dubai this year, we have decided to complete our agenda by attending GPeC 2023.
However, this event brings together industry experts who provide a wide range of eCommerce solutions and services, including software products, applications, digital marketing, transport, logistics, and sales support activities.
What do Roweb and GPeC 2023 have in common, and why did we choose to participate in the event?
The experience: GPeC Summit has an 18-year tradition, whereas our brand has provided software services since 2004, serving clients from Romania and beyond.
eCommerce solutions: GPeC 2023 is more than just an exhibition of eCommerce service providers. This event is an excellent opportunity to network with a dynamic and creative community that is focused on the digital transformation of their businesses. As part of this community, we provide solutions and dedicated teams to support and contribute to its growth.
eCommerce trends: In line with past years, the GPeC 2023 event established the eCommerce trends that will shape the industry, featuring conferences from leading speakers. Our team was present to learn about these trends and promptly incorporate modern solutions into our work for clients across different industries and verticals.
Award ceremony. Each year, during the GPeC Summit, awards are presented to the most significant companies in Romanian Online Commerce. One of Roweb's eCommerce solutions has been honored with the "Best eCommerce website" award for the Home, Garden and Tools section.
Some Customer Success Stories that we showcased GPeC 2023
We attend the GPeC Summit to connect with eCommerce trends, potential partners and clients and showcase our eCommerce solutions portfolio.
Thus, at our team's stand this year, we discussed various projects, including:
Horeka by Roweb – a 360-degree digital solution for managing orders, deliveries, and marketing without charging commissions, designed for Horeca business owners.
Searchency – an advanced search tool developed by Roweb with a positive impact on the conversion rate.
O'Mac – a complete sales experience based on garden, home and agriculture tools and equipment, using Magento 2 technology's intuitive functionalities.
Litera – website optimization services designed to meet clients' and readers' needs. The functionalities aimed to improve the website's visibility and accessibility without interfering with the client's business activity.
Boutique Homes – an eCommerce platform for which we provided technical expertise that respected security and quality while maintaining flexibility.
About the GPeC 2023 edition – the perspective of the Roweb team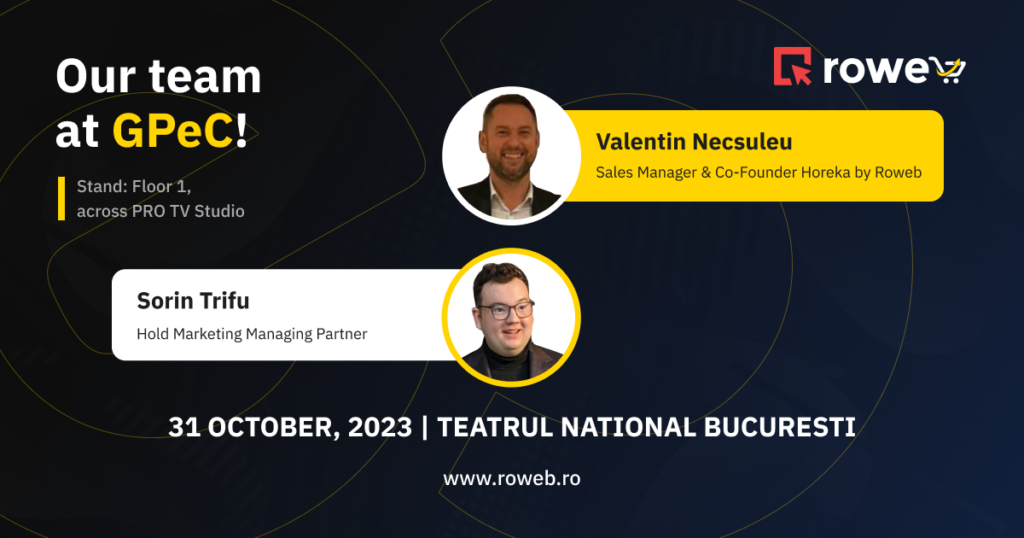 At this year's edition, our company was represented by:

Sorin Trifu
Hold Marketing Managing Partner
"We have been collaborating with the GPeC Summit organizers for a long time, and participation in such events represents an essential component of the Marketing and Sales strategy. GPeC 2023 was the place where we managed to meet with our active clients, as well as with potential partners.
We met individuals eager to scale their businesses interested in new software solutions that could streamline their processes, automate tasks, and improve the profitability of their advertising investments.
Also, at this year's event, we presented the new channels added to our portfolio: Criteo, RTB House, Email Marketing Automation, and Loyalty."

Valentin Necsuleu
Sales Manager & Co-founder Horeka by Roweb
"Participating in GPeC is always a great experience, both for networking and the meticulously prepared eCommerce conference.
It is the perfect opportunity for us to exchange impressions and ideas, interact with people with the same vision as us, and build new partnerships.
As time passes, the GPeC Summit outlines a growing community of people passionate about eCommerce, oriented towards progress. And I'm glad that Roweb is part of it."
Roweb's eCommerce team – a reliable partner in digital transformation trusted for:
Experience in the eCommerce industry since 2009;
The development of various custom solutions based on modern technologies such as Magento 2 & WooCommerce;
Dedicated team allocations for each application and project, covering all roles necessary for end-to-end development;
The diversity of eCommerce solutions: from online stores, SaaS solutions and marketplace platforms to Digital Marketing (through the Hold Marketing agency), data analysis platforms, and 3rd-party integrations.