Workplace: A new office space & a flexible working system
The people behind Roweb's brand
Practice stage
Internship program
Extending the existing projects & new projects in Roweb's portfolio
Business events
Career events
Dedicated digital products developed by Roweb
#ThePeopleBehindTheBrand
People were always the most powerful resort of Roweb's brand. The story behind the brand (started in 2004) represents the key algorithm that gravitates around any business decision: a mentor who chose to leave his teaching job for building – together with some of his best students – an IT project. And all these in a context where digitalization barely started to define itself.
After 17 years, the company's top management is the same – same people, same stability and same determination for making a difference in the market – but with a bigger team: 130 developers, offices in 3 cities and projects developed in over 30 countries.
Moreover, thanks to the employees who chose to stay in the company for over 10 years and grow together with the company, extending the projects and the teams became a mission possible.
Despite any challenge, 2021 represented a growth year for Roweb – gaining new projects and expanding its teams:

#ForTheLoveOfProgramming
The practice stage in 2021
2021 was the first year when Roweb organized the practice stage exclusively online.
Beyond any challenge, the practice stage was a success.
As usual, the admission in the program was possible based on a preliminary test. Through the testing phase, mentors wanted to identify if the students' interests matched the program's objectives.
For evaluating tests and selecting the students we had a team of 15 senior developers, making the process as professional as fair.

"For over 7 years, since we have been doing the internship, we have refined a process by which students start from the basics and build one by one until they have a unitary application. The trainers / mentors are with them throughout the internship and help them when they get stuck."

Stefan Nicolae
Dev Team Leader @Roweb Pitesti

"Once in the internship program, it is very important for the student to be 100% involved: to be attentive to what the mentor explains, to be curious, to do research and to ask questions so that he can do his "homework". In addition, it is essential to understand the idea of teamwork and team players, because no one competes with anyone. It is a great addition for all colleagues, regardless of level and rank, to help each other."

Florin Obogeanu
Dev Team Leader @Roweb Craiova

"Those who want a job at the end of their internship should know that the chances of employment depend only on the attitude, training and ability to learn the technologies we work with – modern technologies used in industry."

Gabriel Rosu
Managing Partner @Roweb
The internship program
What is the 2021 Roweb internship session about?
"First of all, it's about the chance of being part of a professional development team (the internship involves attaching to a development team), to work and learn the technologies used at the moment, and practical experience in the field."

Gabriel Rosu
Managing Partner @Roweb
This year, the internship program has run in two directions: PHP development and .NET development.
For both internship groups, mentors applied the same approach:

Some feedback received from mentors and interns in the PHP program
"To be a good programmer, I think you have to get involved, quite a bit, at least at the beginning, not to be afraid of any task, to accept challenges and not to be discouraged when you run into problems. That's the only way to evolve."

"The focus of the Roweb 2021 internship program was to find people eager to learn and guide them in a career in IT. The themes of the projects were chosen to give the participants the opportunity to learn, to understand how to work in this field and to develop their skills with the different technologies we have used. "

Cosmin Cotulbea
Mentor PHP
"I think the most important point of the internship program was the introduction of interns in developing projects. This helps them see what it's like to be part of a team and to be actively involved in product development (both by attending meetings and implementing certain tasks)."

"For me, both the internship module and the internship were opportunities to integrate into the practical field of IT development."

"I had several options for my second year internship at Automatica, but Roweb was by far the best choice for me."

Some feedback received from mentors and interns in the .NET program
"It was the first year I was a mentor in the internship program, so for me it was an experience as new as interesting. From organizing resources, defining tasks, tracking and evaluating how to solve them, and actually involving the student in a real project – I had the opportunity to implement a complete process and see how a person with potential can get from the learning phase to the implementation phase in a very short time."

"The plan was to train a man who could easily integrate into the team I now coordinate and who uses Javascript technologies: ReactJS, KnockoutJS. It was the first year I mentored someone and it was a pleasant experience, which is also due to my student's attitude."

"I got hired 6 years ago at Roweb, soon after graduating from University. Like Andrei, I've started to get experience and understand programming step by step. For those who are just starting their careers in development, I have some key advice that may help them keep objectives on track: Keep up high your curiosity | Be up to date with the latest technologies | Never give up (bugs are meant to be solved) | Someday will be your turn to help others – don't forget about that!"

"For a young programmer, the amount of information that exists in terms of programming is sometimes overwhelming. For me, it is a great privilege to have a mentoring role for young students, but it is also a great responsibility because what they will learn now will define their entire career."

"What I appreciated about the students I worked with directly was their real willingness to get involved, to learn and to push their limits by focusing more on the solution and less on the problem."

"In Roweb you are encouraged to express your opinions and develop your creativity while learning new things. Here I had the opportunity to meet people who share my passion for programming and I learned several new languages."

Alina
Intern .NET / React.JS
"I liked that I had the freedom to make improvements to the tasks, and the implementation was at my discretion. When I felt the task was ready, I presented it to my mentor and he gave me constructive feedback."

"The internship program helped me see how my passion is turning into reality, to gain self-confidence and what I know and that was the beginning of my evolution in this field."

"A great benefit of the internship was that I learned new technologies for myself (Vue.js and Bootstrap), allowing me now to work as part of a project team. It's an important step for me as a programmer."

#Workplace:
A new office space for rowebers and clients
A new Roweb office building is completed as we promised – in 2021. The building has 55 workspaces (several meeting rooms, recreation spaces, and a data center), the offices being designed to respect the safety distance, offer comfort, and, above all, create a modern atmosphere.
However, the investment (of RON 3,692,607 – 60% European funds and 40% own funds) does not refer exclusively to the building's actual construction. This reflects in a series of technical and technological equipment that help create a modern and efficient work environment. In addition, the existing office building is underway to expand (by building a new floor).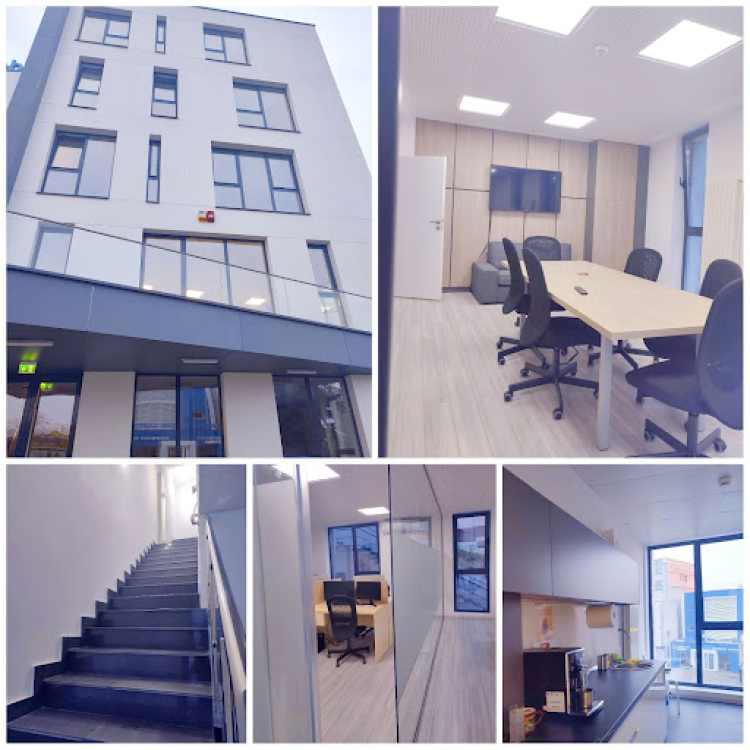 Hybrid working system? Even more than that: flexible!
Roweb has always been perceived as a flexible employer. From the working schedule to the physical place where employees choose as working environment (on the office, remote, hybrid), rowebers needs were always taken into account.
The pandemic reduced direct interactions significantly (mostly because, before this context, employees chose every time working in the office). Despite the obvious challenge, both the company and the employees adapted as they went. The team stuck together and well-focused on projects and objectives. The morning meetings kept their coffee flavour. The team spirit redefined itself without losing its straight.
Dedicated digital products developed by Roweb
Expansion of existing projects and new projects developed by Roweb teams
The increase of the portfolio with new projects (national and international) and the expansion of the teams for the existing projects was an additional signal that the year 2021 was one of growth for Roweb.
In addition, a number of off-the-shelf digital solutions have been developed or expanded:
the sales & marketing solution for restaurants has been defined under a dedicated brand: HoReKa;
a complete solution for community and city management was developed – SmartCity;
adapting and implementing SmartCity in Pitesti
a dedicated waste management solution has been developed – SmartSanitation solution. (it can work individually or as part of the SmartCity).
HoReKa solution – The complete solution for delivery, online sales/reservations/orders & marketing
Websites for online sales
Customer database (CRM)
Mobile App
Online/contactless menu
SmartCity – a multi-platform digital system (mobile app + online portal + web backoffice) for managing incidents and communication in your city
0% paperwork for the municipality staff
reduced time and costs for solving problems
fast implementation
highly intuitive apps (for both citizen and municipality's staff)
SmartSanitation – Modular waste management solution based on the "pay-as-you-throw" concept
dedicated mobile app for waste collectors
management web cloud app with several modules (CRM, Operations, Financial, etc.)
dedicated mobile app for the final client
Business and career events
Participation at business events
Attending the BRCC Summer Garden event was an opportunity for Roweb's marketing and sales teams to interact directly with community members and network with representatives from over 60 companies from a variety of industries.
Participation at career events
In 2021 online has become the space for most career events. Even though this format lacked direct interaction with students, we chose to be present every time and come up with presentations and information that would be really appealing to them.
This is also the reason why the panel presented by Roweb "My career, where to?" from the event "Access to the labor market in conditions of non-discrimination and equal opportunities: qualifications and competencies!" obtained the highest appreciation from the participants.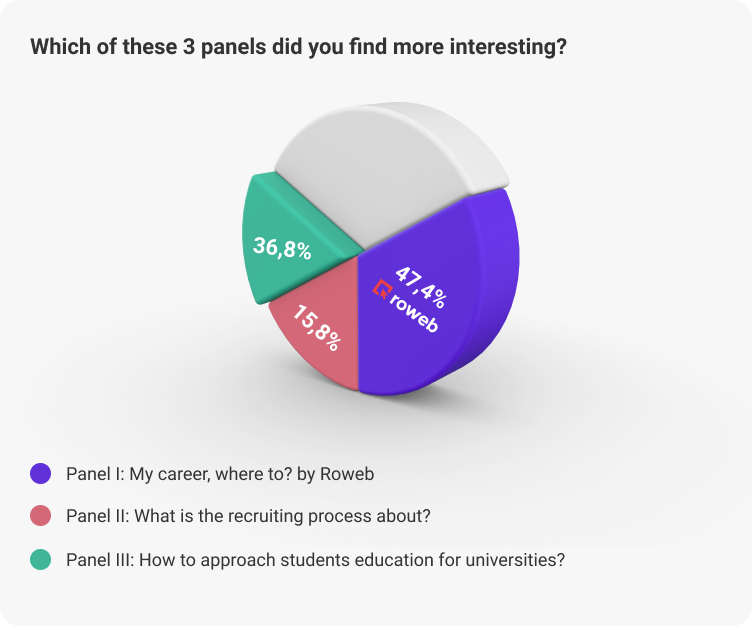 Career events we attended in 2021:
"Career Days: Access to Higher Education!" (extended project with weekly sessions in high schools in Arges);
CAREER HUB FSED: Economist Student Day;
"Access to the labor market in conditions of non-discrimination and equal opportunities: qualifications and competencies!" where the panel "My career, where to?" presented by our colleague Lorena Iordache received the most appreciations from the participants;
HR Meeting Europe.
#MarketRecognition
Roweb has been recognized as one of the best software developers in the Clutch 1000, representing only 1% of the companies listed on the website. The analysis based on which we were included in this exclusive Clutch list was based on 4 criteria: timeliness, number and quality of reviews on the website, types of companies worked with, but also services, experience and brand reputation.
Roweb is also a leader in The Manifest catalog, which includes "Top 70 software development companies in Romania";
Also in The Manifest – in the most recent report – we were designated as the top provider in Romania: Most Reviewed E-commerce Company & Software Developers Company;
2021 was also the year in which ListaFirme ranked Roweb on the 1st place (in Arges county) in Top Business Romania 2021.


"I started the company in 2004 with the business purpose of creating software that would solve the client's problems. The idea behind this was a company that would offer competitive services, from a quality and price point of view, to build a portfolio of clients with whom to grow and develop ourselves and grow together with our businesses. We are dedicated to staying ahead of the rapid changes by working with the latest technologies so that our clients would benefit from our technology expansion. Our mission is to continually keep up with the innovations in the technological world so that the developed software does well in the market."

Viorel Costea
Co-Founder & CEO Roweb