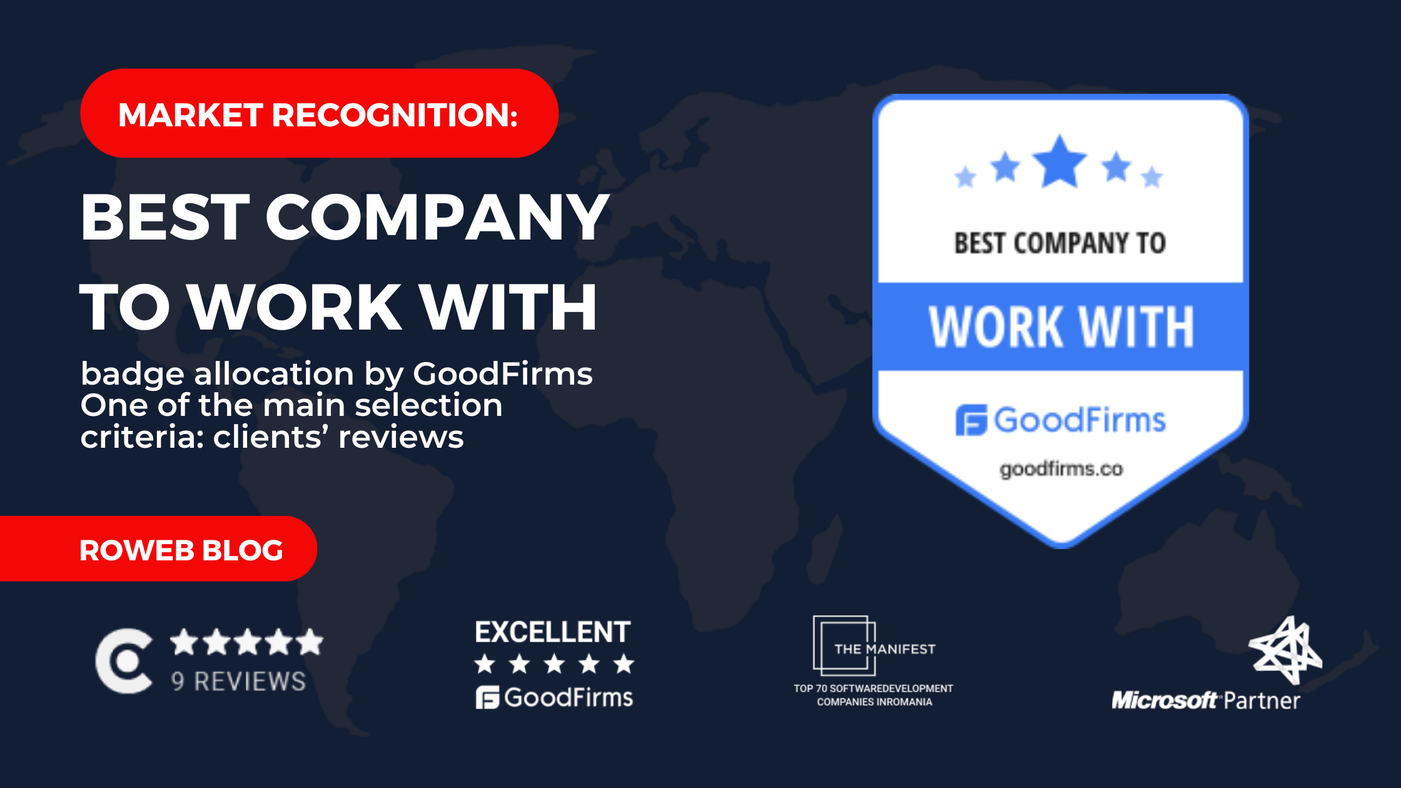 The "business-2-business" (B2B) relationship is only a theoretical concept to define a part of the services a company like ours can offer. In fact, behind each business, there are people who have needs, expectations, and desires.
Thus, on a less abstract note, Roweb is a team that offers services to other people based on expertise. And finally, the services turn into scalable software products whose role is to help their owners solve specific needs, keep up with the dynamic technological changes in the industry, and evolve.
And the greatest reward after hard work is when clients:
Give us positive reviews in which they tell others about our collaboration and how we managed to help them.
Decide to go further with another project, also calling on our team of experts.
Recommend us to acquaintances/business owners interested in the same services.
Fortunately, the three situations listed above sound familiar to us.
Since founding the company in 2004, we have developed every project with the client's needs in mind.
What's more, through the technical consulting service we include in every collaboration, we help business owners realize their needs and how they can use software technology to cover them.
Where can you find reviews about Roweb?
Those who want to know more details about our activity and projects can do so by visiting our profiles or reading the reviews on the platforms such as:
Good Firms – an online platform with international recognition, where Roweb is rated five stars.
Clutch – a platform of in-depth client reviews, data-driven content, and vetted market leaders.
The Manifest – business news and how-to site that compiles and analyzes practical business wisdom for innovators and entrepreneurs.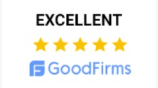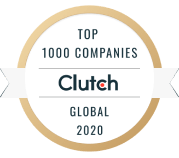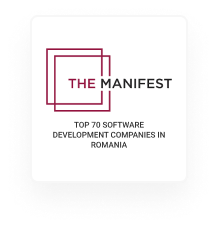 We are also a Microsoft Partner, ARIES member (Romanian Association for the Electronics and Software Industry), and ATIC member (Association for Information and Communication Technology of Romania).
From a practical point of view, this translates into:
Long-term collaborations with clients in our international portfolio – the most extended ongoing collaboration is from 2006 and is represented by Whise – a real estate client, a market leader in Belgium, and a great partner for us who is eager to expand in Europe;
5-star ratings on dedicated platforms – e.g., Clutch & Good Firms;
Market recognition, awards, and certifications that attest to our experience and knowledge;
Positioning at the top of companies that offer software services – according to criteria such as the number of searches & reviews – for example, Top Searches from Clutch;
Good reviews received from employees and former employees on dedicated HR platforms – for example, the Romanian platform Undelucram.ro
What are the criteria according to which clients evaluate our software services?
The quality of the service provided;
Compliance with deadlines and project delivery terms;
Experience in the development of similar projects – which helps us face the challenges of each sprint;
The communication process – we always take care to inform the clients about the status of the project;
Flexibility in adopting changes – aspect facilitated by the use of Agile methodology;
Quality-price ratio.
GoodFirsms | Our company received the title of "The best company to work with" in 2023
With three offices in Romania, Roweb is among the software developers offering various digital solutions and services to companies worldwide.
However, our digital solutions usually refer to transforming the client's idea into an innovative and profitable business model.
Since establishing our brand in 2004, we have developed over 1000 projects for clients from over 30 countries. Beyond that, an important aspect we always seek to emphasize is the customer retention rate, which is currently 80%.
To receive this title, Roweb was subjected to a rigorous evaluation within the GoodFirms program. This involved verifying services, customer reviews, experience in the industry, competitive positioning and many others. The analysis helped to obtain strategic information about Roweb's capabilities, competitive differentiation and market position.
"We believe Roweb's positioning in GoodFirms' Leaders Matrix report reflects the company's exceptional ability to leverage its experience and expertise and create superior software applications that help its clients to reinvent their business, automate, digitally transform, operate seamlessly, shrink costs, and enhance profitability," said GoodFirms.
Also, our CEO completed: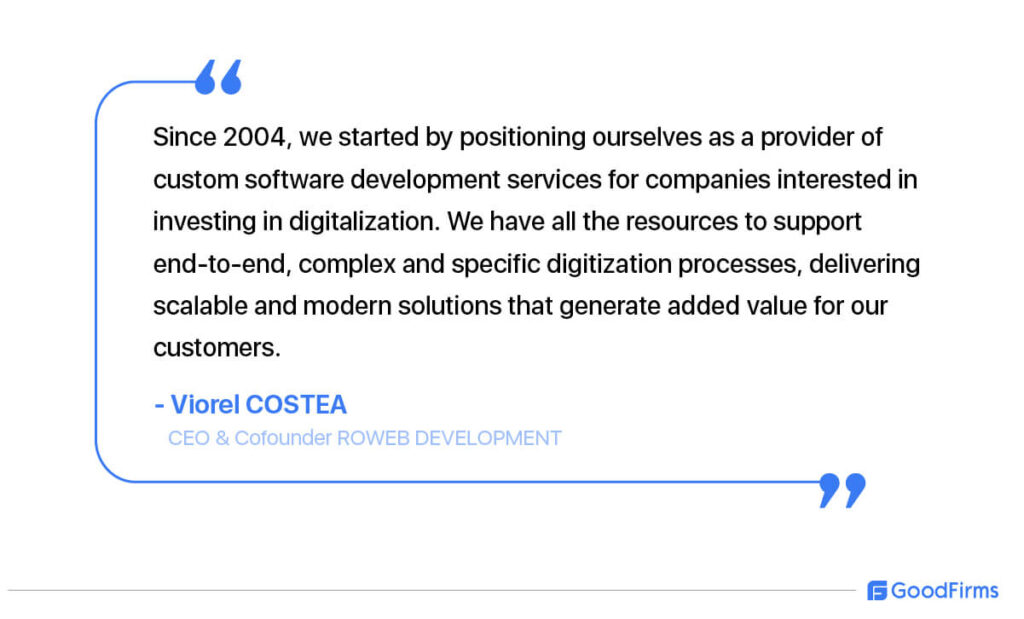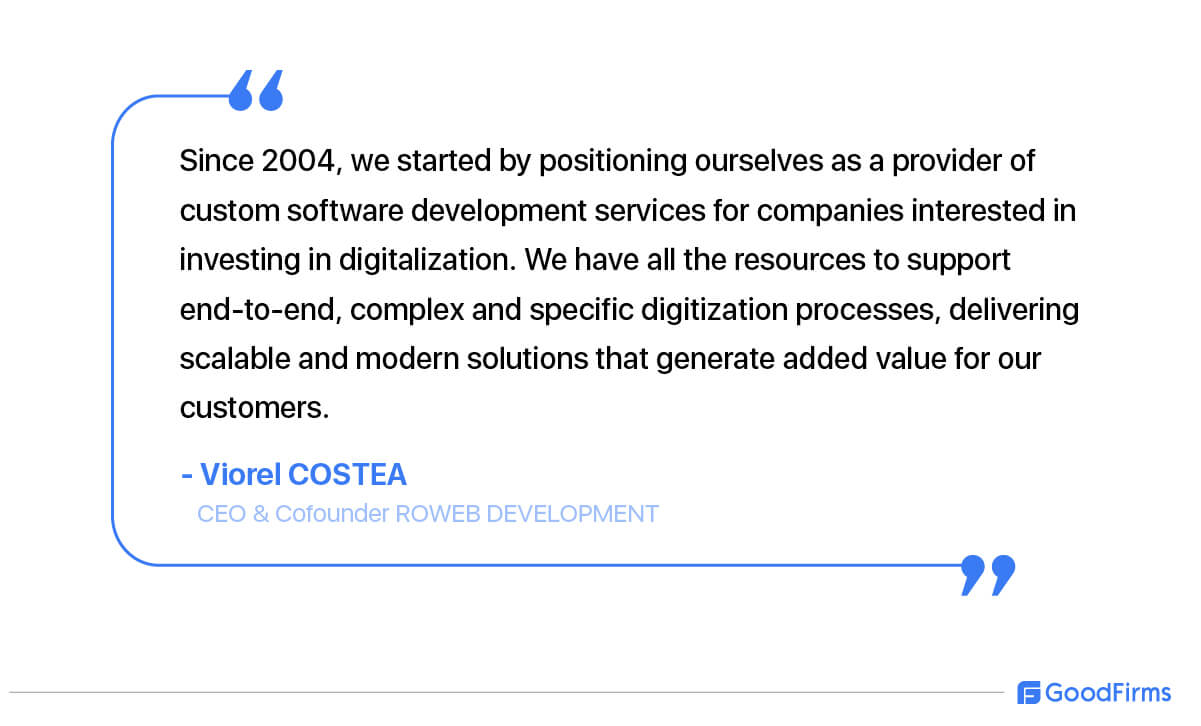 Some examples of reviews received by our company:
(for truthfulness, we made print screens directly from the platform).
nGage – HR platform
Customer's point of view: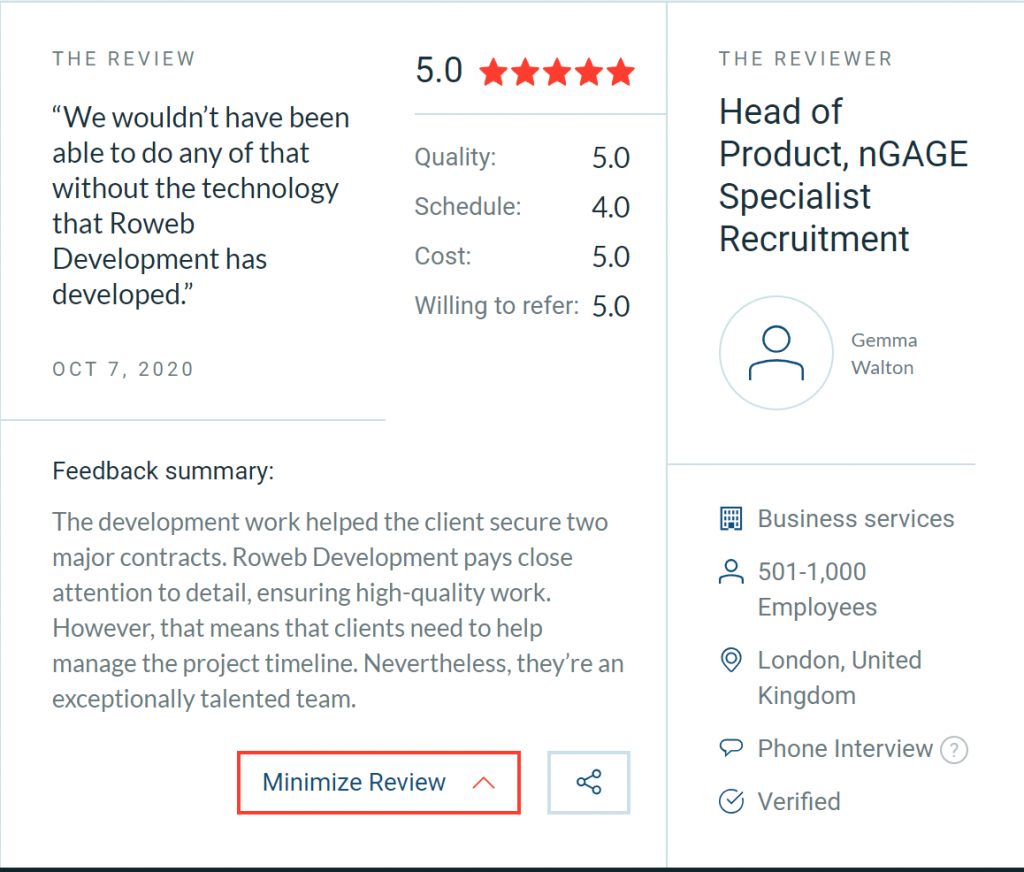 Project description:
nGage is an HR solution adapted to GDPR rules, which facilitates the recruitment process by creating a direct link between candidates and recruiters.
The solution developed by Roweb is a complete one and has good results in improving communication between users, maintaining a clear order of documents (CVs, invoices, archives, etc.), and reducing the time spent applying for various jobs or finding relevant information related to them.
Technologies used:
SQL, ASP.NET Webforms, and Adestra API., Javascript MVVM via Knockout JS, HTML5, CSS3, Cordova, GULP automation, iOS / Android, and Framework7., Google Dialogflow
Our point of view:

"In this project, our team proved not only the ability to identify and implement smart solutions for an industry with challenging particularities but also excellent adaptability skills. There were at least two critical moments in this project where these skills were needed more than ever. The first one: we had to take over the internal project and deliver an intelligent match between what had been done and what we wanted to implement further. The second one: the client came with additional requirements after the project proposal was previously validated, and we had to adapt to them rapidly. Now the client uses a dynamic and intuitive solution that integrates all his needs and helps the company gain customers' trust and stand out in the market."

Sorin Tarceatu
Project Manager @Roweb
Pearn Kandola – an organization that offers support in terms of managing the integration and adaptation of employees through leadership, psychology, training, and coaching services
Customer's point of view: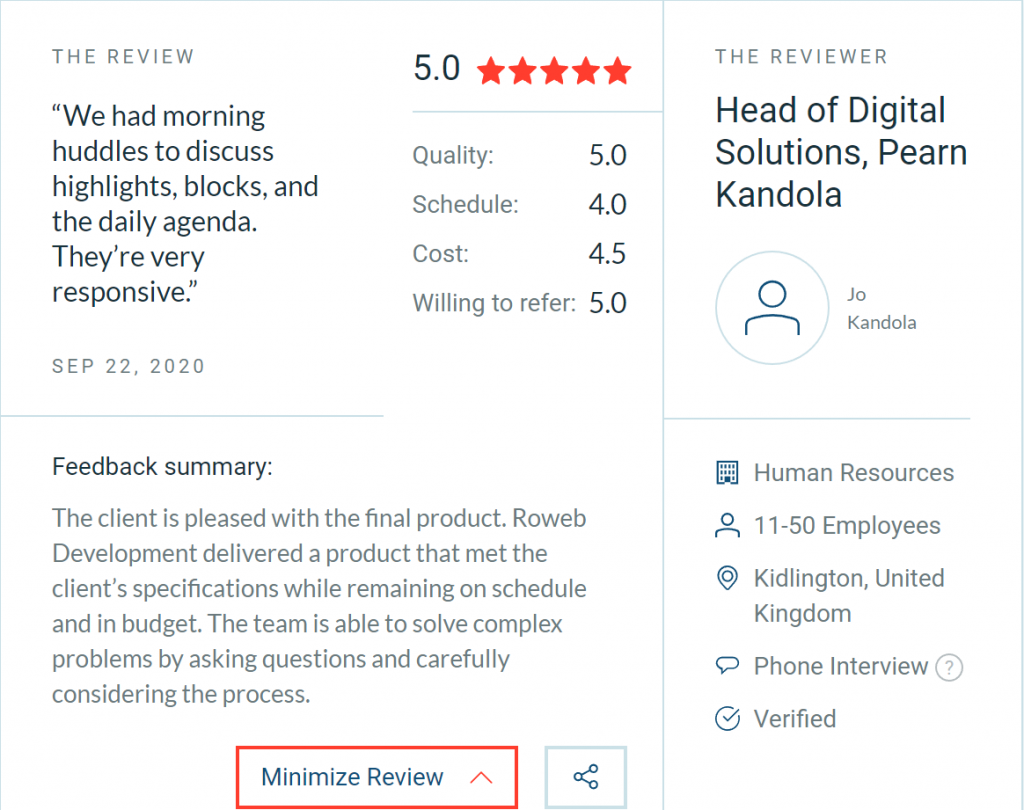 Project description:
Custom application, SAAS type, interconnected with 12 other mini-applications, whose role is to facilitate the complex work process of the organization. The platform was conceived as an all-in-one service that allows its users to interact with digital products such as courses, training, and online counseling sessions.
Technologies used:
PHP, MySQL, React, Lumen, Nginx, Docker
Whise – Real Estate CRM
Customer's point of view: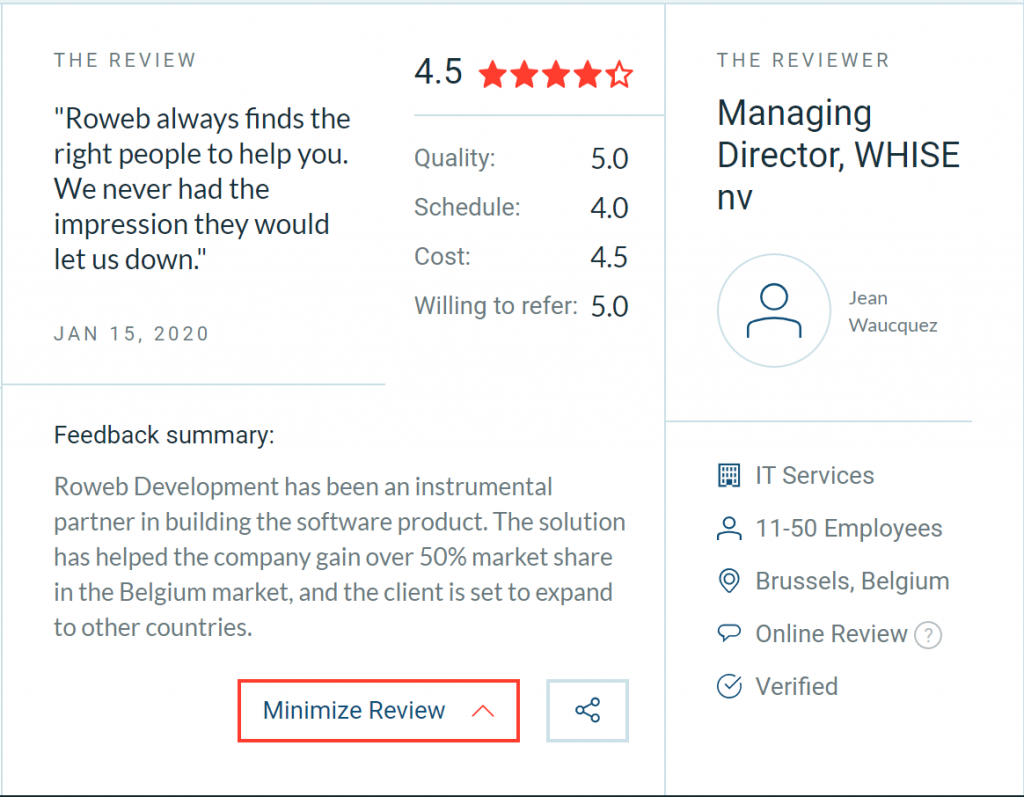 Project description:
Starting from the working model of dedicated teams, collaboration with Whise means the continuous development of a CRM and mobile applications (directly related to it) for correctly managing all the activities of buyers/property investors, agencies, and real estate agents.
Whise is a flexible solution offering high-tech experiences and connecting the agency's website with the mobile applications (used on-site) to create a coherent purchase flow.
Technologies used:
.NET 5 Web API, Nancy FX, MSSQL, Elasticsearch, Memory cache, Redis, RabbitMQ, SignalR, Quartz.NET, Azure DevOps, Docker, Kubernetes, ReactJS
GoodFirms reviews about Roweb's activity
We believe that the best way to get results is by collaborating with our clients and understanding their businesses, goals, and challenges.
herefore, we see ourselves as part of a client's team rather than an outside vendor or service provider.
The video below proves this statement, including some of our customers' reviews on Good Firms.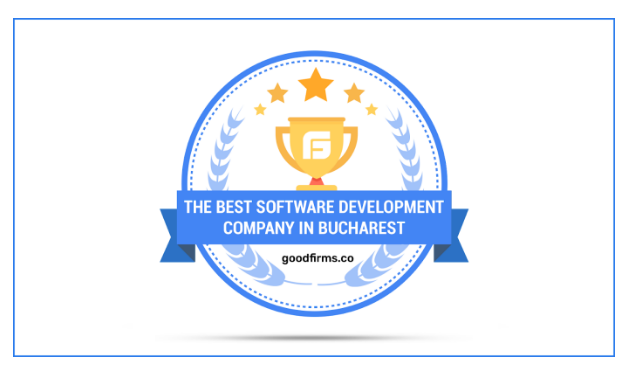 Moreover, this year, Roweb was also named The best Software Development Company in Bucharest by GoodFirms.
Press Play to see which reviews are we talking about.
Starting from the aspects listed above, we can see that famous quote: "You don't build a business. You build people, and then people build the business", which belongs to Zig Ziglar, has relevance for how we choose to carry out our activity.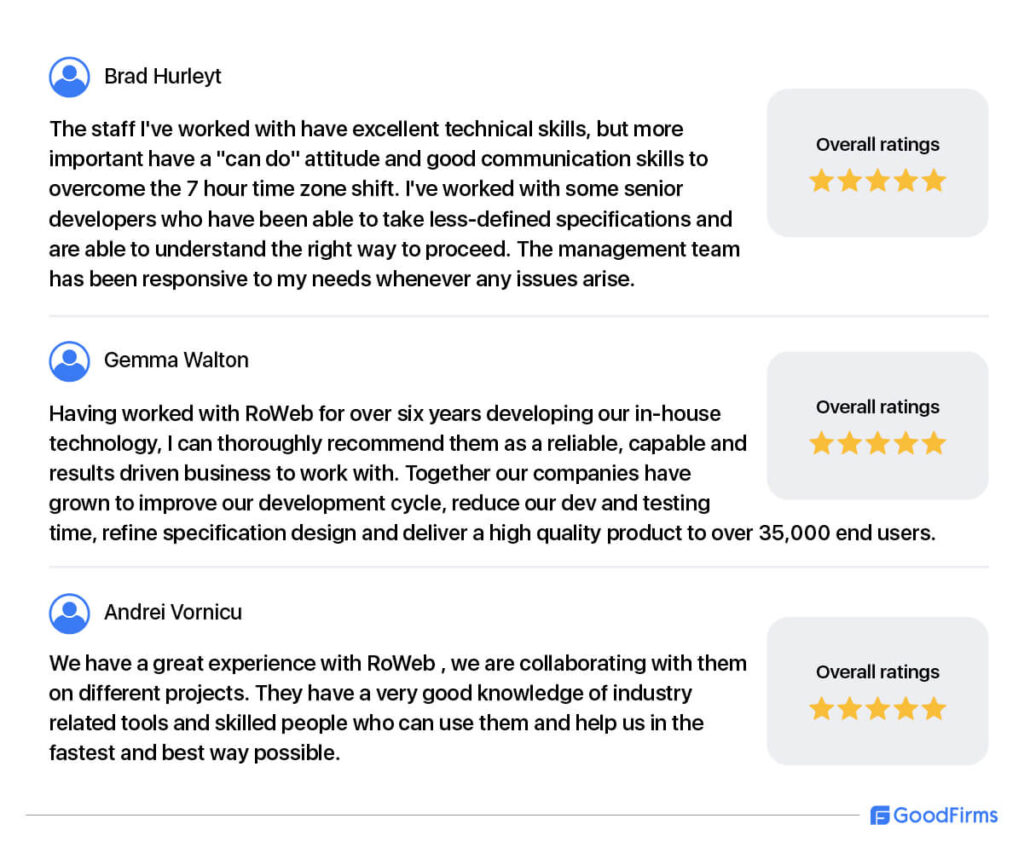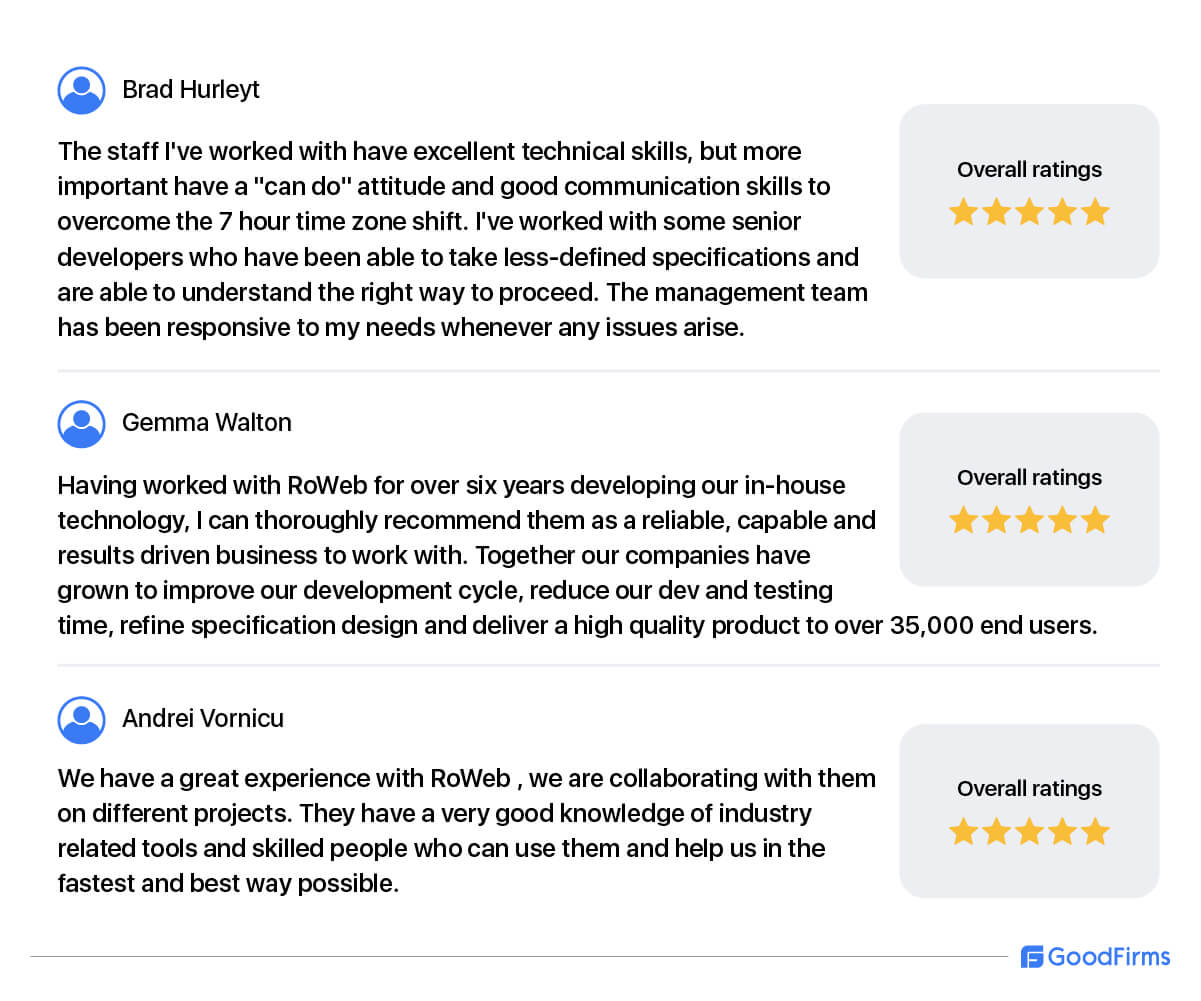 Some key aspects that recommend the Roweb team as a digital partner for a variety of clients:
An experienced software house, present on the market since 2004.
A team of 130+ software developers, 50%+ of them having senior experience.
All team members are fluent English speakers.
The client portfolio is international (clients from over 30 countries).
Diversity of software services: enterprise applications, mobile applications, eCommerce platforms, CRM apps, technical consulting, UI/UX design, e-learning platforms, etc.
Development of software projects using modern technologies and frameworks such as PHP, .Net, Node Js, React, Laravel, Python, Symfony, Magento 2, etc.
Diversity in software development working models: dedicated teams, staff augmentation, or project-based teams.