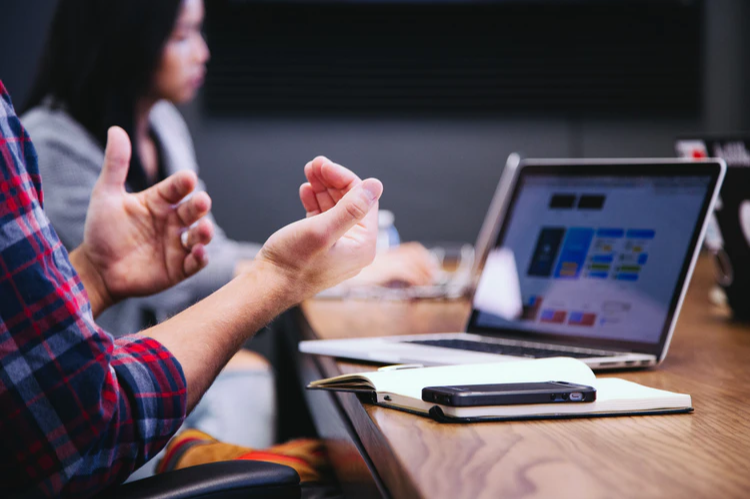 What e-learning features do you rely on for remote training? Are these custom/specific/flexible enough to be used for long runs and adapt to new contexts?
Check out this article to find out:
what stats say about the e-learning market in 2021;
top features that an e-learning platform must have;
a project story: full-custom web e-learning platform development for Seatbelt;
Seatbelt is an ongoing project. What comes next?;
e-learning platform ideas (that may inspire you for your next investment).
What stats say about the e-learning market in 2021
Running a business with remote/distributed teams or even providing educational programs to clients from various locations requires a reliable and robust e-learning platform.
If 5 years ago e-learning seemed to be an innovative option for worldwide companies, in the latest 2 years managers had to rethink their strategies and embrace remote tools like a lifebuoy.
Beyond any intuition, here are what the statistics say about how e-learning is perceived and what impact it has on companies:
In some large organizations, up to 60% of total training costs are attributed solely to traveling costs. (source: KPMG);
42% of companies saw increased revenue after implementing e-learning. (source: SHIFT);
94% of employees say that they would be more willing to stay in those corporations that prioritize and invest in employee career development. (source: LinkedIn)
E-learning takes 40% to 60% less employee time than traditional learning. (source: Brandon Hall)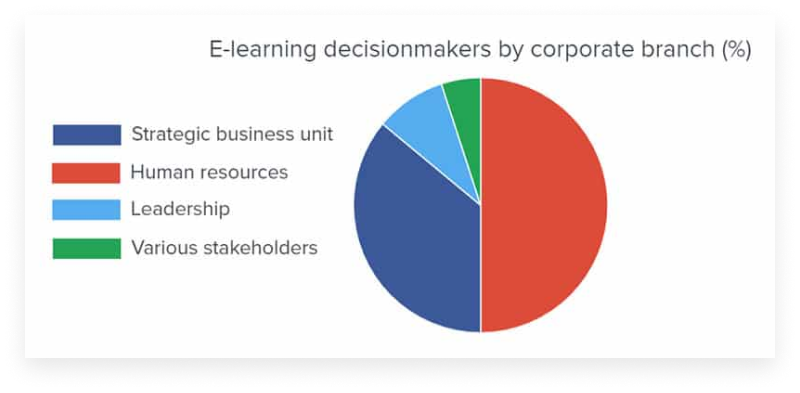 Core-feature examples:
integration of collaborative learning tools;
custom and complex reporting;
business support to market the products (e.g., courses);
brand integration (growing client database and positioning the brand as an informational hub);
user autonomy (e.g., self-registration);
multi-level/multi-login/role-based.
Top complementary features that an e-learning platform must have
interactive UI design;
dynamic and intuitive dashboards;
easy-to-use filters focused on providing relevance;
customization options;
options to set up notifications and reminders;
fast and intuitive content management;
SCORM (Sharable Content Object Reference Model) integration;
mobile-responsiveness;
ratings and reviews integration;
possibility to upload a variety of content formats;
high speed and security;
user needs-oriented platform architecture;
project status trackings;
evaluation systems;
certifications and feedback tools;
multiple language support.
Other important features (e.g., for companies that sell courses)
virtual offices for users;
trial period /live demos;
3rd-party integrated payment systems;
chat support.
A project story: full-custom web e-learning platform development for Seatbelt
How we turned Seatbelt's urgent need of keeping their clients up-to-date into a full custom and flexible e-learning solution developed with both companies' and users' specific needs in mind.
Our client has a labor protection company from Romania that offers consultancy and periodical or on-demand safety inspections. The client operated from multiple locations in Romania and faced some problems when it came to managing client information.
Social and business contexts are dynamic (pandemic has fully demonstrated this). And so were our client's needs. Therefore, Seatbelt was interested in developing a solution to provide clients with a simplified, flexible, and within reach learning hub, able to be used in a custom and limitation-free manner.
That's why they decided to develop a dedicated web solution for e-learning based on an existing web & mobile application (developed with our teams also). The new platform's core role is to allow managing the entire e-learning activity.
CHECK OUT THE FIRST SEATBELT PROJECT
Before building the web e-learning solution with us, Seatbelt was already using an existing outdated one that no longer responded to their needs.
So, our client decided to build a complete and full-custom new platform for managing all their e-learning activities, able to integrate, also, SCORM (Sharable Content Object Reference Model) – a set of technical standards for e-learning software products.
We built the solution based on the existing CRM web & mobile app solution's architecture that we developed for them a few years ago (the e-learning platform being an extension for the initial project).
CORE-FEATURE: multi-level environment
COMPLEMENTARY FEATURES: fast and intuitive content management | SCORM (Sharable Content Object Reference Model) integration | interactive UI design | certifications and feedback tools | evaluation systems (e.g., tests)
USER ROLES ON THE E-LEARNING PLATFORM – The Seatbelt e-learning platform provides differentiated access depending on the role defined for each user
MENU: for Admin – menu shows tabs for courses, tests and reports | for client/HR – menu contains: Home (with reports), Courses and Employees | for employees – these users have instant access to courses and can view the navbar with profile and language tabs | Custom role – the e-learning platform integrates in the menu tabs for Home (with reports), Courses and Employees.
integrated modules: Courses | Tests | Reports
Being an ongoing project, Seatbelt e-learning platform continues to be optimized, customized, and extended according to our client's dynamic needs (e.g., optimizations for roles and permissions are taken into account, for covering all the e-learning/management requirements).
Functions & functionalities examples:
Functionalities for courses management:
multiple selections for adding modules associated with the course;
simple module management, with drag & drop;
multiple selection options for companies to which the course is assigned;
quick test association for each course (checkbox);
search field for quick course search;
filter for companies selective listing;
assignment type (users with/without account);
activities assignment (for employees with accounts);
direct course assignment to specific employees;
dropdown menu for selecting course language.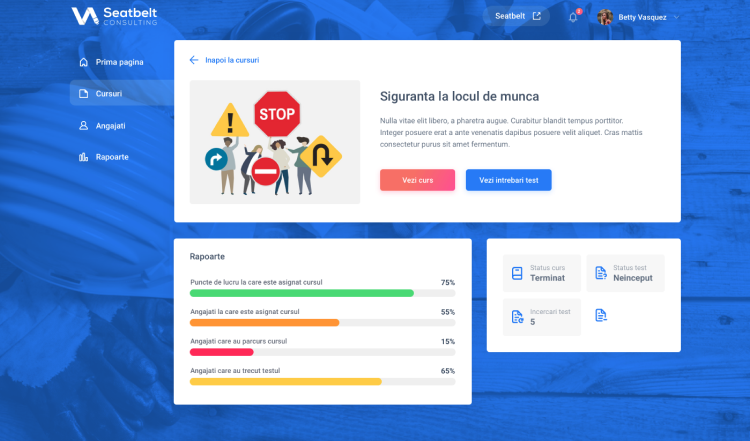 Functionalities for users:
filter for new courses;
new courses (which were never accessed);
listing courses (progress status and the details of the courses);
brief history for each course (progress status, first accessed, last accessed, number of times, time on the course);
displaying only the courses that match the user's language (if the course isn't already assigned);
dedicated page for each course (and test access directly from this page);
quick reports for progress status.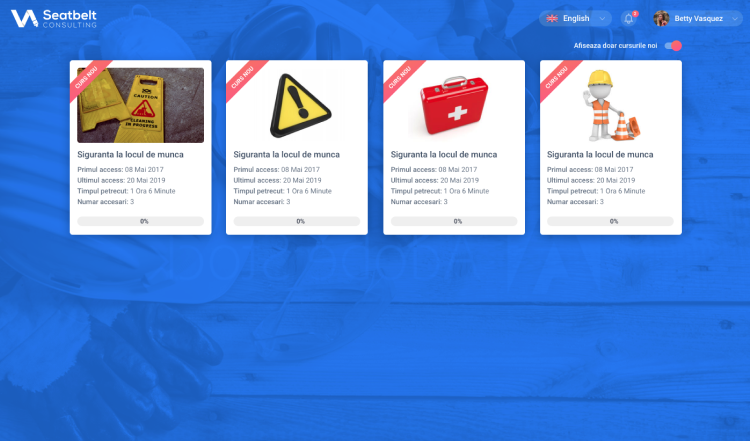 Seatbelt is an ongoing project. What comes next?
As I've already mentioned before, the collaboration with our client – Seatbelt – lasts for several years. We've started our partnership with a web & mobile CRM system development (that is also an ongoing project) and continued to develop new tools as the e-learning platform.
Even if the Seatbelt e-learning platform is a delivered project that several companies now use, our work is far from being over. We continue to provide optimization on existing features, tools, and modules and develop new complementary ones.
There are taken into account several optimizations and extended developments. Some examples:
own video player development – so as not to depend on third-party platforms;
integrating short tutorials (for helping users get used to the platform's functionalities);
more detailed history on users behavior on the platform;
permission-based access (for more customization and flexibility);
courses periodicity (defining the period of time in which a course can be taken).
The implemented functions and functionalities reflect the current needs of our client. We have full capabilities to develop a large number of other (custom) functionalities according to each project's requirements. (including in other technologies – e.g., NextJS)
E-learning platforms ideas (that may inspire you for your next investment)
Users management systems: are able to connect all the departments of an institution with administrative features like time tables, examination details, users information, certifications, reports generation, result generation, fee counter, etc.
Training management systems: provide administrative functions, analysis, reports, data collection and the way in which education is delivered. This technology improves employee training, making onboarding and team building more effective and efficient.
Evaluation systems: provide all the tools and the performance needed (speed and security) for running assessments (tests, quizzes, exams, etc.). The app can provide real-time results and feedback and dedicated sections for accessing certifications (e.g., HubSpot runs such an e-learning platform).
Online classroom support systems: designed to provide access to relevant materials to a large number of users, simultaneously (pre-recorded lectures, lessons and live classroom sessions, etc.)
Interactive communication systems: known better as video conference apps, these types of apps provide full-control on conducting online conference calls or classes, video conferencing, voice calls, and live chats.
Why developing a custom e-learning platform with Roweb
Roweb is a custom software development company, started in 2004 with offices in 4 major cities: Bucharest, Pitesti, Craiova, and Ramnicu Valcea.
With our 130+ IT professionals' experience and the latest software development technologies, we focus on building Enterprise, Web, Mobile applications, and E-commerce solutions.
We work with companies from all over the world, and we understand the needs of and provide solutions for companies of all sizes ranging from start-ups to large enterprises.
"We are dedicated to staying ahead of the rapid changes by working with the latest technologies so that our clients would benefit from our technology expansion. Our mission is to continually keep up with the innovations in the technological world so that the developed software does well in the market."
Viorel Costea | Co-Founder & CEO Roweb
We have an in-house team of software professionals who manage end-to-end product development projects, from business analysis, consultancy, and architecture, to post-implementation testing and maintenance.
Custom solutions are our focus because we love to build tailor-made apps for our clients. Still, there are some off-the-shelf products that we've created recently based on specific industries' needs:
Marketplace for real estate;
Complete solution for restaurants;
E-learning products;
Solutions for the Transport industry (fleet management apps, taxi app, etc.).
Some of them include CRM solutions (e.g., the restaurant solution).
Need support for developing a custom e-learning solution? Book a free consultation session with one of our experts!