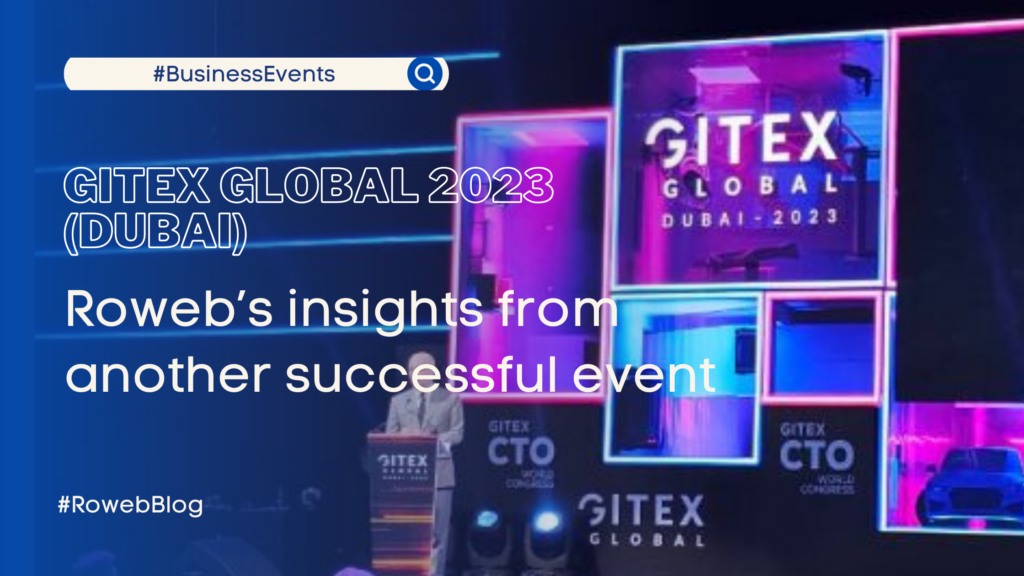 GITEX GLOBAL (Dubai) 2023 ended, and now it's time to recap all the great things we interacted with or accomplished at this year's edition.
With a proven track record of excellence in software development, the Roweb team brought further the company's name at one of the world's largest tech events. Their participation in GITEX GLOBAL 2023 was not just a matter of attendance but proof of Roweb's commitment to innovation and leading the way in shaping the future of technology.
By reading this article, you'll become part of Roweb's journey at GITEX GLOBAL Dubai 2023. From our innovative projects to strategic insights, you can discover how Roweb's presence at this prestigious event is more than just an exhibit—it's a statement of intent, a promise of technological excellence, and a commitment to pushing the boundaries of what's possible in the world of software development. .
About this year's edition of GITEX GLOBAL
GITEX, the Gulf Information Technology Exhibition, has been a hotspot for tech enthusiasts and industry leaders. This annual event served as a global platform for companies to showcase their latest innovations, exchange ideas, and explore groundbreaking technologies that are set to redefine the tech landscape. It's within this vibrant and diverse ecosystem that Roweb is poised to make its mark, and the tech world is waiting with bated breath to see what they have in store.
After a remarkable 2022 edition, GITEX GLOBAL, the world's largest and most inclusive tech event, was set to return to Dubai in 2023 for its 43rd installment. This event brought once again together the world's most advanced companies from around the world with the aim of advancing business, the economy, society, and culture through the transformative force of innovation.
By converging and uniting the foremost figures in the tech industry, including innovators, academics, researchers, and developers, GITEX 2023 also catalyzed the ongoing global competition for A.I. dominance. This event took the latest-generation technologies and translated them into practical business solutions that not only influence communities but also expedite the development of future urban environments.
Some of the topics that have be discussed at Gitex Global 2023 conferences and meetings (which were also of great interest to our team):
Cloud & Edge Computing
Cybersecurity
Advanced Connectivity
Applied A.I.
Future of Mobility
Web 3.0
As a complex ecosystem, Gitex Global 2023 brought together:
Researchers with a great interest in shaping the tech future;
Software developers – one of the most exciting gatherings from Gitex Global 2023 is Global DevSlam – where the coders meet to unlock the power of digital;
Top companies in the industry focused on digital transformation and innovation;
Startups looking to showcase their services and solutions;
Investors seeking ideas with potential;
Individuals searching for a job in a promising field.
Insights from the team that represented Roweb this year at GITEX Global
The two members of our team that represented Roweb this year at GITEX Dubai were:

Sorin Tarceatu – Division Manager
As part of the Roweb team since 2004, Sorin Tarceatu has had the opportunity to develop several international projects from different roles of the end-to-end process: experienced software developer, tech lead, project manager, etc. Currently, Sorin leads the team responsible for developing the nGage project – a solution that has reached its fourth version.

Mircea Popescu – Business Development Specialist
Mircea is a member of the company's sales team and is well-versed in Roweb's service portfolio, and its ability to cater to individual client needs.
With his extensive experience, Mircea has had the opportunity to engage with entrepreneurs from various industries and fields seeking the ideal IT solutions.
They are back not only impressed by the extent and impact of this event but also with many real accomplishments in terms of brand exposure, new potential clients and projects and accelerated networking growth.
Moreover, Roweb's presence at this event proved once again that our company is fully capable of addressing the needs of an exacting market where the quality of the services is strongly connected to the skill level of the dev team members and the technologies involved in the development processes.
As a technical department representative, Sorin was the right person in the right place when the discussions with potential clients went in a more granular direction regarding how to work with Roweb.
"I've been part of the Roweb team for over 18 years, and I had the opportunity to see how things evolve – projects, people, new technologies adopted, etc. I know the potential of our teams, and I know exactly how the development processes take place – for several years, I have been a project manager on one of the most complex and long-lasting projects in the Roweb portfolio – and this helps me a lot to present Roweb from a technical perspective to the potential clients we were talking to at GITEX."
Regarding consultancy, Mircea's presence at Gitex helped all those prospects who wanted to understand fast what kind of team, outsourcing model and custom development they needed to accelerate their digital transformation processes.
"The discussions we have every day at GITEX with potential clients confirm to me that we come with a package of services that is difficult to compete in the market because we have the ability to cover complete processes – from technical consulting and software architecture to the actual development, testing and maintenance – and a solid portfolio that demonstrates expertise in this niche. We are already in advanced discussions with a number of foreign companies, and I am convinced that, after this event, Roweb will not only be better known in the international market but will also attract several new interesting projects for its portfolio."