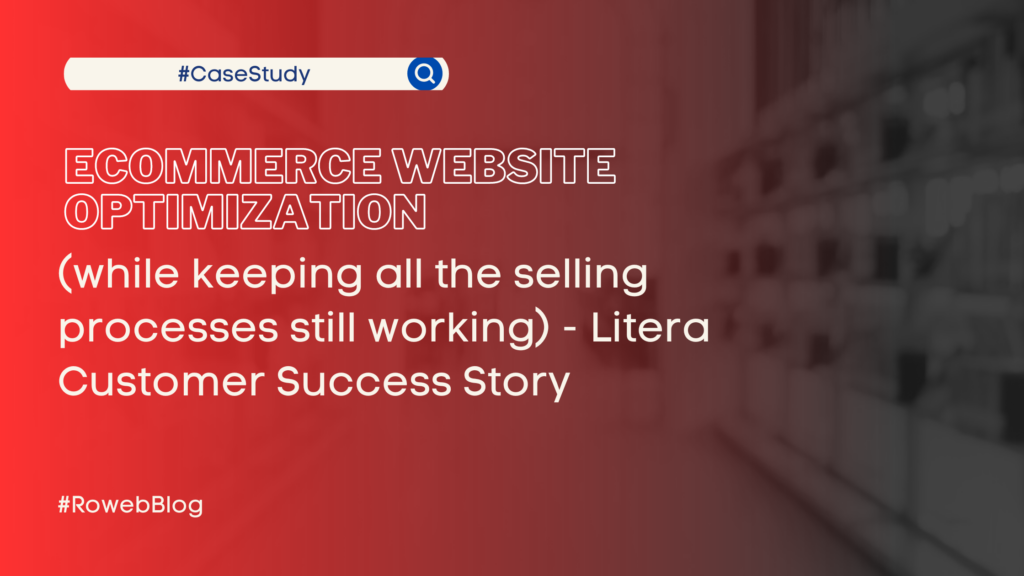 If we summarize our partnership with Litera, one of the largest publishing houses in Romania, we can say in a few words: eCommerce website optimization based on intuitive functionalities, using Magento 2, without interfering with the client's business activity.
The main goal was to offer a great user experience on their platform and meet their readers' needs to quickly find the books they seek.
However, the story of the collaboration with Litera is more complex than that.
The platform has a dedicated team working behind the scenes. They have brilliantly tackled the challenge of rewriting the old code (legacy code) and introducing updates to keep the platform at the top of its game in a dynamic industry marked by intense competition.
And if you are among those curious to learn more insights about this partnership, we invite you to read this material.
From this blog post, you will find out about:
Litera's requirements at the beginning of our collaboration on eCommerce website optimization;
the challenges that our software development team and how they manage to overcome them;
the main functionalities and what impact they have on users;
the team behind the development process;
next steps: what comes after the implementation period.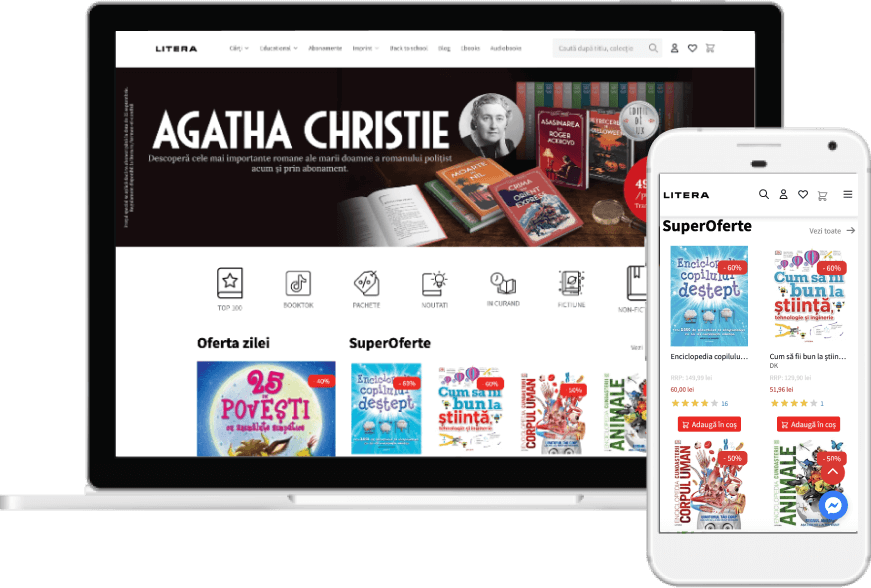 Litera – helping a Romanian brand with more than 30 years of experience create a user-focused platform
Litera is a Romanian brand with a 100% local presence in the publishing industry, backed by over 30 years of experience. It offers an extensive range of books in print, electronic and audio formats (through its subsidiary platform Voxa.ro), with an impressive variety of categories and products.
In its first 25 years (1989-2014), the brand published over 4,000 titles, with a circulation of approximately 46 million copies.
Our collaboration with Litera is founded on our shared vision. As a developing company, Litera has invested in digital transformation and added new features to enhance users' experience with an intuitive and enjoyable interface.
The client's needs: what requirements did the project come with, and how did we respond to them?
As every business is unique, the decisions made by each business owner are guided by their individual needs.
That's why, after conducting a business analysis, we often suggest tailored solutions that precisely match the specific needs of each business.
And Litera's eCommerce website optimization was no exception.
During our initial interaction with the Litera team, we identified the problems they were experiencing:
The lack of a secure platform compliant with regulations and free from cyber vulnerabilities.
The lack of a stable platform that can handle the high traffic volume, especially during peak periods such as the Winter Holidays or Black Friday.
Before collaborating with us, the existing platform could not keep up with the brand's growing popularity due to outdated code and inability to receive updates. Thus, a rewrite of the legacy code was not a should but a must.
The system was hosted on rented servers and received minimal support from the administration team. Additionally, there was a natural need for the client to keep the sales process running without generating significant losses. Since the development required a more prolonged investment of time, any disruption would have a negative impact on the business.
The platform's main functionalities and their impact on the Litera's business & brand
Initially, the development of functionalities began by addressing the needs of two distinct categories of users.
The first is the readers who require convenient access to the products they are looking for.
With this in mind, we developed an intuitive filtering system. The platform comes with a lot of products and categories. However, easy reader navigation was one of the aspects we considered from the beginning.
Moreover, we implemented dynamic widgets highlighting special listings like best-selling books, popular books, news, and special offers.
Our eCommerce website optimization also included an advanced searching system by book title, author or collection.
The sorting process can be based on price, discounts, or date, whereas the filtration options include category, stock, domain, collection, and age.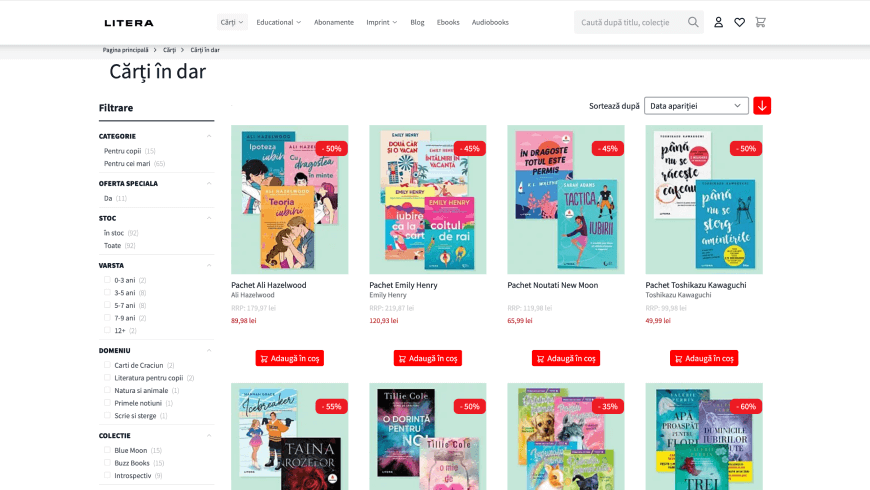 Moreover, readers who want to explore the complete works of specific authors can now find them on dedicated pages on the Litera platform.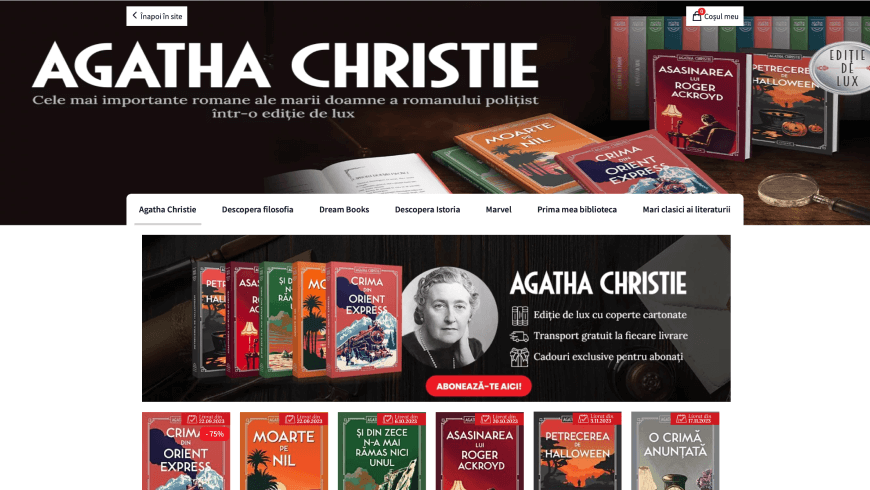 Taking into consideration eCommerce website optimization, we created a pre-order system for readers who want to be the first to get their hands on the books. Readers can opt for a subscription, through which the published books will be delivered to them in turn, as they appear.
To avoid missing important information, we created a system of notifications sent by e-mail that let them know that a volume is back in stock.
At the same time, Litera aims to build a community of readers by enabling them to rate books based on their preferences using a star-based system.

The ordering system was designed as easy, allowing readers to order books using two variables: the option to create an account and the no account shortcut option.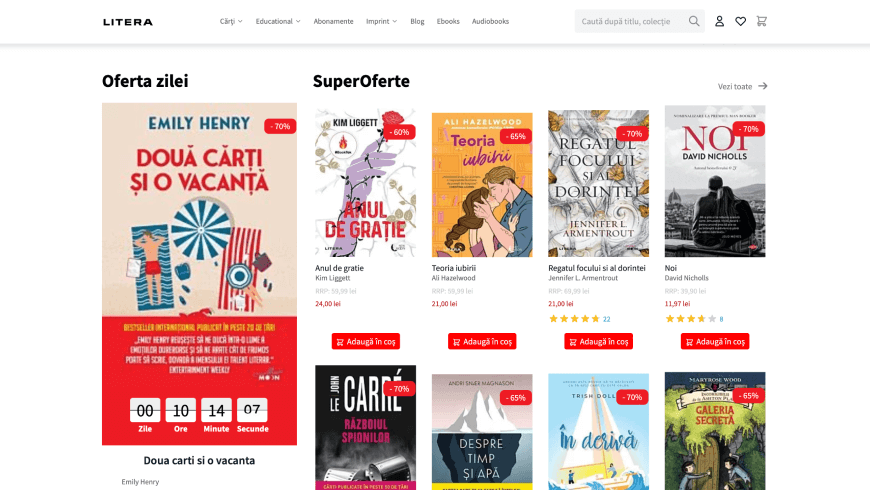 One of the most significant advantages of creating a reader account is that it keeps an order history, which can be accessed anytime.

As we mentioned, a significant portion of the eCommerce website optimization was designed by taking into account the needs of Litera's management team.
These capabilities aim to simplify the sales process by aligning order management (from placement to delivery), marketing, and external and internal communication processes.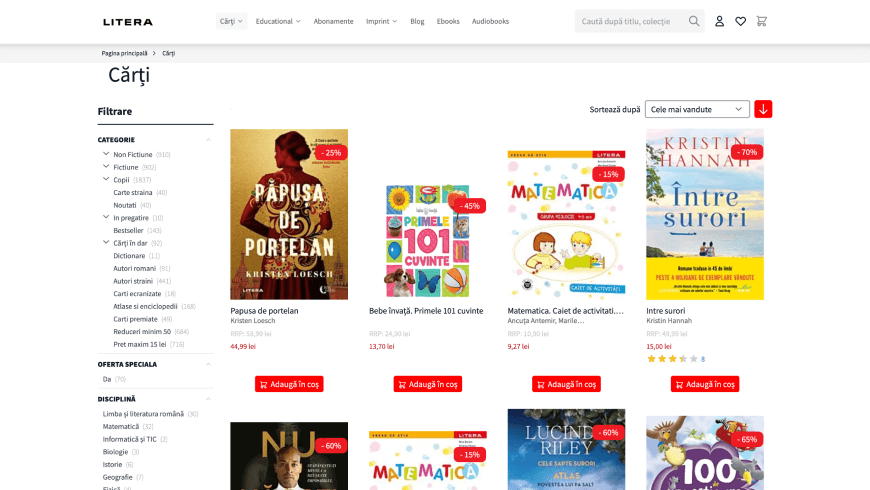 We integrated an easyBox delivery system and created a chat option by merging with WhatsApp & Facebook Messenger.
As part of our eCommerce website optimization, we implemented a module of discounts for the promotions based on codes that Litera can offer to its loyal readers. This includes customizable headers and banners highlighting specific offers that the bookstore wants to promote.
Also, through an automatic system based on an algorithm that analyzes their behavior in the platform, readers can receive personalized product suggestions, allowing the Litera team to support their upselling process.
Interconnecting the Litera platform with other subsidiary platforms of audiobooks and ebooks provides readers with direct access to related products and gives the Litera's selling departments a complete overview of the purchasing process.
We incorporated an automatic calculator in the platform that instantly calculates the final costs of the ordered products and approximate delivery dates for the convenience of both the Litera team and the readers.
Find more tech functionalities about eCommerce website optimization in our Case Study.
Throughout the implementation of the mentioned functionalities, we ensured that the client was always kept informed about the project's progress.
Using Agile methodology to develop software solutions enabled us to maintain an organized work rhythm based on practical and transparent communication. As a result, we were able to work efficiently and deliver the project to the client's satisfaction.
After working with us, the platform has become much more flexible, managing to adapt to business and industry changes.
Do you also need an eCommerce platform like Litera?
People behind the code | Who made Litera eCommerce website optimization possible?
The project's successful realization hinges on an experienced, detail-oriented team prioritizing the client's needs.
Thus, we assigned an entire development team that included:

"Working with the brand was optimal. The client's receptiveness to Roweb's proposals and his availability for open discussions made the collaboration much easier and tension-free. Working with the team assigned to the Litera project was based especially on collaboration, and the flexibility and adaptability of colleagues to the client's requirements represented an advantage."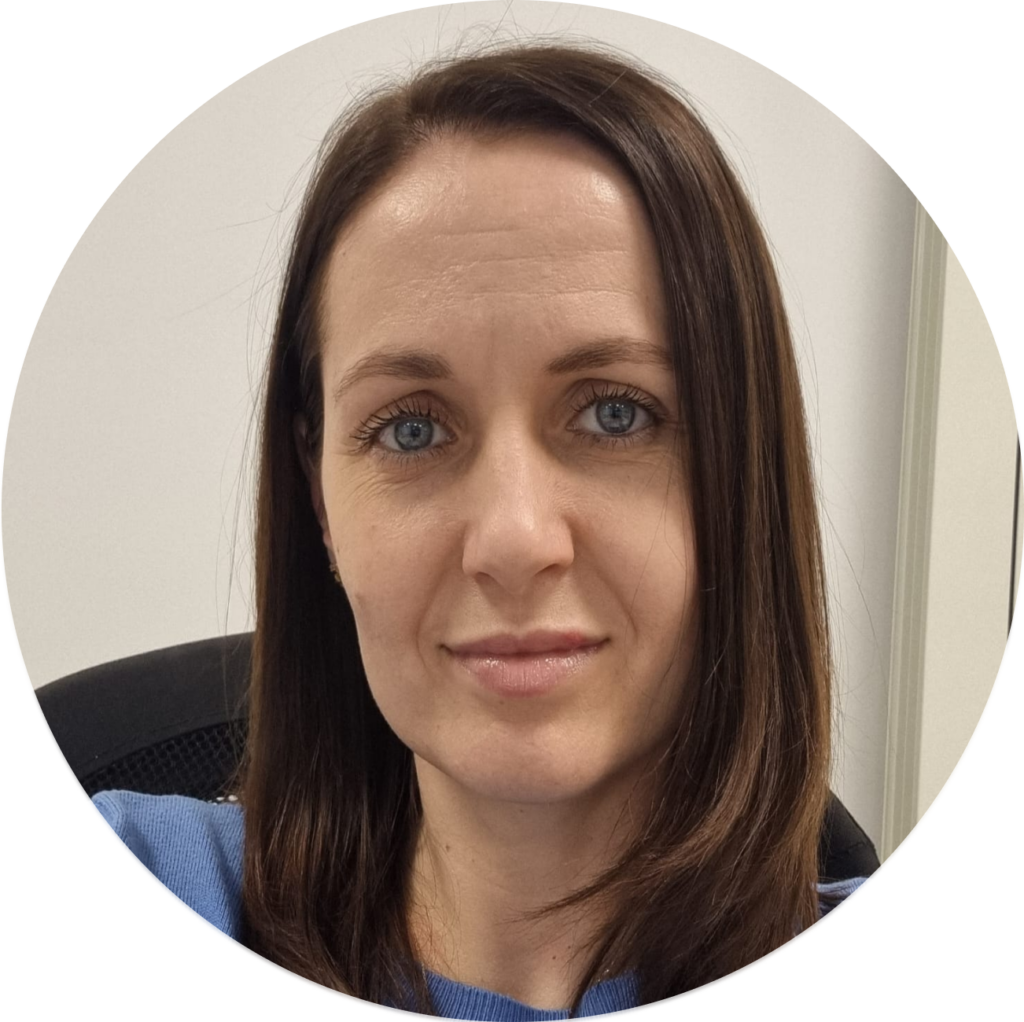 Nina Constantin
Litera Project Manager
The partnership with Litera began in 2021, and our work is ongoing. While the code has been rewritten and the website optimized, the client still requires new functionalities for eCommerce store optimization, and our team is supporting his goal of keeping up with the industry trends.
Why did we choose Magento 2 for eCommerce website optimization in the case of the Litera platform?
After considering the client's needs, we determined that Magento 2 was the most suitable choice for eCommerce website optimization due to its robust architecture, which optimizes the purchasing process.
Additionally, Magento 2 site optimization was the perfect complement to the reader loyalty and upselling strategy that Litera had in mind. The cloud infrastructure enabled us to provide the platform with data backup and high-security standards.
Moreover, Magento 2 facilitated 3rd party integrations, which brought in additional functionality.

"Starting from the Litera example, we recommend cloud integration solutions to all our eCommerce clients. The cloud applications benefit from complete data backup and automatic scaling of the production infrastructure during periods of heavy traffic."

Stefan Nicolae
Pitesti Open-Source Manager & Head of eCommerce
Roweb's previous experience in eCommerce website optimization
We had prior experience developing national and international projects before collaborating with Litera. This allowed us to bring valuable assets to the table. Therefore, we have contributed to the digital transformation of many other projects in the publishers and books category.
Click here for another example.
Roweb has a team of 130 experts, over half with senior-level experience. These experienced professionals can effectively manage the development of custom and complex projects across various industries and verticals.
As a reliable outsourcing service provider, Roweb offers a team of experts who can handle all aspects of the end-to-end development process, including eCommerce store optimization.
From business analysts who determine the direction of development to project managers who coordinate the activity of developers and testers who help eliminate bugs, Roweb's team of experts has covered it.