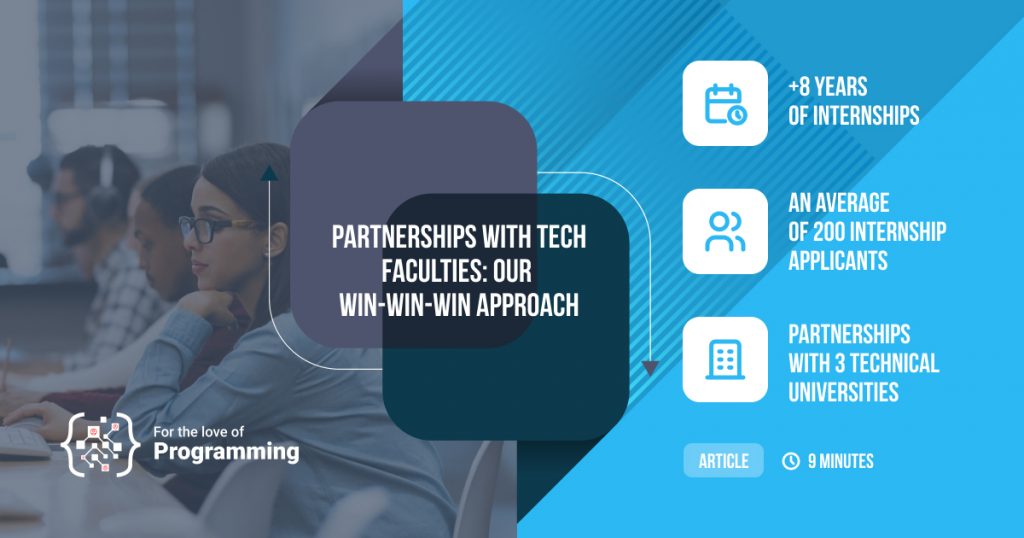 Practice programs, internships, online or offline meetings, Job Shadow Day – the year 2022, although in its second quarter, is full of career events for Roweb.
However, the most important thing is that at all these career events, the ones in the spotlight are the students from the technical faculties of Craiova, Bucharest, and Pitesti.
Thus, let's take a look at the most important details that define our relationship with the profile faculties starting with the advantages of our long-term collaboration and ending with the profile of students that we are looking for when we organize career events.
What does the collaboration with the technical faculties mean?
We choose to collaborate with the tech faculties because this relationship has advantages for both parties. First of all, Roweb is the ideal place for students to learn new things and apply practically all the knowledge they have gained in college.
We also offer internship certificates, which are an important asset for starting a career in IT.
On the other hand, it is an opportunity for our team to find the right people and train them from the beginning.
And when we say training, we don't just refer to the professional one. Roweb has its own values ​​passed on to those who join our team.
Among them we mention respect for colleagues and clients , team spirit, support and mutual help, and the desire to constantly evolve.
From the teachers at Automatica and Mathematics-Informatics, we always find support when we want to organize a career event or when we want to recruit students. The exchange of information is reciprocal, and our purpose is to adapt our career programs to the students' needs.
When it comes to students, what really interests us is not the experience but the ability to learn and adapt to the work environment. We are looking for people who manage to integrate into our team and are on the same wavelength.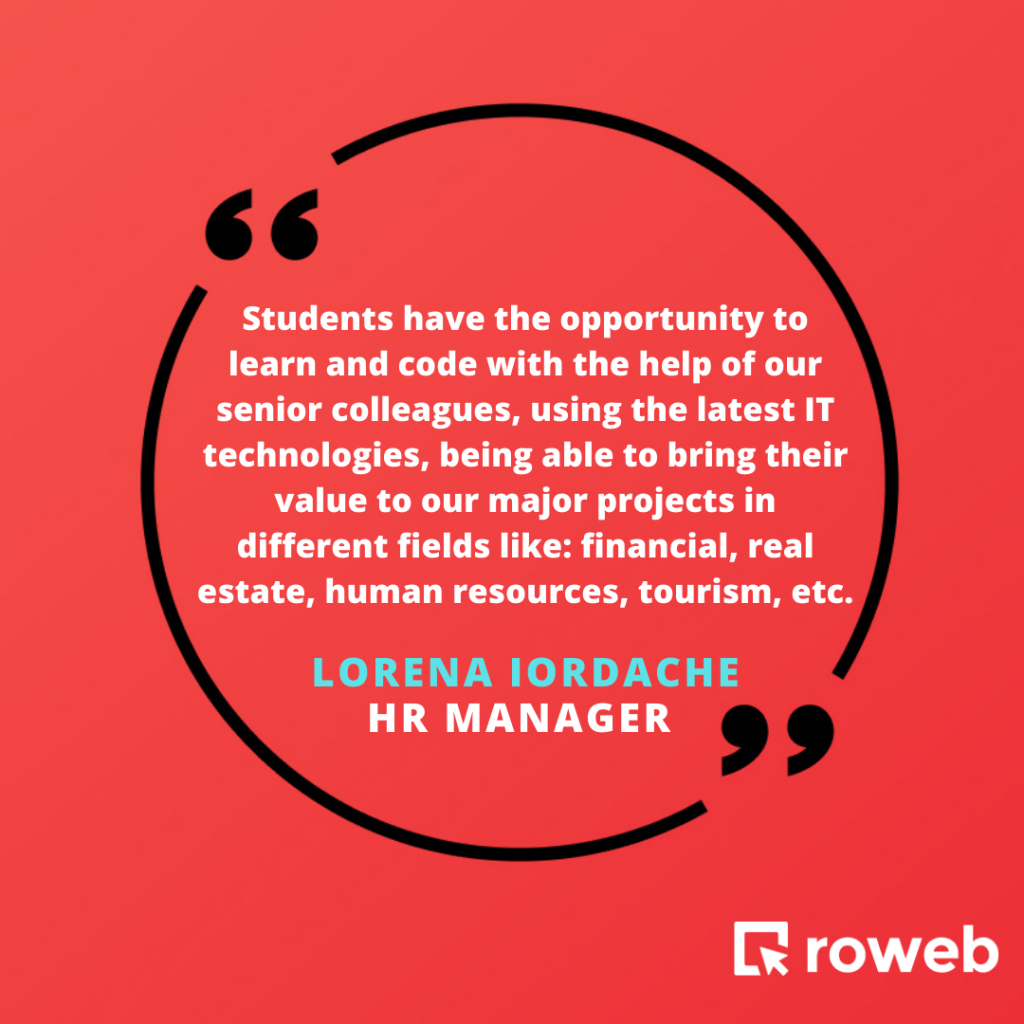 Craiova: Partnership with the Faculty of Automation, Computers and Electronics and the Faculty of Science, Computer Science specialization
The Roweb department in Craiova was founded in 2016. Most of the software developers team consists of current students or graduates of the technical faculties with which our company has had a partnership since the following year after the department's creation.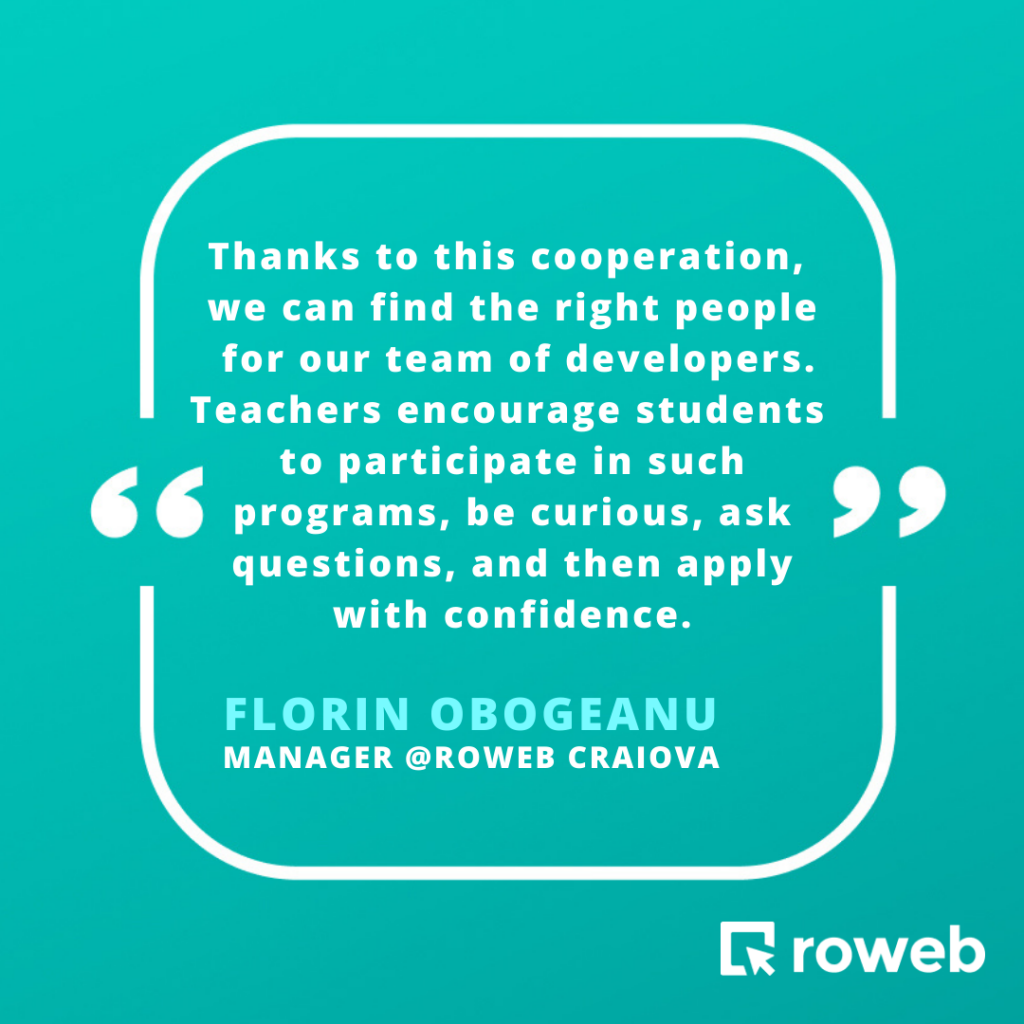 Practice programs and internships allow Roweb to meet new, energetic, and enthusiastic people who come up with fresh ideas. These ideas help us think out of the box and grow.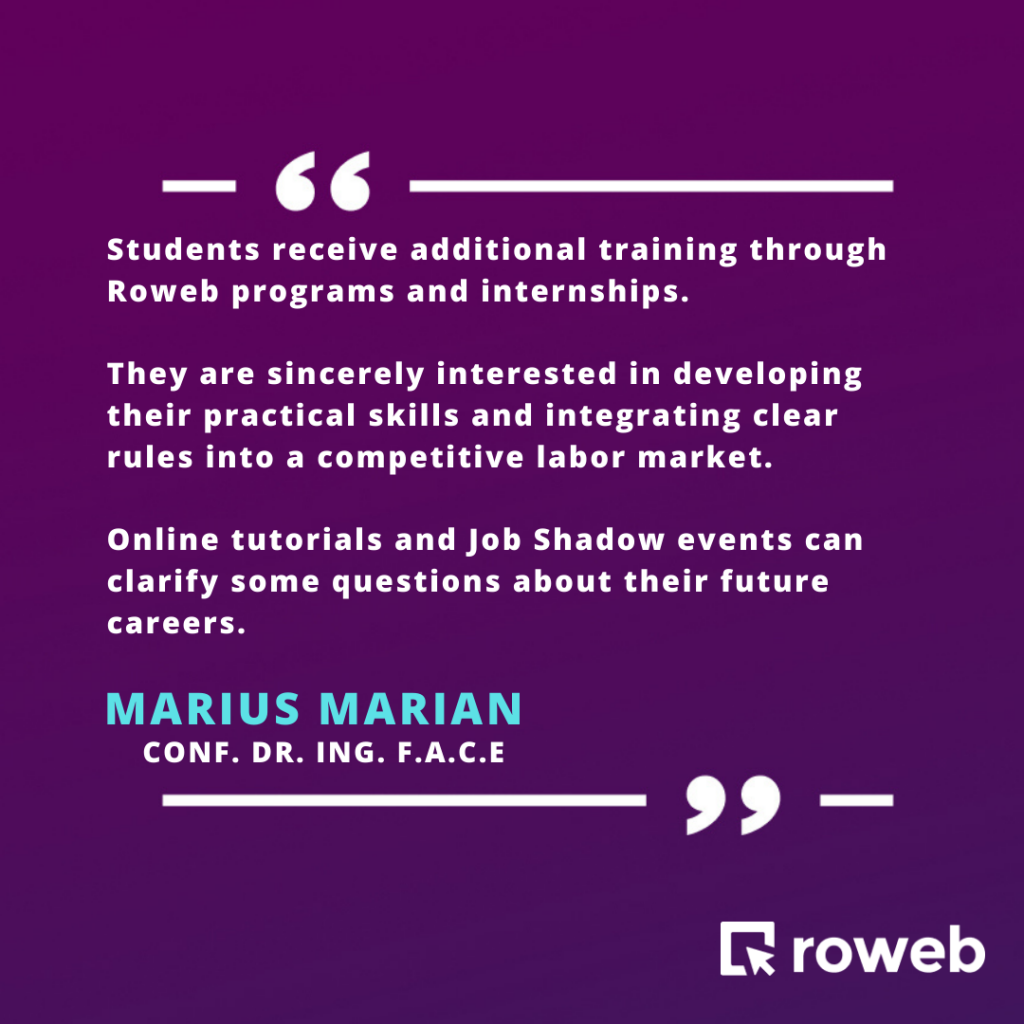 Pitesti: Partnership with the Faculty of Electronics, Communications and Computers
The University of Pitesti assumes the mission of education, training, and preparing students for the labor market. However, theoretical notions are not enough for career performance.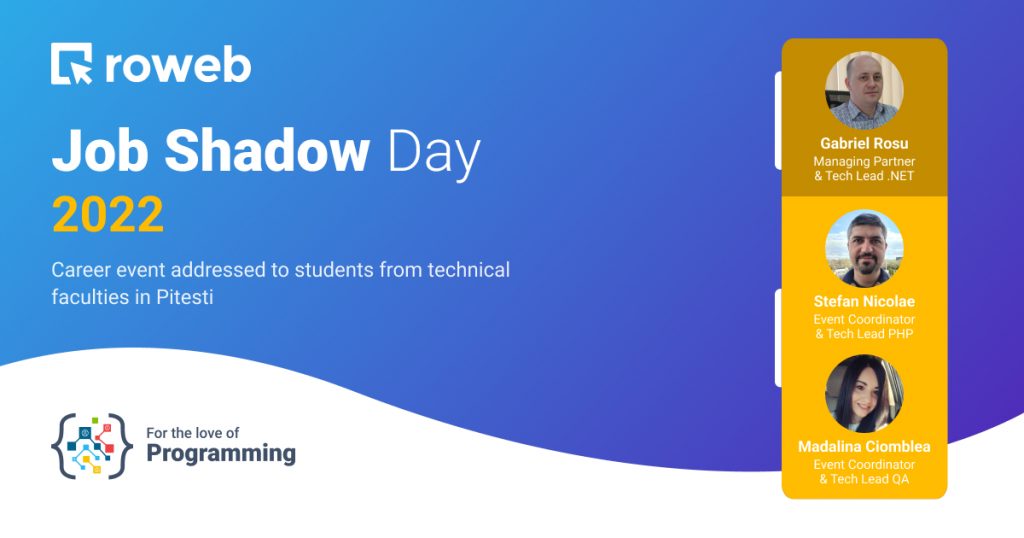 Every year, students come to practice in IT companies, having the opportunity to be involved in real projects and to relate to experienced software developers.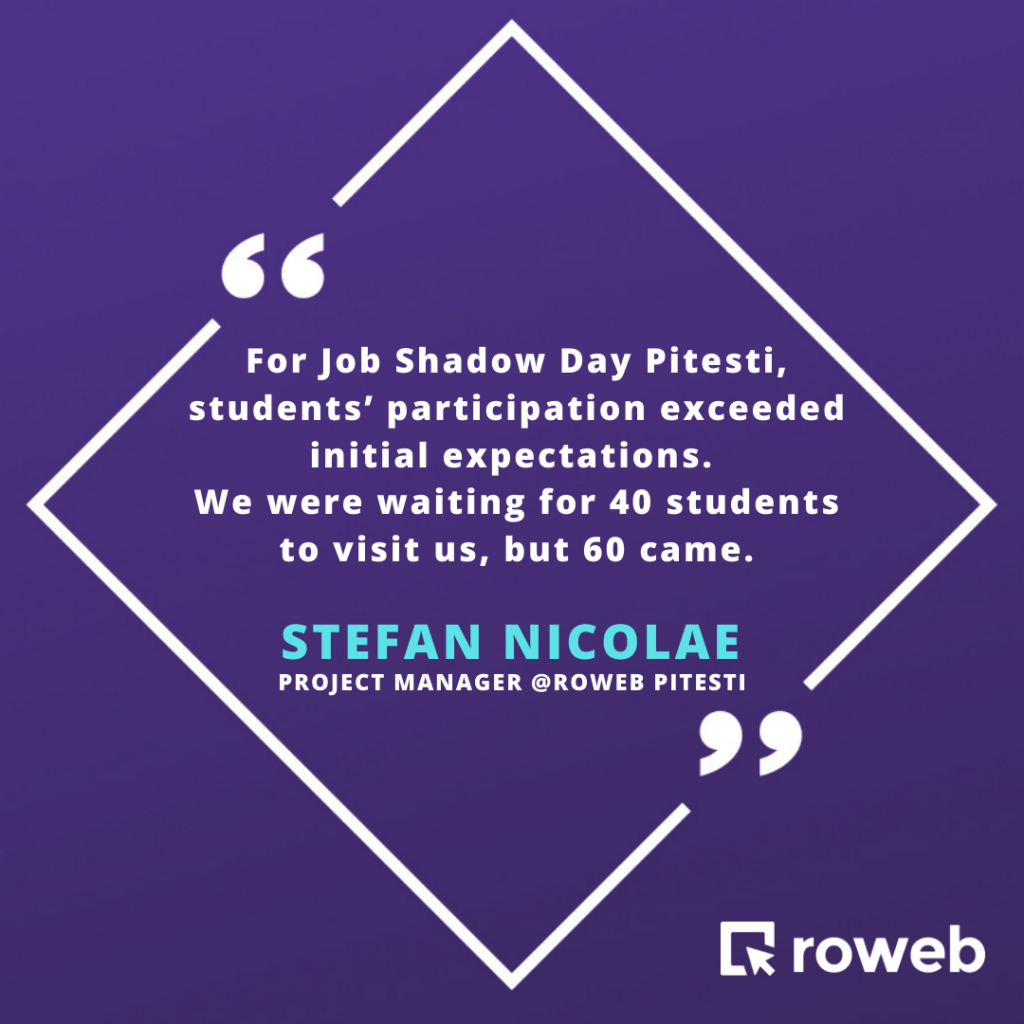 Equipping an IT laboratory
To help the Faculty of Informatics students within UPIT put the theoretical knowledge acquired during the courses, the Roweb company donated computers to the university to endow a new laboratory a few years ago.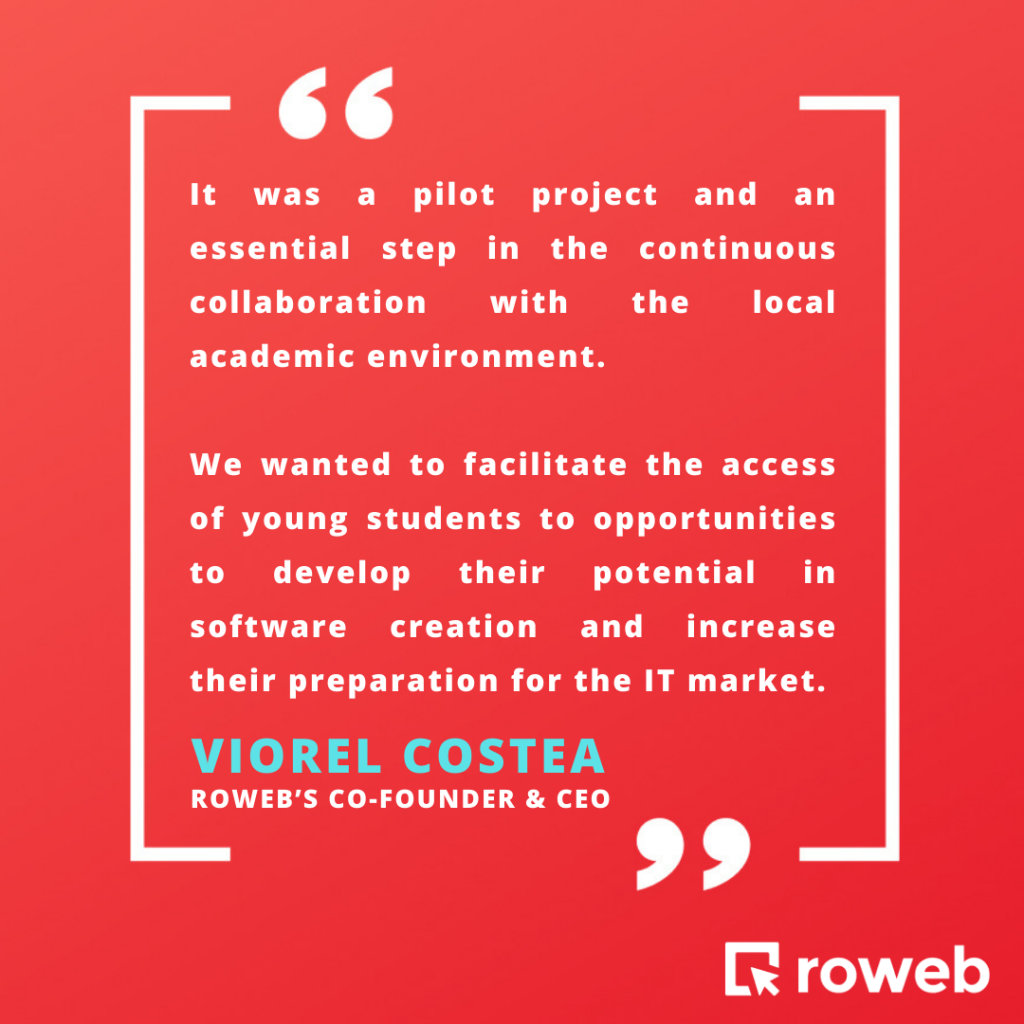 This year, the Roweb team plans to modernize the laboratory and replace the equipment with new and modern ones.
The connection with the profile faculties is even closer as Roweb is a software company founded by former students of the Faculty of Informatics from the University of Pitesti. Since the first years of its establishment, the company has attracted young students and talented graduates.
They enjoyed the emergence of a company that allowed them to pursue their passion for programming without leaving Pitesti in favor of a more significant software center in the country.
Events dedicated to students organized by Roweb
For more than 8 years, Roweb has been organizing practical programs and internships for students from the Automation, Electronics, and Mathematics-Computer Science faculties.
This year, the internship will be on site, and the number of applicants is quite large. Therefore, besides the .Net and PHP programs, there will also be a QA internship.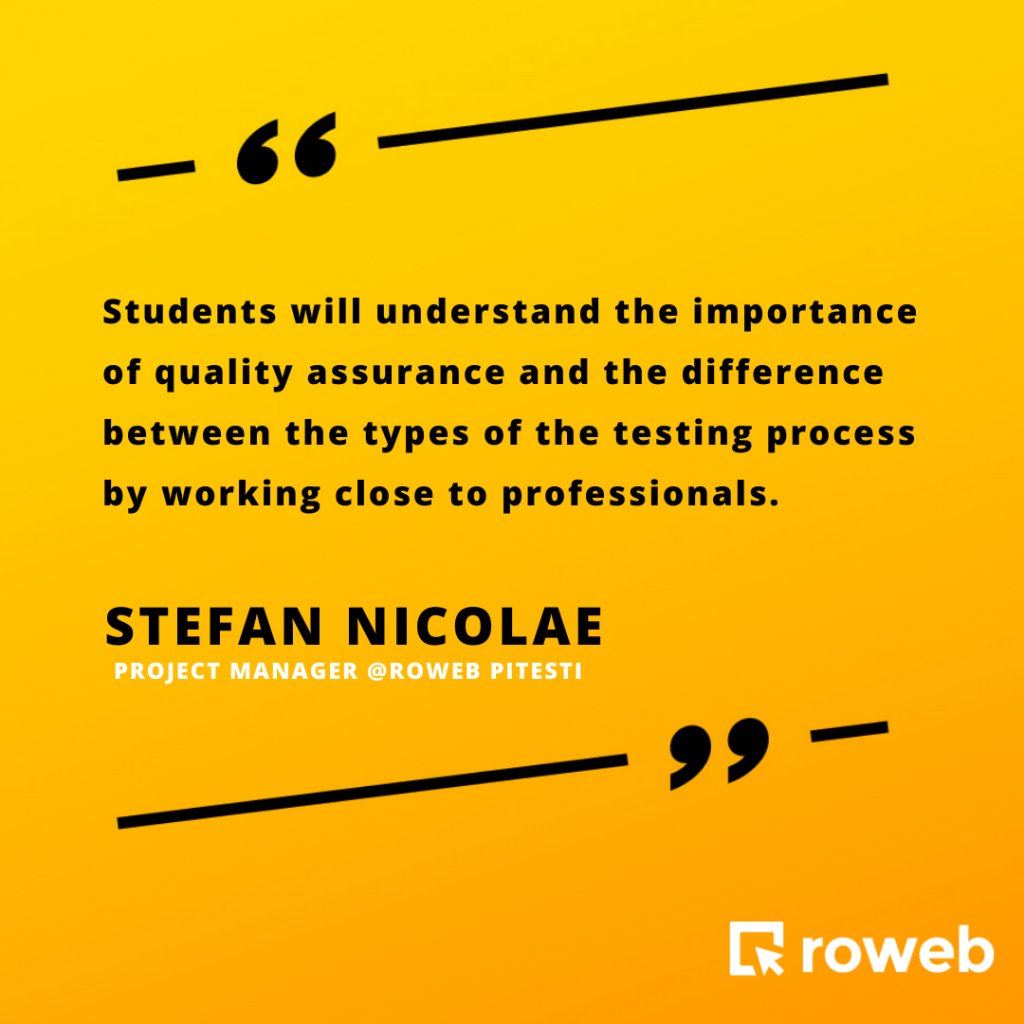 In fact, this year's internship will be based on both theoretical and practical support that the attendants need to put the first bricks in their career as junior QA testers.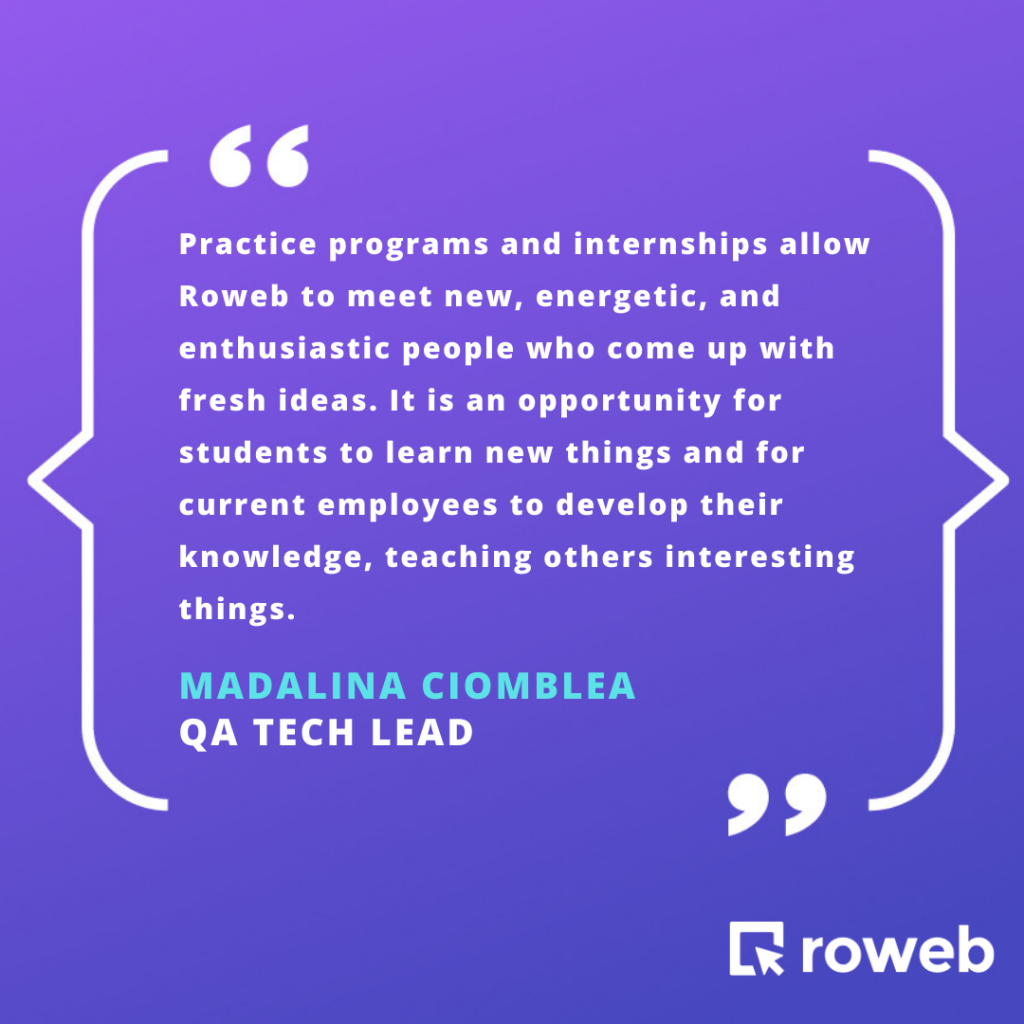 In addition to internships that are already a usual event, Roweb also means career events such as:
Job Shadow Days – these are meetings where students can visit the Roweb headquarters and see how software developers work, what tasks they have, how they collaborate, and what a typical working day means.
Job fairs – they are organized periodically and bring together people eager to start a career in software development. In most cases, these fairs are dedicated more to graduates. But there are also many students keen to get hired during college.
Faculty presentations – these are an opportunity for students to get to know Roweb, its history, the technologies we work with and the projects that are part of our portfolio.
Online meetings – these have become more popular with the pandemic crisis and they are a way for our team to adapt to remote working conditions. These meetings help us address students, and get closer to those interested in our company.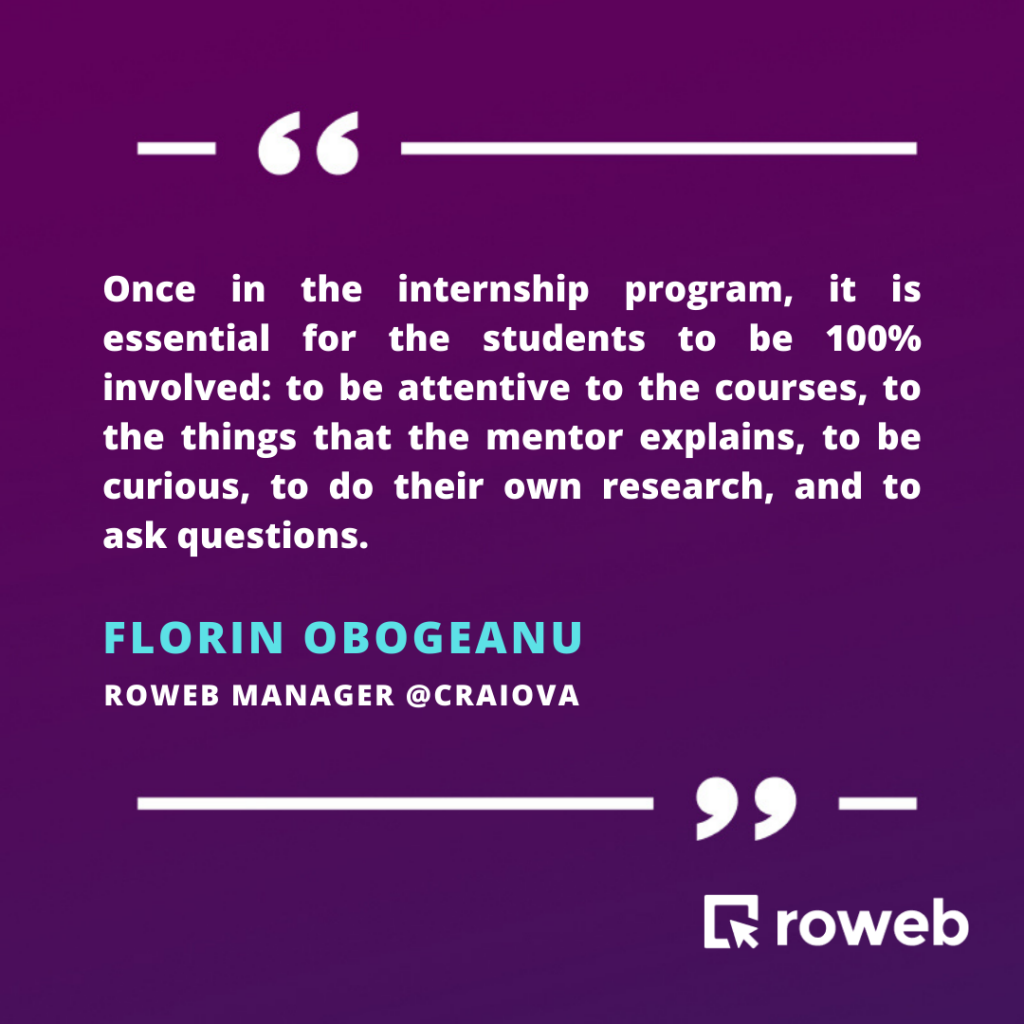 What is the profile of students that we are looking for in our career events (especially internships)?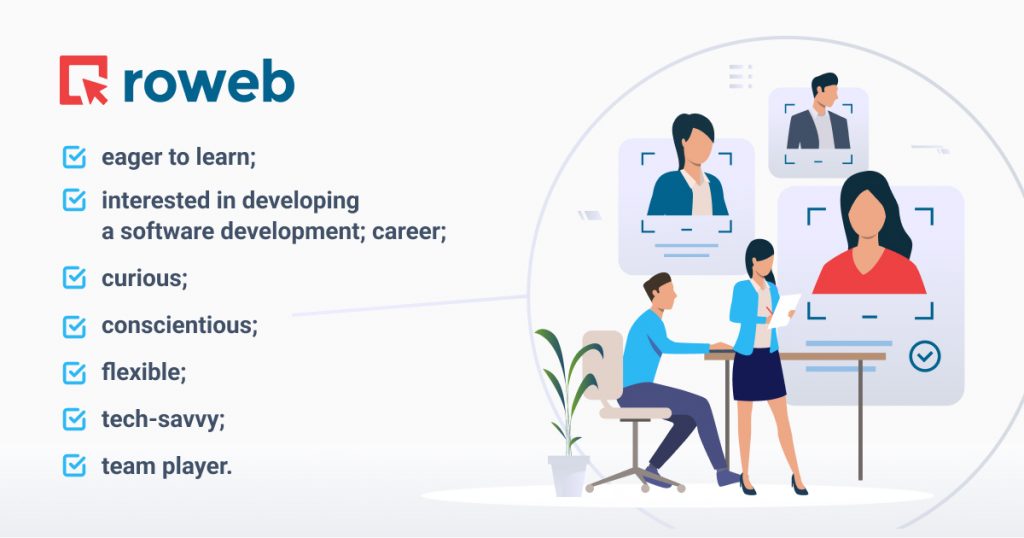 Through all the meetings and programs organized, we address students who:
are eager to learn
are interested in developing a career in software development;
are not afraid to ask questions to their coordinators when they don't know something;
are conscientious and eager to overcome the challenges from the beginning of their career;
are flexible and quickly adapt to tasks;
are passionate about technologies (tech-savvies);
are team players, but they also know how to solve tasks individually.
Why would you want to be part of the Roweb team if you are a student?
Competitive salary;
Hybrid work schedule (both home and office);
Work buddy – the person who coordinates you until you manage to gain independence in solving tasks;
Meal tickets;
Private health insurance;
Modern work equipment;
Training and certifications;
Access to Digital library and courses;
Teambuildings and parties;
Coffee corner;
Freelancing opportunities.
The importance of a mentor (work buddy)
The mentor is the person who sets aside time from their busy schedule to help students learn and grow. At Roweb, we choose passionate people about their work who like to pass on their knowledge gained over the years.
It is also about even-tempered people who know how to explain the tasks and who check and coordinate the students.
Interns are integrated from the beginning into real projects to learn the workflow and understand the importance of the feedback received from customers.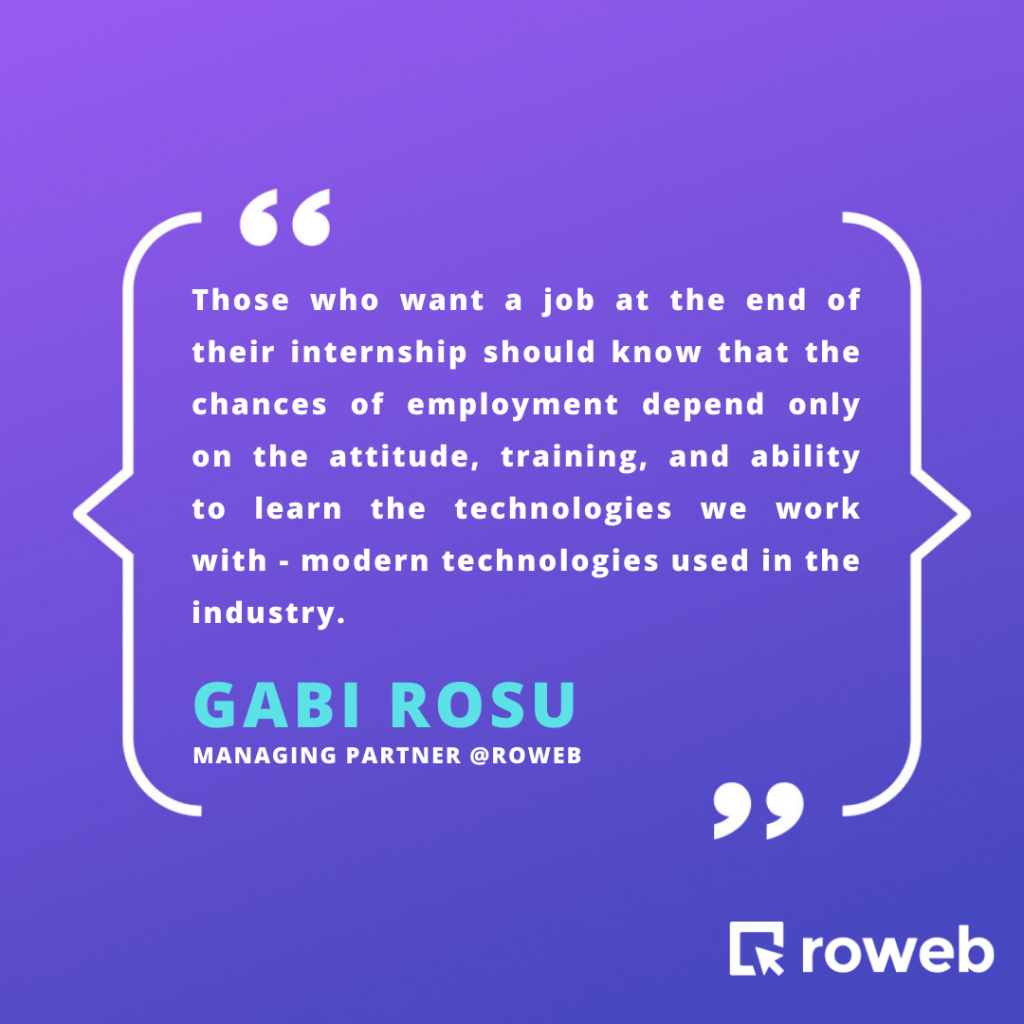 A few facts about Roweb's team that students may want to know:
Our company was founded in 2004 by an Informatics teacher who was joined by former computer science students.
There are more than 130 experts on our team.
50%+ of the software developers are seniors.
We manage end-to-end product development projects from business analysis, consultancy, and architecture to post-implementation testing and maintenance.
We usually recruit for job positions: software developers, project managers, product owners, business analysts, scrum masters, UX / UI specialists, and QA specialists.
Our portfolio includes clients from the UK, Belgium, USA, Romania, Denmark, Netherlands, France, Germany, Switzerland, and Canada.
We have offices in 3 Romain cities. Moreover, in 2022, we intend to open a new office in the UK.