With over 16 years of experience in the IT market, 140 employees, and over 1000 projects developed for national and international companies, in the past 8 months, Roweb has managed to turn a problematic context into a real opportunity. Thus, we kept the focus on self-development and supporting businesses from various industries through digital solutions development. Our main objectives are now:
Continuing the construction for the new office building (investment of 3,692,607 lei – 60% European funds).
Expanding internal teams and opening new offices.
Renewing and creating new partnerships.
Increasing the number of projects both on dedicated teams and on digital product developments.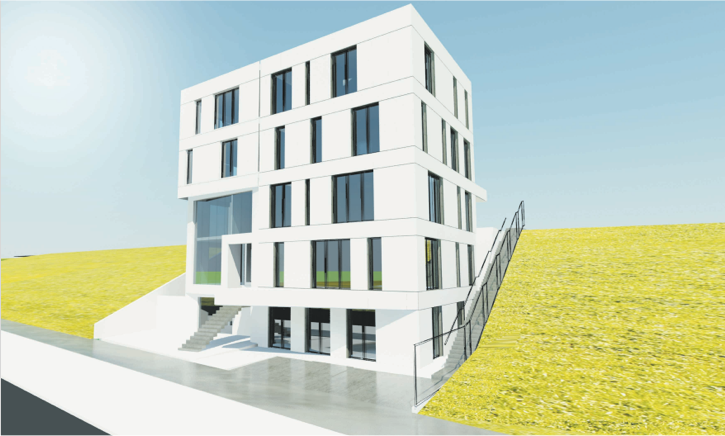 Although involved in full remote collaborations (internal and external), since the first months of 2020 Roweb teams have succeeded to respond to the market needs both by:
fast deliveries of digital solutions replicated on existing structures (eCommerce and delivery solutions for restaurants, portals, marketplaces, mobile applications, etc.);
complex developments of dedicated solutions that respond to specific challenges (workflows, integrations with external solutions, data migration, upgrades to existing solutions, etc. ).
The new office building (3,692,607 lei investment) will be ready in the first half of 2021
Companies around the world embraced remote work as one of the most important safety measures at work.
However, beyond the great challenges, the pandemic will have an end (expected for the first half of 2021). And when things will get back to normal, many employees will be interested in physically returning to the office and socializing directly.
Based on this premise, Roweb chose to continue the investment of 3,692,607 lei for the office building.
A new Roweb office building is under construction in Pitesti. Its completion is estimated for the first half of 2021. The building will have 55 workspaces (several meeting rooms, recreation spaces, and a data center), the offices being designed to respect the safety distance, offer comfort, and, above all, create a modern atmosphere.
However, the investment (of RON 3,692,607 – 60% European funds and 40% own funds) does not refer exclusively to the building's actual construction. This will be reflected in a series of technical and technological equipment that will help create a modern and efficient work environment. In addition, the existing office building is underway to expand (by building a new floor).
Expanding internal teams through new recruitments and opening a new Roweb office (in Rm. Valcea)

The new office opened in Rm. Valcea extends Roweb brand's visibility on the map, announcing, at the same time, a new area in which a constantly growing team will emerge.
With a priority for the dedicated teams of developers but also for the support teams (design, marketing, HR, etc.), there will be constant recruitment campaigns for all 4 cities in which Roweb has offices (Pitesti, Bucharest, Craiova, and Rm. Valcea).
For some of the open positions, recruitment campaigns are already in progress, especially for the following roles:
PHP Software Engineer;
Lead Frontend Engineer;
Magento Developer;
Digital Marketing Specialist.
And for these positions, new employees will have the opportunity to choose the way of working: office, hybrid (alternatively office/remote), or fully remote.
JOIN ROWEB'S TEAM. CHECK OUT THE AVAILABLE JOBS
Microsoft Silver Partner and Top Development Partner Clutch in Bucharest

By renewing its partnership with Microsoft (Microsoft Silver Partner), Roweb will continue to provide advanced technical support for Microsoft products. An essential condition for becoming a Microsoft partner is the existence of a number of certified developers in software development using ASP.NET technology.

In recognition of our success and, at the same time, of the impact we had through the development of the projects, we were ranked by Clutch in the top of the companies that offer B2B services in Bucharest, Romania.
Our evaluation for the qualification in this top was made based on criteria such as quality of services, compliance with delivery deadlines, price, and general project management skills – where we obtained a score of 4.9 stars as a result of feedback from our customers.