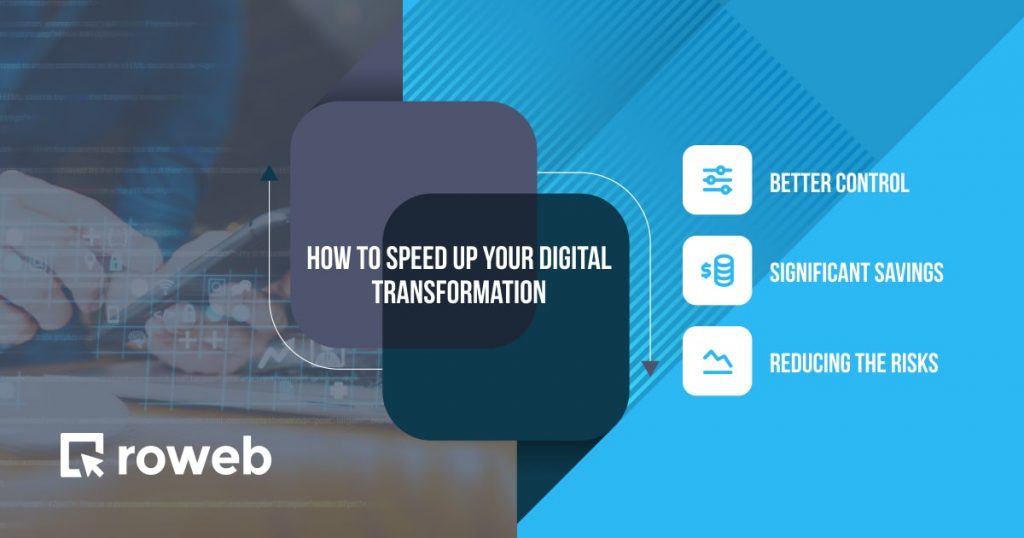 Digital transformation is a continuously debated concept, especially since the CoVID-19 crisis has shown, among other things, the benefits of a good online presence for businesses of all sizes and in all industries.
Moreover, the current context means a period of uncertainty and unrest because the social and economic crisis has compounded the social turmoil.
But even though we live in a time of real imbalance, investing in digitalization is a process that you can't put on hold. On the contrary, the digital transformation, in itself, brings several benefits such as:
Better control over the business – from online and offline security systems to cash registers or office laptops – everything is digital. According to a well-established plan, digitization means reasonable control over the business you own when used in a balanced way.
Significant savings in money, time, and other resources – by digitizing and automating specific processes, you will be able to reduce costs (including those related to staff). In many cases, digitalization is more cost-effective than hiring new people.
Reducing the risk of falling behind and losing any competitive advantage you have gained. Market trends are constantly evolving, and keeping up with them means, among other things, adapting to digital transformations.
What are the main features of a project that emphasizes digital transformation?
Some of the most important features are:
Creating a link between the online and offline environment through various APIs;
Ensuring the communication process between departments and outside them with both customers and partners;
Ability to add new features and quickly and easily update existing information;
Possibility to manage various databases;
Secure online transactions and payments;
Features that save significant time and money – for example, automatic completion of an invoice without giving this task to an employee;
Option to access the digital solution from several devices (laptop, smartphone, desktop system and more).
How do we define the need for digital transformation? (examples of projects developed around it from our portfolio)
We refer to any digital solution developed by a software development team that can improve a company's activity.
From a technical point of view, starting from our experience, we can highlight the following types of projects that we have in our portfolio.
CRM and CMS business applications – that can provide better control over workflow and customer base for companies in all industries.
These software types are revolutionaries of how they work, affecting all company departments, from those who organize the products/services to the marketing or accounting department.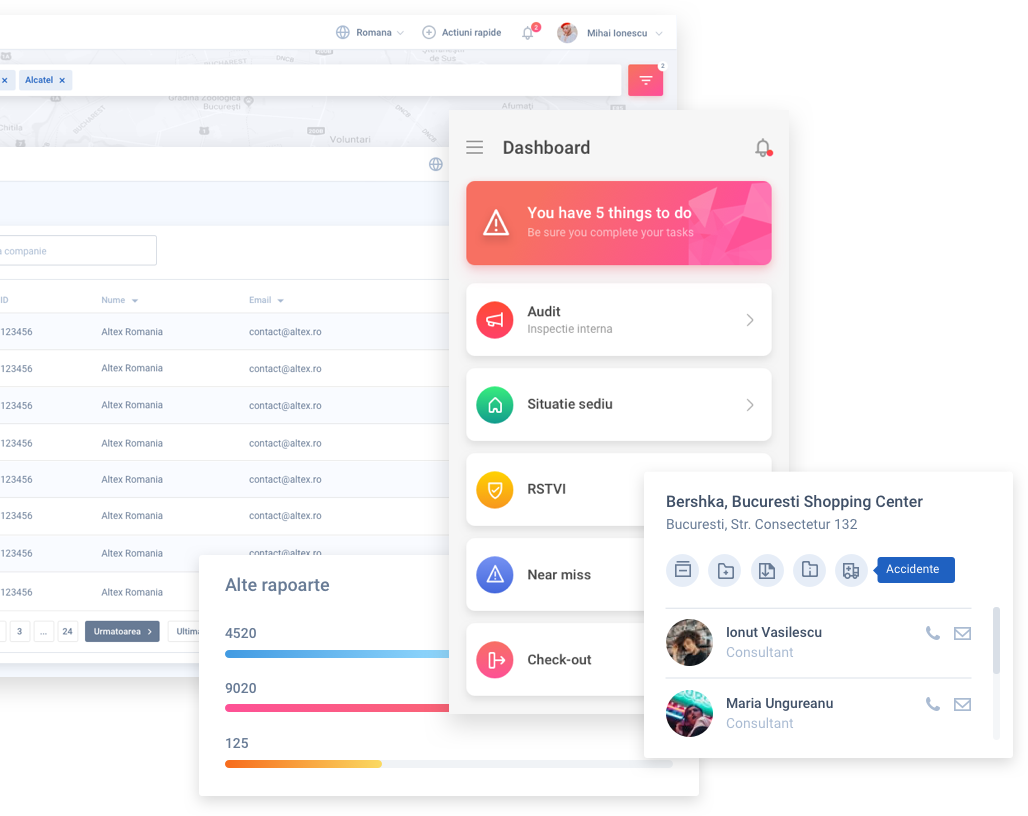 Also, the flow of customers in different databases must be managed according to the relationship that is built with them: for example, potential customers, loyal customers, and customers who do not honor their commitment to the sales process.
An example of a digital transformation through CRM, one of our projects is Whise – a real estate project adapted to users' needs.
Whise is the client we have been working for over 18 years and has since become the market leader in real estate in Belgium.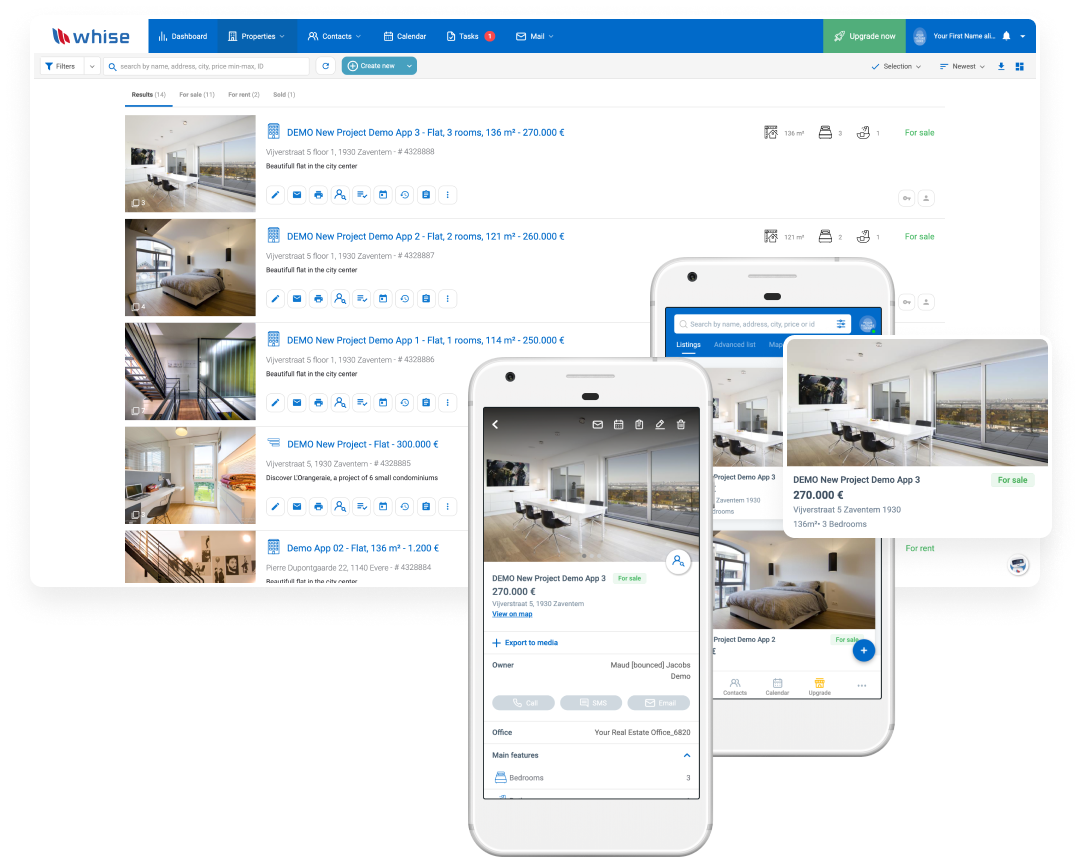 What features have accelerated the digital transformation of the customer and are adapted to the current context?
A CRM that can be accessed from all mobile devices – fast and intuitive;
Connected to the agency's website – to streamline information and allow information to flow from the inside out and vice versa;
Permanent access to notifications – to keep in touch with news about the project;
integrations with communication and activity planning tools that include customers and employees – thus reducing wasted time.
E-learning solutions – platform type on which you can upload video and text content and which can be used both as an internal product (for its own employees) and externally (as a business-specific).
Seatbelt is an example of a solution from our portfolio that has quickly adapted to the current context.
A leader in the labor protection market in Romania, SeatBelt is the kind of customer that has quickly adapted to the health crisis caused by Covid-19 by moving its business online.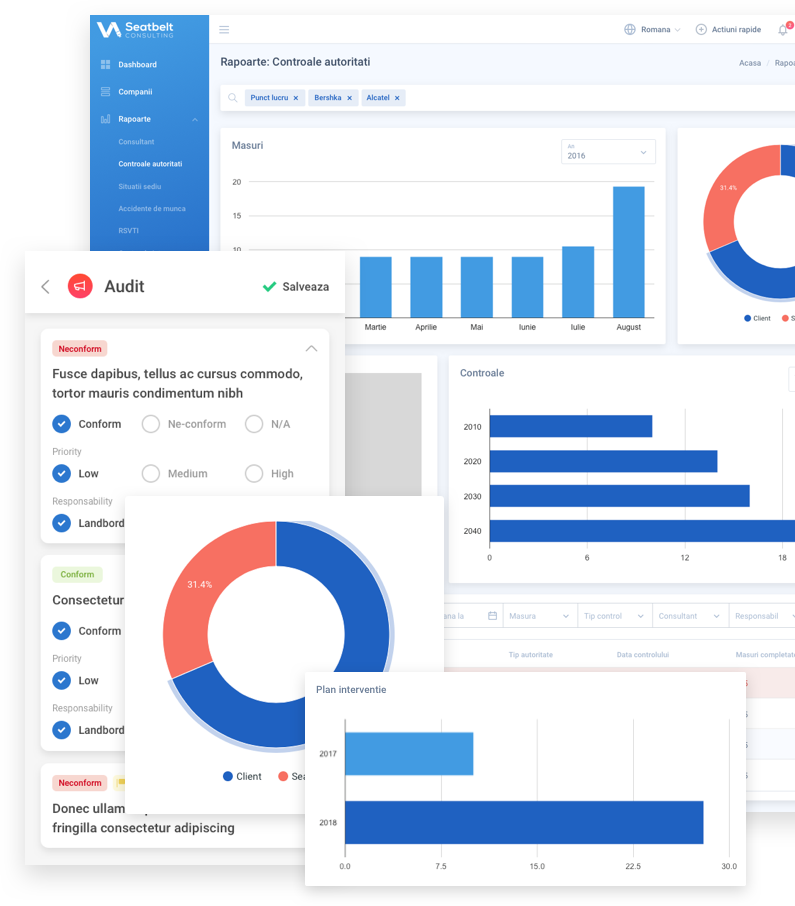 Moreover, beyond the procedures for job protection and facilitating customer access to specific information in the field, SeatBelt aims to develop an e-learning platform that provides its users with access to specific courses.
What features have accelerated the digital transformation of the customer and are adapted to the current context?
communication and switching between field and office work, helping employees save time;
a development-oriented application that allows adding features;
real-time updates of document and customer databases;
wise reports, which can be accessed based on intuitive filters (for example, a record of all accidents that have occurred at work).
Mobile applications that allow easy access to information about your company, products, or services from any smartphone with an internet connection.
And a conclusive example of a client who requested the development of such an application is Tourpaq – a client from Denmark. For Tourpaq we developed a tour operators management system that has enjoyed great popularity.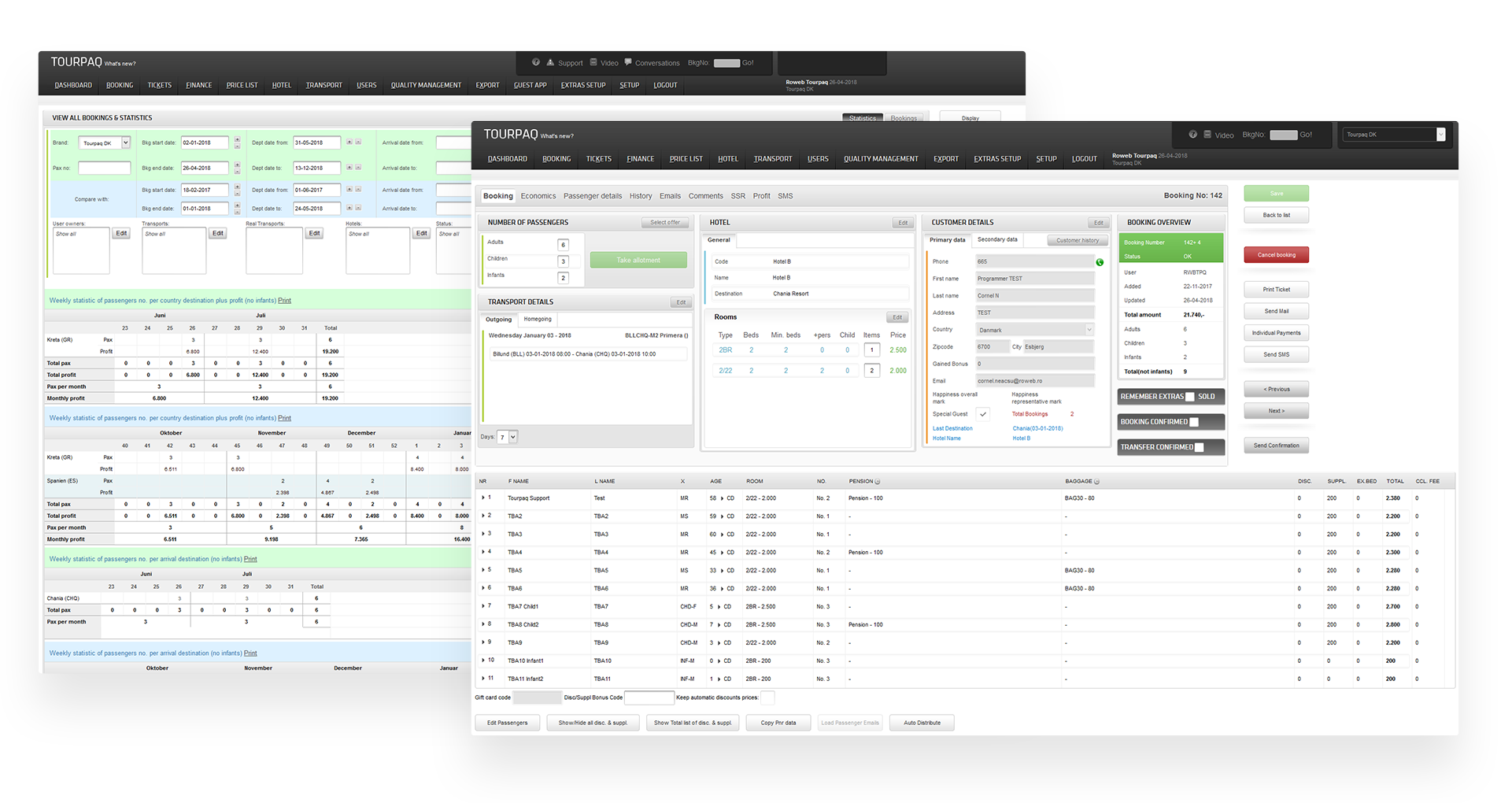 What features have accelerated the digital transformation of the customer and are adapted to the current context?
financial management systems, for a good record of budget and expenditure – so that savings can be made. However, it is a recommended attitude during the financial pressure caused by the economic crisis;
integration with innovative SEO tools – which helps the Tourpaq application to be found on the desktop version as well;
price automation system, which can be managed directly from the application;
a superior login permission for visitors using the reservation number and a unique password. This allows them to check their traveling and accommodations details, and also to find important details about their destination.
E-Commerce platforms and e-payment integrations that bring you closer to your customers.
An example of a customer who needed such a solution is Porsche Finance Bank – a company that offers car financing and insurance for Volkswagen cars.
The e-commerce solution allows both the sale of cars and accessories online and the use of services such as insurance, financing, or maintenance.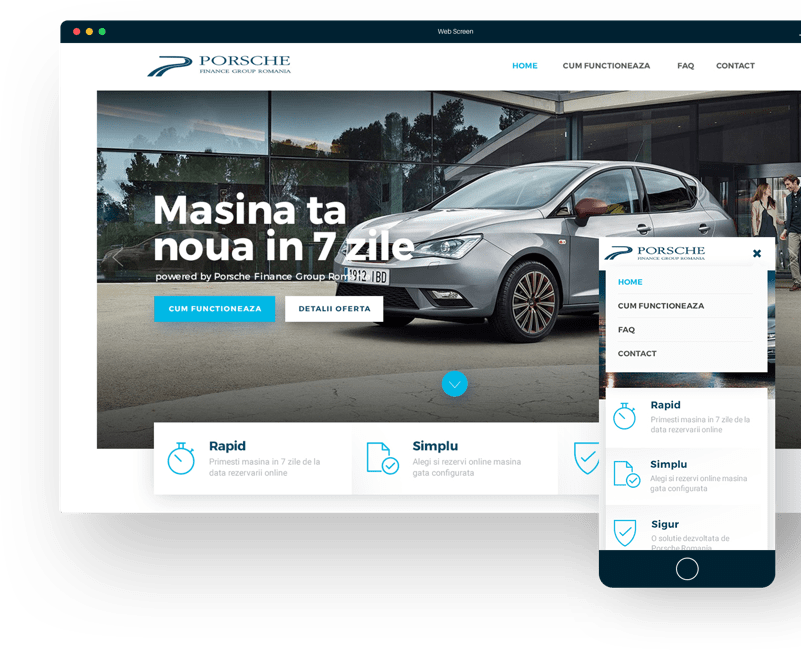 What features have accelerated the digital transformation of the customer and are adapted to the current context?
Easy access to the shopping cart;
Online payment security;
Easy filling in contact forms so that the customer saves valuable time;
Important information about online user behavior, which can then be turned into marketing and business strategies;
Automatic generation of documents accompanying the sales process (warranty, invoice, cancellation invoice, quality certificate, etc.);
Online booking system for the desired product so that the customer can resume the offline or online purchase process (when he feels ready);
Algorithms for automatically checking the financial situation of customers – saving time and avoiding as much as possible those customers who have unpaid invoices in the tax record;
Intelligent customer segmentation so that they are included in different marketing or after-sales processes.
Why should you work with our teams of experts in your digital transformation process?
Thanks to experience. There are over 130 professionals in the Roweb team, and over 50% are seniors. This means that they have the ability to help you turn your idea into a project that keeps pace with the changes in the current context.
We develop end-to-end applications and offer the customer all the services they need in digital transformation: from business analysis and consulting to post-implementation testing and maintenance.
The technologies we use to develop our projects are modern and innovative.
Each software development project has an assigned team. Therefore, the focus is on developing a project that meets the customers' needs and the company's current conditions but exceeds users' expectations to keep you engaged in the process of use.