MWC22 ended. It was definitely a great experience. We were happy to be there after 2 pandemic years of pause. How was it? What was in for us? What impressed us the most?…
After 4 days of business hustle and bustle, we take some time to some conclusions:
The first day in Barcelona at MWC22
Being already a tradition for us to participate in such events, after the pandemic break that put the entire globe on pause, we were anxious to see how much the business environment changed and if Barcelona's tourism bustle is the same as before.
We've met a less crowded Barcelona that still saved, somehow, its cosmopolitan vibe untainted. Arriving at Fira Gran Via where MWC22 is hosted, we discovered the same effervescent business environment of the past years. Event organization – flawless. The enthusiasm of the exhibitors – even greater than we knew. And our enthusiasm did not except from this rule.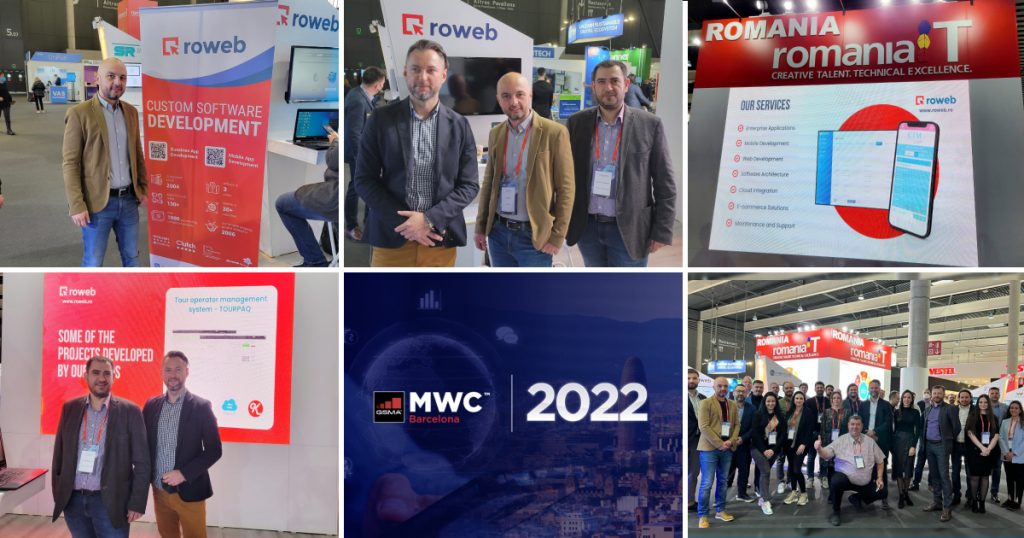 Businesses around the world meeting in the same place
MWC Barcelona is attended by global mobile operators, device manufacturers, technology providers, vendors, and content owners.
What is really exciting about this event is the fact that it brings together, in the same place, worldwide businesses that "speak" the same language: the passion for technology.
From conferences to high-tech products that seem to be unreal, ready to be tested, or just projected as concepts on the big screens, from innovators to niche-service providers, MWC22 offered a wide variety of things to be discovered.
Romanian delegation at MWC
This year MEAT (Ministry of Economy, Entrepreneurship and Tourism) resumed the Export Promotion Program that facilitates the access to international events – MWC22 being one of them.
ARIES (the non-governmental professional organization that facilitates the participation of the private environment in the events organized by the state) invited Roweb Development to participate in this program.
Along with some tech companies, we were part of the official Romanian delegation, representing our country's business interest on the international market.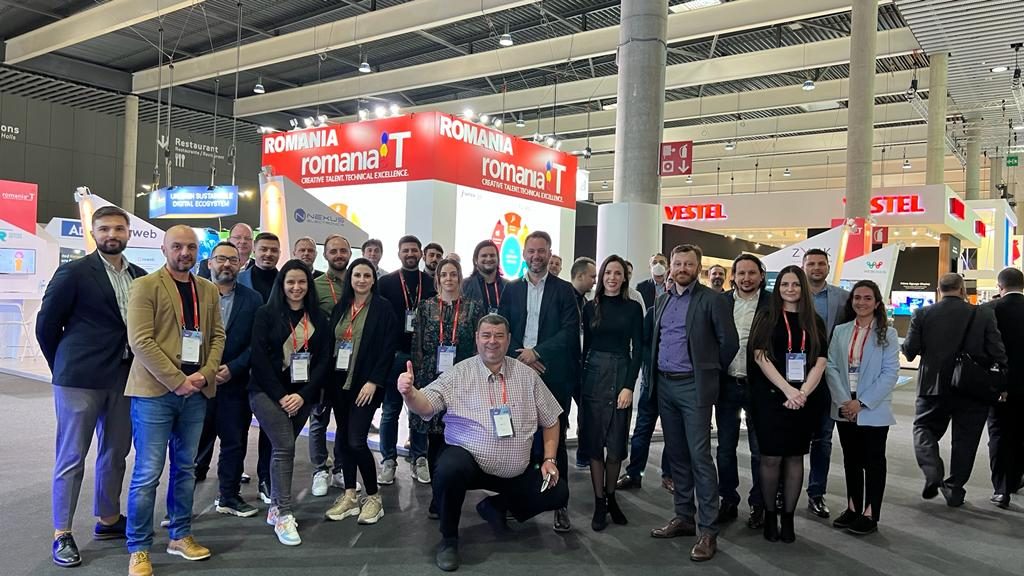 What was in for us?
We work with companies from all over the world (UK, Denmark, Belgium, USA, Switzerland, Germany, Middle East, etc.) and provide solutions for businesses of all sizes ranging from startups to large enterprises.
Our portfolio positions us as a software provider for the international market.
MWC22 was practically the right place for us (for meeting our target audience, mingling into the tech landscape, and extending our clients' database with new and relevant brand names).
That's why we've continually participated in these kinds of events in the past. That's why we will keep being a presence in the future.
What drew our attention at this event?
Beyond impressive technology growth (that seems to be even more accelerated – no matter what) what drew our attention was the excitement shown by both visitors and exhibitors.
The future is tech. That's for sure. And that's also our subliminal business motto. That's the drive-prerequisite for millions of companies discovering new market niches every year.
Paradoxical, while technology seems to simplify everything and replace humans wherever it's possible, people gather at this event to discover together new technological paths (and showing that way a great interest in socialization).
Moreover, beside this excitement, humans around the world gathered here didn't forget to show solidarity with what's happening in Ukraine.
Roweb at international events in the past years (a few examples)
GITEX Technology Week 2020 (Dubai)
After a year of missed opportunities, GITEX was back in 2020 for its 40th anniversary with 5 extraordinary days. GITEX has been host to:
1,200+ innovative tech enterprises, startups, and government entities from 60+ countries;
200+ of the most active investors and VCs from 30+ countries;
350+ speakers from 30 countries live on-stage, delivering 280+ hours of powerful content (source: gitex.com).
At GITEX Technology Week 2020 (Dubai) our team was represented by Laurentiu Nicola – Sales Director, and Florin Obogeanu – Technical Project manager.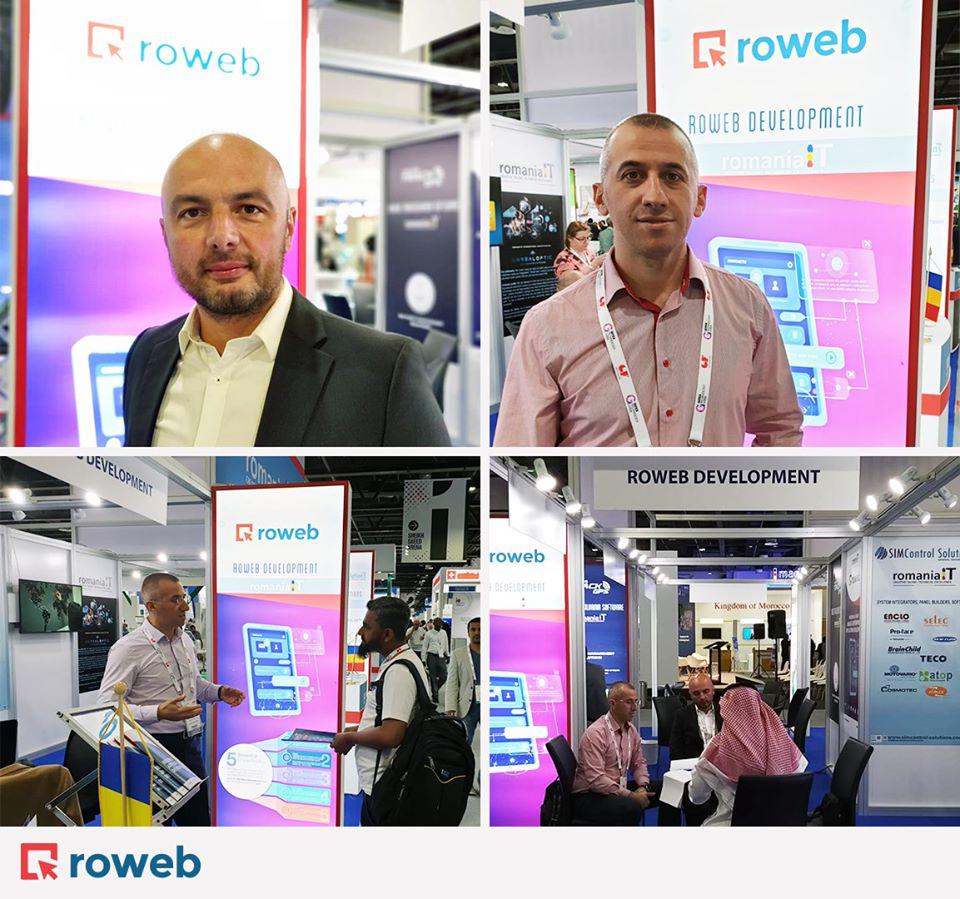 MWC19 Barcelona
2019's MWC event was built across "Intelligent Connectivity". The term was used to describe the top combination of flexible, high-speed 5G networks, the Internet of Things (IoT), artificial intelligence (AI), and also big data.
"Whenever major disruptions happen to an industry, it is vital to be aware of it. MWC is not only about mobile but about driving innovation. The Connectivity Theme highlighted the requirements for the 5G technology as well as for the strategic vision overall. Also, the 5G products and services, connected cars, VR, AI, IoT devices, and ingenious app ideas made the showcase of the latest innovations."
Viorel Costea – Co-founder & CEO

LEC Geneva 2019
We also participated at LEC Geneva and got new field insights. The event was formerly known as the Salon eCom/Swiss IT Business, SMARC and Retail-Expo show, considered the biggest Swiss event dedicated to digital and IT.
The 2 days featured events that focused on the new technological and organizational challenges facing all Swiss industrial and service companies today.